When coins are mistakenly sent to the wrong network, it is essential to contemplate the potential outcomes that may arise. These consequences may involve either total loss of the amount sent or revival of the funds. If one is in a dilemma regarding the hazards and probable solutions in such situations. It is recommended to refer to a comprehensive article that can offer relevant advice and guidance.
What is sent coins to the wrong network?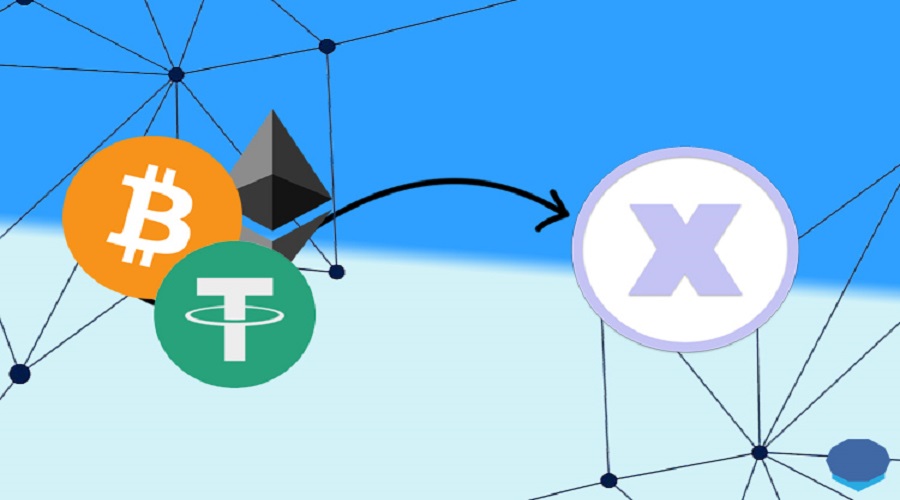 During your trading activities, you might have come across several terms such as ERC20, BEP20, TRC20, and more, which represent different Crypto networks that you can use for transactions. Choosing the right network for transferring coins plays a crucial role in ensuring smooth, secure, and hassle-free trading experience. It is similar to the idea of selecting banks that support the Vietnamese currency when transferring money in case you have Vietnamese money.
If the token that you own belongs to the ERC20 network and you choose a wallet that belongs to a different network to receive funds. You have mistakenly transferred the token/coin to the wrong network. In such a case, the system will have to transfer the token from the Ethereum blockchain to another blockchain. It is important to note that all blockchains in the cryptocurrency market operate independently. In order to transfer funds from one blockchain to another, it is necessary to use compatible networks or carry out the transfer through an intermediary platform.
It is highly probable to mistakenly transfer coins or tokens across networks. Especially if one lacks knowledge and understanding of the underlying network infrastructure and functionality within the crypto industry.
Does transferring coins to the wrong network lose money?
The answer is "yes," but it is dependent on the individual situation at hand. This is because transferring coins to the wrong network can result in a complete loss of funds or render the funds unusable. In some cases, it is possible to recover and restore lost funds. It is important to carefully consider the risks involved with coin transfers to ensure the safety and security of one's assets.
Assuming that you have had prior experience in conducting cryptocurrency transactions. It is highly likely that you are aware of the fundamental principle of transferring coins into the corresponding wallet. Consequently, the wallet holding the coins plays a critical role in both sending and receiving funds. Each network serves as a unique bridge linking different wallets, allowing you to transport funds from one wallet address to another. Therefore, various scenarios may arise, such as possible losses or specific complications during the transaction process.
Transfer coins to the wrong network: no money
In the case of EVM-compatible blockchains, it is still possible to receive coins/tokens even if one accidentally chooses the wrong network to transfer to. This is because these EVM-based blockchains share the same wallet address regardless of which blockchain they are applied to. This may be confusing, but it allows for greater interoperability between different blockchains.
The wallet addresses for both BEP20 and ERC20 networks start with 0x. Specifically, for token X, the wallet address for the BEP20 network is 0x12345 and for the ERC20 network, it is also 0x12345. This means that 0x12345 can receive Token X in both networks, even if Token X belongs to the BEP20 network. In other words, selecting the wrong network (ERC20) will not prevent one from receiving Token X in this case, because both bridges ultimately lead to the same unique wallet address.
Transfer coins to the wrong network: Can't use the money
In the aforementioned case, it is likely that you have understood the significance of networks that are compatible with EVM and the reason behind why transferring coins to the wrong network does not result in the loss of funds. However, it is important to note that not losing funds does not necessarily mean that we can easily utilize the amount of coins that have been transferred to the wrong network. When it comes to personal wallets, there are numerous ways in which you can retrieve the mistakenly transferred funds, as you have complete authority over your own personal wallet. (We will delve into the various methods of recovering wrongfully transferred coins in more detail at the end of this article.)
However, when such a scenario occurs with a custodial wallet or exchange. The situation becomes exponentially more complicated and difficult. Not all exchanges support every blockchain network. And we do not have complete control over these wallets. It is impossible for users to independently recover and display any mistakenly sent funds on different networks. In such circumstances, even if the exchange receives the funds, users will still be unable to use them.
Transfer coins to the wrong network: lose money
Based on the aforementioned cases, it can be inferred that the final scenario involves a loss of funds when incorrectly transferring coins between incompatible networks. An example of this can be seen with ERC20 wallet addresses starting with "0x" while BEP2 and BEP8 wallets begin with "bnb." If the wallet addresses do not match. It is certain that the funds will not be received. At this point, the funds become stuck in the middle of a bridge and cannot be transported to the intended recipient.
How to recover coins sent to the wrong network?
With the analytical insights shared above, it is probable that an understanding of the essence of transferring money to the wrong network in varying scenarios has been attained. In cases where coins are mistakenly transferred to the wrong network, without any loss of funds, specific steps can be taken by the individuals to display their balance in their respective accounts.
For wallets that support multiple networks
In the event that you mistakenly transfer funds to a wallet that supports multiple networks, you can easily recover the affected coins by adding the network to the wallet and updating the balance accordingly. This method simplifies the process of recovering the coins lost in the mistaken transaction.
To gain a clearer understanding of this methodology, let us examine an example. Here, an individual (A) transferred 100 USDT to themselves. However, due to mistakenly selecting the BEP20 network instead of ERC20, the individual faced an issue. Despite this, if using a wallet that supports multiple networks, such as Metamask, the transfer amount will still be received. However, one must additionally add the Bep20 network and the Contract Token USDT to view the balance in the wallet. The implementation process is as follows.
As depicted in the image below, it can be observed that despite receiving 100 USDT from individual A, the current USDT balance appears to be zero. This circumstance can be attributed to the utilization of the ERC20 network, in which solely the balance pertaining to this specific network is displayed. To incorporate additional networks, it is advised to select the option "Add Network".
Subsequently, please enter the network name and specific details about the Base Station Controller network in order to add it to the virtual wallet. Upon completion of this information, press the "Save" button. This step will ensure that the network is successfully added to your virtual wallet.
Upon completion, I was able to successfully add a new network to my wallet. Nevertheless, it is still necessary to add the contract token to Metamask in order to display the balance of that particular token.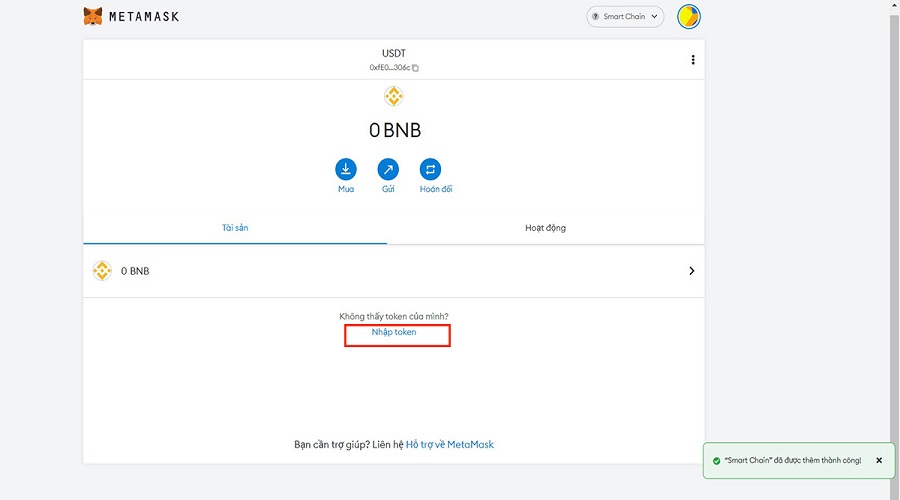 In order to add a token, please click on the "Add Token" button and proceed to input the necessary information.
USDT contract of BSC network: 0x55d398326f99059ff775485246999027b3197955
Once the tokens have been added, the balance will immediately be displayed, which indicates the exact amount of money that has been transferred by person A.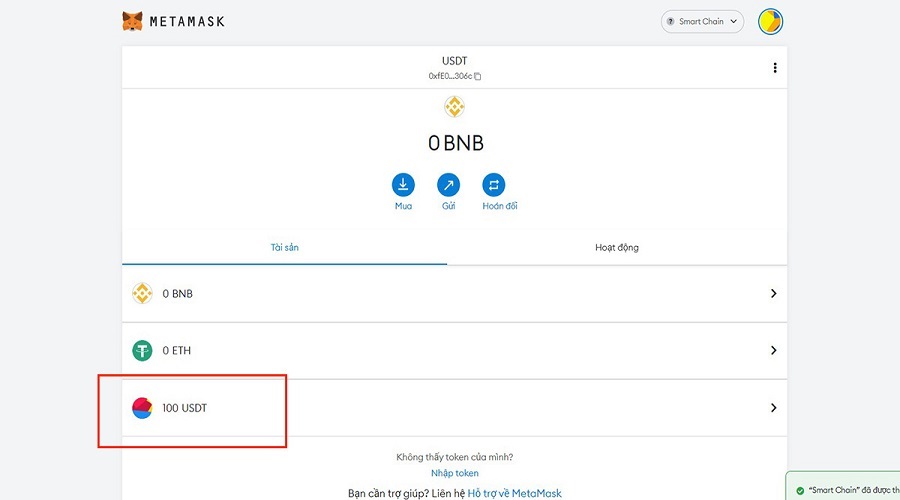 In the event of encountering a situation involving a different token, one may search for their coin's name on Coinmarketcap and proceed to copy the network address required. For instance, utilizing the example provided, one would need to search for USDT (Tether) and copy the address of this particular coin on the Binance Smart Chain network. Ultimately, once the aforementioned address is copied, the system will present the necessary information. It is advised to employ this method for effective management of token-related matters.
In addition, it is possible for you to utilize either Binance Bridge or the Manual Method to recover the funds in question.
Binance Bridge
This tool enables you to transfer tokens smoothly between different Blockchains. To initiate the process, you can connect your personal wallet to Binance Bridge. And then select the desired token you want to transfer. However, kindly note that transaction fees for Binance network and Ethereum network in the form of BNB and ETH, respectively, will be applicable.
Now, I am going to provide an example that contrasts with the one mentioned earlier: suppose that I need someone (Person A) to send me 100 USDT with BEP20 network. However, due to a mistake while transferring the coin, Person A sends the coin with ERC20 network instead. In order to display the transferred coin on ERC20 network, I can utilize Binance Bridge with the following steps:
Initially, it is necessary to establish a connection between Binance Bridge and the Metamask wallet.
Subsequently, we select the asset, transfer network, receiving network, and coin amount, followed by clicking on the "Confirm" button. It is recommended that you refer to the image below for further guidance on this process.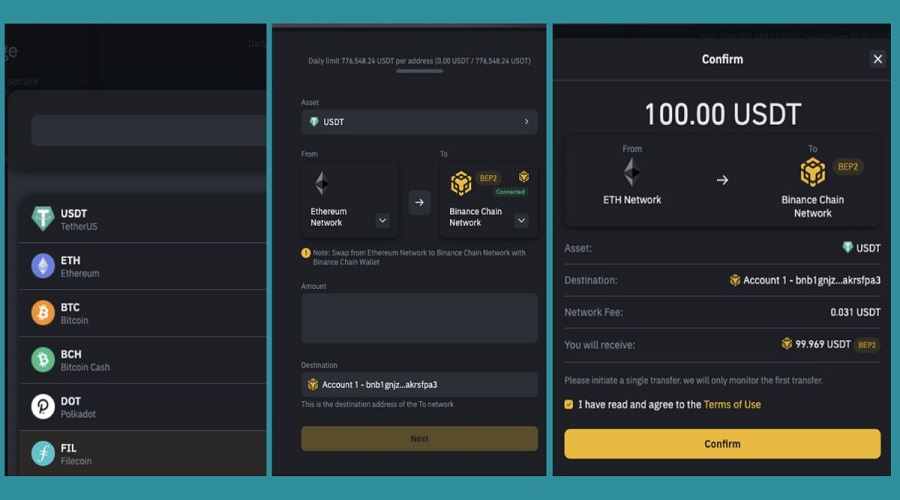 Manual Method
Suppose you wish to convert your ETH BEP20 into ETH ERC20. In that case, here's what you need to do: Firstly, select ETH and the BEP20 network (please note that if you select the BEP2 network or any networks incompatible with EVM, you will lose the funds, as previously analyzed). Once you receive the ETH BEP20, transfer it to a wallet that supports Token ERC20 and select ERC20 as the transfer network. This will ensure that the coins are accurately transferred to your wallet as ERC20.
For wallets that only support 1 of 2 networks
When sent to coins through EVM-compatible networks, it is still possible to receive the funds. However, due to the limited support of each wallet. This balance may not be displayed. Nonetheless, there is no need to worry excessively. For the purposes of this discussion, we will refer to a wallet that supports only one of the two networks as Wallet A.
To rectify this issue, you merely need to select a different wallet (wallet B) that can support both networks and then import the private key of wallet A into wallet B. Via wallet B, you will be able to execute any transaction using the tokens within wallet A. This process will enable you to display the network that wallet A does not support.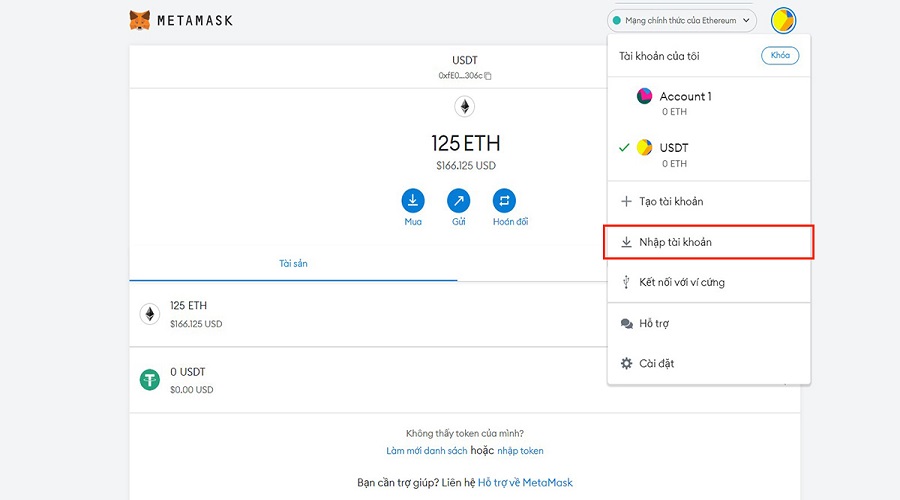 For instance, if you choose Wallet B as Metamask, you will need to create a new wallet account. In Metamask, you will have the ability to connect/add another wallet to your account using a seed phrase or private key. Additionally, you can perform manual operations to display this balance; nevertheless, you can easily handle such tasks on wallets that support multi-chain, such as Trust wallet.
For exchange wallet or Custodial Wallet
This is a particularly perplexing and challenging scenario when it comes to recovering mistakenly sent funds. As mentioned above, when transferring tokens to a exchange or Custodial Wallet (a non-custodial wallet where private keys are not held by the user). There is a possibility that the funds may not be immediately usable, even if both networks are EVM compatible.
For instance
If you transfer USDT on the KRC20 network into the exchange's 0x wallet, it will undoubtedly be received because the KRC20 network is compatible with the EVM. However, there is a likelihood that you will lose that amount of USDT if the exchange does not support this network.
Would it be reasonable for us to allow the amount of coins to remain inaccessible and unusable without visibility?
Naturally, one may attempt to establish contact with the wallet provider or reach out to the exchange for assistance. It is possible that certain wallet providers and exchanges may offer assistance for a predetermined fee. Should one receive assistance and obtain the funds, it would be a gratifying outcome. However, should one fail to receive a response or assistance, the funds may be considered lost. Regrettably, it is standard practice for exchanges to offer limited support for personal issues. Particularly if the fault lies with the user and the exchange has no obligation to rectify the situation.
How to fix the problem of losing money due to wrong network transfer
The optimal scenario is to transfer the coins to the correct network and wallet address. This process would happen smoothly, efficiently, and without any complications for anyone involved. Nonetheless, diligent caution is required. It is crucial to double-check and confirm that the transfer was made to the correct coin wallet address and network to avoid any mishaps.
If one mistakenly transfers coins to the wrong network. It is still possible to recover the funds for networks that are compatible. And even for private wallets that support multiple networks. The funds can be easily retrieved. However, relying too heavily on wallet support and not being diligent in accurately transferring funds can increase the risk of mistakenly transferring coins to the wrong network on exchange platforms. Resolving such issues with exchanges can be challenging.
It is common for us to transfer funds from our personal wallets to the exchange for trading coins or securing profits. However, if we are not careful during the money transfer process, we risk losing the returns we have gained from our investments.
It is advised to check the networks supported by the trading platform before transferring funds to it, as each platform has its unique support mechanism. This measure will ensure that the transfer is successful and smooth.
Some other notes
Based on the above analysis, it is likely that you have gained an understanding of the cases and solutions for transferring coins to the wrong network. However, it is recommended that you further explore the various networks within the Crypto industry in order to gain a more in-depth comprehension of token standards and the advantages of each network. Each network leverages the strengths of the Blockchain it is anchored to, allowing for optimal choices when transferring funds. For example, instead of using ERC20 network with high transaction fees. BEP20 network may be selected to take advantage of its low fees and fast transaction capabilities on BSC.
With the information provided above, it is hoped that you have gained a thorough understanding regarding the issue of losing or retaining funds when mistakenly transferring cryptocurrency between networks. Consequently, you will be equipped with more flexible methods to handle and recover misplaced funds. Nonetheless, it is sincerely hoped that you will never encounter such a scenario or have to deal with restoring lost funds. We wish you all swift, smooth, and successful transactions.