What is Metamask? Is the wallet safe to use? Find a detailed guide on the installation and usage of Metamask here. In this article, Metamask will be introduced along with a comprehensive guide on the most detailed steps to operate the wallet.
What is Metamask Wallet?
Metamask is a digital wallet based on the Ethereum (ETH) blockchain platform, which also functions as a browser extension allowing users to easily run decentralized applications (Dapps) directly on their desktop browser. Presently, the wallet supports popular web browsers such as Chrome, FireFox, Opera, and Brave, as well as mobile applications.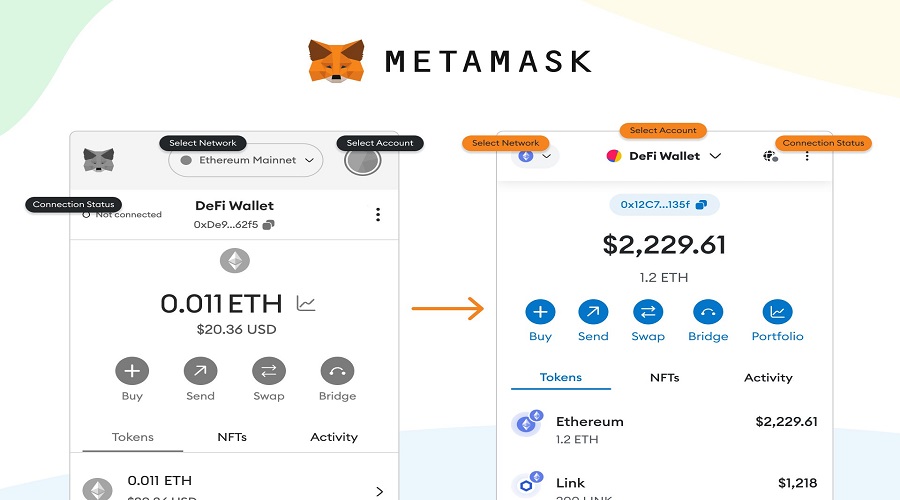 Metamask functions as a gateway that links the user's wallet to various projects such as AMM (decentralized exchange), Lending (loaning), and Farming (liquidity provision).
By either creating their own wallet or entering their Private Key and Seed Phrase into Metamask, users can access their assets and participate in various activities on the DeFi platform. The system will retrieve the assets in the wallet and display them in the Metamask window. This serves as a gateway for users to engage in DeFi operations.
Metamask wallet review
Advantage
Easy to use, friendly interface.
Integrating Swap so there is no need to connect to other AMMs, saving time.
As a popular wallet extension, almost all new projects are automatically integrated.
Customizable gas fees, helping users customize the speed at which transactions are completed.
Integrate multiple Blockchains.
Defect
Swap fees are quite high.
It is not possible to log in to multiple wallet addresses simultaneously; one must log out before attempting to sign in to a different address.
Automatic updating of asset data is not enabled, hence the user must manually integrate it. This leads to the non-display of assets if the user is unaware of the respective asset's contract.
Metamask's safety
Metamask is classified as a Non-custodial Wallet, which essentially serves as a platform for accessing your cryptocurrency wallet. It has gained a reputation as one of the most renowned cryptocurrency wallets in the market, hence it is highly unlikely for Metamask to cause any financial losses to your assets.
Nonetheless, it is noteworthy that there are instances of loss when logging into Metamask, which may be due either to the inadvertent sharing of one's Private Key by the user or to the presence of malicious software on the computer that can extract the Private Key while the wallet is being accessed. Therefore, it is crucial to exercise care in safeguarding one's personal computer or mobile device.
Many individuals believe that although Metamask wallets have advantages over other electronic wallets, their safety is not high enough, and thus they do not opt for it. However, in reality, Metamask has never been attacked or hacked in its five-year operating history. It utilizes backup settings and regularly updates its open-source codes, ensuring that the wallet remains in the best possible state of security.
Is Metamask wallet a scam?
If there is any fraudulent activity such as tampering with the Metamask wallet, it is only the tactics used by cybercriminals to steal users' information. When information is stolen, including the password to access the wallet, the loss of money and personal property becomes inevitable.
By exercising caution and avoiding clicking on fake websites, deceptive advertisements, or phishing emails, users can ensure absolute safety while storing funds in their Metamask wallet. If users are knowledgeable in managing and prioritizing security concerns, the security and safety features will automatically be enhanced.
Metamask wallet security
In addition, users also have the ability to manage their own identity. Whenever a DApp runs on the Ethereum blockchain, it provides a secure interface for users, which adds an extra layer of safety to their overall security.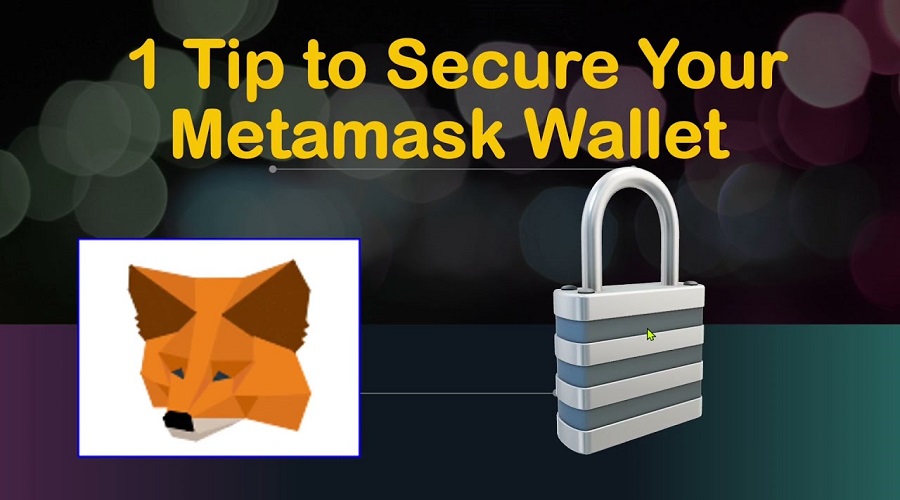 It can be argued that the Metamask wallet resolves numerous weaknesses encountered by online wallets during recent times. Therefore, it can be assessed that Metamask is presently the most secure online wallet in the world.
Metamask Fee
Metamask provides the default gas fee for transactions on Ethereum, which is dependent on the network's current state. The transaction fee reflects the confirmation time, meaning that the higher the fee, the faster the confirmation time; conversely, lower fees result in slower transaction completions.
Metamask provides users with the option to select from different gas fee levels: Quick, Standard, or Slow. However, caution must be taken as setting gas fees lower than Metamask's recommended fee levels may result in a transaction being stuck and never confirmed. Therefore, it is important to choose an appropriate gas fee to ensure proper transaction processing.
Instructions on how to install Metamask wallet
Step 1: To create a metamask wallet, visit the website https://Metamask.io/download.html and click on "Install Metamask for Chrome"
Step 2: Click "Add to Chrome" and select Add extension->Get started
Step 3: Select "Import wallet" if you already have a Private Key, otherwise select "Create a Wallet"
Step 4: Read the terms and click "I Agree" (I Agree)
Step 5: Create a password -> Select "Create a new wallet".
Step 6: Select "Secure my wallet".
Step 7: Select "Reveal Secret Recovery Phrase" -> Save 12 security keywords
Step 8: Enter the missing keywords to authenticate 12 security keywords -> Select "Confirm".
Install and create MetaMask wallet on mobile
Step 1: Visit here http://metamask.io/download/
Step 2: Select "iOS" or "Android".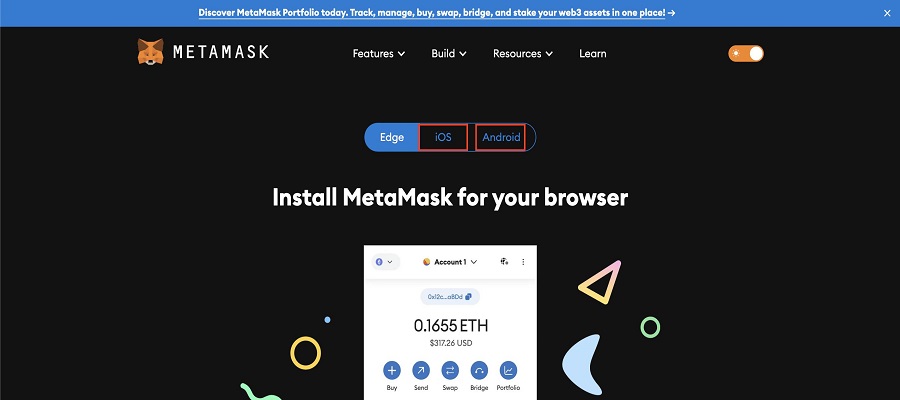 Step 3: Open the application -> Select "Get started".
Step 4: Select "Create a new wallet".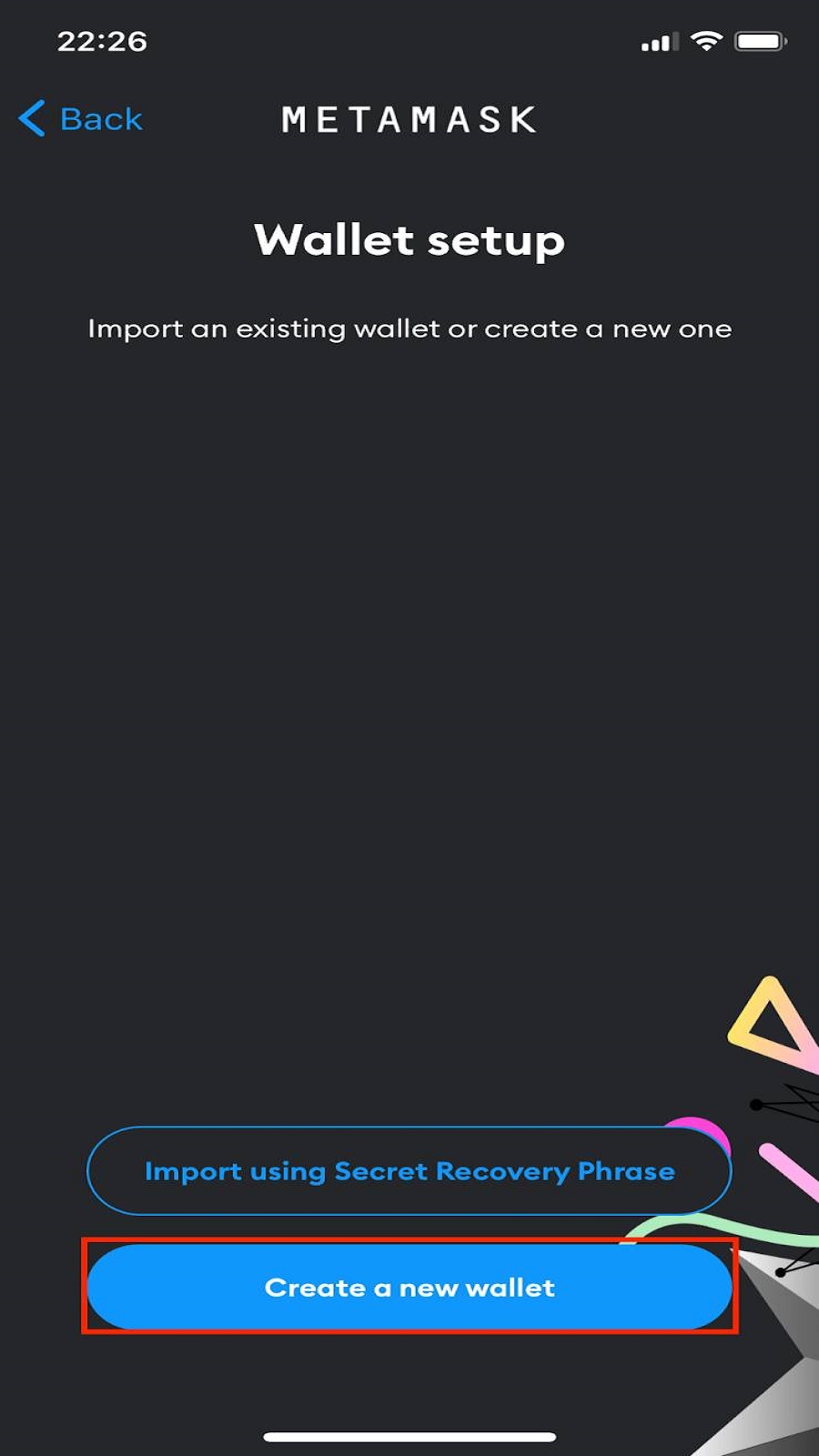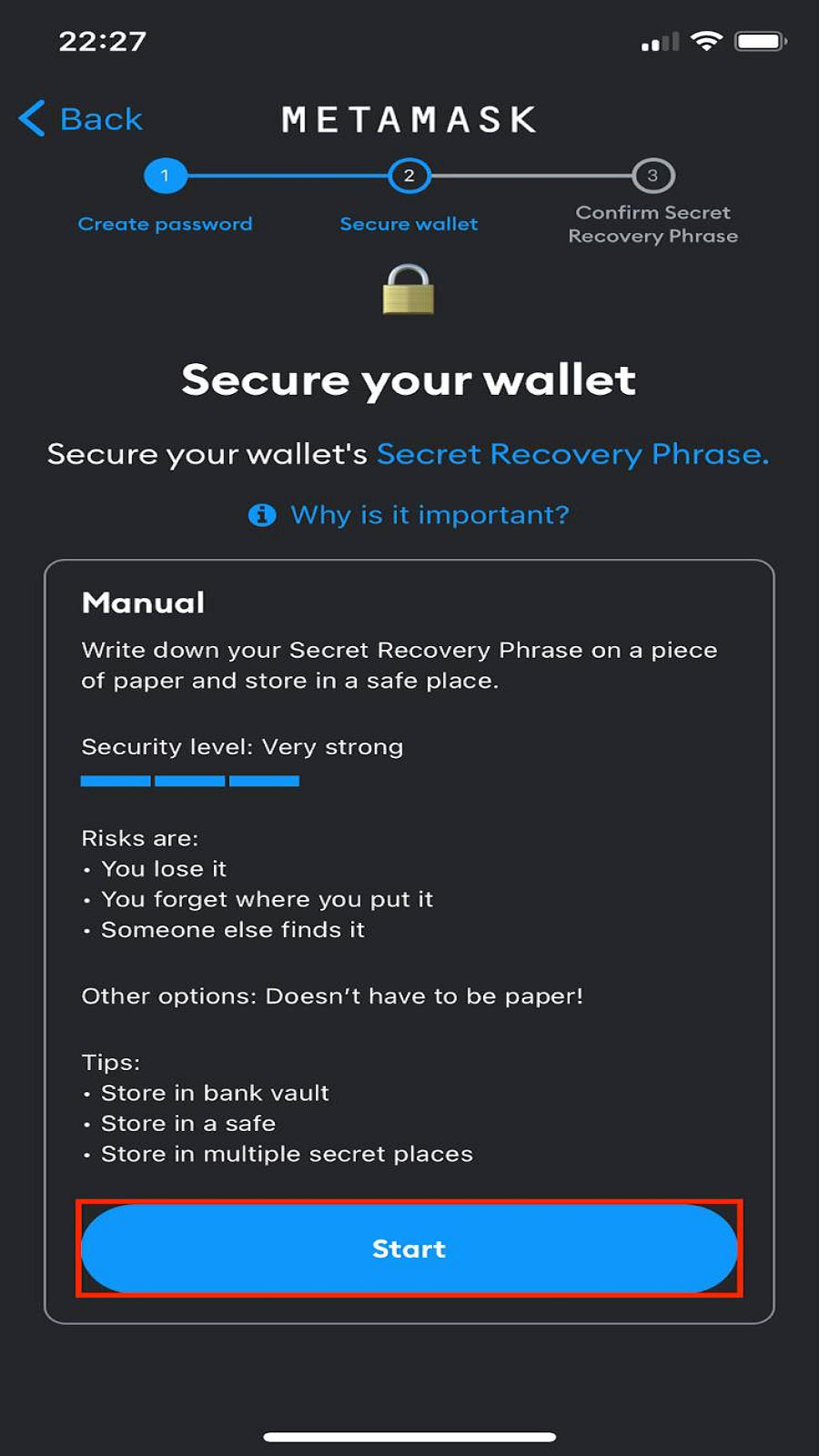 Step 7: Enter password -> Select "Confirm"
Step 8: Save 12 security keywords -> Select "Continue"
Step 9: Fill in 12 security keywords in order -> Select "Complete Backup"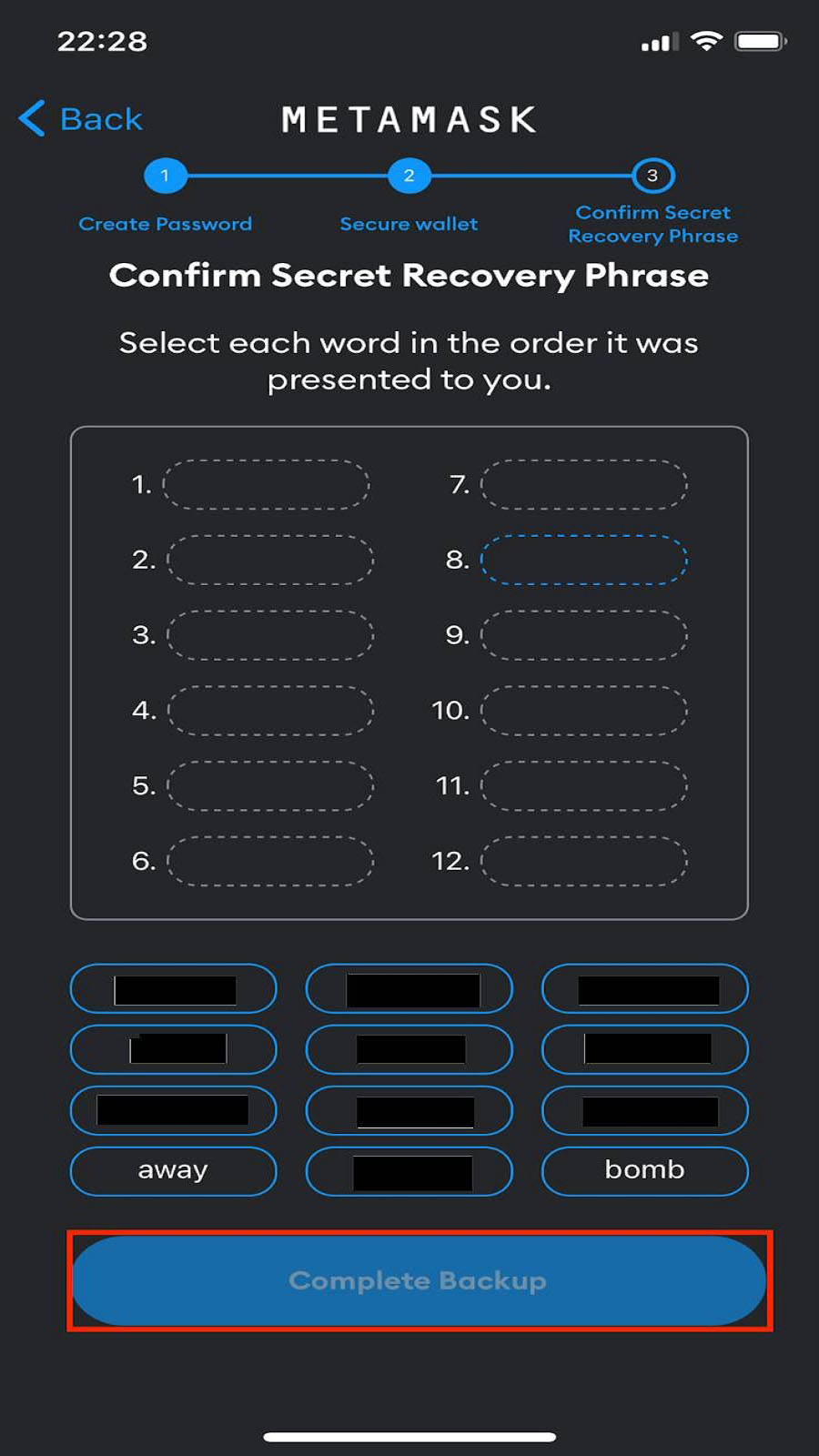 How to deposit coins into Metamask wallet
Step 1: Open the wallet on the browser
Step 2: Select "Add token", type the name of the token you want to add.
Step 3: Hover over the account name, after Copy to clipboard appears, click on the account name to copy the address.
Step 4: Access the exchange wallet and paste this address. Select "Withdraw" and find the coin you want to withdraw.
Step 5: Enter the necessary information and confirm to withdraw coins.
Receive and transfer coins/tokens in Metamask
In order to transfer coins/tokens from an external wallet to the MetaMask wallet, individuals must be aware of the token's standard and proceed to send it to the correct wallet address. The detailed steps to follow are as follows
Step 1: Open the extension icon in the wallet interface.
Step 2: Hover over the account name and click Copy to clipboard and copy the wallet address and send it to the sender. If you are the one doing the transfer from another exchange, please paste that address into the sending exchange.
Step 3: Choose the currency you want to transfer.
Step 4: Click SEND
Step 5: Enter the wallet address where you want to send crypto
Step 6: Select the type of token you want to send in the "Asset" section, enter the amount of crypto you want to send in the "Amount" box -> Select "Next".
Instructions for connecting wallet
Connect Myetherwallet wallet to metamask
The ultimate objective of linking Myetherwallet with Metamask is to facilitate seamless transactional exchanges and simplify balance management. The procedural steps involved are as follows:
Step 1: In Myetherwallet, select the Account icon and then click Import Account
Step 2: Choose Private Key, guys. Then you fill in the Private Key of the MEW wallet and then click Import
After successfully connecting Myetherwallet to MetaMask wallet, the process is now complete. Although a simple procedure, it can prove to be highly beneficial for asset management purposes.
Connect Ledger and Trezor cold wallets to metamask
In order to combine Trezor hardware wallet with MetaMask, it is essential to upgrade the MetaMask add-on to the latest version. Furthermore, it is necessary to agree to the most recent interface update of the application as this feature is only supported by MetaMask Chrome. If these above-mentioned conditions are met, the following steps can be taken to establish the connection:
Step 1: Go to the wallet and click on the icon in the upper right corner of the wallet and select Connect Hardware Wallet.
Step 2: Go to the Trezor wallet on the computer, then click CONNECT TO TREZOR.
Step 3: Click EXPORT of the TREZOR wallet and click Connect then enter the PIN code of the Trezor wallet.
Step 4: Select the ETH wallet address from the Trezor wallet and then click UNLOCK to complete.
The aforementioned siblings are connected as such, however, the termination of their connection is feasible at any juncture. This feature proves beneficial in the event where the siblings desire to connect with an alternate wallet or effectuate a wallet change.
Restore wallet Metamask
If the login password for the wallet is forgotten, the instructions presented below can be followed to restore the wallet.
Step 1: Select "Forgot password"
Step 2: Enter 12 security keywords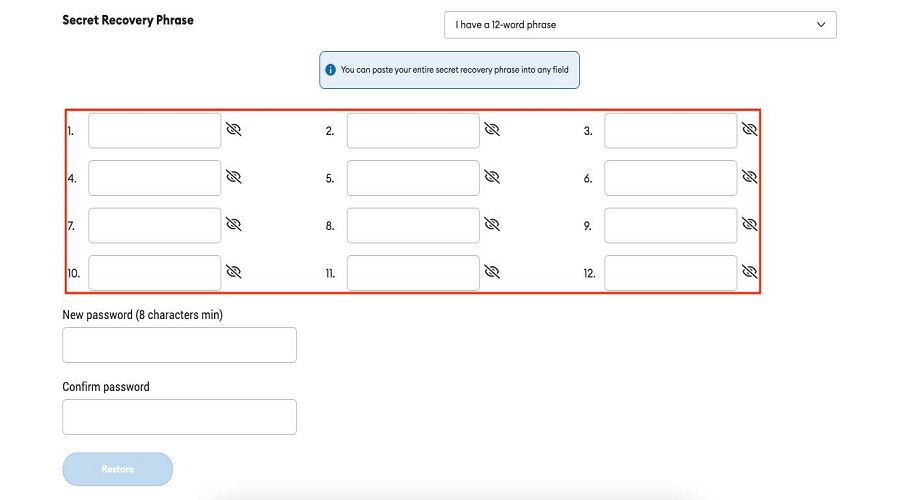 Step 3: Enter a new password
Step 4: Select "Restore" to restore the wallet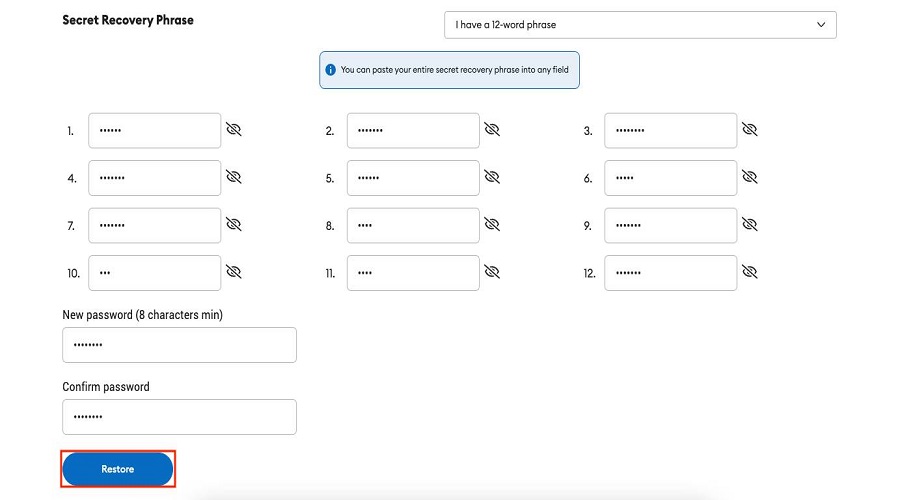 Swap token on Metamask
Step 2: Select the type of token you want to swap, enter the number of tokens you want to swap -> Select "Swap" and confirm the transaction to complete
What is the profit-generating mechanism of MetaMask?
If you continue to use the platform, installing Metamask and utilizing it is completely free. However, the platform will benefit from initial contributions to support development. The generation of profit for the wallet largely depends on the charging of exchange fees.
This means that every time a notification code is exchanged in the MetaMask wallet, a fee of 0.875% must be paid by all members. It is important to note that this supplementary amount is entirely collected by the wallet as a source of revenue and does not go through any other channel.
According to statistics, the small fee of just 0.875% may seem negligible, but with the current number of exchanges conducted, the MetaMask team earns approximately $100,000 per day. There are even days where MetaMask's record-breaking revenue surpasses $250,000, meaning that the wallet's daily exchange amount exceeds $50 million. As the number of users grows, it is certain that MetaMask's profit will not stop at this figure in the near future.
MetaMask launches a feature that allows "cash out" to fiat currency – Metamask Portfolio
MetaMask has recently introduced a new feature called "Sell" which allows users to convert their cryptocurrencies into fiat currencies such as USD, EUR, and GBP with just a few clicks of a mouse. This feature is designed to enhance the convenience of cryptocurrency transactions and present users with a more streamlined experience.
The process of converting cryptocurrency to fiat currency does not involve an intermediary party
On the evening of September 5th, 2023, Metamask introduced a new feature called "Sell" on MetaMask Portfolio. This latest addition allows for convenient conversion of digital currencies into fiat currencies such as USD, EUR, and GBP, without requiring users to go through the P2P method on centralized exchanges (CEX). The implementation of this feature facilitates easier and more efficient transactions in a secure and user-friendly manner.
The MetaMask Portfolio is a comprehensive platform designed for managing the crypto assets of investors in the field of crypto currencies. This project was launched in September 2022.
Prior to the launch of the "Sell Cryptocurrency" feature in legal tenders, scheduled for April 2023, Metamask had launched the "Buy Cryptocurrency" feature using legal tenders in order to enable investors to pay through credit cards, PayPal, bank transfers, and ACH.
Several salient points of the newly introduced Sell feature are evident
Allows users to convert cryptocurrency to fiat currency (USD, EUR, GBP) right on the MetaMask wallet;
Supports many suppliers, helping users find the best prices;
The selling process was quick and easy;
Fiat currency can be deposited directly into a bank account or PayPal balance.
Instead of being limited to just one provider, MetaMask consolidates a range of vetted providers to offer users various real-time options to convert their digital assets on the blockchain into desired fiat currencies.
As per the official announcement from MetaMask, the Sell feature will be restricted in terms of operational jurisdiction and cryptocurrency asset types at the time of launch, namely:
Only works in the US, UK, and some parts of Europe. It will then expand operations to many other areas.
Only supports converting ETH on the Ethereum mainnet network to 3 fiat currencies: USD, EUR and GBP. Later, support for converting native tokens on Layer-2 networks will be added.
How to sell crypto in MetaMask Portfolio
Connect your MetaMask wallet to portfolio.metamask.io
Click the "Sell" tab to get started
Select the area where you live
Select the token and network you want to sell (e.g. ETH on Ethereum)
Select a supported fiat account destination where you live (e.g. bank account or PayPal balance)
Enter the amount of cryptocurrency you want to sell (e.g. 0.5 ETH)
All quotes from available suppliers will be displayed in real time. Select a provider to continue.
You will be redirected to the provider's website to register and link your fiat account, then redirected back to MetaMask Portfolio.
Select "Send ETH to [Provider]" to have crypto from your Metamask wallet sent to your fiat account.
Confirm the transaction in the MetaMask wallet.
You will be able to track the status of your order as it is processed in the "Sell" tab. Processing times will vary depending on the provider, so funds may take a few days to show in your fiat account.
Completed!
MetaMask launches cross-chain bridging platform Bridge Aggregator
The MetaMask Bridges (beta) aggregator provides a superior experience in terms of both time and cost efficiency for asset bridging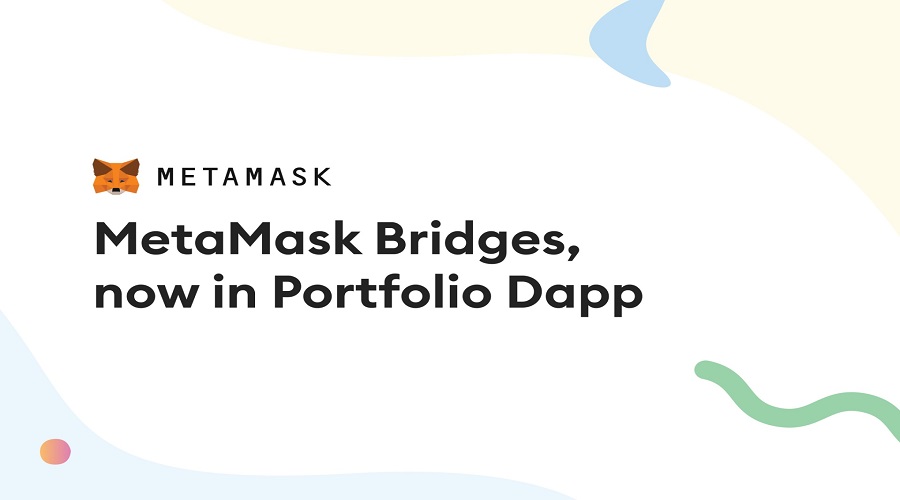 After releasing Portfolio Dapp in September, MetaMask has recently introduced its latest feature called MetaMask Bridges, which offers a convenient bridging solution.
By definition, MetaMask Bridges act as an aggregator and bridge to enable the transfer of tokens from one blockchain network to another in the most efficient way possible, with just a simple click. To experience it, users can click on the "Portfolio site" button on the main screen of the Extension or access portfolio.metamask.io directly from the MetaMask mobile app. Over the past year, in line with the increasing trend of cross-chain asset communication, several bridge solutions have emerged.
The current beta version provides support for 1:1 north bridge up to 10,000 USD per ETH/WETH transfer, popular stablecoins (such as DAI), and native tokens (e.g. MATIC) on EVM networks
Ethereum
Avalanche
Binance Smart Chain
Polygon
Wallet merely facilitates the bridges validated by the testing team and shall commence with:
Connext
Hop
Celer cBridge
Polygon Bridge
Summary
MetaMask is widely used as a standard wallet due to its high security, multilingual support, and numerous useful features for users. Currently, this wallet application supports almost all popular blockchain networks. Through this article, 247btc.net hopes that readers will gain basic knowledge about MetaMask. We look forward to sharing more informative articles with our readers in the future.
What is Metamask? Is the wallet safe to use? Find a detailed guide on the installation and usage of Metamask...
Read more