If you are someone who is interested and investing in the electronic market, it is highly likely that you have heard about Crypto.com Coin (CRO). The Crypto.com Coin is one of the most promising cryptocurrencies and has a significant global market capitalization. Have you acquired a comprehensive understanding of the Cronos crypto project and the CRO Coin? Join 247BTC today and let us dive into the details of Cronos and CRO Coin together!
What is Crypto.com (MCO)?
Before proceeding to the Cronos project, it is essential for one to have a comprehensive understanding of Crypto.com (MCO). Widely known among the users in the market as a Visa debit card and mobile wallet solution, Crypto.com (token code: MCO) offers the convenience of purchasing, selling, trading, and spending digital currencies such as Bitcoin, Ethereum, and various fiat currencies such as USD, EUR, GBP, JPY, and others.
Crypto.com offers users the convenience of fast and free transactions, as well as access to interbank interest rates. Additionally, users can earn money with each transaction made using the Crypto.com card.
Originally named Monaco, Crypto.com was officially acquired by Monaco in July 2018 for a reported price of 10 million USD and rebranded as Crypto.com. This name has persisted and is still in use to this day. The company was founded in June 2016 and is headquartered in Hong Kong. In June 2017, the Crypto.com project conducted an initial coin offering (ICO) and raised approximately 27 million USD in funding.
What is Cronos crypto (CRO)?
Cronos is an open-source, decentralized public blockchain by Crypto.com that utilizes Cosmos SDK as the foundation for its construction. Functioning as a sidechain with Crypto.com Chain, Cronos is compatible with Ethereum Virtual Machine (EVM), allowing for a swift and straightforward migration of Ethereum and EVM-compatible applications and smart contracts to Cronos. This scalability feature aids in the effortless scaling of Dapps. To draw a comparison, Crypto.com Chain and Cronos (EVM-compatible) are equivalent to Binance Chain and Binance Smart Chain (also EVM-compatible) by Binance.
Cronos aims to empower and expand the scale of decentralized applications (dApps) within the Crypto.com ecosystem, with a focus on areas such as non-fungible tokens (NFTs), decentralized finance (DeFi), and the Metaverse.
The salient feature of the Cronos ecosystem
EVM Compatible: The Cronos network has been constructed using the Cosmos SDK framework and is fully compatible with the Ethereum Virtual Machine (EVM). This compatibility enables relatively high levels of scalability and customization. Additionally, developers are able to leverage the existing tools and applications available within the Ethereum network.
Cronos has the capability to handle a higher number of transactions per minute as compared to Ethereum, which enables efficient execution of smart contracts at a quicker pace, reduced costs, and environmentally friendly measures.
Cronos possesses a high level of interactivity capability enabled by the Inter Blockchain Communications (IBC) protocol, thus allowing its connection and interaction with the Crypto.org chain and other IBC-supported chains, such as Cosmos Hub.
According to Coingecko's statistics, the CEX platform ranks fourth in terms of market capitalization, with strong support. Established in 2016, Crypto.com currently serves more than 10 million customers and offers a range of products, including the Crypto.com Visa Card, Crypto.com Exchange, Crypto.com DeFi Wallet, and a platform for collecting and trading NFTs.
The notable parameters of the Cronos blockchain
The notable parameters of the Cronos blockchain as of November 17, 2021, are as follows:
Average block time: 5.6s;
Total transaction volume: 1,397,504;
Total blocks: 139,520;
Total wallets: 59,210;
Number of fungible tokens on the system: 50;
Marketcap: $10.3 billion;
Total Supply: 100,000,000,000 CRO.
Key Metrics Cronos Crypto (CRO)
Ticker: CRO
Contract: 0xa0b73e1ff0b80914ab6fe0444e65848c4c34450b
Decimal: 18
Blockchain: Ethereum
Token Standard: ERC20
Token Type: Utility Token
Total supply: 100,000,000,000 CRO
Circulating supply: 25,263,013,692 CRO
Allocation CRO Coin
With a fixed total supply of 100 billion tokens, CRO will be divided by the Crypto.com development team as follows:
30% will be disbursed after 5 years (secondary distribution).
20% discount for Network long-term.
20% is the Capital Reserve.
20% funding the Crypto.com ecosystem.
10% for Airdrop and community development.
What is the purpose for which the Crypto.com Chain (CRO) is intended to be used?
The CRO token is utilized within the Crypto.com ecosystem, encompassing the following components:
Node Incentive
Crypto.com Chain's network of nodes will receive Rewards in the form of CRO cryptocurrency for their role in verifying and processing transactions within the blockchain network.
Transaction Fees
The CRO token is leveraged as a means of payment for transaction fees within the Crypto.com blockchain network.
Cost-saver
Customers who choose to pay using CRO tokens will receive a discount on Crypto.com's services.
Cross-asset Intermediary
The CRO token serves as an intermediary payment mechanism for various asset types.
Roadmap – Cronos project development roadmap
Throughout its developmental journey, Cronos has achieved many noteworthy milestones
28/12/2020: Particle B, an accelerator for projects on Cronos, has been established and is being managed by the CTO/Co-founder of Crypto.com to provide support for projects on Cronos. As of now, Particle B is supporting two projects, namely VVS Finance (AMM DEX) and Tectonic Finance (lending money market).
10/5/2021: A fund of $100 million has been established specifically to support construction projects on the EVM Cronos network.
20/7/2021: Cronos, Crypto.org EVM chain, Testnet Launch.
28/7/2021:The integration of Chainlink Price Feeds by Cronos serves the purpose of providing oracle services for various DeFi protocols and other protocols on the platform.
Cronos' Ecosystem
Various pieces of information regarding the Cronos ecosystem have been gathered from multiple sources. Currently, the total value locked (TVL) in the ecosystem stands at $4.5 billion, ranking it 9th in terms of TVL among other blockchains. Let us embark on a journey to explore the Cronos ecosystem together.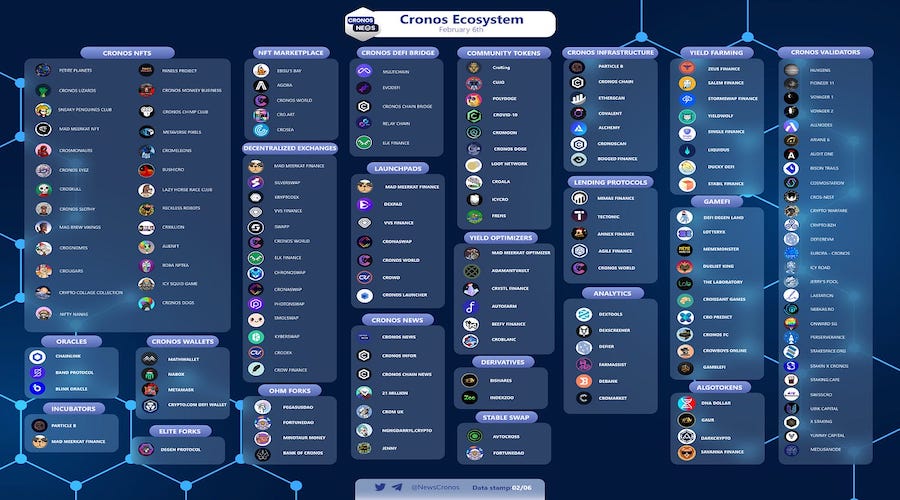 DEX
Cronos has the following AMM DEX projects:
VVS Finance: Particle B, which is built natively on the Cronos blockchain, has provided support to DEX. As a result, the DEX farming program is currently operational and the Total Value Locked (TVL) of DEX has reached 1.3 billion dollars. It is worth noting that DEX is currently the largest decentralized exchange (DEX) on the Cronos network and also boasts the highest TVL of any protocol on the network. Additionally, DEX has developed a token called xVVS (a Curve fork model) to increase the Annual Percentage Rate (APR) for farmers using the application.
MM Finance: The project at hand encompasses not only DEX, but several other areas including NFT, Launchpad, stablecoin, and yield aggregator. The TVL of this project currently stands at 1.12 billion USD. This DEX platform boasts several innovative features, such as a transaction fee of only 0.17%.
CronaSwap, CroDex, PhotonSwap, Elk Finance, ChronoSwap, Swapp, Empire DEX, Annex Finance: Other AMM DEX platforms within the Cronos ecosystem have comparatively low total value locked, ranging around 20 million USD or less.
Currently, the opportunities in the Cronos ecosystem for the AMM DEX sector have become less attractive due to the significant decrease in APR and fewer profits from farming. Nevertheless, the top DEX platforms remain fundamental components of the ecosystem that require close monitoring for those invested in this sector.
Lending và stablecoin
Cronos has the following lending projects:
Tentonic Finance: Particle B-backed lending money market application enables users to earn passive income by lending their assets and facilitating quick borrowing. Currently boasting a total value locked (TVL) of $550 million, with $1.15 billion in supply and $600 million in borrow, this project stands as the largest money market within the ecosystem.
Savanna Finance: The MM Finance team has developed a stablecoin, SVN algorithm, which is currently being utilized in conjunction with a debt protocol application. There is a total value locked (TVL) of 300 million dollars invested in this project.
Other lending protocols include DarkCrypto, Darkness, Annex Finance, Leonium Finance, among others.
With the support of Particle B, Tentonic Finance is poised to lead the lending sector in the near future, just as VVS Finance easily pioneered the AMM DEX domain. The lending piece on Cronos has been completed, thereby enabling other sectors to flourish within this ecosystem.
Yield farming
Cronos has the following yield farming projects:
MM Optimizer:MM Finance has developed a leading yield farming application on Cronos with a total value locked (TVL) of 600 million dollars.
Other yield farming apps: Autofarm, Beefy Finance, Zeus Finance, Crystl Finance, Kafe Finance, Leonium Finance…
It can be observed that MM Finance has achieved remarkable success in its ecosystem of applications, boasting numerous products that exhibit high Total Value Locked (TVL). This has resulted in the emergence of early adopters in the yield farming realm, paving the way for the development of other sectors in the near future.
NFT
Cronos has the following NFT projects:
Mad Meerkat: NFT Market is built by MM Finance.
EbisusBay: NFT market on Cronos, currently this marketplace is not in operation and will be launched next week;
NFT marketplace built by Cronos World: The project is under construction and has not been put into operation;
NFT marketplace built by Annex Finance: The project is under development;
Leonium Finance: A project to make NFT Marketplace on Cronos system, under development;
CRO CROW: Project to sell NFTs of crows on the Cronos system. Mining fee for 1 crow is 100 CRO;
Hibiki Finance: NFT Marketplace on Cronos, not yet operational.
Cronos Punk: NFT project about Punk NFT on Cronos system. Soon this NFT can trade this NFT on CroDex and Ebisubay.
CroPunks: Another punk-based NFT project on the Cronos system;
Crocos NFT: An NFT project about crocodiles on the Cronos system.
And many other NFT projects…
Some other applications of Cronos Crypto
In addition to the aforementioned segments, Cronos possesses other pieces in the external sectors.
Relaychain: The bridge application is relatively new with a limited number of users, but it has managed to achieve a total value locked (TVL) of 35 million dollars, with 12,000 transactions supporting 7 different chains including Ethereum, Polygon, Binance SmartChain, Avalanche, Huobi Eco Chain, Cronos, and Polkadot.
Anyswap: The bridge application is currently linked with nearly 20 chains existing within the market and has established connection with the Cronos ecosystem.
Cronos Launcher:A launchpad app on the Cronos ecosystem.
Cronos World: The objective of the project is to construct an all-in-one platform on the Cronos system, which will include independent developers developing new products. Currently, no such products are available on the platform. However, upcoming launches will consist of Crown DEX (AMM DEX), Crownpad (Launchpad), and an NFT marketplace. It has been disclosed that this venture has already secured investment from several different venture capitalists.
Crohm Finance:An application to fork Olympus DAO on the Cronos ecosystem. The project is not yet in operation.
Yummy:An application for lottery on the Cronos system has recently been launched, however, it has not yet gained a significant user base and the prize pool offered by the application is currently very small.
CroShiba: Memecoin on Cronos system, marketcap is at 600 thousand dollars;
Tendie Fren: Memecoin on Cronos system, marketcap is at 500 thousand dollars;
Cronos Doge:Memecoin on Cronos system, marketcap is at 500 thousand dollars;
Cronos project team and partners
Cronos project team
Cronos has been constructed entirely as a parallel project with Crypto.com Chain by the team of Crypto.com. The team comprises individuals who have previously worked for multinational corporations such as Paypal, Honda, Visa, HBO, HSBC, JP Morgan, and more.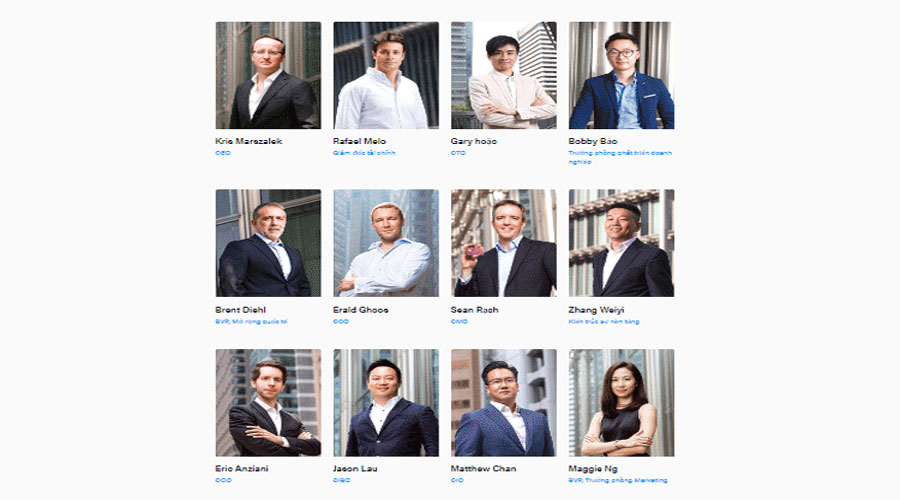 Kris Marszalek (Co Founder và CEO):Entrepreneurs operating in the internet industry in the Southeast Asia region possess numerous start-up companies under their control.
Rafael Melo (Co Founder và CFO): Previously recognized as the Financial Director with over fifteen years of expertise at Mobile Payment Solution, a subsidiary of Master Card.
Gary Or (Co Founder và CRO): Gary Or is a seasoned professional with a decade of experience in the field of full-stack programming. In addition, he is also adept at hacking, designing products, and has experience as an entrepreneur.
Bobby Bao (Co Founder và Head of Corporate Development):In the year 2018, Bobby was featured in Forbes' list of the top 30 individuals under the age of 30 in Asia. His primary area of expertise is in the field of technology.
Partners