What is Gnosis Crypto (GNO)? This article provides comprehensive and valuable information regarding the digital currency Gnosis (GNO) for individuals seeking to learn more.
What is Gnosis Crypto (GNO)?
Gnosis Chain is a blockchain platform developed by Gnosis Protocol, an advanced blockchain technology company. Its design is aimed at providing a decentralized exchange (DEX) system and a decentralized finance (DeFi) investment platform with advanced features such as fast transaction processing, high reliability, and low latency.
This platform has been constructed on the Ethereum blockchain network and implements the Gnosis consensus protocol to enable secure and transparent transactions. The Gnosis Chain allows users to execute transactions without depending on centralized intermediaries, along with offering a user-friendly interface and conveniences for transactions in DEX and DeFi.
The salient feature of Gnosis Crypto (GNO)
Open Framework: Gnosis has developed an open framework that enables the creation of digital assets representing information about future events. These tokens can be traded on various prediction markets and decentralized applications (dapps).
Ring trade: Gnosis employs a ring trade mechanism rather than the conventional order book approach to trading.
Imagine a group of 4 people: Alice wants to exchange DAI => OWL, Bob and Cary want to exchange USDC => DAI and Daniel wants to exchange OWL => USDC. Traditional exchanges will not be able to fulfill this order. In this case Daniel will have to change OWL => DAI then from DAI => USDC.
The ring trade feature of Gnosis enables the execution of orders without the need for users to undertake intermediary steps.
The pricing mechanism of Gnosis involves calculating an optimal value for traders while keeping the slippage rate low.
Information Gnosis Token (GNO)
Key Metrics GNO
Token Name: GNO token
Ticker: GNO
Blockchain: Ethereum
Token Standard: ERC-20
Contract: 0x6810e776880c02933d47db1b9fc05908e5386b96
Token type: Utility
Total Supply: 10,000,000 GNO
Circulating Supply: 1,104,590 GNO
Token Use Case
The main purpose of GNO token is to generate OWL token.
The OWL token is a cryptocurrency utilized within the GNO smart contract platform, possessing a value equivalent to 1USD, and presenting a primary use case as follows:
The OWL cryptocurrency will serve as the means of payment for transaction fees on the Gnosis Protocol, including gas fees via the Gnosis Safe platform.
The provision of liquidity will be reduced by 50% through the utilization of DutchX, a trading protocol developed by Gnosis. This protocol does not charge fees, but instead collects 0.5% of the trading volume. Cost reduction of up to 50% can be achieved by users through the utilization of OWL.
Information about the token of the Gnosis Chain Project
Chain using two tokens:
xDai: The predecessor of Gnosis Chain is xDai Chain. xDai tokens are utilized for paying transaction gas fees on the Gnosis network and are stable tokens with a value pegged to that of one US dollar. These tokens are created from locked DAI tokens.
STAKE: At present, the STAKE token serves as a governance tool for the Proof of Stake (PoS) protocol known as POSDAO, which manages the blockchain. However, the PoS model is set to undergo significant changes with the deployment of the Gnosis Beacon Chain, and GNO tokens will assume the responsibility of protecting the chain. This transition marks a significant shift in the technological infrastructure and governance mechanisms of the blockchain ecosystem.
Basic information about the xDai Token
xDai is a cryptocurrency that has been derived from the DAI coin of the MakerDAO platform. DAI is considered a stable token on the main Ethereum network and is supported by the US Dollar (1 DAI equals 1 US Dollar). Purchasing xDai is possible via various means, including with a credit card. It is important to know that the value of xDai is proportional to that of DAI at a rate of 1:1.
The cryptocurrency xDai is utilized for paying transaction fees on the Gnosis blockchain and also serves as a payment method for executing smart contracts and gas fees.
How to get xDai:
Received from another user on Gnosis chain
Convert DAI from Ethereum to xDai using xDai Bridge
Convert DAI from BSC to xDai using OmniBridge
Buy directly on AscendEx exchange (formerly Bitmax) with the pair: xDai/USDT
Buy directly with cash via platforms: Ramp.Network or Mt Pelerin
Trade on Honeyswap (requires a small amount of xDai to start trading)
Alternatively, users can request a modest amount of funding from Discord community members in order to facilitate payments for transactions on the xDai Faucet.
Basic information about STAKE Token
Token Name: STAKE
Blockchain: Ethereum
Token Standard: ERC-20
Contract Code: 0x0ae…f195e6 (on Ethereum mainnet) and 0xb7…9a05e
(on xDai Chain)
Total circulating supply: 8,439,294 STAKE (according to CoinMarketCap)Maximum total supply: 8,537,500 STAKE (according to CoinMarketCap)
Token Type: Governance Utility
The token named STAKE follows the Ethereum Request for Comment 20 (implemented as the code ERC-677) and is specifically created to bolster the security of payment transactions on the blockchain. Additionally, STAKE provides incentives to validators who confirm transactions.
Users have the option of leveraging their STAKE tokens as collateral while participating in the consensus process of a node to receive STAKE token rewards. Additionally, owners of STAKE tokens have the ability to stake them on supported trading platforms for extra income.
The STAKE token can be found on both the Ethereum Mainnet and the xDai chain, with distinct addresses allocated to it on each network.
Users can purchase STAKE on Ethereum in one of the following ways:
Buy STAKE tokens on CEX exchanges such as: Huobi Global, AscendEX, Poloniex, Bilaxy
Trading on DEX: Uniswap, Balancer Pool, 1inch.exchange, DEX aggregator, Sushiswap
Or you can exchange STAKE on xDai Chain with STAKE on Ethereum using OmniBridge.
For xDai Chain, users can own STAKE in the following ways:
Transfer STAKE from Ethereum to xDai Chain using OmniBridge.
Swap STAKE from xDai through DEX exchanges: Uniswap, Balancer Pool, 1inch.exchange…
At present, users can effortlessly transfer their STAKE between the Ethereum main network and the xDai chain via BlockScout. This application boasts an AMB Bridge extension and an OmniBridge gateway to facilitate this process seamlessly.
The historical merger transaction involves the integration of Gnosis and xDAI – a leading sidechain of the Ethereum network – to establish the Gnosis Chain
On November 8th, Gnosis proposed GIP-16 with the aim to merge with xDai and develop the xDai blockchain within Gnosis Chain. As a result, the STAKE token, which governs xDai, experienced a 35.9% increase in value, rising from $13.33 to $18.12. Additionally, trading volume surged by 138.6 times, escalating from $0.18 million to $25.31 million. These changes signify a significant boost in the interest of investors towards the GIP-16 proposal and demonstrate a positive impact on the market.
On December 8th, the proposal was successfully passed, allowing for the conversion of 1 STAKE to 0.032 GNO. Additionally, xDai Chain will be renamed as Gnosis Chain. These updates have been implemented and are now in effect.
The integration has garnered mixed reactions, as many critics claim that xDAI's seriously undervalued stake-to-gnosis exchange rate suggests it is being taken over by foes. Leading commentators in the proposed debate have labeled it a "hostile takeover", where xDAI is being "bought out for a few cents." On the other hand, many others believe that the integration will lead to significant advancements for both xDAI and Gnosis.
Upon integration, Gnosis has committed to providing a $200 million support fund for the development of the Gnosis Chain ecosystem. GnosisDAO may also consider providing liquidity for various DeFi protocols on the xDAI chain, including Agave and 1Hive, to support them. NFT projects such as xDai Punks, xDai Tigers, and xDai Bots on xDAI may also consider rebranding to Gnosis.
Furthermore, it should be noted that the management token for Gnosis Chain will be represented by GNO, while the underlying token will remain xDai, which provides all the advantages of a stablecoin. Transaction fees will still be settled in xDai.
Overview of the Gnosis ecosystem
This painting depicts the overall ecosystem of Gnosis after it merged. In general, the ecosystem is quite complete, consisting of essential components such as DeFi, NFTs, Gaming, Bridges, and Analytics. Multiple projects have achieved unequivocal success.
According to Footprint Analytics' data, xDAI's total value locked (TVL) was 256.58 billion USD prior to its merger with Gnosis. The most significant market share, at 30.51%, was held by DEX listings. Major project contributors to this sector include Honey Swap, Perpetual Protocol, and Curve.
Despite containing all the primary categories, xDai's growth in total value locked (TVL) has been slower compared to other public chains such as Solana, Terra, and Polygon, as shown by Footprint Analytics' data.
The principal reason is that xDai lacks internal connections within its industry, a plan to encourage a substantial budget, as well as weak marketing and operational capabilities.
Therefore, with the integration of Gnosis and xDai, Gnosis has planned to prioritize measures that encourage the expansion of the current ecosystem, in order to compensate for the shortcomings of xDai and bring about breakthroughs for this ecosystem in the near future. This strategy aims to enhance the overall efficacy and sustainability of the ecosystem, while ensuring its continued growth and long-term success.
Some typical projects in the Gnosis ecosystem
Wallet –

Gnosis Safe
The leading multi-signature wallet application in the fund management market is Gnosis Safe, which currently manages a total of $127 billion worth of ERC-20 tokens. This application is primarily used on Ethereum Mainnet but is also available on xDAI, Arbitrum, Polygon, and Binance Smart Chain. The current total value locked (TVL) for Gnosis Safe on the xDAI Chain is approximately $1 billion.
As of November 15, 2021, the total number of "safes" created within the Gnosis Safe has exceeded 36,000, and this growth trajectory is continuing at a rapid pace. The upward trend, particularly over the past few months, has been driven by an increasing number of DAOs within the cryptocurrency ecosystem.
Exchange Swaps
The Gnosis v2 protocol, which serves as the foundational system behind CowSwap, is a DEX Aggregator tool designed to safeguard users from MEV through a batch auction mechanism. Currently operational on Mainnet and xDAI, CowSwap has achieved an average daily trading volume of 65 million USD in the past week, ranking it among the top 20 DEX protocols. Similar volume-generating protocols include Quickswap, Serum, and ApeSwap. However, CowSwap still lags behind Uniswap in terms of daily transaction volume, the latter having reached approximately 2.5 billion USD.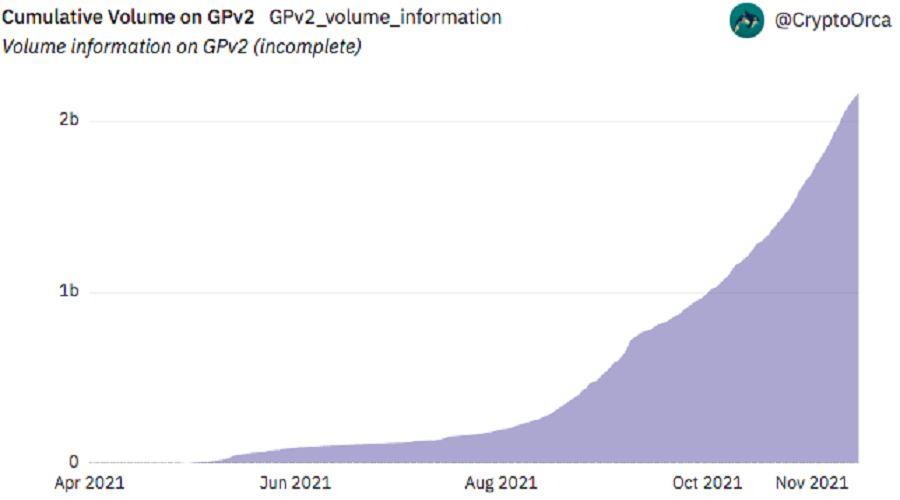 The recent protocol has surpassed the accumulated volume of 2 billion USD since its launch at the beginning of the year, with its volume increasing from 1 billion USD to 2 billion USD in just one month. This significant milestone reflects the impressive growth and adoption of the protocol in the financial market, indicating a promising future for its potential applications.
HoneySwap: A native DEX platform on the Gnosis ecosystem
Perpetual Protocol: Provides contracts for all assets
Gaming
DarkForest: A space war game
CoinQuest: Free-to-Play and Play-to-earn MORPG
Roadmaps & Updates Gnosis Chain
EasyStaking, POSDAO and Liquidity Pool stats
Completion time: 1st quarter of 2021
The current state of progress is that the MVP has been successfully completed. The team is currently working on enhancing and adding to the project, specifically focusing on the Dune Analytics Staking Dashboard, which incorporates EasyStaking and POSDAO with additional metrics. Additionally, they are developing a Liquidity Pool and DappQuery to further improve the project. The overall effort is being carried out in a formal and informative style.
Established Bug Bounty
Completion time: 2nd quarter of 2021
The current status of the project entails the establishment of a partnership with Immunefi. The first reward being offered is valued at up to $2,000,000 USD for individuals who successfully identify serious vulnerabilities in OmniBridge contracts. Moreover, the project aims to introduce additional incentives for other infrastructure such as EasyStaking and POSDAO consensus contracts.
Improve management process
Completion time: 2nd quarter of 2021
The current status of the project is that it has enhanced its compatibility with xDai snapshots and is now undergoing the optimization process.
Phase 2 of OmniBridge
Completion time: Q1 and Q2 2021
Implementation Status: Completed by Chain Security on 27/04/2021.
Activate Berlin HF and update the app
Completion time: May 2021.
Implementation status: Completed on 17/05/2021.
Improved POSDAO
Expected completion time: 2nd quarter of 2021.
Implementation status: Security check completed on 06/25/2021.
Universal NFT Bridge
Completion time: 3rd quarter of 2021.
Implementation Status: Completed beta on 07/27/2021.
This is a bridge for NFTs that allows users to easily transfer ERC-721 tokens between Gnosis Chain and Ethereum, thereby enhancing interoperability and providing users with more options for NFT minting and cross-chain transfers.
xDai Sponsorship Program
Completion time as planned: Quarter 2 to Quarter 3 of 2021.
Execution Status: Not Happened.
Scalability Layer 2
Estimated completion date: The team is still working on the study, with no official end date.
Implementation Status: Phase 1 complete with AOX Arbitrum implementation on xDai.
Deployment of EIP-1559
Completion time: Q3 to Q4 of 2021.
Execution Status: Completed HardFork on 11/12/2021.
Gnosis Chain Deployment
Scheduled completion time: Quarter 4, 2021.
Implementation Status: The Gnosis Chain is still being rolled out.
Transactions that protect privacy
Scheduled completion time: Quarter 4, 2021.
Implementation status: The project team is in the process of defining requirements and exploring approaches.
Synthetic asset discovery and deployment
Expected completion time: 1st quarter of 2022.
Implementation Status: Gnosis is working on 50% implementation and will do additional research in the near future.
Development plan in 2022
Connect two independent ETH2.0 chains and their respective execution layers.
Deployment of POSDAO phase 3.
Development team Gnosis
The Gnosis Chain project's Core Team is comprised of 10 highly skilled individuals who are experts in various fields including Blockchain, telecommunications, robotics, e-commerce, computer science, and machine learning.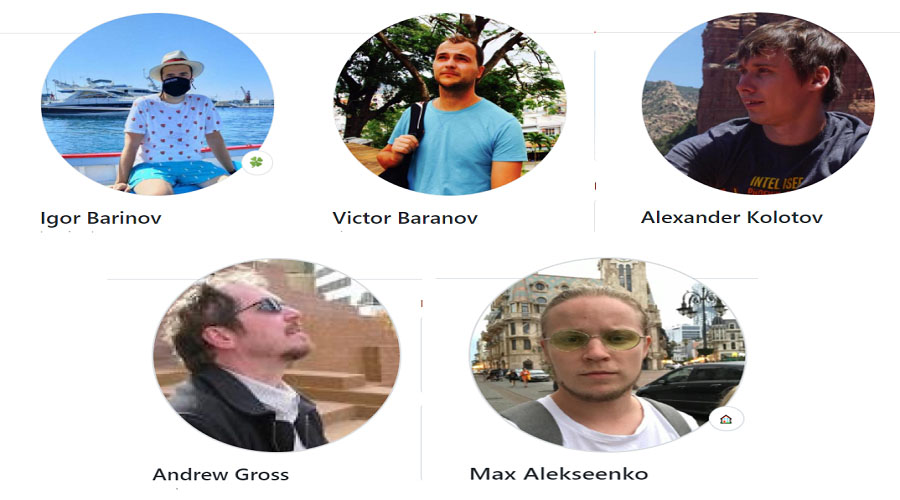 The most decisive members within the project development team are identified as:
Igor Barinov – CEO of Technology: Igor has many years involved in building projects on Ethereum.
Team leaders of additional projects include: Vadim Arasev (Consensus team), Victor Barinov (BlockScout & Nifty Wallet team), Alex Kolotov (TokenBridge team), Max Alekseenko (Decentralized Application Development team) and Andrew Gross (Technical Links group).
Summary
Although the Gnosis ecosystem currently possesses all necessary components, its TVL growth rate remains slower compared to other chains such as Solana, Terra, and Polygon. The primary reason for this is its lack of internal connectivity within its own industry, absence of plans to encourage significant budgeting, as well as inadequate marketing capabilities.
Therefore, the integration of xDAI and Gnosis is focused on providing incentive packages to support projects, to connect internally, as well as to launch marketing campaigns to promote the ecosystem to potential targets. Currently, Gnosis has released a $200 million support package to develop the ecosystem. It is expected that the ecosystem will boom in 2023.