Linea crypto, formerly known as ConsenSys zkEVM, is a second-level Ethereum Zero Knowledge virtual machine developed by ConsenSys – the team behind the MetaMask product. It replicates the Ethereum environment as a form of rollup, allowing developers to use tools and experiences similar to those on the Ethereum mainnet. With Linea, users can benefit from the security and reliability of Ethereum while enjoying lower transaction costs.
What is Linea Crypto?
Linea is a Rollup Layer solution that utilizes zkEVM technology, developed by ConsenSys, which is the parent company of renowned projects in the market such as Metamask, Infura, and Truffle.
On March 28th, 2023, the ConsenSys zkEVM was officially renamed as Linea, signifying its potential as a robust layer 2 solution backed by the ConsenSys empire.
The operational mechanism of Linea Crypto
In order to comprehend the operational mechanism of Linea, it is imperative for the users to grasp the fundamental concept of Rollups.
Rollups are a utility strategically designed to enhance Ethereum's scalability. This technology enables the aggregation of large volumes of transactions into a single block before sending them collectively to Ethereum. In other words, each Rollup block that is sent to Ethereum will serve as a summary of multiple transactions within it. This process allows for greater efficiency and scalability in the Ethereum network by consolidating numerous transactions into a single compressed block.
Similarly, ZK Rollup refers to Rollup techniques that utilize Zero Knowledge proofs to verify the accuracy and validity of transactions packaged within blocks and sent to the Ethereum network.
Subsequently, the smart contract on Ethereum layer 1 can simply verify the proof without the need to redo the entire transaction. This significantly saves on gas fees as verifying the proof is much cheaper compared to redoing the computation. This feature provides notable cost efficiency for smart contract execution on the Ethereum blockchain.
The language zkEVM is a programming language designed for ZK Rollup solutions that are compatible with EVM. zkEVM is divided into four different types based on their compatibility with EVM, with types 1 through 4 gradually decreasing in compatibility.
Linea will be following the development of zkEVM type 2, which implies that this layer 2 will be compatible with EVM at the virtual machine level, possessing a similar structure to EVM with minor modifications to facilitate development and accelerate proof creation. However, it is possible that some applications may not be compatible with this type.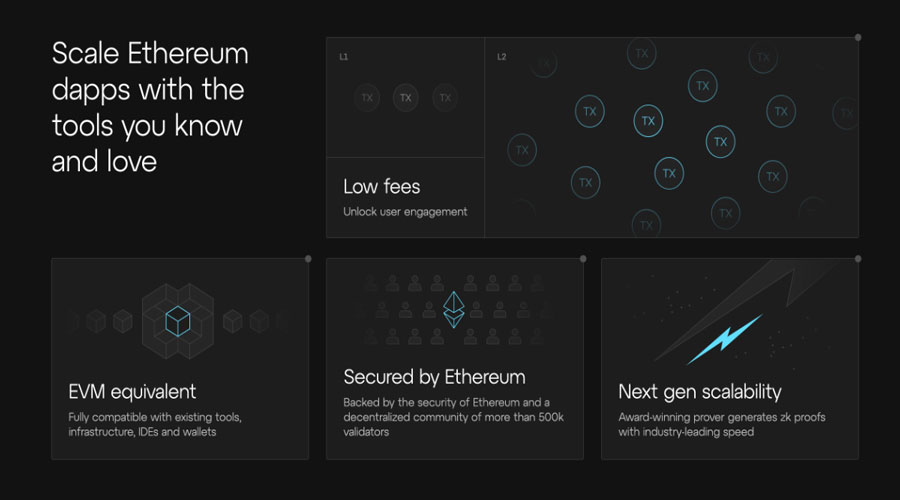 As of March 2023, Linea's Private Testnet has achieved a notable milestone of 1.5 million transactions within a few weeks of its launch.
The salient feature of Linea Crypto
Adopt zkEVM Type 2 technology
The implementation of zkEVM, a Zk-Rollup solution that is fully compatible with EVM, is set to enhance the development experience for programmers. Additionally, this layer 2 solution offers stronger composability capabilities due to the simulation of Ethereum's structure (type 2 has more EVM compatibility than type 3 or 4), which allows DApps on Ethereum to seamlessly transition to the zk-Rollup chain with minimal required changes to their source code.
Developed by the company ConsenSys, the empire behind famous projects in the market such as Metamask, Infura…
Consensys is a company that holds a relatively strong position in the market. In terms of the amount of capital raised, it can be considered to have surpassed all other projects that have developed products based on zkEVM technology, such as zkSync, Scroll, and Polygon zkEVM.
ConsenSys R&D is the right arm of this company, deeply specialized in Rollup research since 2019. Following that, they invested significant resources in developing the zkEVM type 2 in the subsequent years, resulting in the current Linea layer 2.
Developer-friendly
One of the advantages of Linea is that it enables direct integration and connection with products such as Metamask, Infura, Truffle, and Besu, among others
Metamask: The Linea platform offers an integrated Metamask wallet for software developers who are building products, simplifying the development process and providing users with hassle-free access to secure online transactions.
Infura: The developers are provided with various tools offered by Infura such as API, developer tools, and Web3 infrastructure to integrate with their Linea products.
Truffle: The Truffle framework is utilized as a platform for initiating, testing, and debugging Solidity smart contracts before their integration into dApps.
Besu: This is the place where zkEVM testing can be optimized through the battle-tested product development process.
With the tools provided by ConsenSys for Linea, developers no longer need to waste time building or struggling with the most basic building blocks. Instead, they can focus on creating innovative Web3 solutions when constructing dApps on this layer 2 platform.
What is Linea's token?
At the time of writing (March 2023), Linea has not announced its own token.
Roadmaps & updates
December 2022: Launched Private Beta, allowing developers to test on Goerli and give feedback to the company, reaching 490+ thousand transactions.
January 2023: Opened Private Testnet and achieved more than 1.5 transactions.
March 2023: Renamed ConsenSys zkEVM to Linea and opened Public Testnet to all users in the market.
In particular, Linea is expected to launch the mainnet version in Q2/2023.
Quick guide on how to perform testnet on Linea
The current users have the opportunity to participate in Linea's testnet in order to gain experience and provide feedback for the project. This also serves as a chance to obtain recognition from the project by becoming one of the first users, thereby increasing the likelihood of receiving an airdrop.
The testnet implementation steps include the following:
Transfer Metamask wallet to Goerli Testnet network.
Get Goerli network ETH through the following faucets: https://faucetlink.to/goerli
Bridge ETH network Goerli to crETH on Linea via Hop Protocol
Start experiencing active projects on Linea Testnet here.
Project team
Linea is developed by ConsenSys, so the team behind ConsenSys are also the developers of this layer 2, in which:
Joseph Lubin (Founder, CEO): Founded ConsenSys in 2014.
Andrew Keys: Co-Founder of ConsenSys and currently Managing Partner of ConsenSys Capital.
Kavita Gupta: Executive in Residence at ConsenSys and director of ConsenSys Ventures.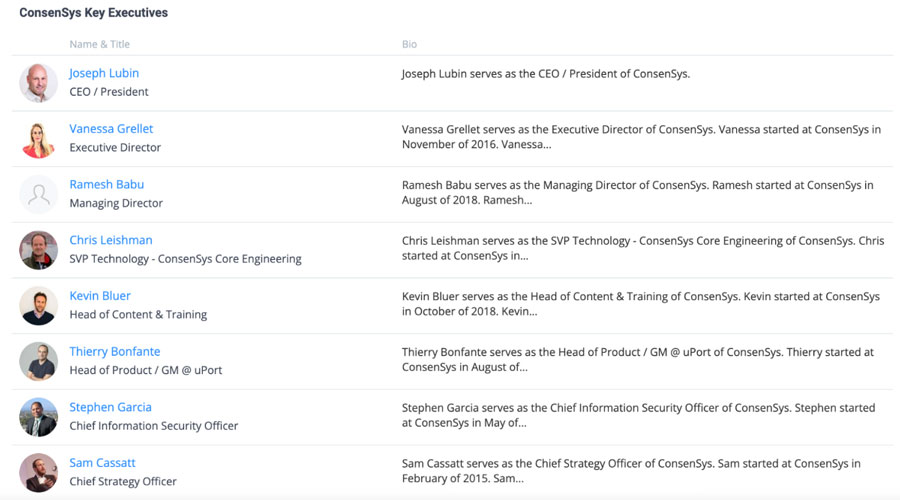 Investors & Partners
Investors and funding rounds
Consensys has raised more than $726 million, with the breakdown of funding rounds as follows:
Series C: ConsenSys Raises $200 Million at $3.2 Billion Valuation From Animoca Brands, Coinbase Ventures, HSBC…
Series D: ConsenSys raises $450 million at a $7 billion valuation led by ParaFi Capital along with Microsoft, SoftBank and Temasek.
ConsenSys is among a select few companies in the market that have secured investments from conventional funds such as Temasek and SoftBank, as well as leading corporations including Microsoft and Mastercard.
Partner
Linea has initiated its ecosystem by partnering with various prominent firms such as Uniswap, Hop Protocol, Lens Protocol, Celer Bridge, Covalent, LayerZero, and many more. Currently, the total number of projects collaborating with Linea is nearly 30, and the count is estimated to surge in the near future.
Summary
This article has equipped readers with fundamental information regarding the project, enabling them to make informed investment decisions. Please note that 247BTC cannot be held responsible for any investment decisions made by individuals. We wish you success and profitable gains in this promising market.