As investor attention begins to shift towards Monolithic Blockchain Layer 2 projects such as zkSync and Arbirum, they may overlook that Modular Blockchain is also a viable and innovative solution for scaling the blockchain ecosystem. To learn more about Mantle Network Crypto, one of the new projects joining the trend of constructing blockchains with a modular approach, please read this article from 247BTC.
What is Mantle Network Crypto?
Mantle Network is a Layer 2 blockchain platform that was introduced to the community as a modular chain solution designed to expand Ethereum, and which was developed by BitDAO. Moreover, Mantle also assists users in optimizing costs, enhancing security, and improving transaction speed.
BitDAO is considered one of the most prominent Decentralized Autonomous Organizations (DAOs) in the world. In its efforts to further its initiatives, BitDAO has enlisted the assistance of Mantle to serve as a liaison for ventures such as Game7, EduDAO research, and other decentralized applications (dApps).
Why did BitDAO switch to Mantle Network?
According to data recorded by BeInCrypto, BitDAO stands among the biggest decentralized autonomous organizations in the world. Bybit, a cryptocurrency exchange, regularly contributes to the BitDAO treasury and supports its most daring initiatives. Therefore, it is not surprising that BitDAO introduced Mantle Network and changed the model for its BIT token. There could be two primary reasons to explain this move.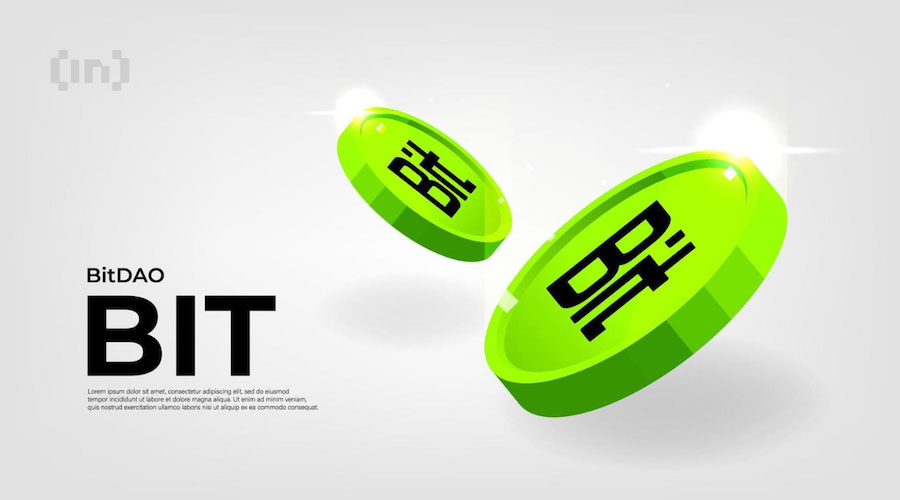 The introduction of Mantle alongside the EcoFund will assist BitDAO in focusing their investments on potential projects. Mantle will serve as an incubator with a budget sourced from BitDAO, aiding the organization in driving innovation and discovering new ventures with potential for growth.
In pursuit of the development of Web 3.0 ecosystem, BitDAO will require proactive efforts in building its own network. Mantle will assume this responsibility by providing the necessary infrastructure for the ecosystem's growth. It will serve as the connecting bridge for various BitDAO initiatives.
Relationship between BitDAO, Mantle and Bybit
It is widely understood that Bybit holds significant influence within BitDAO. Therefore, as BitDAO transitions towards Mantle, it is highly likely that Bybit will also have an impact on this L2 project. At this point, Mantle will take over from BitDAO in supporting initiatives that focus on constructing and expanding the Web3 universe. In other words, Mantle will be governed by the BitDAO community.
As an active contributor and regular donor to the BitDAO treasury, Bybit is authorized to intervene in the network. Conceptualizing BitDAO as an investment funding organization for Mantle, Bybit acts as the investor behind all such models.
Compare the differences between Mantle Network Crypto and other L2 solutions
Mantle distinguishes itself from other Ethereum Layer 2 solutions by offering a multitude of enhancements to existing infrastructure. To elaborate:
The potential usability of Mantle's module data can increase transaction throughput beyond current L2 solutions, reduce processing requirements and enhance scalability without compromising security features.
Mantle has significantly reduced the risk of unreliable outcomes in the execution of L2 by utilizing Multi-Party Computation (MPC) calculations. In addition, the accuracy of offline transaction execution results has been significantly improved through the use of Threshold Signature Scheme (TSS) technology, resulting in reduced withdrawal validation time.
Mantle employs a decentralized chain-creation software to enable the production of secure and reliable blocks, eliminating the issue of a single point of failure as well as a single point of audit on the network.
Mantle Network's Products and Revenue
Through its Modular Blockchain architecture, Mantle Network provides a range of user-centric products and services on the blockchain platform, including: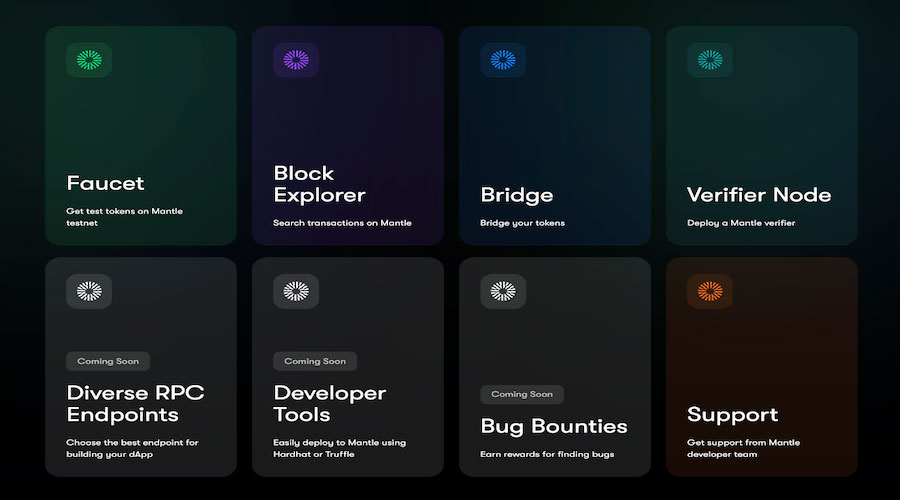 Faucet
The Faucet feature provides users with a quantity of BIT tokens, which are supported on the Mantle Goerli network. This allows individuals to participate in the Mantle testnet and gain practical experience. If you prefer, there are alternative methods to obtain gETH (Goerli ETH) via Paradigm or Alchemy Faucet. These gETH tokens can then be converted into BIT using the Mantle Bridge in order to participate in the Mantle testnet and gain firsthand experience.
Block Explorer
The Block Explorer serves as a platform that enables users to verify the on-chain data of the Mantle network, such as block count, transaction history, Txn hash, and tokens. As the project is currently in the trial phase, these metrics will be displayed based on user interactions within the Goerli Mantle Testnet.
Bridge
The Bridge serves as a crucial link within Mantle, facilitating the support of various asset types such as BIT, ETH, ERC-20, and ERC721 on Layer 1, while simultaneously minting equivalent tokens on Layer 2. Additionally, even gETH test networks are converted to BIT test tokens on Mantle via the Bridge. This essential feature enables smooth transitions between asset types and streamlines the overall process.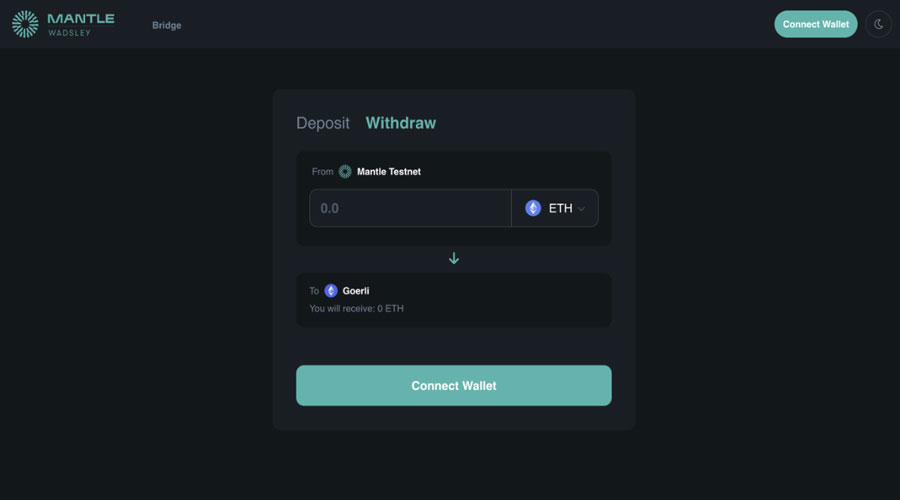 Verifier
In order to develop applications on Mantle, users (project development team) must have access to Mantle nodes and create nodes for themselves. The deployment feature of the verifier will assist you when running a node, and it is important to consider specifications such as CPU, RAM, and storage when getting started.
Additionally, Mantle addresses several solutions to aid developers in facilitating blockchain development. These solutions include Diverse RPC Endpoints, which allows for the selection of endpoints for dApp development, Developer Tools in relation to Hardhat or Truffle, and Bug Bounties, which provide rewards for identifying system vulnerabilities.
Mantle Network's testnet program features support for over 10 DeFi dApps including Izumi, Supra Oracles, Stork, DexPad, and Covalent. These applications are available for users to utilize, and those wishing to participate in the testnet can add Mantle Testnet to their wallet and receive test tokens from the Faucet to experience the platform.
What is Token Mantle Network?
According to information provided by the project, they are utilizing BitDAO's BIT token as the native token for Mantle Network. Currently, there are no plans to release their own token. 247btc will continue to monitor and provide updates as soon as the project team issues an official announcement. The tone of the sentence is informative, and the style is formal and appropriate for professional communication.
Mantle network crypto Tokenomics
$MNT Token Address
| | | |
| --- | --- | --- |
| | | 0x3c3a81e81dc49A522A592e7622A7E711c06bf354 |
| | | 0xdeaddeaddeaddeaddeaddeaddeaddeaddead0000 |
| | | 0x78c1b0C915c4FAA5FffA6CAbf0219DA63d7f4cb8 |
Initial Distribution
The initial allocation of $MNT on July 7th, 2023 is hereby presented as follows
Mantle Network MNT Token Usecase
The MNT token is designed to serve two crucial purposes as a governance and utility token within the Mantle Ecosystem, which offers token holders the power to cast their vote on important decisions and also delivers practical functionality that is essential for the smooth running of the ecosystem.
The Mantle Ecosystem adopts a decentralized and community-driven approach in shaping its future through governance by allocating an equal vote weight to each $MNT token, thereby empowering token holders to actively participate in DAO voting and exert their influence upon the decision-making process.
The $MNT serves as a utility token that is utilized for paying gas fees on the Mantle Network platform. Moreover, it can also act as collateral assets for Mantle Network nodes, thereby encouraging and motivating participation among users. This additional functionality also enhances the security and stability of the network.
The $MNT token is an ERC-20 token that shares comparable features with other L2 blockchain tokens. While the advanced token functions of $MNT are situated on L1, the L2 rendition is a conventionally wrapped ERC-20 on a bridge.
It is essential to emphasize that decentralized autonomous organizations (DAOs) possess a remarkable level of flexibility, allowing them to adjust to dynamic environments and suit diverse business needs. Regarding $MNT token governance and utility, the details provided reflect the present state of affairs. Nevertheless, as the Mantle Ecosystem advances and evolves, alterations may occur in the described features and functions based on the Mantle Governance process.
The $MNT token has no significant vesting schedules by nature of the Mantle ecosystem genesis proposals

BIP-21

and

MNT-22

.
$MNT held in

Mantle Treasury

can be considered "not in circulation". The distribution of $MNT tokens from the Mantle Treasury is subject to the Mantle Governance process. The budgeting, capital call, and distribution process follow a strict procedure. $MNT held in

Mantle Core Budget

are intended to be used for the current phase of development and adoption.
Roadmaps & updates
The development roadmap of Mantle Network is summarized as follows:
June 2022: Launched the first proposal on the BitDAO chain.
August 2022: Proposal to create BitDAO chain as Modular blockchain Layer 2.
November 2022: Launched Mantle Network.
Q1/2023: Mantle Testnet launch.
Expected in the future:
Will launch Mantle mainnet
Update EIP-3074 and build ecosystem
Project team, Investors & partners
Mantle Network is a product offered by BitDAO, and therefore, members of this decentralized autonomous organization will be tasked with project management responsibilities.
Investors & Partners
Investors and funding rounds
On February 26th, 2023, BitDAO's board of directors received a proposal from Mantle Core to establish a fund of $200 million for the purpose of promoting the adoption of Mantle's network among developers and dApps (mainnet deployment). As per Mantle's proposal, the following funds have expressed interest in participating: Dragonfly Capital, Pantera, Folius Ventures, Play Ventures Future Fund, Spartan, Lemniscap, Selini Capital, Cadenza Ventures, and QCP Capital. If the fundraising proposal is approved, Mantle will proceed with its implementation as outlined in the proposal.
Partner
Mantle Network is a product developed by BitDAO, serving as a platform to deliver novel features and solutions to the entire ecosystem. As such, products and partners associated with BitDAO are also linked to Mantle. Some of the long-standing strategic partners of BitDAO include Sushiswap, ByBit, Dragonfly Capital, and Amber.