Moonbeam is a smart contract platform that has been built and developed to work compatibly with EVM on Polkadot. It has earned Parachain status on Polkadot, surpassing hundreds of other projects. The article below delves into what makes Moonbeam so appealing and how it has achieved its impressive accomplishments thus far.
What is Moonbeam Crypto?
Moonbeam is a blockchain designed for developers seeking compatibility with the Ethereum blockchain. It accomplishes this by providing EVM (Ethereum Virtual Machine) implementation, Web3-compatible APIs, and bridges that connect Moonbeam to existing Ethereum blockchains.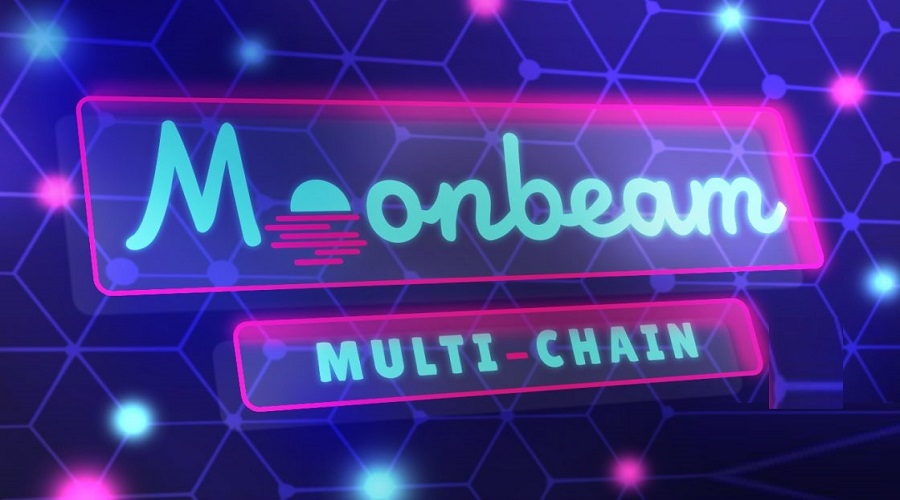 Moonbeam will also function as a parachain on the Polkadot network, meaning that it will benefit from the shared security of Polkadot's relay chain and be able to integrate with other chains connected to Polkadot (subject to the availability of this functionality on Polkadot).
It is worth noting that Moonbeam, a project built on Polkadot, is fundamentally an Ethereum-based initiative which can be comprehended by the siblings.
The MoonBeam Parachain structure
Moonbeam project is constructing a chain on the Ethereum Virtual Machine network that is tailored to be fully compatible with the Ethereum platform. Additionally, Moonbeam is also a Parachain structure of Polkadot. This project seeks to provide developers with a plug-and-play infrastructure that enables them to effortlessly build decentralized applications on both Ethereum and Polkadot ecosystems with ease and efficiency.
Moonbeam's platform, featuring a virtual machine system that is compatible with Ethereum, offers ease in allowing Ethereum-based applications to run directly on Moonbeam. This is supported by the bridging mechanism between Moonbeam and Ethereum's existing blockchain networks, specifically the connection between Moonbase Alpha TestNet and Kovan TestNet of Ethereum.
The operational mechanism of Moonbeam
Moonbeam operates as a parachain on the Polkadot network, thus possessing all the superior advantages of Polkadot, ranging from bridging capabilities and high-speed performance to maximizing the EMV functionality available on Ethereum.
Furthermore, the Moonbeam project includes an API that facilitates easier access to Web3 for users. In addition, it simplifies the process of implementing smart contracts using Solidity and developing dApps on Ethereum for this parachain.
Moonbeam has also launched its mainnet, providing numerous benefits to its users. Moonbeam serves as a bridge that connects developers to users in both the Ethereum and Polkadot networks. The integration of these two blockchain networks facilitates the effortless and flexible use of infrastructure, smart contracts, and other utilities.
Several prominent features of the Moonbeam project
In addition to the Moonbeam coin, the Moonbeam project possesses numerous other attractive features, particularly in its ability to facilitate seamless interaction between various blockchains and the Ethereum network.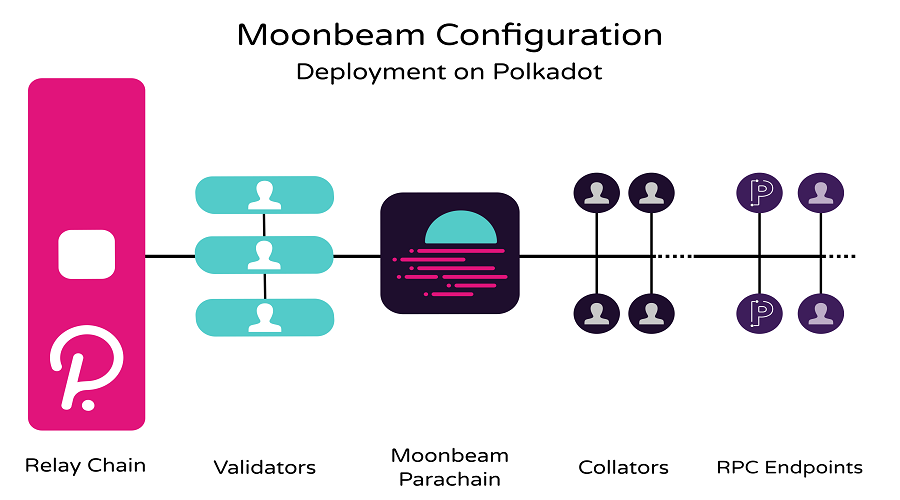 The Moonbeam protocol's support for development will create a comprehensive ecosystem that connects various unique features. This ecosystem includes:
Without consent from the dApp: The project aims to enhance decentralization and strengthen resistance to censorship at higher levels. Additionally, Moonbeam offers support to dApps by developing and building a public blockchain with open source code.
Deploying with EMV:The Moonbeam project facilitates the utilization of the Solidity language for smart contract execution on the EVM platform.
Advanced APIs:Moonbeam provides extensive support for developers operating on the dApp front-end without any negative impact. As a result, users of the Moonbeam network can seamlessly deploy their tools without any disruptions, ensuring uninterrupted productivity.
The tool is compatible with the substrate: These tools consist of a front-end development library and a block explorer, among others.
Cross-chain matching:Thanks to the integration of Polkadot with token bridges, Moonbeam has been able to accomplish numerous tasks such as transferring tokens, transmitting messages, and displaying status updates.
On-chain administration: Moonbeam ecosystem provisions assistance in the swift development of the protocol based on community and developer needs.
Moonbeam's Ecosystem
The ecosystem of Moonbeam comprises three major components, namely Network, Wallet, Tools, and Oracle, which are integral to its functioning.
Network
The developers have been harboring a plan to establish multiple networks aimed at long-term development. After several years of construction and growth, the development team has successfully produced a comprehensive network linked to Moonbeam, consisting of:
Moonbase Alpha: Hosted at Parachain's TestNet
Moonrock: Deployed at TestNet Rococo
MoonRiver: Deployed in Kusama
Moonbeam: Deploying at Polkadot
Wallet
The storage options available within the Moonbeam ecosystem consist of MetaMask, MathWallet, and any other electronic wallets that possess the capability to interact with the Ethereum network.
Tools
Includes several tools such as: Remix, Truffle, HardHat, Web3.js, Ethers.js.
Oracles
Includes: Chainlink, BandProtocol and Razor Network.
Introduction to the GLMR coin
Moonbeam coin information (Key metrics)
Key Metrics 
GLMR
Token Name: Moonbeam
Ticker: GLMR
Blockchain: Polkadot
Token Standard: Updating…
Contract: Updating…
Token Type: Utility, Governance.
Total Supply: 10,000,000 GLRM
Circulating Supply: Updating…
MOVR
Token Name: Moonriver
Ticker: MOVR
Blockchain: Kusama
Token Standard: Updating…
Contract: 0x98878b06940ae243284ca214f92bb71a2b032b8a
Token Type: Utility, Governance.
Total Supply: 10,000,000 MOVR
Circulating Supply: 2,750,023 MOVR
Token Allocation
GLMR
Sale: 40%
Seed Funding: 14%
Strategic Sale: 10%
Public Sale: 16%
Long-term Protocol & Ecosystem Development: 19%
Parachain Bond Funding: 15%
Founder & Employees: 14.6%
Founders and Early Employees: 10%
Future Employee Incentives: 4.6%
Key Partners, Advisors & VCs: 5.9%
Key Partners & Advisors: 4.5%
PureStake Early Backers: 1.4%
Developer Adoption Program: 4.5%
Parachain Bond Reserve & Treasury: 1%
MOVR
Parachain Crowdloan: 60%
Long-term Network Stewardship & Adiotion: 24.5%
Parachain Bond Reserve: 10%
Developer Adoption Program: 4.5%
Parachain Bond Funding: 0.5%
Treasury: 0.5%
Token Release Schedule
GLMR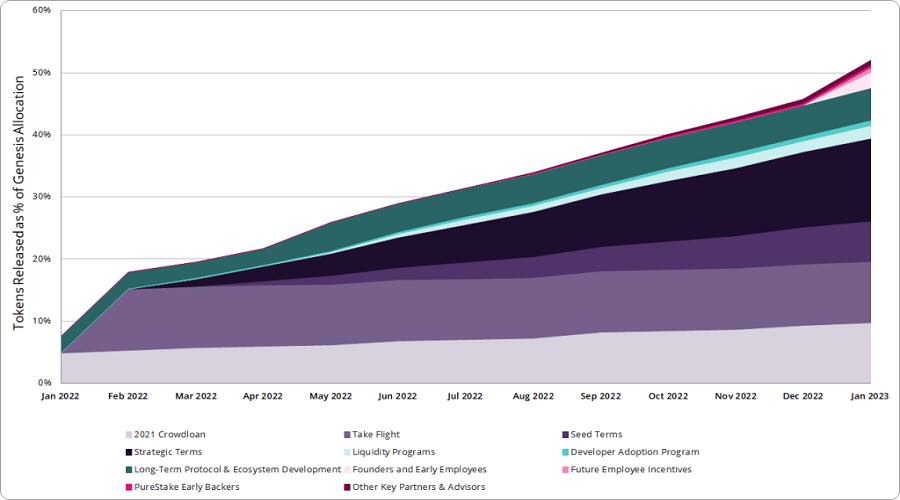 MOVR
Token Use Case
Support gas fee measurement.
Payment of transaction fees.
On-chain administration.
Incentivizing users to run a node increases security.
Roadmaps & Updates Moonbeam
Q3 2021: Conduct the Fight event in November.
Q4 2021 to Q2 2022: period based on auction announcements

Announce and start auction on Polkdadot (two events at least 28 days apart)
Launch of the Moonbeam Crowdloan event for Polkadot
After Moonbeam Crowdloan ends 6 to 8 weeks, launch Moonbeam EVM project, Balance Transfers.
Proceed to lock GLMR tokens after the project launches 40 days for the guests participating in the Flight event.
Start the liquidity program.
Or you can follow Moonbeam's roadmap through the infographic below.
Project development team
Derek Yoo – CEO
Katie Lyon Butler – Marketing Director
Project Partner Moonbeam
There exist a multitude of collaboration endeavors that are currently affiliated with Moonbeam, among which are prominent names within the industry such as MetaMask, Chainlink, Sushiswap, Band Protocol, and Polkastarter.
Moonbeam project investor
Binance Labs

CoinFund

ParaFi
Binance Labs has led a strategic round worth $6 million for smart contract platform Moonbeam, together with CoinFund and ParaFi. This funding round will be utilized to hire development resources, construct additional integrations and tools for developers, execute third-party security audits, and establish a market presence in Asia, all in order to position the team for a successful launch of the Moonbeam network in 2021.
Summary
Moonbeam is a Layer 1.5 built on Substrate of Polkadot, an integrated platform equipped with an EVM that enables Ethereum applications to run on Moonbeam. Leveraging the strength of Polkadot's Parachain, Moonbeam will connect multiple chains from other Parachains of Polkadot to Ethereum and other blockchain networks in the future. 247BTC has provided detailed information on Moonbeam, and we wish you all make wise investment decisions.