On March 27, 2023, Polygon zkEVM was officially launched on Mainnet Beta, joining the ranks of other prominent Layer zkEVM projects such as zkSync, Linea, and Starknet. In order to gain insight into the development journey and the supporting force behind this Layer 2 solution, one can explore the details of Polygon zkEVM, its progress, and the presence of Polygon Labs.
What is Polygon zkEVM?
Polygon Labs is a specialized entity that develops Ethereum expansion solutions, including their notable product Polygon PoS. One of their solutions is Polygon zkEVM, a zk Rollup Layer that utilizes the zkEVM technology.
On the 27th of March 2023, the Polygon zkEVM officially launched its Mainnet Beta version, which enables market users and developers to freely utilize and construct products on this Layer 2 technology.
This implies that the community can test the official version of the Polygon zkEVM through an experimental mode. Consequently, slow network speed or encountering errors due to incomplete features can still occur.
The operational mechanism of Polygon zkEVM
In order to comprehend the operation of the Polygon zkEVM mechanism, it is crucial for users to first possess a basic understanding of the concept of Rollups.
Rollups are a utility developed to enhance the scalability of Ethereum. Essentially, Rollup technology allows for the consolidation of a substantial number of transactions into a single block, which is then sent to Ethereum simultaneously. In other words, each Rollup block sent to Ethereum serves as a summary that encompasses multiple transactions.
Similarly, ZK Rollup refers to Rollup solutions which employ Zero-Knowledge proofs to verify the validity and accuracy of transactions bundled into blocks and transmitted to Ethereum.
Subsequently, the smart contract on Ethereum layer 1 merely needs to verify the proof without repeating all the transactions. This feature facilitates significant savings in gas fees since verifying proof is considerably less expensive than re-executing computations.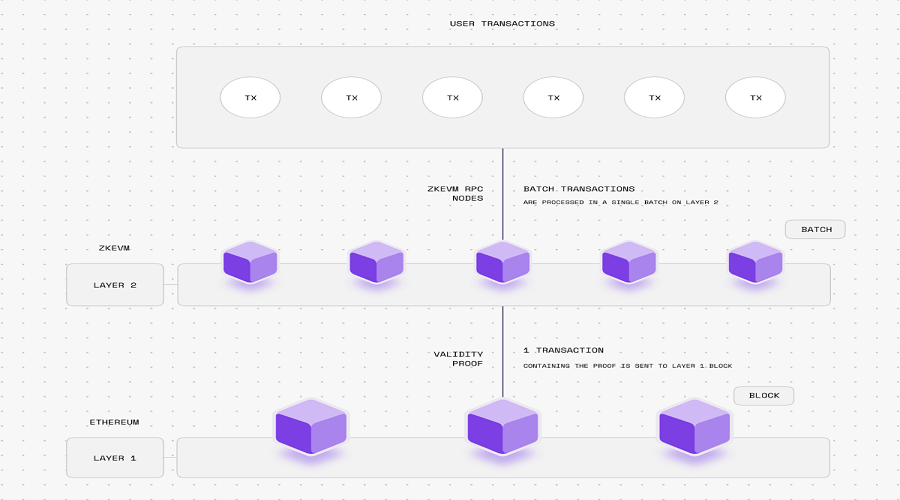 The language zkEVM has been designed for ZK Rollup solutions and is fully compatible with EVM. It is categorized into four types based on its level of compatibility with EVM, with type 1 to 4 being progressively less compatible.
The Polygon zkEVM is a type 2 zkEVM, which means that it is fully compatible with the EVM (EVM Equivalence) and has a similar structure with minor modifications made internally to facilitate development. However, it should be noted that some applications may not be compatible with this type of zkEVM.
It is important to note that Polygon zkEVM is an Ethereum scaling solution, therefore this layer 2 technology is unrelated to Polygon PoS, which is another product developed by Polygon Labs and serves as a sidechain of Ethereum.
Prior to the Mainnet Beta launch, the Polygon zkEVM platform has achieved notable milestones, such as:
84,000+ wallet addresses on the network
5,000+ smart contracts launched
75,000+ ZK Proofs Generated
Passed 2 rounds of audit from two auditing companies
The structure of the Polygon zkEVM
The participation of the following components will be crucial in the process of Polygon zkEVM handling user-initiated transactions and generating proofs to ensure transaction accuracy:
Consensus Contract (PolygonZkEVM.sol, deployed on L1 Ethereum)
Sequencers
Aggregators
Note: In addition to that, the upcoming system will also feature various components such as RPC, zkProver, zkEVM Bridge, and Synchronizer. However, for the purpose of simplifying the information provided to readers, the article will place emphasis on the three previously mentioned components.
The principal function of each component shall be succinctly delineated in the following sequence:
The sequencer receives transactions from L2 of the user, sorts them in order, and creates a batch for these transactions.
The Sequencer transmits this batch of transactions to the Consensus Contract (located on L1) for storage in the form of a chain.
At present, the aggregator is validating the validity of the transaction batches received, and subsequently generating evidence of their correctness, which are referred to as ZK Proofs as previously mentioned.
The Consensus Contract deployed on Layer 1 (L1) will perform a secondary verification of the Zero-Knowledge (ZK) Proofs. Upon successful validation, the data transmitted on Layer 2 (L2) will be added to the Ethereum blockchain.
The prominent feature of Polygon's zkEVM
Their focus is to implement the zkEVM Type 2 technology
The adoption of zkEVM, which is a Zk-Rollup solution fully compatible with EVM, can enhance the product development experience for programmers. Additionally, the composability feature within the Polygon zkEVM will be strengthened by simulating a similar structure to that of Ethereum (specifically, type 2 with greater EVM compatibility compared to type 3 and 4).
As a result of this, Ethereum-based DApps can easily migrate to the zk-Rollup chain without the need for significant modification of their source code or investing substantial time and effort in rebuilding their product from scratch. Instead, they can focus on innovating and creating a development framework that is tailored to their product.
However, as of the current moment, the development of Polygon zkEVM has only reached Type 3, and the journey towards achieving Type 2 is yet to be fulfilled by the team.
Developed by Polygon Labs
Polygon Labs is a well-established company in the crypto industry that has created renowned products such as Polygon PoS, Polygon Miden, Polygon Supernets, and the product currently being referred to as Polygon zkEVM (formerly known as Polygon Hermez).
In the past, this company made two significant acquisitions: Mir for 400 million USD in December 2021 and Hermez Network for 250 million USD in August 2021. Afterward, the company rebranded Polygon Hermez to Polygon zkEVM to concentrate on the development of zkEVM products.
Polygon PoS, which is the sister chain of Polygon zkEVM, had a phase in the past where its total value locked (TVL) in the DeFi ecosystem reached a staggering $9 billion. The platform integrated several significant projects such as Aave, Balancer, Curve, and Uniswap, among others. As of now, the chain has gained immense popularity and stands tall at the fifth position in terms of TVL in the entire market.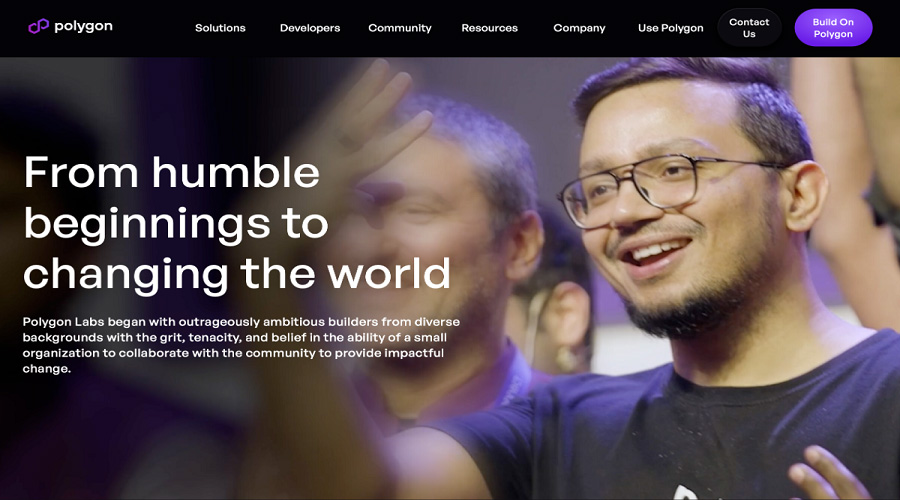 What is the token of Polygon zkEVM?
As of the time of writing this article in March 2023, it should be noted that Polygon zkEVM has not yet announced any exclusive tokens for transaction fees within its network, instead opting to use ETH as the primary currency for such transactions.
The team has also mentioned the potential usage of MATIC, which is the native coin of the Polygon POS system, for staking and governance purposes in relation to the Polygon zkEVM platform in the future.
Roadmaps & updates
The developmental trajectory of Polygon zkEVM is succinctly delineated below:
August 2021: Polygon acquires Layer 2 Hermez for $250 million and changes its name to Polygon Hermez.
October 2022: Polygon announced Plonky2 – this is the technology that is supposed to combine to solve the problems of SNARKs and STARKs.
December 2022: Polygon starts Auditing for zkEVM product and launches final testnet before upgrading Polygon zkEVM.
February 2023: Launching the first block of testnet and announcing the Mainnet Beta schedule
March 2023: Auditing the testnet version and officially entering the Mainnet Beta.
Polygon zkEVM Project team
The Polygon Labs ecosystem comprises the Polygon zkEVM, with the Polygon Labs team as the driving force, consisting of:
Jaynti Kanani (Co-Founder): The individual is a blockchain engineer and has led the development of Web3, Plasma, and WalletConnect. They held a previous position as a data scientist at Housing.com.
Sandeep Nailwal (Co-Founder): Anurag Arjun, a former CEO of Scopeweaver and CTO of Welspun Group, is a skilled programmer. He has previously worked as AVP for product management at Kinh doanh IRIS and held positions at SNL Financial, Dexter Consultancy, and Cognizant Technologies.
Mihailo Bjelic (Co-Founder): Tech developer on Ethereum.
Together with other Co-founders, they have developed various products within the Polygon ecosystem, such as Polygon ID, Polygon Hermez, Polygon Zero, and Polygon Miden.
Investor & Partner Polygon zkEVM
Investors and funding rounds
Since 2018, Polygon Labs has successfully attracted funding from Coinbase Ventures, regarded as one of the leading investment funds in the market. Other than Coinbase Ventures, Polygon has also been backed by multiple notable investment firms such as Binance Labs, Block Capital, Validation Capital, ZBS Capital, and MiH Ventures.
In the latest round held in February 2022, Polygon successfully garnered $450 million, with Sequoia Capital India leading the funding. Moreover, SoftBank Vision Fund II, a renowned group comprising 40 prominent venture companies like Tiger Global, Elevation Capital, Accel Partners, and Steadview Capital, also participated in the investment.
Partner
As of the present, after more than four years of operation, Polygon has achieved numerous successes, particularly in becoming a partner of over 100 large and small projects such as Elrond, Chainlink, and The Graph. It has also positioned itself as a blockchain and NFT service provider for unicorn companies outside the media market such as Meta, Disney, E&Y, and Mastercard.