The technology of Zero-Knowledge Proof (ZKP), which was once just an idea on paper, has now become an advanced solution that effectively addresses security and transparency issues in transactions and asset-related information. Recently, a project called Polyhedra Network has gained attention from the crypto community by successfully raising $10 million in funding led by Binance Labs and Polychain Capital. With that said, let us delve further into this project through the article below, as we seek to understand what Polyhedra Network is all about.
What is Polyhedra Network?
Polyhedra Network is a project that aims to establish a robust infrastructure for Web3 utilizing Zero-knowledge Proof (ZKP) technology to address security concerns, facilitate scalability, and enhance interoperability among the platforms. Currently, the project is in the alpha mainnet phase.
The interactive solutions of Polyhedra Network are specifically crafted to facilitate asset transfer, messaging, and data sharing among Web2 and Web3 systems while ensuring maximum reliability is achieved.
Polyhedra is currently planning to enhance its integration with multiple blockchains and provide more accessible API and SDK tools for developers.
According to the company's latest release, the project is currently in the process of planning for the refinement of its ParaPlonk protocol in order to attract developers seeking efficient and distributed ZK-rollup solutions.
Products of Polyhedra Network
Polyhedra Network offers four main products, namely zkBridge, zkLightClient, zk-DID, and zk-NFT, which cater to a range of cryptographic and security needs
zkBridge
zkBridge serves as a bridge that enables the transfer of assets, NFTs, and messages between different networks by leveraging the zk-SNARK technology, which is one of the Zero-Knowledge Proof structures. On May 31st, the Polyhedra team announced that zkBridge would integrate with LayerZero to enhance transaction speed, improve security capabilities, and provide a developer-friendly language.
The zkBridge product comprises two primary components, namely the Block Header Relay Network and the Updater Contract, which serve as the fundamental operating model for the system.
Block header relay network: This component is responsible for receiving block headers from the token sending network. Once it obtains a block header, it employs ZKP technology to generate a verification proof. Lastly, this component sends the proof and block header to the Updater Contract.
The block header serves as a summary of critical information necessary to identify a block, containing essential metadata such as the timestamp, difficulty level, Merkle Tree, and nonce. Such information is crucial in verifying the validity of a block and maintaining the integrity of the blockchain network.
Updater Contract: Upon receiving both the evidence and block header from the Block Header Relay Network, this department will proceed to verify said evidence and accept the block header from the token transfer network.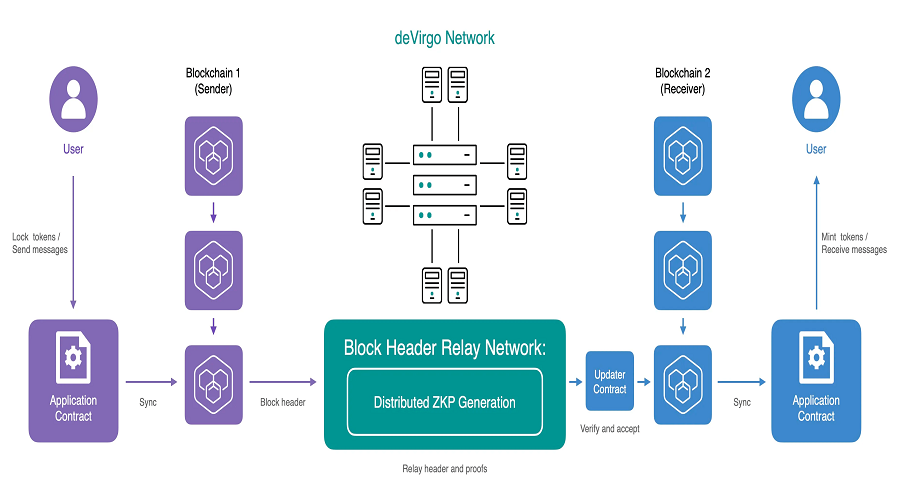 zkLightClient
The technology zkLightClient is developed based on ZKP and fully integrated into LayerZero. By utilizing zkLightClient, applications built on the LayerZero protocol will experience enhanced security measures, improved operational efficiency, and reduced costs.
In the past, verifying on-chain transactions on LayerZero entailed significant amounts of time and expenses for application developers. However, with the implementation of zkLightClient technology, which utilizes evidence generated from ZKP technology, the verification process on LayerZero has become faster and more efficient. This advancement has resulted in increased processing speeds and reduced usage costs, while still ensuring accurate and secure information.
Moreover, developers are allowed to integrate zkLightClient technology into LayerZero based on the project's guidelines.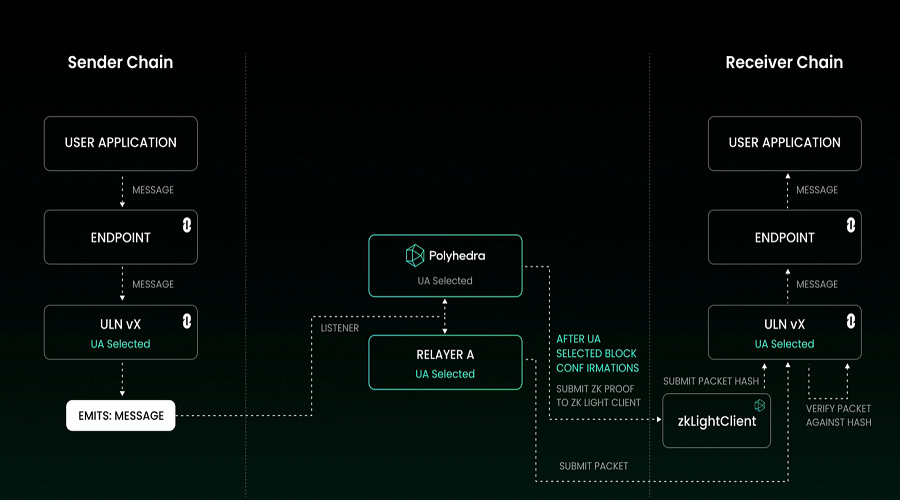 zk-DID
zk-DID is a verifiable credential system that boasts an exceptional level of openness and user-friendliness. Furthermore, this product incorporates ZKP technology, thereby presenting numerous advantages, such as:
With high security measures, zk-DID allows for the compliance of KYC regulations without revealing specific personal information of users. This not only protects privacy but also prevents unnecessary disclosure of information.
Polyhedra Network notes a high level of interoperability with zk-DID infrastructure, which is compatible with W3C standards and all kinds of authentication data. As such, the product can seamlessly integrate from web2 to web3, facilitating efficient data interchange between different systems.
At present, the zk-DID product is still in its developmental phase, however.
zk-NFT
The zk-NFT protocol is a platform that contains NFTs and tokens which have maximum interactivity capabilities. All the data and assets stored in zk-NFT are encrypted using ZKP technology to ensure the user's privacy. Additionally, zk-DID is utilized to authenticate the user's ownership of the corresponding zk-NFT.
Furthermore, the Polyhedra team utilizes zk-NFT as a means of enhancing the security of NFT information during cross-chain utilization.
So why need zk-NFT to protect assets when using a bridge:
When moving assets between separate networks with differing structures and rules, there is a risk of being vulnerable to attacks. The solution to this problem is zk-NFT, which provides users with protection against such risks. The technology utilizes ZKP to verify the accuracy and reliability of transactions, ensuring maximum security for the user's assets.
The transparency can be enhanced through zk-NFT mechanism by verifying the validity of the assets that have been transferred or delivered across a bridge.
The structure of zk-NFT consists of two main parts: data and assets:
The data is continually updated and can be stored either on-chain or off-chain.
The asset pool encompasses non-fungible tokens (ERC-721, ERC-1155, etc.) or fungible tokens such as ERC-20, BEP-20, along with other types of zk-NFTs.
The salient feature of the Polyhedra Network
Listed below are some noteworthy aspects of Polyhedra Network:
Polyhedra Network is seamlessly integrated with LayerZero's protocol, which enables developers to effortlessly build on the platform. The use of LayerZero's protocol ensures a smooth and efficient operation of the network, allowing for a seamless development experience.
The Polyhedra Network ensures high levels of security by implementing Zero-Knowledge Proof (ZKP) technology across their entire platform, thus greatly enhancing the security and privacy of their products.
What is Polyhedra Token?
The project team has not yet made any announcement regarding the launch of their token. Therefore, 247BTC will provide updates as soon as new information becomes available.
Roadmap and update
Despite the absence of an official roadmap for Polyhedra Network, the following are notable project milestones
4/4/2023: zkBridge officially gets mainnet.
25/4/2023: Allows users to transfer NFTs between Combo Network and other chains.
31/5/2023: Successfully integrated zkLightClient with LayerZero.
1/6/2023: Support Fantom network.
5/6/2023: Join the ecosystem on BNB Greenfield.
25/6/2023: Become a partner of Cashmere Labs.
Project team, investors and partners
Project team
At present, Polyhedra Network has only disclosed one member, Tiancheng Xie, who serves as the Co-founder and CTO of the organization. This announcement is being made with an informative element and a formal tone.
Investors
Polyhedra Network has gone through two rounds of funding with a total amount of 25 million USD, including:
10/2/2023: Raised $10 million in Strategic Round, led by Binance Labs and Polychain Capital.
15/42023: Series A funding round with the amount of 15 million USD, led by Polychain Capital.
Partner
Currently, Polyhedra Network has established numerous strategic partnerships with esteemed entities including LayerZero, Cashmere Labs, and Combo Network.