The emergence of Sui blockchain has brought forth a new generation of blockchain technology. Its groundbreaking features and notable advantages have captured the attention of the crypto community. In this article, we will delve deeper into the Sui Crypto, the benefits of holding SUI tokens, as well as important details regarding tokenomics and other project-related information.
What is Sui Crypto?
Sui is a high-performance smart contract platform structured as Monolithic. The Monolithic blockchain processes all tasks and transactions on a single network. Sui can scale up to several hundreds of TPS (transactions per second) and block time varies between 2-3 seconds.
The expansion approach taken by Sui differs from that employed by Solana and Internet Computer, which expand vertically, resembling the expansion approach of Ethereum 2.0, which expands horizontally. Sui's aim is to expand the Web3 ecosystem, by providing a robust infrastructure with appropriate incentives, enabling developers to quickly develop and launch applications.
The prominent features of Sui
The high expandability of SUI is predicated on two core improvements
MOVE programming language.
Narwhal-Tusk consensus algorithm.
The programming language MOVE is utilized to develop applications within the Sui blockchain. Developed by the Libra project of Facebook, MOVE is built upon RUST and intended for concurrent execution.
The algorithm Narhal-Tusk, utilized in the Sui blockchain, separates the transaction confirmation process from the data transmission process. This effectively resolves the issue of Mempool and improves the consensus mechanism compared to traditional blockchain designs like Ethereum and Bitcoin.
Based on the two aforementioned improvements, the Sui blockchain enables horizontal scaling of the network, allowing for the support of millions of transactions per second without requiring specialized nodes within the network. These nodes, which demand powerful hardware configurations for efficient and increased transaction processing, cannot run on standard computer hardware, resulting in expensive hardware expenditures.
What is SUI Token?
SUI Token Key Metric
​​Token Name: Sui
Ticker: SUI
Blockchain: Sui
Token Contract: Updating…
Token Type: Utility
Total Supply:10,000,000,000 SUI
Circulating Supply: Updating…
SUI Token Use Cases
The SUI token possesses diverse applications, which are delineated as follows:
Transaction fee: The SUI cryptocurrency serves as the payment medium for all transactions related to gas on the Sui blockchain network.
Staking/bonding/slashing asset: Validators stake SUI tokens to participate in the transaction consensus process. In the event of fraudulent activity, their SUI tokens will be forfeited as a form of penalty.
Voting: The individual in possession of SUI possesses both the privilege of participating in voting procedures and overseeing project management.
SUI Token Allocation
The initial total supply of SUI is 10 billion tokens, which shall be allocated proportionally as follows:
Community Reserve: 50%
Early Contributors: 20%
Investors: 14%
Mysten Labs Treasury: 10%
Community Access Program & App Testers: 6%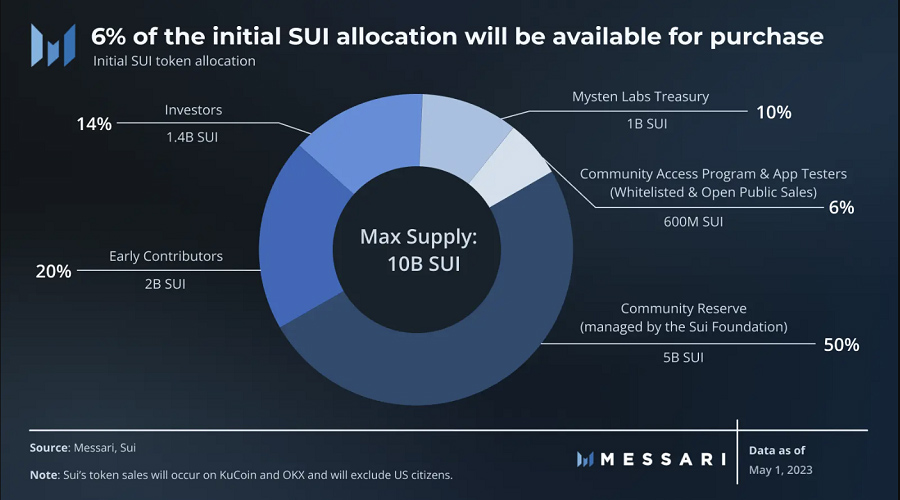 Token Release Schedule
As of May 2030, the Sui Foundation possesses approximately 36.28% of the supply and is poised to adhere to a token distribution schedule delineating the appropriate course of action.
SUI Token Sale
In April 2023, Sui announced the absence of any airdrop for users, and instead, the project will organize a token sale for the community, with the sale duration and amount being specified on three specific CEX platforms.
On April 14, 2023, the cryptocurrency SUI will be listed for sale on the KuCoin exchange. The sale will consist of two phases, the whitelist and public sale, with prices set at 0.03 USD and 0.1 USD per SUI, respectively. This information is provided in a formal and informative style.
On the 18th of April in the year 2023, SUI will be offered for sale on the ByBit platform at a rate of 0.03 USD per unit. This sale event will commence on the 14th of April 2023 and conclude on the 24th of April 2023.
On the date of April 24, 2023, SUI will be made available for purchase on the OKX platform, and the sale period will extend for seven days from the time of the announcement. The price for purchasing SUI during this period will be 0.1 USD per unit.
Those who were not eligible for the airdrop due to not contributing early on in Sui will still receive benefits, such as the ability to participate in the Recognition Sale if chosen by the Sui Foundation. Each individual will be able to purchase up to 1,500 SUI at a rate of 0.03 USD per SUI from a pool of 25,000,000 SUI.
Where to buy SUI?
Currently, the SUI community is being made available for purchase on prominent CEX platforms including Binance, Kucoin, ByBit, and OKX.
SUI Token storage wallet
Users have the option to store their SUI token in reputable wallets such as Coin98 Super App, OKX Wallet, as well as SUI's native wallets such as Suiet and Ethos.
Roadmaps & updates
The project will be implemented according to the following schedule:
Internal devnet
Protocol stabilization
SDK and ecosystem expansion
…
Milestones Sui has achieved:
August 2022: Launched the community testnet incentivized event, and the project implemented new features, divided into different "waves" such as Network, Staking, Updates… before moving to the mainnet.
April 15, 2023: Announcement of selling SUI tokens on CEX exchanges: ByBit, KuCoin and OKX,
May 3, 2023: Sui officially launched the mainnet.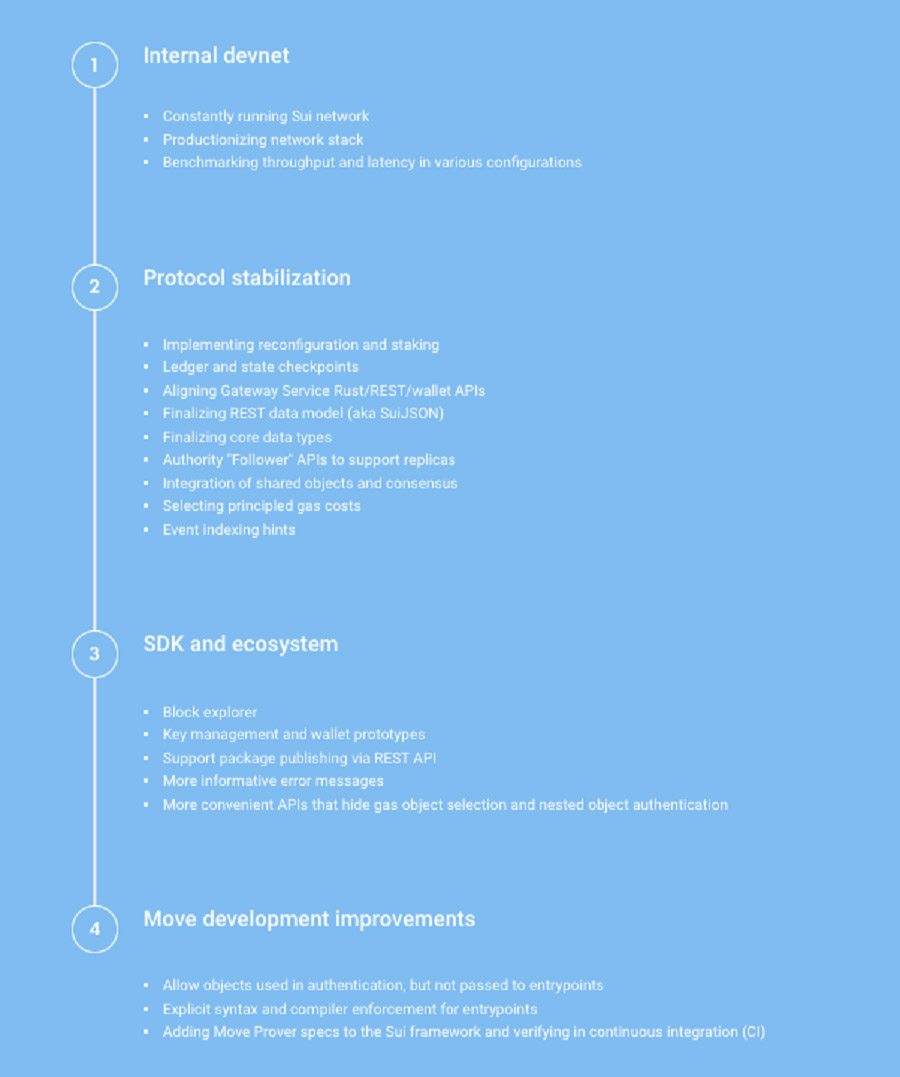 Project team, investors & partners
Project team
Sui was developed by Mysten Labs, a team that separated from Facebook's blockchain project development team, and the group consisted of:
Evan Cheng is the Director of R&D at Novi Financial (under facebook).
George Danezis is a professor of security and engineering.
Investors
Sui has 2 rounds of capital raising, in which:
Series A
Fundraising date: December 6, 2021
Funds raised: 36 million USD
Pricing: none
Participating funds: NFX, Scribble Ventures, Redpoint, Lightspeed Venture Partners, Slow Ventures, Standard Crypto, Electric Capital, Samsung NEXT, Coinbase Ventures…
Series B
Fundraising date: December 8, 2021
Amount raised: 300 million USD
Pricing: none
Participating funds: FTX Ventures, a16z, Jump Crypto, Apollo, Binance Labs, Franklin Templeton, Coinbase Ventures, Circle Ventures, Dentsu Ventures, Greenoaks Capital, Lightspeed Venture Partners, Sino Global, O'Leary Ventures,…
Partner
Sui encompasses a vast ecological system and its developmental partners engage in a multitude of projects across various domains such as:
DeFi: ABEx, Aries Markets, BeLaunch, Bucket Protocol, Mole, Navi, Scallop, Typus…
Infrastructure: Block Vision, Cubic, Notifi, Pyth, Shinami, Wormhole…
Wallet: Coin98 Super App, Ethos, Fewcha, Martian, OKX Wallet, Suiet…
Security: Otter Sec, MoveBit…
Social: Coming Chat, Port3, Starry Nift, Suia, Sui Name Service (SuiNS), Trantor…
NFT & Marketplace: Clutchy, Souffl3, Aui Ape, Universal Basic Asset, Wizzard Land…
An overview of the ecosystem of Sui Crypto
Infrastructure
Latitude.sh: A cloud-based platform has been developed specifically for developers.
Pyth: is an Oracle platform that provides real-time on-chain pricing data.
Scale3:The web3 platform serves as a means of monitoring and maintaining blockchain networks and nodes, providing comprehensive oversight of the system's operations.
ChainX: ChainX is a Layer 2 network for Bitcoin and an early example of a blockchain built on Substrate, a framework that facilitates the creation of efficient and upgradable blockchains.
MetaOracle:is a decentralized forecasting market built on the Aptos and Sui platforms.
Shinami: is a project that caters to developers by providing them with API and node services.
Dex
Suiswap: is one of the initial Defi DEX projects on the Sui ecosystem, presently undergoing the testnet phase.
Palladium: is an Active Material Master Data Exchange (AMM Dex) located on Aptos and Sui platforms, currently in the early stages of implementation.
MovEX: is an Automated Market Maker decentralized exchange built on the Sui blockchain. Currently, the project is in the developmental network stage.
KX.finance: is a DeFi/DEX aggregator tool developed on Aptos and Sui platforms, designed to aid project launches and facilitate profit management for platform users.
Name Services
The projects offering domain names on Sui encompass:
SuiNS: is a service that simplifies the web3 identity of your website or wallet. However, the project has yet to develop a product.
Sui Name Service project now has a website, despite not yet having any products available.
Sui Names: project is currently in the Devnet stage of development.
GameFi
At present, there are several GameFi projects that are being developed on the Sui ecosystem, which include Talofa Games, Rushdown Revolt, Netmarble F&C, Mint State, Lucky Kat, Gameplay Galaxy, and Gaggle.
Currently, the GameFi projects within the Sui ecosystem are still in the developmental stage and are scheduled to be released in the near future.
Wallet 
The current blockchain wallets being supported by Sui include Sui Wallet, Suiet, Ethos, Hydro Wallet, and Coin98.
NFT
The current NFT projects available on Sui comprise of Sui Punks, Sui Birds, Sui Droplets, Doge SUI, Sui Ape NFTs, and Cyborgs.
NFT Marketplace
Sui's collection of NFT marketplaces comprises BlueMove, Sui Gallery, and Clutchy, providing users with a range of platforms to browse and purchase unique digital assets.
SocialFi
The ongoing projects built on Sui platform that merit mentioning can be listed as Peeranha, ComingChat, and Quask, all of which fall under the umbrella of SocialFi.
Bridge
Wormhole: is a protocol bridge that connects various blockchains such as Ethereum, Solana, and Binance Smart Chain.
Axelar Network: is a decentralized network designed to securely link all existing blockchain ecosystems, decentralized applications (dapps), assets, and users to provide a comprehensive Web3 interaction capability.
Security
There are several security projects that cater to Sui's security needs, namely MoveBit, ZOKYO, and OtterSec.
Launchpad
SuiPad, Atlantis: Currently, on the Sui platform, there are launchpads such as SuiPad and Atlantis that are in operation.
Summary
Sui has been garnering significant attention from leading investment firms in the market, as well as a large number of interested individuals, despite not yet having launched on the mainnet. With an experienced team, Sui is anticipated to be the next crypto unicorn in the upcoming period.
As Sui is a new blockchain in its early stages of development, there are currently relatively few projects on the platform. Most of the projects within the ecosystem are still at the testnet stage. This presents an opportunity for us to experience these projects firsthand and potentially receive Airdrops.
The information provided by 247BTC aims to enhance investors' awareness and assist with informed decision making regarding the project. It is important to note that 247BTC's article serves solely as an information source and not as investment advice.