The XDC Network has been evaluated as a blockchain platform that emerged later and has positively addressed the shortcomings of existing blockchains, which has garnered significant attention from the crypto community. In this respect, the XDC coin and its technology are noteworthy topics to examine. Therefore, the following analysis will explore the strengths and weaknesses of the XDC technology.
What is XDC Network in Crypto ?
XDC Network is a blockchain platform designed for international commerce and finance, which boasts high interactivity and supports global trade and finance. It efficiently facilitates automation and transparency in the distribution of risks and commercial assets.
The XDC Network was introduced as a brainchild of eXchange inFinite (XinFin) in 2017, incorporating a combination of double validation, random validation, masternode architecture, and validation consensus. These essential features have led to the burgeoning popularity of XDC Network.
XinFin has leveraged the advantages of both public and private blockchains to create a revolutionary hybrid network, ideal for businesses and expected to disrupt the industry.
XinFin is striving towards enhancing the security and transparency of global transactions. In order to achieve this objective, XDC Network is harnessing decentralized solutions while also facilitating the development of enterprise-grade, open-access alternatives for the industry.
The salient characteristics of the XDC Network
The XinFin delegated-proof-of-stake (XDPoS) consensus mechanism operates on a decentralized validation network, providing a secure framework for facilitating transactions and safeguarding against potential attacks.
XinFin is known for its environmentally sustainable blockchain network that consumes only about 0.0000074 TWh of electricity to uphold consensus, which is significantly lower compared to the power consumption of Bitcoin and Ethereum.
The stability of the masternode architecture enables it to possess excellent accessibility and maximize its hierarchical structure.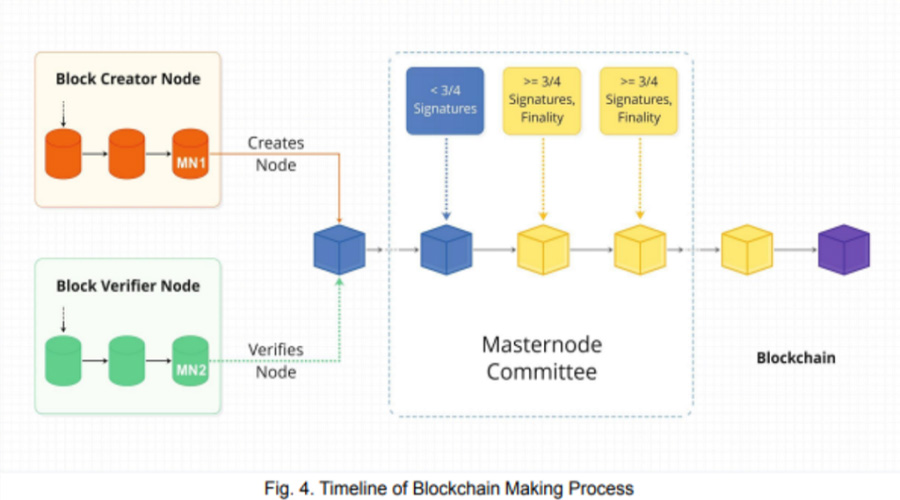 Due to its compatibility with EVM, XCD Network has the capability to interact with the Ethereum ecosystem.
The Self-KYC feature of the consensus mechanism enables business customers to create and manage their own identity by uploading the necessary information. Additionally, it allows users to access KYC data.
The XDPoS consensus mechanism is highly efficient, enabling transactions to be processed in under 2 seconds with almost negligible transaction fees.
The distinguished products of XDC Network
XinFin Explorer: is a user-friendly interface designed to facilitate detailed exploration of blockchain transactions.
XinFinMaster: is a software that functions as a candidate masternode and displays masternode performance statistics.
XDC Network wallet: The secure transmission, reception, and storage of XDC tokens and other assets issued on the XDC Network are ensured, thereby enabling users to monitor XDC rewards with safety and reliability.
XinFin Scan: The repository encompasses transactions, smart contracts, DApps, and token information.
XDC Network's development roadmap
2017 Roadmap
Q1: XinFin & TradeFinex's global expansion.
Q2: Release of Whitepaper v1, XDCO1 protocol setup and Wallet implementation, start of pre-ICO sales.
Q3: Initiating the development of TradeFinex.
Q4: XDC Android Wallet launch, XDC listing on Alphaex.net and TradeFinex POCs & Hedge Pool demonstration.
2018 Roadmap
Q1: Launch and Setup TradeFinex Beta of XDCe.
Q2: Implement client private subnets and XDC wallet AML & KYC compliance.
Q3: Setting up multiple MasterNodes globally.
2019 Roadmap
Q1: Launching Open Hackathon, introducing XDPoS Network (TestNet), implementing Standardize dApps Wallet (TestNet), introducing Demo version for InFactor.
Q2: Introducing Live XDC Public Net, implementing Standardize dApps Web and Mobile Wallet MainNet, introducing live version to InFactor.
Q3: Executing Masternode group contract, starting to approach regulators to include in the XDC Whitepaper, introducing commercial products such as X-Wallet, X-Sidechain, X-Stable Coin, X-Loyalty for institutional and retail
2020 Roadmap
Q1: Regulatory oversight cooperation and partnership for ecosystem development and adoption of XDC, TradeFinex roundtable, TradeFinex DEMO network.
Q2: Bilaxy Exchange listed XDCe, XDC listed on BuyUCoin against Fiat currency INR.
Q3: Indodax to switch from XDCe to XinFin MainNet coin XDC, XDC listed on Bitrue Exchange.
Q4: Integrate hardware wallet ledger for XDC token, auto-swap for XDC.
2021 Roadmap
In 2021, XinFin team focuses on wallet integration, custodian integration and rapid adoption of XDC.
Q1: New wallet integration to build infrastructure, support for XDC main chain. Drive rapid XDC adoption with existing DApps on the XDC Network.
Q2: Developing XDC's interoperability with the Ethereum ecosystem.
Q3: Transparency, legal clarity on XDC Network.
Q4: Strengthening XDC staking by expanding the XDC masternode network and staking community on exchanges and custodians.
XDC Network's development team
Ankit Patel (Director): XDC Network Research and Development.
Ritesh Kakkad: He is the co-founder, blockchain strategist in XDC Network. He has many years of experience in the field of Cloud hosting, Cloud setup and Internet architectural.
Atul Khekade: As an investor, an ecosystem developer. He has the role of conceptualizing and illustrating the first authorized blockchain system for the group of leading Asian banks.
Dharap: He is vice president, blockchain application developer. As an expert in the field of Management Consulting and Transaction Consulting with KPMG and PwC.
Overview of XDC
What is XDC Token?
Token name (Token name): XDC coin.
Ticker (Transaction code): XDC.
Blockchain: XDC Network.
XDC serves as the indigenous token of the XDC Network ecosystem, and is permitted to be freely traded on the public state of the XinFin blockchain. Consequently, users possess the ability to operate XDC purchase, sale, or trade accounts via the XinFin Wallet wallet.
The XDC token acts as a solving mechanism for DApps constructed on the XinFin blockchain. The initial DApp, TradeFinex platform, implements this payment layer to fund low-level infrastructure projects and other procurement activities.
XDC token token release schedule
Here is the project's year-by-year XDC token release schedule: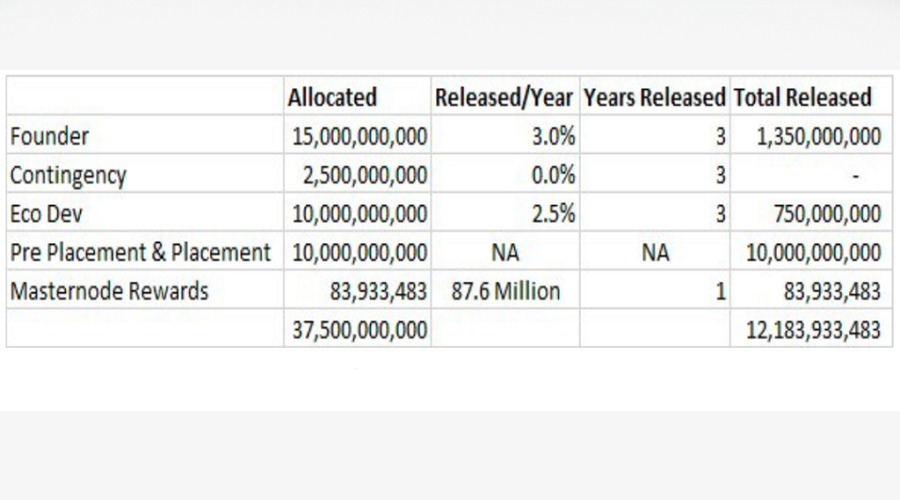 XDC Token Allocation
Founder and core members: 25%
Developing the ecosystem for the organization: 15%
Tracking and Pre-Location Token Service: 10%
Through participating masternode hosting organizations: 5%
Hedge Pool: 10.0%
Social activity: 5.0%
Backup: 5%
Where to buy XDC tokens?
The cryptocurrency Token XDC has been listed on reputable trading platforms such as Gate.io, Bybit, LBank, and Bittrex, indicating its increasing acceptance among investors and traders within the industry.
One prominent drawback of this token is its non-listing on major and reputable exchanges like Binance, Coinbase, FTX, and Huobi, which remains a notable limitation.
XDC token storage wallet
The digital token known as XDC has the capability to be securely stored on the Xinfin Wallet. Additionally, other reputable wallets such as Trezor, Freewallet, and Lumi Wallet are capable of accommodating the storage of this token.
The token XDC is compatible with various trading platforms; however, storing it in such a manner is not entirely secure due to the susceptibility of these platforms to cyber attacks. Individuals who possess considerable amounts of XDC coins should refrain from keeping their XDC tokens on such platforms.
Summary
This article provides a comprehensive overview of the XDC Network project and its associated token, XDC, as provided by 247BTC. As an organization, XDC is committed to establishing an environment that enables businesses to develop freely and without concern for the safety and transparency of their transactions. Our hope is that this article will provide you with a deeper understanding of the XDC Network project and assist you in making an informed decision about whether or not to invest in XDC. We wish you the best of success.