Numerous cryptocurrencies are supported by Binance and its proficiency in ensuring swift exchange operations between volatile coins and fiat currencies has cemented its position as a preferred option for a sizable portion of the crypto community.
If you find the prospect of having access to both cryptocurrency support and fast transaction times intriguing, it may be a suitable opportunity for you to create your initial account on Binance. To assist you in navigating through the account creation process on both Binance's mobile and web platforms, this following guide will provide helpful tips to streamline the account verification process.
The prerequisites necessary to establish a Binance account must be met
In order to finalize your registration with Binance, it is necessary to undergo the verification process known as KYC (short for "know your customer"). The specific documents and information necessary to complete the KYC process may differ depending on the region in which you reside and the type of account you have with Binance.
In the United States, possessing any of the listed documents would allow for completion of Binance's KYC process:
A valid passport.
Government-issued ID.
Driver's license.
PAN card or your social security number.
Your voter's ID.
Tips

To expedite the ID verification process, it is recommended that you opt for an identification option with a serial number instead of those that require scanning at the verification stage. Examples of IDs such as driver's license or passport typically require scanning thereby causing slower verification process. It is suggested that number input verification options such as your Social Security Number (SSN) or Bank Verification Number (BVN) are faster as Binance automatically verifies the digits.
An account with Binance can be established using either the mobile application or the web-based version on your desktop computer. While the procedures on both platforms are substantially identical, we will illustrate the steps for each one.
How to register for an account on the Binance website?
Go to the

Binance website

and

you can sign up with your email address, phone number, and Apple or Google account.
To begin your crypto journey with binance's platform, kindly proceed by following the registration steps to successfully redeem your rewards.
Please select the type of account carefully. Once registered, you cannot change the account type. If you want to create an entity account, please refer to the "Entity Account" tab for a detailed step-by-step guide.
2. Select [Continue with Apple] or [Continue with Google]. A pop-up window will appear, and you will be prompted to sign in to Binance using your Apple or Google account.
3. You will receive a 6-digit verification code in your email or phone. Enter the code within 30 minutes and click [Submit].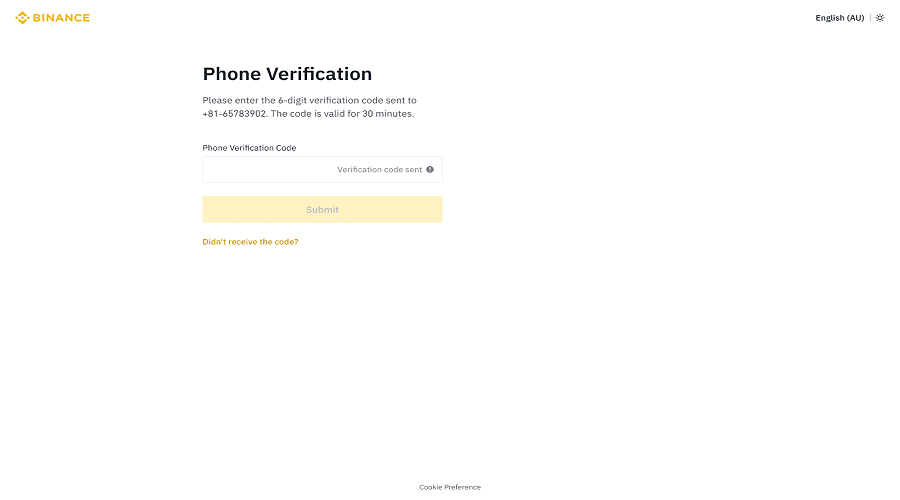 4. Then, create a secure password for your account. Your password must contain at least 8 characters, with at least one uppercase letter and one number. Click [Next].
5. We extend our heartfelt felicitations to you for successfully creating an account on the Binance platform.
2. Select [Continue with Apple] or [Continue with Google]. A pop-up window will appear, and you will be prompted to sign in to Binance using your Apple or Google account.
3. After signing in, you will be asked to confirm before proceeding
4. Upon redirection to the Binance website, you will be granted an identification prompt to receive lucrative trading incentives. It is necessary to carefully read and agree to both the Terms of Service and Privacy Policy before selecting [Confirm] in acknowledgement
Referral ID: 197641801
5. Congratulations! You have successfully created a Binance account.
Note:
Complete Binance KYC on the Web App on Desktop
After selecting the option to Verify Now, it is necessary to proceed by adhering to the subsequent steps delineated below.
Kindly provide the requisite details in the provided form and then proceed by clicking the Continue option.
To proceed, kindly furnish your address details and then proceed by clicking on the Continue button.
Next, you'll see various ID options. Select the one you prefer and hit Continue.
How to create

binance account

in Pakistan: Change Select your document issuming country/region and select Pakistan
How to verify

binance account

in Nigeria: Change Select your document issuming country/region and select Nigeria
4. In order to complete your ID verification on Binance, you will be required to provide the necessary identification information and proceed to click on the Continue button. If the verification process is successful, Binance will then direct you to the next stage.
5. To proceed with the face verification process, kindly click on the Continue button. Please note that, similar to the mobile registration process, we advise you to avoid wearing any hats or glasses. Additionally, kindly ensure that no camera filters are applied during this stage and that the surrounding environment is well-lit. Thank you.
6. Follow the onscreen instructions carefully for higher success rate.
7. Binance will automatically display a success page once you complete facial verification.
Protect Your New Binance Account
In order to prevent the loss of funds to hacking, Binance and any other cryptocurrency trading application requires protection. Binance, fortunately, has implemented certain measures such as two-factor authentication to safeguard user accounts against malicious individuals who may pose a threat.
Whilst Binance may not provide support for other authenticator applications, it seamlessly integrates with the Google or Binance authenticator. These applications can be obtained through either the iOS App Store or Android Play Store.
In order to ensure the security of your Binance wallet, it is advisable to refrain from linking it to any untrusted third-party service, in addition to enabling the two-factor authentication feature. If you do need to use the Binance service, it is recommended to solely utilize their in-app peer-to-peer exchange for trading purposes. Engaging in transactions outside of Binance may potentially lead to fraudulent activity and therefore should be avoided.