Chainflip is a unique project that provides a Cross-chain AMM allowing users to perform cross-chain transactions without the need for any collateral requirements. What sets this project apart from others in the market is its outstanding features and benefits it offers to its users.
What is Chainflip?
Chainflip is a cross-chain AMM protocol that enables users to conduct cross-chain transactions across multiple networks such as EVM, non-EVM, Substrate, L1, L2, Custom Appchain, and Bitcoin, without the requirement of wrapped assets* as collateral.
Chainflip aims to improve security, transaction speed, and decentralization issues. The project intends to replace centralized exchanges (CEXs) by facilitating the movement of assets across multiple networks, thereby saving users time and providing ease of use.
*Wrapped assets refer to tokens that are "packaged" and linked to an underlying asset. The purpose of these tokens is to facilitate the interaction of the underlying assets with other networks. For instance, Wrapped Bitcoin is a linked asset to Bitcoin that allows it to trade on the Ethereum network.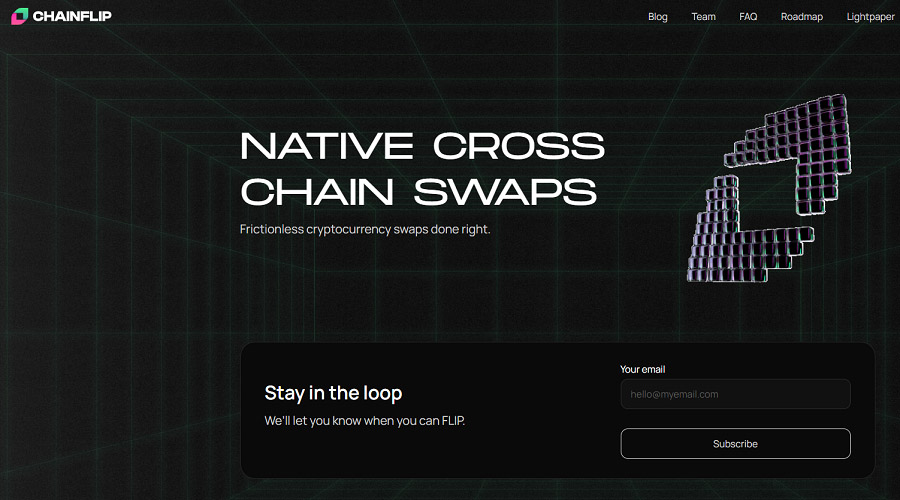 The primary components of Chainflip
Vault
The Vault wallet is a multi-party computation wallet with multiple signatures managed by a maximum of 150 validators. Its primary function is to serve as a storage facility for assets required for cross-chain transactions.
For instance, in case a user intends to transfer DAI (Optimism) to USDT (Arbitrum), they would need to deposit the DAI tokens into the vault. Subsequently, the transactions are verified by validators, and the vault is utilized to deliver USDT back to the user.
According to the Chainflip team, vaults are of two types:
Vault Contract: is an intelligent contract that stores assets on various networks, with the ability to send funds only upon the approval of at least 100 validators. Additionally, the Vault Contract serves as a wallet that utilizes MPC technology.
Native Wallet Vault: is an off-chain wallet managed by a minimum of 100 validators. It employs the FROST signature system to enhance its security features.
Overall, the Vault model bears resemblance to the Liquidity Pool; however, it differs in that these wallets are subjected to validation control and do not facilitate liquidity provision.
State Chain
State Chain is an appchain exclusively designed for the Chainflip protocol, utilizing the Rust programming language and built on the Substrate SDK. Its primary objective is to augment the security and expand the throughput capacity of the Chainflip network by providing effective handling of large transaction volumes.
State Chain serves as the venue for all activities related to network administration and Validator Auction within the team. This statement is articulated in an informative style with a formal tone.
Validator
A Validator is a node that operates on the State Chain and serves as a transaction validation component. Interested individuals seeking to become validators are required to participate in the Validator Auction process.
The Validator Auction is an online platform on the State Chain network by Chainflip that facilitates bidding activities with the objective of identifying users with the highest staking volume and designating them as a validator.
Upon becoming a validator, individuals will participate in transaction validation, network protection, and receive FLIP rewards from State Chain.
The operational framework of Chainflip
Based on information provided by the team, Chainflip utilizes a wallet known as Vault as a storage location for liquidity that users deposit for trading purposes. This liquidity is later confirmed by validators on the State Chain, who then earn rewards for authentication via their State Chain Account. The formal term used for this process is Ingress.
After the network has been validated by the Validators, the Vault will require additional confirmation of signatures from the Validators in order to pay users. In addition, the FLIP reward from the State Chain Account will be transferred to the State Chain Gateway and paid to the Validators (this process is known as Engress).
All procedures are monitored and conducted on the State Chain for easy tracking without the need for excessive smart contracts between different networks.
The salient feature of Chainflip
The following elucidates the salient aspects of the Chainflip platform
Just in Time AMM (JIT AMM): Chainflip's AMM enables users to perform cross-chain trading without experiencing high slippage. Furthermore, the Just In Time AMM also fosters competition among liquidity providers to ensure the benefit of the users.
Phi tập trung: Chainflip is operated and validated by a network of 150 trustworthy validators, which effectively helps to prevent fraudulent activities.
Tokenomics: According to the tokenomics of Chainflip, the team plans to utilize the transaction fees garnered to repurchase FLIP tokens from various automated market maker exchanges. This, in turn, will increase the scarcity of FLIP tokens.
What is FLIP token?
Token FLIP Key Metrics
Token name: Chainflip
Ticker: FLIP
Blockchain: Ethereum
Contract: Updating…
Token type: Governance, Utility
Total Supply: 90,000,000 FLIP
Token FLIP Use Cases
FLIP holders have the following benefits:
Participate in governance and vote.
Staking and become validator on State chain.
Transaction fees on State Chains.
Token FLIP Allocation
FLIP tokens are allocated as follows:
Strategic Investor: 38%
Treasury Reserves: 24.4%
Contributor Allocation: 14.4%
Token Sales: 7.7%
Liquid Treasury: 5.5%
Community Airdrops: 5.3%
Oxen Foundation Allocation: 4.7%
Token FLIP Release Schedule
Currently, the FLIP token payment schedule is as follows.
FLIP Token Sales
FLIP is currently conducting a token offering on CoinList which will end on August 31st, 2023. The registration deadline for participating in this offering is August 28th. A total of 4,500,000 FLIP tokens are available for purchase during this offering period.
Furthermore, it should be noted that individuals have the option to purchase a maximum of 4,000 USD worth of FLIP tokens at a rate of 1.83 USD per token.
Roadmap and update Chainflip crypto
Here are ChainFlip's notable timelines:
11/2022: Launch of testnet
7/2023: Audited by Trailofbits.
Q3/2023: Token sale on CoinList and mainnet version released
Q4/2023: Integrate EVM chains onto the platform.
Q1/2024: Integrate the platform into wallets and optimize transaction fees
Q2/2024: Development of cross-chain messaging.
Project team, investors and partners
Project team
The team behind ChainFlip includes:
Simon Harman: Founder and CEO of Chainflip, he used to be CEO at Loki – a technology company in Australia.
Martin Rieke: CTO at Chainflip, he was also CTO at Finoa and Founder of Covariant Labs.
Investors
Chain currently has three funding rounds with a total investment of up to 19.8 million USD, including:
December 25, 2020: Pre Seed round, Chainflip raises $3.8 million, led by Blockchain Capital and Digital Asset Capital Management.
August 19, 2021: Chainflip raised a Seed round with the amount of 6 million USD, led by Framework Ventures.
May 11, 2022: Chainflip successfully raised $10 million in a Venture round from Pantera Capital, Blockchain Capital and Framwork Ventures.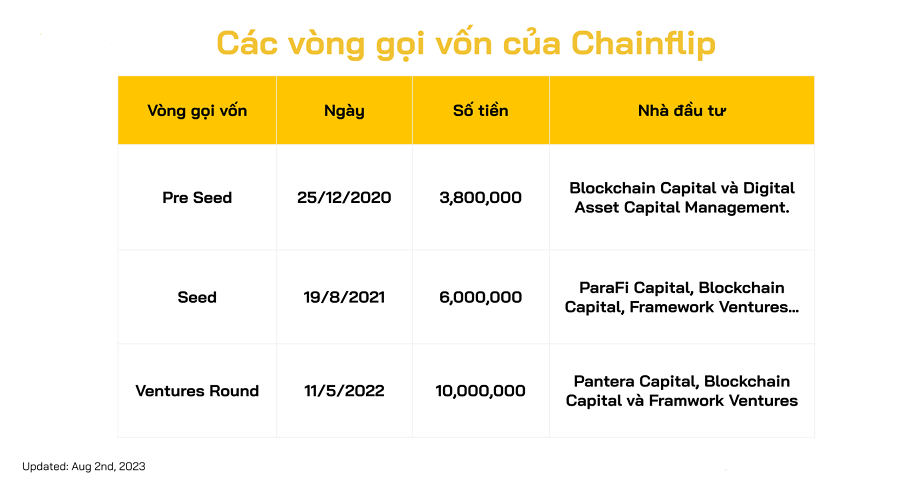 Partner
Currently, Chainflip's strategic partners include: Axelar, Blockchain Capital and CoinList.