What is Curve? In today's article, we will explore the cryptocurrency CRV together. As the stablecoin market expands, the role of Curve in the market becomes increasingly important. The purpose of CRV is to provide stablecoin users with a range of features that are difficult to find elsewhere. So, what makes this project unique?
What is Curve (CRV)?
Curve (CRV) operates as both a decentralized exchange (DEX) and liquidity provider on the Ethereum platform. Its design is tailored towards providing secure and reliable DeFi services for users utilizing stablecoins.
Thanks to its AMM mechanism, Curve's transactions operate based on a pricing algorithm rather than an order book.
Curve Finance is considered among the top choices for interchanging between different pairs of BTC, such as renBTC, WBTC, and pBTC, and conducting transactions for various types of stablecoins, including DAI, USDC, USDT, TUSD, BUSD, and sUSD. Its robust platform and efficient processes make it an ideal option for individuals seeking seamless and secure crypto trades.
Mechanism of Action
We have briefly explored the concept of Curve. Can you provide further insight on the operational aspects of this project? Please proceed to elaborate below.
The pricing of tokens in Liquidity Pools is based on the AMM algorithm rather than an Order Book. In specific, the Curve AMM utilizes the constant product algorithm (x * y = const) like Uniswap and Sushi for the stablecoin Liquidity Pools. Consequently, during the exchange of tokens, the slippage is significantly reduced by the AMM without requiring any third-party intervention.
In summary, similar to Uniswap, the Liquidity Provider deposits their tokens into the Curve Liquidity Pools, and the Trader performs token swaps to determine the token price. Additionally, the key element is the efficient use of Smart Contracts to balance token prices effectively within a stable range. This approach is employed by the AMM to ensure a stable and reliable trading environment.
Furthermore, Curve and Compound have jointly established a lending pool whereby lenders deposit their electronic funds to earn interest from lending activities in addition to transaction fees. However, the higher the interest rate, the greater the risk for lenders.
The working process of Curve is remarkable for Liquidity Pools with its unique features, namely Base and Metapool, providing users with a seamless experience while exchanging tokens. This means that the committed tokens will automatically be optimized according to the requirements of Liquidity Pools.
Development Roadmap
Curve Finance has made significant strides in developing a fully functional AMM DEX, which offers a variety of financial services to cryptocurrency enthusiasts. Their progress is commendable as they have successfully implemented a range of features and functionalities that cater to the demands of the market.
Curve Finance has introduced a new product, the Metapool Factory, which allows individuals to create multiple pools in an unauthorized manner. Moreover, Curve Finance has updated its version to V2, which automatically concentrates liquidity around the price points to reduce price slippage similar to Uniswap's V3. Additionally, Curve V2 offers a service to exchange between locked cryptocurrencies like ETH and BTC.
Let us examine the price trend of CRV coin over the past few months through the chart presented below:
The subsequent presentation showcases the price action of CRV beginning from the onset of 2021 and extending up until the present moment
The starting point for the CRV at the beginning of 2021 was approximately 0.6 USD.
The price of the CRV car model demonstrated a positive change between mid-January 2021 and mid-February 2021, reaching 3.5$ and increasing by 470% in just one month.
Subsequently, the price experienced a slight decrease, albeit lasting only about two weeks before resuming its upward trend and reaching its second peak in mid-April, where it rose to a respectable $4.
For most cryptocurrencies, the month of May saw Bitcoin reaching its peak price. Although CRV also experienced an increase, it was unable to surpass the peak it had achieved in April.

In July, when the cryptocurrency market was impacted by various negative news, the price of CRV also experienced a drastic decrease to approximately $1.2; nevertheless, this still represents double the value at the beginning of the year.
Subsequently, the value of CRV coin also experienced positive fluctuations, reaching a new high of 4.8 USD in October and peaking at its highest level of 5.8 USD in November. This exemplifies a promising trend for those interested in investing in the cryptocurrency market.
However, market volatility in the global financial market may adversely affect the cryptocurrency market, particularly DeFi, by amplifying the impact of negative information, which has also had an impact on the value of CRV tokens. Specifically, the price of CRV tokens has lost over 80% of its value in just the first six months of this year.
The current price of CRV coin is 1.07 USD.
CRV Token Use Case
Currently, the CRV Token possesses three distinct functionalities
Staking: Users have the option to engage in Staking CRV in order to receive transaction fees.
Boosting: The CRV lock function is designed to increase the liquidity of the Curve's current offering by up to 2.5 times, providing users with greater flexibility in managing their assets.
Voting: The users have the option to cast their votes for various proposals and parameters.
Detailed information about CRV Token
CRV Key Metrics
Token Name: Curve Finance.
Ticker: CRV.
Blockchain: Ethereum.
Token Standard: ERC-20.
Contract: 0xD533a949740bb3306d119CC777fa900bA034cd52.
Token Type: Utility & Governance.
Max Supply: 3,303,030,299 CRV.
Circulating Supply: 434,489,745 CRV.
CRV Token Allocation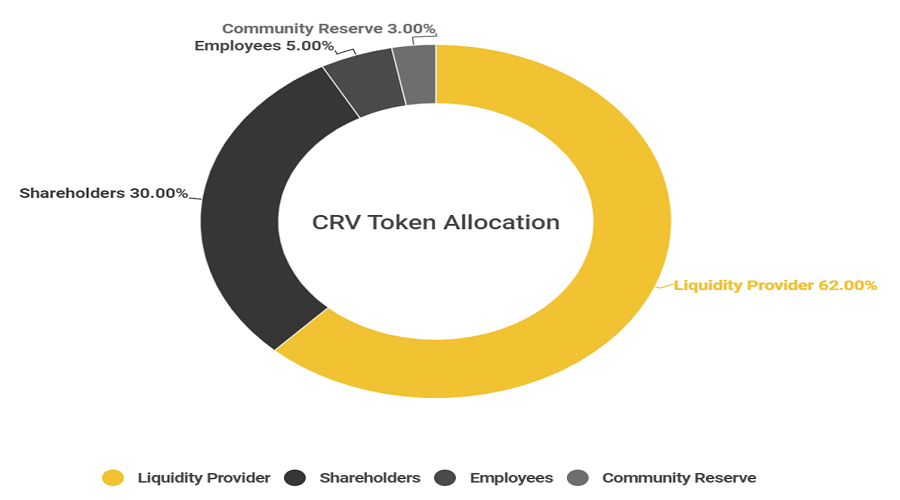 The total supply of 3.03B CRV tokens is distributed as follows:
Liquidity Provider: 62% – 2,047,878,785 CRV.
Shareholders: 30% – 990,909,090 CRV.
Employees: 5% – 165,151,515 CRV.
Community Reserve: 3% – 99,090,909 CRV
CRV Token Sale
Currently, there is no active token sale for CRV tokens. However, individuals who serve as Liquidity Providers on the Curve platform are rewarded with CRV tokens in exchange for depositing their tokens into the Liquidity Pools.
CRV Token Release Schedule
CRV Token Use Case
The Curve DAO token (CRV) serves as both a utility and governance token, serving to incentivize Liquidity Providers on the Curve platform. At present, CRV is primarily utilized in four key areas, namely Liquidity Providing, Voting, Staking, and Boosting.
The remaining three prerequisites, besides Liquidity Providing, necessitate the utilization of veCRV tokens that are acquired by users through locking their CRV on the Curve platform. Essentially, the acquisition of Vote-escrowed CRV (veCRV) tokens is a result of the locking of CRV, wherein the duration of the lockup period is directly proportional to the quantity of the received veCRV tokens.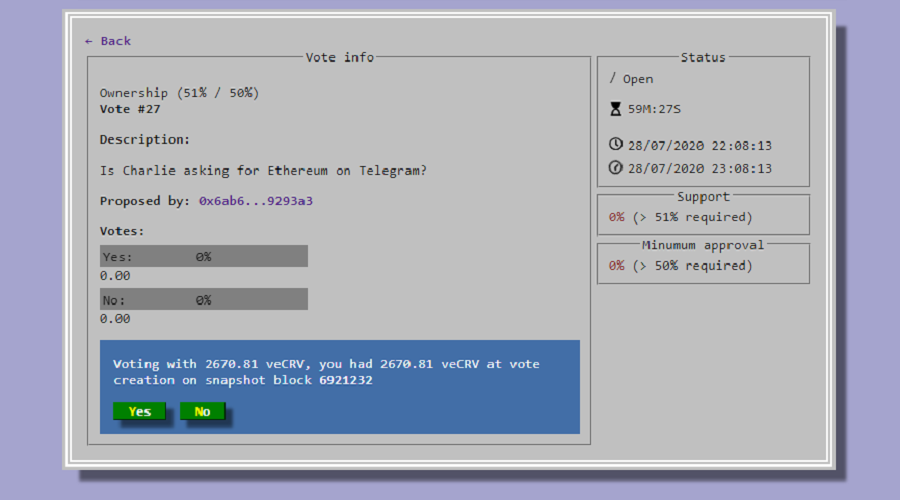 Liquidity Providing: The CRV tokens are currently accessible on prominent decentralized exchanges, including Uniswap and Sushiswap, among others.
Staking: Through the act of staking (locking) their CRV tokens, users are entitled to receive trading fees. Specifically, 50% of these fees are allocated to veCRV holders.
Boosting: Curve Finance's primary attribute is its Boosting mechanism. This element enables users to enhance their CRV rewards by 2.5 times, by contributing liquidity and staking.
Voting: Individuals who possess veCRV are eligible to take part in the voting process for multiple proposals and modifications regarding pool parameters.
How to get CRV Token
You can get CRV by buying token on CEXs/DEXs:
CEXs: Binance, Huobi, FTX, Coinbase, etc.
DEXs: Uniswap, Sushiswap, etc.
Team, Investors, and Partners
Team
Gathering information about the Curve team poses a challenge, however, their frequent code contributions on Curve Finance Github platform indicates their involvement in its development. Notably, Michael Egorov holds the position of CEO at Curve Finance and has contributed significantly to building the platform alongside his teammates. Additionally, Andre Conje is a renowned developer in the DeFi world and has established Yearn Finance while launching several DeFi projects within the Fantom Ecosystem.
Investors
Curve, which has earned a promising performance in 2021, has garnered investments from Codex Venture Partners and TrueWay Capital, comprising 5% of the total supply of CRV in the token allocation. The investors have committed to a long-term involvement with the project, as the distribution of their shares will take place over a period of four years.
Partners
Curve Finance, a prominent decentralized exchange (DEX) in the rapidly growing Total Value Locked (TVL) space, has achieved remarkable growth by establishing multiple collaborations with large-scale blockchain projects such as Fantom and Polygon. Moreover, Curve's status as an aggregator allows it to acquire liquidity from various other DEXs such as 1inch, Zapper, and Paraswap.
Curve Finance's endurance in the long run is facilitated by its deep collaborations with various major DeFi initiatives. As integral components of the DeFi landscape, Curve and its peer projects are uniting forces to establish a comprehensive financial ecosystem equipped to realize their objectives.