KiloEX, which originated from BNB Chain's MVB VI program designed to promote the development of Binance Smart Chain, is a notable project that emerged victorious and received an investment from Binance Labs. To learn more about KiloEX, read the article below on 247BTC.
What is KiloEx?
KiloEX is a derivative-friendly DEX platform that prioritizes risk management and capital efficiency for its users. The platform offers a swift trading experience and an intuitive interface with various trading pairs. Additionally, KiloEX facilitates liquidity providers with neutral risk positions and user-friendly solutions.
What is a derivative DEX and what is the difference between it and exchanges like Binance/OKX?
A decentralized derivative exchange, referred to as a DEX, is a non-centralized trading platform that enables the trading of various types of derivative instruments. In comparison to centralized exchange platforms like Binance and OKX, a DEX derivative exchange is more transparent and publicly accessible, as users are not required to trust the exchange and can participate in trading directly through the use of smart contracts, ensuring the fairness of transactions.
Moreover, DEX derivatives offer more innovative and flexible trading methods, such as leveraged trading and perpetual contracts.
How is KiloEx different from other derivative DEXs on the market?
KiloEx places greater emphasis on providing users with a positive experience by presenting a user-friendly interface and transaction methods. Additionally, KiloEx has implemented incentivizing mechanisms to encourage user participation through copy-trading, trading mining, and trading competitions.
KiloEx offers a diverse range of transaction assets and flexible trading methods, such as forex, to cater to the varying needs of users. Additionally, KiloEx provides relatively low transaction fees to help reduce costs for users.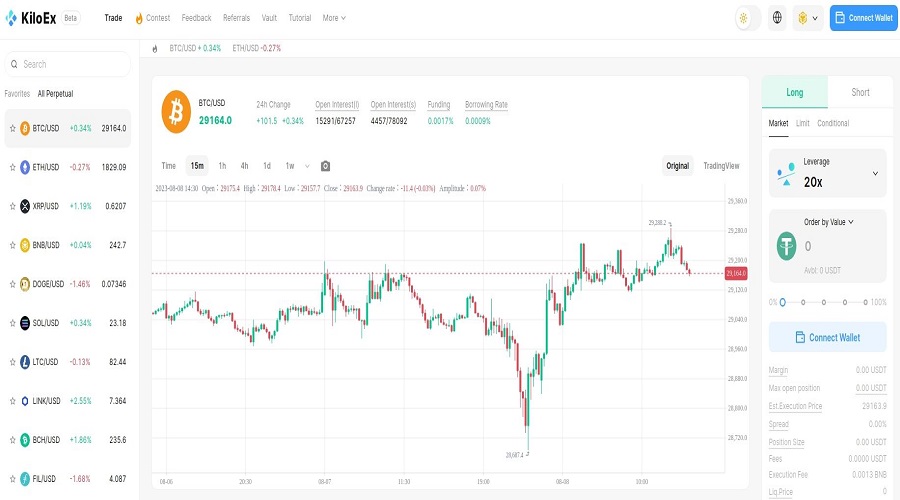 Information about KiloEX Token
After conducting research on KiloEX, we invite you to delve further into the topic by reading additional information about the KiloEX project token with 247BTC Info
Token Metric
Token name: KILO token.
Ticker: KILO.
Blockchain: ERC20.
Contract: Updating…
Token type: Governance, Utility.
Total Supply: 1,000,000,000 KILO.
Circulating Supply: Updating…
Token Allocation
Team: 20%.
Private sale: 10%.
Strategic sale: 10%.
Advisor: 5%.
Ecosystem: 34%.
Airdrop: 10%.
Staking reward: 10%.
Liquidity provider: 1%.
KiloEx Token Release Schedule
Roadmap
03/2023: Release Alpha Version / Core Trading Module
05/2023: Release Testnet / Bug Bounty
06/2023: Contract Audit/ Decentralized Referral / Multi-language Support / Mainnet Launch
07/2023: Secondary Audit / Decentralized Copy Trading / Email Notification
08/2023: Hedge Tool / Release Forex&Stock
10/2023: TGE
KiloEx Genesis pass
Distribution quantity: 10,000 KiloEx member NFTs

Distribution method: Free Mint (whitelist)
Tradable or not: Yes, royalties will go to the operation, and sales fees will go to the vault
Is there a mechanism for upgrading or downgrading: Yes
Ownership Benefits:
Rate discount

Up to 20% discount on trading fees

Referral commission increase

Up to 20% increase in referral commission

Staking yield increase

Up to 20% increase in staking yield of $KILO

Token airdrop
Copytrading related

Follower limit for copytraders increase
Commission percentage range for copytraders increases to 20% (default within 10%)
Investors and partners