Learn more about Osmosis, including its standout features and details about the OSMO Tokenomics by clicking here. One of the critical areas for any ecosystem looking to expand into the DeFi space is AMM DEX. If Ethereum has Uniswap and Binance Smart Chain has Pancakeswap, then Cosmos has Osmosis, which acts as its representative.
What Is Osmosis Crypto ?
Osmosis is an Automated Market Maker (AMM) DEX built on the Cosmos SDK and operates within the Cosmos ecosystem. Despite being a relatively new ecosystem with few standout DeFi projects, current developments suggest that Cosmos will expand its DeFi space in the near future. As such, Osmosis has the potential to become the liquidity hub of the Cosmos network.
The mechanism for Osmosis involves the implementation of AMM. This means that assets will not be traded in the form of an Orderbook, but rather swapped within a Liquidity Pool according to the formula set forth by the Smart Contract.
The salient feature of Osmosis
The distinguishing feature of Osmosis is its exceptional flexibility. The Osmosis team has identified an issue with current AMMs such as Uniswap, whereby users are required to use Curve Finance when in need of a stablecoin asset, and Balancer when seeking to minimize Impermanent Loss risks.
Therefore, Osmosis was developed to address the aforementioned issues, and certain functionalities can be adjusted through the Governance of Osmosis
Change fee: Transaction fee, Liquidity withdrawal fee.
Can actually manage the Pool (pool creator or community).
Add or remove assets that are supported in AMM.
Create Pool with different Swap curve (similar to Curve Finance) => Suitable for Stable Asset.
Create a Pool with a different ratio of tokens in the Pool (similar to Balancer) => Reduce the risk of Impermanent Loss.
In this manner, Osmosis has the capability to merge the strengths of Uniswap, Balancer, and Curve by easily customizing the functions within their respective pools. This feature allows Osmosis to scale effortlessly without the need to migrate liquidity from Uniswap V2 to Uniswap V3.
In addition to functioning as an automated market maker (AMM), Osmosis also operates as a Blockchain built on Cosmos. It may surprise many individuals that Osmosis has a dual purpose, serving both as an AMM and a Blockchain. To clarify, Osmosis is an App-Chain, which entails constructing a Blockchain specifically for a particular application, rather than a typical Blockchain ecosystem.
Detailed information about OSMO Token
Key Metrics OSMO
Token Name: Osmosis.
Ticker: OSMO.
Blockchain: Cosmos.
Token Standard: Updating…
Contract: Updating…
Token Type: Utility & Governance.
Total Supply: 1,000,000,000 OSMO.
Initial Supply: 100,000,000 OSMO.
OSMO Token Allocation
The total supply of 1,000,000,000 OSMO will be distributed in the following manner:
Liquidity Reward Mining: 40.5% – 405,000,000 OSMO.
Developer Vesting: 22.5% – 225,000,000 OSMO.
Staking Reward: 22.5% – 225,000,000 OSMO.
Community Pool: 4.5% – 45,000,000 OSMO.
Strategic Reserve: 5% – 50,000,000 OSMO.
Airdrop: 5% – 50,000,000 OSMO.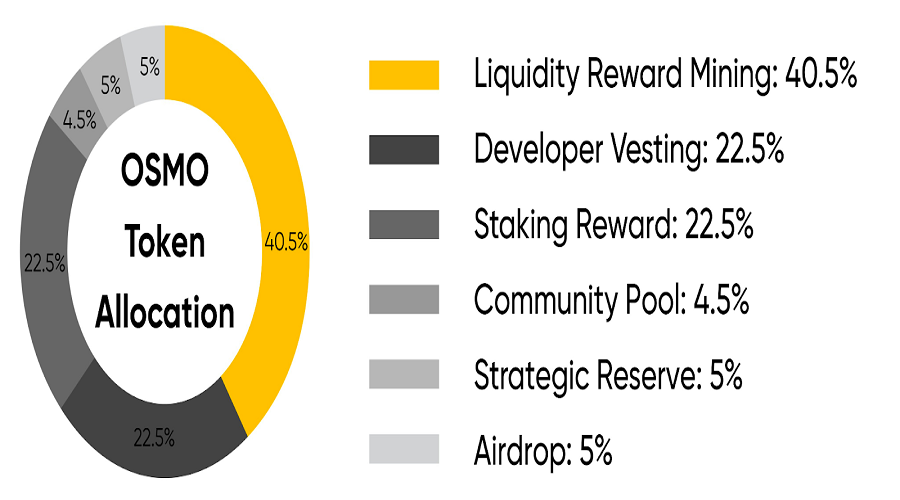 OSMO Token Sale
Osmosis has decided to refrain from conducting a token sale and instead plans to distribute all of its tokens through various channels including Airdrop, Developer Unlock, Staking, and Liquidity Mining. These distribution mechanisms will be made available exclusively on the Osmosis platform.
OSMO Token Release Schedule
Osmosis will have a total of 1 billion OSMO tokens, which will be released in multiple phases with a one-year cycle. The initial token supply will be 100 million OSMO, and starting from the second year, the token release quantity will decrease by one-third compared to the first year until the remaining 900 million OSMO tokens are distributed.
According to Osmosis' estimation, the entirety of their tokens are projected to be unlocked by approximately the ninth or tenth year following the initial release. For further illustration, refer to the provided example.
Initial total supply: 100,000,000 OSMO.
Year 1: 300,000,000 OSMO.
Year 2: 200,000,000 OSMO.
Year 3: 133,333,333 OSMO.
OSMO Token Use Case
OSMO token will be applied in the following cases:
Provide liquidity in Osmosis Pool to get Reward.
Staking on Osmosis to get Reward.
Propose and vote on system changes.
How to earn and own OSMO Token
At present, there are two methods through which one may acquire OSMO tokens:
Buy OSMO directly at Osmosis.
Claim Fairdrop OSMO tokens.
This is an airdrop designed for individuals who held ATOM in their wallets before February 18th, 2021. A total of 50,000,000 OSMO tokens will be distributed based on the proportion of ATOM held in wallets. However, only 20% will be airdropped at the initial stage. In order to claim the remaining 80% of OSMO tokens, users are required to complete four additional steps to demonstrate active participation on the platform. These steps include: (list the steps). Please note that this information is presented in a formal tone and is intended to provide informative language about the airdrop.
Execute a swap command.
Provide liquidity to the exchange.
Stake OSMO.
Vote in the Governance Proposal of Osmosis.
This measure is implemented to ensure that the airdropped tokens are received by those individuals who genuinely utilize the platform. Users will be given a two-month window to claim the tokens, up until the sixth month. In the event that an excess of OSMO tokens remain unclaimed, they will be transferred to the community pool.
OSMO Token Storage Wallet
According to the information provided by Osmosis, in order to achieve optimal interaction with the platform, users are advised to utilize the Keplr wallet. This wallet is directly linked to Osmosis, enabling users to store and transfer OSMO tokens with ease.
Keplr is a concentrated wallet that assists the construction of chains built on Cosmos such as FetchAI, Kava, Certik Chain, among others. It is crucial to remember to carefully safeguard your private key when utilizing this platform to prevent the potential loss of assets.
Roadmap & Updates
On February 28th, 2022, Osmosis introduced a new feature called Superfluid Staking, which enables users to earn Staking interest while providing liquidity.
Project team, investors, partners
Project team
Although Osmosis does not disclose the specific project team, some members were found on the Twitter channel
Sunny Aggarwal (@sunnya97).
Josh Lee (@dogemos).
George Wosmongton (@wosmongton).
John Patten (@jpatten_).
Dev (@valardragon).
Investors
Updating…
Partner
Updating…
Summary
The entity known as 247BTC has furnished pertinent data to the recipients regarding the core elements of Osmosis and the associated token OSMO. It is advisable for the individuals to engage in thorough research and examination of the project's prospects before making any investment decisions. Best wishes to all.