Alongside the advancements in blockchain technology, numerous individuals and projects within the cryptocurrency market have taken advantage of the decentralized and anonymous nature of this technology to carry out various forms of fraud, resulting in significant losses for investors, including exit scams. Considering this, it becomes imperative to explore the meaning of exit scams, which we shall investigate in this article presented by 247btc.net.
What is an exit scam?
The term "exit scam" is utilized to characterize a fraudulent act where an individual, entity, or project endeavors to establish trust to attract investment, and subsequently vanish from the market with the received funds without delivering the promised products or services.
Exit scam is a prevalent type of fraud in the cryptocurrency market that has resulted in billions of dollars in losses for users. In certain cases, perpetrators may simply take all of the users' funds and disappear from the market. In other scenarios, fraudsters attempt to make the exit scam appear like a system malfunction or hacking incident to portray innocence. Following this, the fraudster can continue to utilize this tactic to carry out future exit scams.
Popular exit scam methods
ICO/Presale
An exit scam via ICO is a form of fraudulent activity in which scammers solicit capital from investors through an ICO, subsequently absconding with the raised funds without issuing any tokens or delivering any products or services.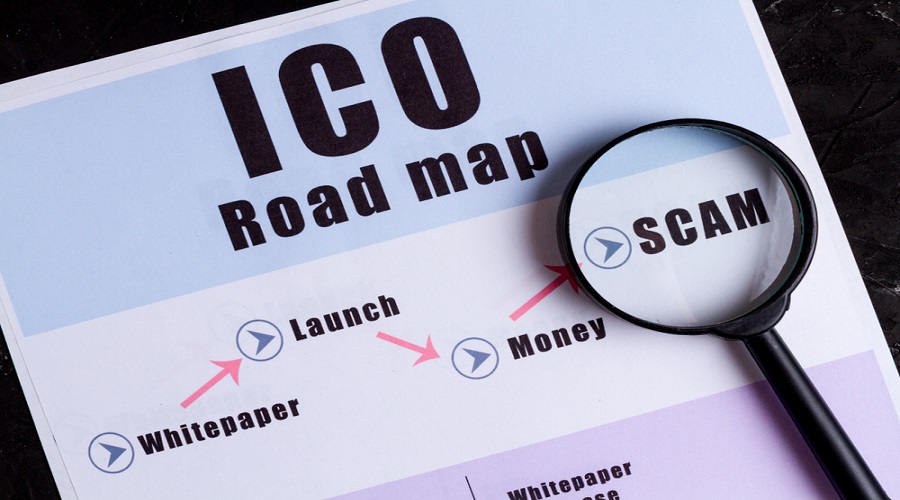 There exist several different methods that scammers can utilize to enact an exit scam via an initial coin offering (ICO); however, the most commonly employed approach involves the scammers creating a whitepaper that makes enticing promises about a product or service they plan to build with investor funds. After raising sufficient capital, the scammers vanish without delivering any such product or service.
CEX exit scam
The CEX exit scam is a fraudulent scheme in which a centralized exchange (CEX) abruptly shuts down or disappears, typically after amassing a significant amount of money from users and investors without any plans to return the said amount.
Several ways in which CEXs engage in exit scams encompass:
Sudden closure: CEXs have the potential to abruptly shut down their websites and vanish without any prior notice.
Disappear: The CEX may cease responding to user emails or calls, without exhibiting any discernible indications of ongoing operation.
Scattering money: CEXs have the capability to withdraw funds from their users and transfer said funds to an alternate wallet address or bank account, depriving the user of access to their funds.
Ponzi
Ponzi scheme involves fraudulent individuals who use money from new investors to pay off existing investors and keep the difference for themselves. Eventually, the Ponzi scheme collapses due to insufficient new investors to pay off earlier investors. At this point, the scam artists terminate the project and disappear along with all the investors' money. As a consequence, investors are unable to recover their funds.
Rug Pull
The exit scam known as "Rug Pull" involves fraudulent individuals creating a cryptocurrency project and using deceptive marketing tactics to attract investors by promising high profits without risk. Once enough money has been collected, these swindlers disappear with all the investors' funds. It should be noted that Rug Pull scams not only occur in cryptocurrency projects but also in NFT initiatives.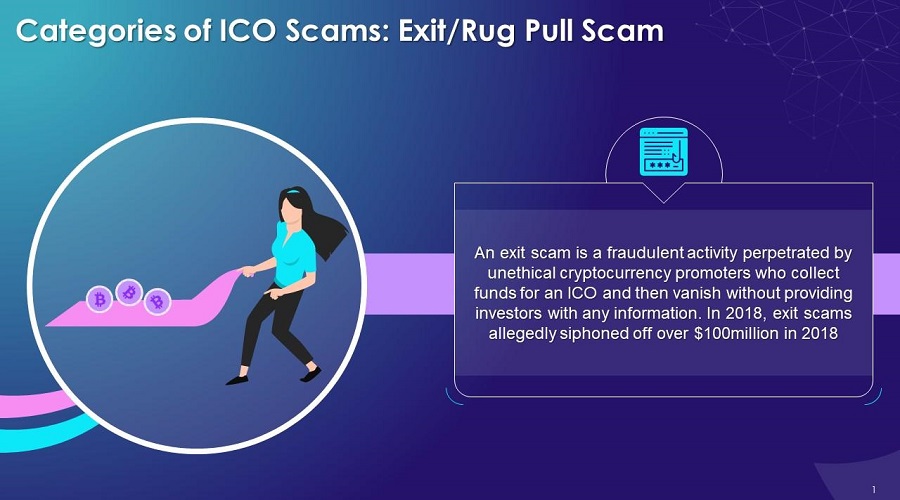 Several prominent exit scam projects
Bitconnect
Bitconnect is a cryptocurrency trading platform that has been accused of being a Ponzi scheme. The platform operates by allowing investors to borrow cryptocurrency at high interest rates. Specifically, the project promised investors a stable daily profit of 1%, with an initial investment of $1,000 potentially earning $50 million within 3 years. This business model is highly suspect and has led to allegations of fraudulent activity.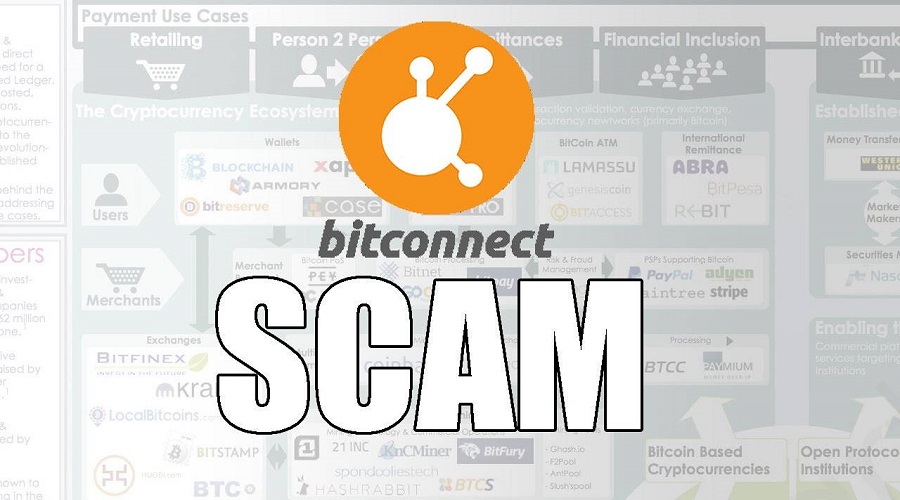 However, it should be noted that this interest payment is actually funded by the money from new investors, not from Bitconnect's profits. This implies that Bitconnect can only operate as long as they continue to attract new investors. When the number of new investors begins to decrease, Bitconnect will no longer have enough money to pay interest to existing investors, resulting in its closure and disappearance with billions of dollars of investors' funds in January 2018. This can be considered one of the largest exit scams in the history of cryptocurrency.
OneCoin
OneCoin was founded by Bulgarian national Ruja Ignatova whose promotion of the digital asset as a revolutionary form of cryptocurrency failed to substantiate its actual value. In reality, OneCoin has no inherent practical worth and its appraisal is solely contingent upon the ability of investors to sell it to others at a higher price.
OneCoin successfully raised billions of dollars from investors all over the world. However, instead of using the investors' funds for OneCoin's project development, the money was used to pay the interests of previous investors. In December 2017, OneCoin ceased operations and disappeared with billions of dollars of investors' money. Konstantin Ignatova, the co-founder of OneCoin, is currently wanted by the FBI and is listed as one of the top 10 fugitives.
LoopX
The case of LoopX serves as yet another example of an exit scam executed through the collection of funds via an ICO, promising positive outcomes for the community. This project had previously pledged to guarantee weekly returns through the use of advanced trading software.
However, in February 2018, LoopX abruptly disappeared after collecting an investment of up to 4.5 million dollars in Bitcoin and Ethereum, causing severe damage to investors who had poured capital into the project and creating a significant shock in the cryptocurrency community.
AnubisDAO
AnubisDAO was a self-proclaimed fork of OlympusDAO (OHM) in 2021 and leveraged the image of Anubis, the Egyptian deity of death depicted with the head of a dog, to capitalize on the dog coin trend at the time. Despite the absence of a website or any documentation, AnubisDAO managed to raise approximately 60 million USD in ETH from investors during its ANKH token sale on October 28, 2021. However, as of approximately 7:00 AM on October 29, 2021 (Vietnam time), the aforementioned ETH had been transferred to another address and liquidity in the ANKH/ETH pool had been withdrawn entirely. Thus far, information regarding the AnubisDAO team and the whereabouts of the 60 million USD remains undisclosed.
Thodex
In April 2021, Thodex, a Turkish cryptocurrency exchange, disappeared along with investors' funds worth over $2 billion. The CEO of Thodex, Ozer, stated that the company had to suspend trading due to a cyber attack, but initial deposits were still safe and secure. However, it appears that he fled the country the night before the exchange closed.
Hextracoin
Hextracoin has been identified as a Ponzi scheme, with its crypto website abruptly shutting down in December 2017 and its developers disappearing with investors' funds. It was marketed as a quick and easy way to make money, with investors buying Hextracoin and then using it to mine other cryptocurrencies. The Hextracoin developers promised investors a portion of the profits from mining operations.
However, Hextracoin has been accused of being a fraudulent scheme. The developers have been accused of using investors' money to purchase personal goods and services for themselves. They have also been accused of using investors' money to fund their other projects.
How to avoid exit scams
Here are some ways to avoid exit scams:
Only invest after careful research: Prior to investing in any cryptocurrency project, it is highly recommended to diligently research the project, scrutinize its whitepaper, and evaluate the competence of the development team. It is imperative to ensure that the project has a clear development roadmap and the development team possesses reputable and seasoned experience.
Avoid projects that promise high profits without risk: If a crypto project promises high profits without any risk, it may be a red flag indicating a potential scam. It should be borne in mind that there is no such thing as a free lunch, and if something appears too good to be true, it is likely so.
Always keep your password carefully: Your password serves as the key to accessing your funds, thus utmost care should be taken to safeguard it. It is imperative that you do not disclose your password to anyone, even those whom you trust.
Use trusted trading platforms: In order to ensure the security of your cryptocurrency transactions, it is recommended to utilize trustworthy trading platforms such as Binance, OKX, and Bybit. These platforms are equipped with robust security measures to safeguard your funds.
Don't invest too much money in cryptocurrency: Cryptocurrency is a risky investment asset, hence it is advisable to refrain from investing a significant amount of funds. Only invest an amount within one's risk tolerance.
Summary
Exit scam is a type of fraudulent scheme that causes significant financial losses for investors. Therefore, 247btc.net intends to educate its readers about exit scams and provide preventive measures against this dangerous form of fraud through this article. We hope that our readers will gain a deeper understanding of exit scams and learn how to protect themselves from potential harm. Wishing you success in your endeavours