In recent years, Blockchain technology and its applications have emerged as a trend for the future. One of the most unique features of Blockchain is its decentralized nature, where all network activities are shared among all parties, thereby eliminating the need for intermediaries or third parties. This feature is particularly useful in avoiding conflicts in processes and saving time. Although Blockchain still faces unresolved issues, this technology offers faster, cheaper, and more efficient options compared to traditional systems. As a result, even banks and government organizations are transitioning to Blockchain. However, many individuals still lack a clear understanding of cryptocurrencies, especially the difference between Blockchain Currency and Blockchain Smart Contract.
Blockchain Currency and Blockchain Smart Contract
The emergence of Bitcoin, the first cryptocurrency, caused notable attention towards blockchain technology, which served as its underlying framework. Despite being associated with digital currencies, it is important to note that blockchain technology extends beyond Bitcoin and is being leveraged across various industries including finance.
As of the current time, Smart Contracts can be regarded as the most widely utilized application of blockchain technology.
In 1994, Nick Szabo, a legal scholar and cryptographic expert, introduced the concept of smart contracts. He argued that any decentralized ledger could be utilized as self-executable contracts, which later became known as smart contracts. These digital contracts can be converted into machine code and executed on a blockchain.
Despite the idea of smart contracts having been in existence for a considerable amount of time, the current world we live in still heavily relies on paper-based contracts. Even with the use of digital contracts, the involvement of third-party intermediaries may lead to security issues or fraudulent activities, as well as an increase in transaction costs. However, the current issues can now be resolved with the emergence of blockchain technology, enabling all entities in the network to interact with each other in a decentralized manner, thereby eliminating the involvement of third-party intermediaries. To put it simply, blockchain is a technology that allows us to store data on a distributed ledger. Record and transaction data are updated in real-time for all parties in the network, guaranteeing transparency and data integrity. Thanks to its functionality, smart contracts have the ability to be utilized in various industries and sectors such as smart homes, e-commerce, real estate and asset management, among others.
What are smart contracts?
A smart contract is a computer code that comprises a set of agreement rules between two or more parties, built on a blockchain system. It is established through a multitude of regulations that satisfy the participants' requirements.
This code enables the automation of decentralized processes by creating, verifying and enforcing the terms of a basic agreement. In other words, a Smart Contract is a code that can be automatically executed and stored on a blockchain containing predetermined rules. When these rules are met, the code will execute automatically and provide an output. At its simplest form, a Smart Contract is a program that runs in a format established by its creator. Smart contracts enable the exchange of any valuable asset such as currencies, stocks, and properties transparently, without the need for intermediaries and with a reduced risk of system conflicts. These contracts are commonly used in business collaboration to agree on predetermined terms by both parties' consent, minimizing fraud risks and reducing costs since there is no involvement from a third party.
How do Blockchain smart contract work?
In order to comprehend the mechanics of smart contracts. It is recommended to consider an example regarding the desire to engage in real estate business transactions. The process of conducting real estate business often requires extensive paperwork and multiple contacts with various entities, coupled with potential risks of deception. Typically, many individuals transact through real estate agents or agencies. Agents take responsibility for the required paperwork and transfer processes, serving as intermediaries throughout the entire process, negotiating and monitoring agreements. Upon completion of the deal, a significant commission fee is paid to the third party agent. This leads to increased costs and higher risks for both the buyer and seller.
In situations such as these, implementing a smart contract proves to be an ideal solution for mitigating potential risks and reducing associated costs.
The smart contract is designed to operate based on conditional code (if, this, then, that). And it automatically executing transactions only when the required amount and accompanying rules are met. Transaction funds and ownership rights will be stored on a decentralized system witnessed and validated by all participants in the network, leaving no room for fraud. Furthermore, there is no need for third-party intermediaries. As all functions previously performed by real estate agents can now be encoded in the smart contract. Resulting in cost savings for both buyers and sellers.
The benefits of implementing Blockchain smart contract is numerous and significant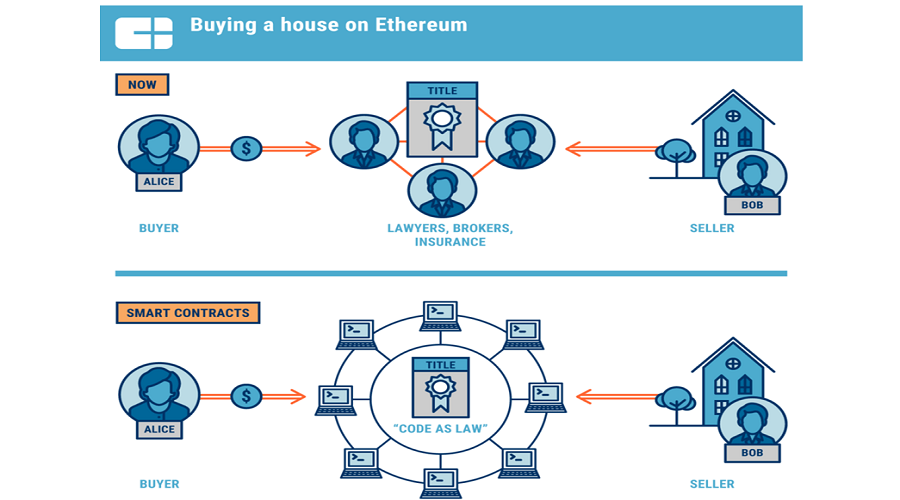 The implementation of smart contracts in everyday life has the potential to bring about astonishing changes by replacing traditional contracts. They provide a convenient and secure solution for exchanging various assets, including real estate, currency, and stocks. The exclusion of third-party involvement is also an attractive feature when applying smart contracts to daily life. Let us examine some of the benefits that smart contracts offer.
Transparency
One of the fundamental characteristics of blockchain that smart contracts also inherit is transparency. As previously mentioned, a smart contract contains various clauses, rules, and detailed conditions that are verified by the parties involved in the agreement. This characteristic of a smart contract enables the involved parties to ensure transparency during the transaction process. As the terms and conditions are carefully examined and only included when agreed upon by all participants. By doing so, it helps eliminate the possibility of disputes and issues in the later stages.
Save time
Any process related to traditional document handling usually takes several days to complete. Due to the involvement of numerous intermediaries and unnecessary procedures. In contrast, smart contracts run on the internet as software code, eliminating the need for manual processing by humans or intermediaries. As a result, significant time savings can be achieved. The implementation of smart contracts can result in significant time savings, even several days, compared to any traditional business process.
Accuracy
It is imperative to thoroughly understand and hold all the terms and conditions of a smart contract before its activation. Any terms outside the contract may result in errors during execution. Therefore, in creating a smart contract, all conditions must be detailed and precise in the form. The presence of such capability makes the smart contract a comprehensive agreement whereby it can execute all necessary tasks automatically. In the case of a manual contract, there is a possibility of errors occurring because the person responsible for carrying out the contract may overlook a specific term or condition. Furthermore, there is no way to monitor it until an error arises. Therefore, the smart contract provides a better alternative, ensuring almost absolute accuracy when executed.
Safe and effective
The presence of such capability makes the smart contract a comprehensive agreement whereby it can execute all necessary tasks automatically. In the case of a manual contract, there is a possibility of errors occurring because the person responsible for carrying out the contract may overlook a specific term or condition. Furthermore, there is no way to monitor it until an error arises. Therefore, the smart contract provides a better alternative, ensuring almost absolute accuracy when executed. Furthermore, due to their high accuracy and security, smart contracts enhance their efficiency level and provide greater value for transactions.
Data saving
The intelligent contract ensures an accurate and precise agreement down to the smallest detail. All aspects of any transaction are stored and accessible by involved parties at any given time. This feature proves to be extremely helpful in resolving any future disputes related to the contract terms.
Cost savings
Replacing traditional agreements with smart contracts can provide significant cost savings. Smart contracts only involve the parties to the agreement, eliminating the need for intermediaries. Individuals such as lawyers, witnesses, and intermediaries do not hold any role in using smart contracts. Additionally, as previously stated, smart contracts are a more cost-effective alternative to paper-based documents due to their ability to bypass lengthy and complicated procedures.
Reliability
The transparency and security features of smart contracts instill reliability in the eyes of businesses, as they eliminate the slightest possibility of manipulation or human error. Once the predetermined conditions are met, the smart contract will execute automatically.
Some applications of Blockchain smart contract in finance
Smart Contracts In Insurance Industry
The absence of automation in insurance administration is a notable concern. As it results in lengthy claim processing times that can span anywhere from weeks to months. This subsequently presents challenges for both customers and insurance companies alike. Customers are burdened by restricted timeframes while waiting for their money, while insurance companies must deal with issues such as superfluous administrative expenses, unfulfilled clientele, and a notable lack of efficacy.
The implementation of Smart contracts can facilitate the simplification and streamlining of various processes. This is achieved through the automatic initiation of payment for a claim in adherence to the agreed-upon terms between the client and company. For instance, in the event of a natural disaster, smart contracts can be executed promptly, enabling people to claim their funds and utilize them as necessary. The blockchain can store specific details such as the extent of damage, and compensation amounts can be determined accordingly.
Blockchain smart contract in Supply Chain
Effective supply chain management encompasses the seamless movement of goods and products from their inception to their ultimate destination, and is integral to the success of myriad industries. Given its complexity, the successful orchestration of a supply chain relies on the participation of multiple parties. Incorporating smart contracts into the supply chain process offers the added benefit of secure record-keeping of ownership rights throughout the products' transit. Additionally, all members of the supply chain network can easily track the location of the product at any given time.
Throughout the delivery process, each stage is subject to rigorous quality checks to ensure a flawless final product. In the unlikely event that an item becomes misplaced, smart contracts enable accurate location tracing. Furthermore, if any stakeholder fails to abide by the contract terms, this breach would be evident to all parties involved, thereby promoting transparency across the entire supply chain system. The implementation of smart contracts undoubtedly enhances the transparency and efficiency of the overall supply chain. The implementation of smart contracts has been acknowledged as a highly advantageous practice for various industry sectors as it aids in the reduction of overhead costs, ensures transparency and saves time. The reliability, security, efficiency, and trustworthiness of smart contracts far surpasses that of paper contracts. However, it is crucial to exercise caution in order to prevent the risks associated with code corruption. As businesses increasingly adopt digital processes, it becomes essential to prioritize risk awareness.
Mortgage Loans
The complexity of mortgage agreements arises from the extensive inclusion of details such as the mortgagee's income, credit score, and outgoings. It is crucial to conduct thorough checks on these details prior to proceeding with mortgage loans. However, this process is often facilitated by intermediaries and third parties which may result in a prolonged and burdensome experience for both the lender and loan applicant. Utilizing smart contracts in this particular scenario offers various advantages, primarily the eradication of intermediaries to prevent time-consuming procedures and uncertainty. In addition, all pertinent information can be consolidated in a singular location that is easily retrievable by both involved parties throughout the entire transaction process.
Employment Contracts
Smart contracts are essential in ensuring compliance with the terms of employment agreements. Failure by either the employer or the employee to meet their obligations can compromise the integrity of the agreement, leading to mistrust. To avoid this, a single smart contract can be utilized to establish clear terms and conditions of the employment, including salary amounts, job responsibilities, and other relevant records. Such transactions can be recorded and referenced in case of any disputes, thereby enhancing the employee-employer relationship and promoting fairness. Additionally, smart contracts offer a convenient solution for simplifying the wage payment process, ensuring the agreed-upon amount is delivered to the appropriate employee within a designated time frame. Furthermore, when temporary labor is involved and an intermediary agency is responsible for coordinating the employment, smart contracts can be leveraged to establish transparency and prevent interference with the employee's contractual terms once they are hired by the company. By utilizing smart contracts, any amendments to contractual agreements can easily be identified and resolved, facilitating a more efficient and trustworthy employment process.
Limitations of Blockchain smart contract
Smart contracts offer distinct advantages such as cost reduction, increased transparency, and time savings. While reliable, secure, efficient, and more trustworthy than paper contracts, businesses must recognize the unavoidable risks when adapting to digital processes. When programming smart contracts, humans are the ones responsible and mistakes can be made. As a result, to avoid potential risks, users must seek out highly skilled programmers for their team when setting up smart contracts. Poorly designed smart contracts can result in significant losses, as demonstrated by the multi-million dollar vulnerabilities in Ethereum's smart contracts. Therefore, it is crucial to have expertise in place when creating these contracts to ensure their effectiveness. The cost of deployment is a concern for many users, given the significant expenses associated with infrastructure, computers, and skilled programmers. However, users only need to invest in deployment costs and do not have to incur additional expenses for intermediary transactions. This has made many users and investors willing to pay for the implementation costs of smart contracts.
Conclude
The potential applications of smart contracts are extensive and not limited. These contracts can be employed for various daily agreements as well as large-scale contracts for governments and enterprises in the future. Despite being a work in progress, the continuous development of technology will undoubtedly become an integral component of the world's financial system, wherein blockchain and smart contracts will be an indispensable part.