We have heard numerous prominent figures, such as Mark Zuckerberg, CEO of Facebook, and Satya Nadella, CEO of Microsoft, expound upon the topic of Metaverse Crypto. They assert that Metaverse constitutes the future of our digital world and holds innumerable possibilities for humanity. Consequently, one may inquire with confidence as to what exactly Metaverse represents.
Let us delve into Metaverse together with 247btc, in order to gain a better understanding of this concept.
What is Metaverse in Crypto?
The Metaverse is comprised of two components, namely Meta and Verse, in which:
Meta: Meta is a prefix used to describe things that are superior, more comprehensive
Verse: Verse is an abbreviation of Universe – universe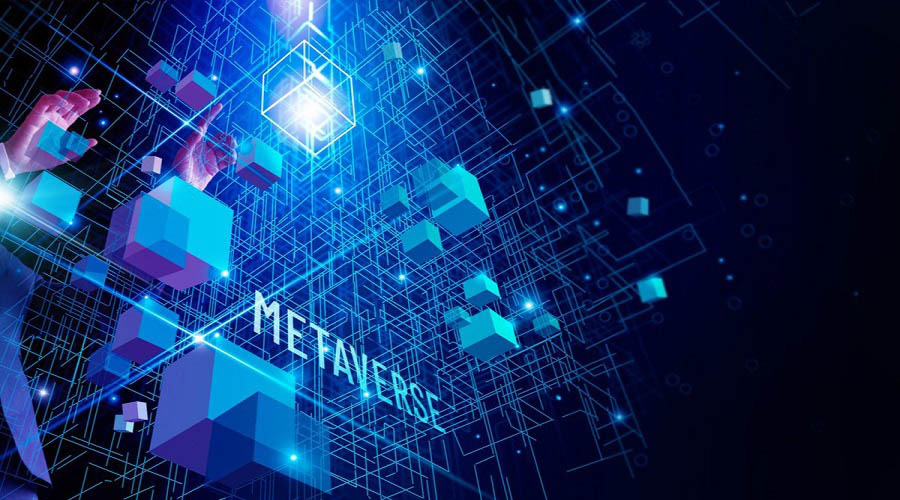 The term Metaverse refers to a concept of a more comprehensive and superior universe compared to the one in which we currently reside. It is also known as a virtual universe.
The virtual universe is a integrated network of 3D virtual worlds that can be accessed through a VR headset. Navigation within the metaverse can be done through eye movements, feedback controllers, or commands. The headset immerses users in the virtual world, making them feel present, due to the realistic sensory experiences, creating the illusion of being in a virtual universe.
The Metaverse is garnering significant attention from major players in the technology industry, and it seems plausible that it will gain widespread adoption within the next few years. Facebook has even gone so far as to rebrand as Meta, signaling their commitment to making a long-term investment in this innovation. Additionally, many other technology companies are investing significant resources in the development of the Metaverse crypto, both in terms of financial investment and human capital.
The Metaverse's explosive emergence event
Previously, we frequently heard about concepts like artificial intelligence (AI) and virtual reality (VR), which were considered as discrete and unfamiliar technologies to most consumers. However, in October 2021, the prominent brand event of Facebook's name change announcement and its new development strategy has garnered worldwide attention.
In particular, during Facebook's Connect 2021 conference in October, Mark Zuckerberg announced the company's name change to Meta, and introduced a new website under the title of "a social technology company." This decision was made public as part of a strategic move towards emphasizing their focus on developing technologies that foster social connections among users.
Facebook has made a strong declaration that "With Metaverse, we can materialize everything that can be imagined, such as meeting with friends and family, as well as working, learning, playing, shopping, creating – along with new experiences that do not truly align with our current notions of computers or phones." This statement indicates that Facebook is committed to exploring the possibilities of Metaverse technology to enhance the way people interact with each other and the world, while also pushing the boundaries of what is currently considered possible in the realm of technology.
In the near future, we will be able to instantly teleport in the form of 3D images, allowing us to be present at an office without physically going there, attend a concert with friends, or converse with parents in the living room. This breakthrough has significantly prompted investors, companies, and large conglomerates to pay closer attention to changing their business models to adapt to the pace of technology growth.
The concept of Metaverse has garnered a great deal of attention from prominent players in the technology industry. It is expected that within a few years, Metaverse will be widely adopted and deemed acceptable. Alongside Facebook, numerous technology companies are investing significant amounts of money and human resources into the development of Metaverse.
The origin of Metaverse can be traced back to its foundations and inception
Stephenson's novel Snow Crash depicts the use of Virtual Reality and Digital Avatars by humans to explore and immerse themselves in a digital world. Within this world, characters can stroll through streets, amusement parks, and more. It is worth noting that events occurring in the Metaverse, as depicted in the novel, may have repercussions on the real world. As a result, the Metaverse acts as a perceived departure from the bleak reality the characters face.
First steps of development Metaverse Crypto
It is unclear when the concept of virtual reality (VR) was first introduced, but it appears to have emerged during the 1950s and 1960s. Morton Heilig, a filmmaker, wrote about an immersive theater experience in which the audience could actively participate in the performance. In 1962, he built a prototype to test his idea.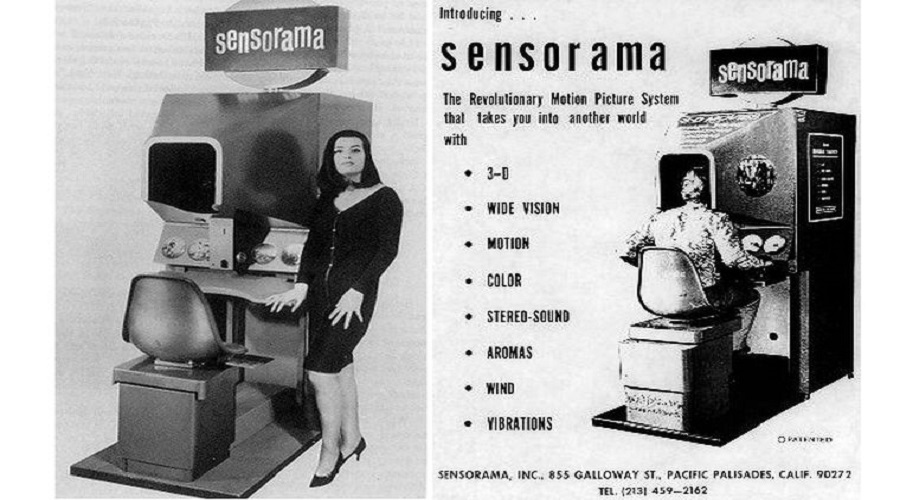 The initial virtual reality headset was invented by Ivan Sutherland in 1968. This head-mounted equipment was quite weighty and was suspended from the ceiling for ease of use.
The term "virtual reality" became more widely known in the 1980s, and by the 1990s, the commercial trade of VR headsets began to flourish. Despite this trend, the public interest waned until the release of Oculus Rift in the 2010s, which sparked renewed attention for VR. Since then, VR devices have been invested in for development and increasingly applied in video games and virtual tourism.
Typical Features of Metaverse
Immersion: The Metaverse enables users to fully immerse themselves in a highly realistic virtual world that surpasses the authenticity of the physical world.
Openness (Tính mở): The demonstration revealed that the Metaverse enables users to connect and disconnect at any time, allowing for ease of participation or departure from the virtual world.
Sustainability:The Metaverse possesses the capability to sustain and continuously uphold its services and ecosystems round the clock.
Economic System: One of the distinctive features of the Metaverse is its ability to facilitate easy transfer of assets between the real world and virtual reality, thus empowering users to move assets with ease. Additionally, users also have the potential to accumulate and grow their assets.
Creating layers in Metaverse
There are four basic layers that make up the Metaverse:
Foundation Layer: The foundation of all connections lies in the Internet Network.
Infrastructure Layer: The fundamental structure of the Metaverse comprises hardware components that aim to facilitate immersive experiences. The technology that underpins the Metaverse consists of AI, Blockchain, Big Data, and other cutting-edge technologies.
Content Layer: The Layer will comprise of numerous games and applications that will enhance the user's experience in the virtual world of Metaverse by allowing them to engage in various exciting activities.
True Metaverse: The final layer of the Metaverse is the ultimate component that completes its development. Once the first three layers have reached a certain level of progress, the true essence of the Metaverse will be attained.
Popular applications of Metaverse crypto in life
The realization of the significance and value of the Metaverse has led many businesses to adopt the platform in order to cater to the diverse needs of their customers. Below are some of the typical applications of the Metaverse that one should not overlook.
Sports and entertainment
At the Unity game company, Peter Moore unveiled a platform called Unity Miracast that enables the live streaming of professional 3D sports events in real time.
The camera will capture athletes in action on the court, and this data will be utilized to create digital twin pairs. As a result, users will be able to watch live 3D broadcasts of entertainment sports matches, recorded from various angles.
Health care Metaverse crypto
Throughout history, physicians have been pioneers in utilizing AR technology for collaboration purposes. For instance, Microsoft's mixed reality headset allows surgeons worldwide to collaborate and support one another during intricate surgical procedures for complex medical cases requiring advanced expertise.
To be more specific, doctors who specialize in surgery can make use of Microsoft's HoloLens device by utilizing hand gestures and voice commands to display 3D images from patient scans, access patient data, and communicate with other specialists.
Metaverse crypto application in education and training
The application of metaverse in the education sector seeks to provide support to teachers and students to connect with each other regardless of their physical location. This enables teachers to effectively impart their knowledge to students in a more authentic manner, allowing them to not only verbalize but also demonstrate their discoveries, while encouraging learners to immerse themselves in a 3D environment.
Metaverse crypto Tourism field
The application of Metaverse in tourism is expected to revolutionize conventional travel habits and offer refreshing experiences to tourists, while also providing them with the opportunity to visit destinations that were previously out of reach. This will ultimately result in a boost to the tourism industry, stimulating its growth and prosperity.
Utilizing the technology of virtual reality, tourists are enabled to comfortably manipulate (rotate, move, etc.) objects on the screen, interact with the surroundings, explore the virtual environment, and experience the most authentic sensation possible, as if they were physically present within that space. This feature aims to provide viewers with a genuine experience, akin to being truly immersed in that environment.
Metaverse's growth potential
Growth potential
According to Eric Hazan, the author of the report titled "Value Creation in the Metaverse," the metaverse holds significant economic potential. Clients are willing to adopt new technologies, companies are heavily investing in the metaverse, and brands experimenting with the metaverse are receiving positive feedback.
It is predicted that by the year 2030, the metaverse has the potential to generate as much as 5 trillion dollars, which is equitable to the economy of Japan. This emerging market is also highly advantageous for startups.
In regard to economic and social development, the metaverse presents a new opportunity to provide public services such as education, healthcare, create new job opportunities, and plan public spaces. These endeavors are currently taking place, as evidenced by the Seoul government's plan to allocate at least 32 million dollars towards metaverse ecosystems to enhance the city's services, as well as plan, manage, and support virtual tourism.
The foremost challenge lies in human resources, ensuring that there are enough knowledgeable and skilled individuals to materialize the potential of public services.
The dangers of the Metaverse
One of the potential dangers associated with the metaverse is the possibility of users becoming addicted and relying on VR/AR devices constantly, similar to those who develop addictions to the internet. This can result in them becoming detached from the real world.
The Metaverse has the potential to create a sense of melancholy about real life. People may spend more time in the metaverse, avoiding responsibilities in the real world.
Is it accurate to state that the development of Metaverse would greatly be enhanced through the implementation of blockchain technology?
The presented Infographic by Jon Radoff from Metaverse provides valuable insights into the reasons why Metaverse is captivating to its users.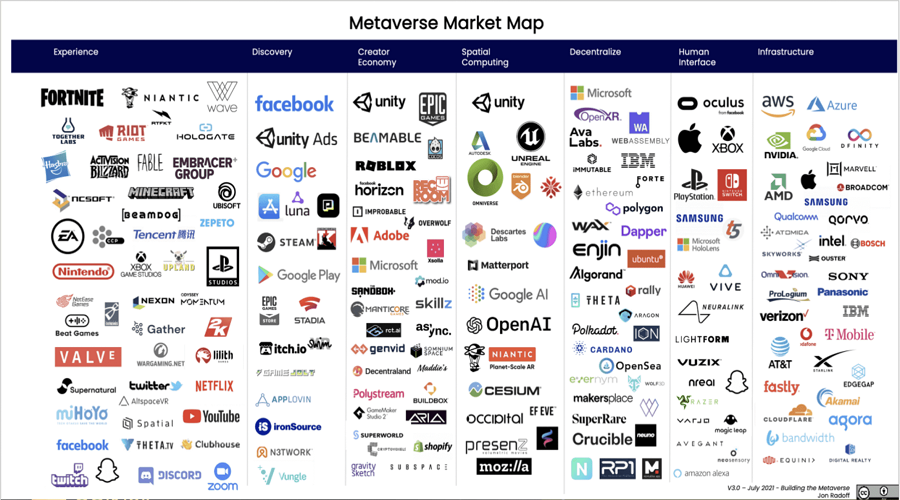 The technology of Metaverse is currently benefitting from the significant contributions of prominent technology companies, such as blockchain, hardware, software, and gaming industries.
The Content class comprises Metaverse's latest form, which currently involves the presence of Centralized technologies like Google, Twitter, Facebook, and Netflix, as well as Gaming companies such as Playstation, Roblox, Unity, and Fortnite. This indicates a diverse range of entities are involved in shaping the Metaverse and its development.
It is possible to address all issues related to the Metaverse by utilizing Blockchain technology:
Blockchain technology exhibits a remarkable scalability feature, allowing it to expand significantly. Furthermore, the Internet of Blockchain framework deployed by platforms such as Cosmos, Avalanche, and Polkadot sets itself apart as particularly outstanding.
Cross-chain technology enables different blockchain networks to interoperate, allowing for the transfer of assets between them, thus enhancing their interoperability.
The concept of personalization and individual ownership rights, as well as privacy protection, can be expressly demonstrated through the use of non-fungible tokens (NFTs) – unique and difficult to replicate digital assets.
The security aspect of Blockchain technology is highly valued due to its ability to safeguard assets against potential cyber-attacks by hackers.
Conclude
It is possible that with all of the information provided, we now have a clearer understanding of the Metaverse and its potential impact on the world. Recognizing the potential influence of the Metaverse, Facebook has made efforts to develop a social network with interactive capabilities, similar to the virtual world, and incorporating its own cryptocurrency. However, current developments are only in their infancy, and the future remains uncertain.