Understanding the terminologies used in the field of cryptocurrency is crucial for individuals involved in Crypto market participation or intending to invest in digital currencies. DAO is one such term that often pops up as a query for novice investors. Therefore, in order to attain clarity on what DAO is, we invite you to read our article below, wherein we have answered some of the common questions surrounding DAO, on our website 247btc.net.
What is DAO?
DAO, which stands for Decentralized Autonomous Organization, is a self-governing, decentralized entity that operates independently without human intervention by utilizing coded rules. This is in contrast to traditional organizations like Facebook or Google. The use of encryption and smart contracts enables DAOs to function autonomously and decentralized manner.
The concept of DAO is expansive, encompassing blockchain technologies and DeFi protocols that employ on-chain governance models, as well as various groups that incorporate on-chain proposal and voting mechanisms across a wide array of industries.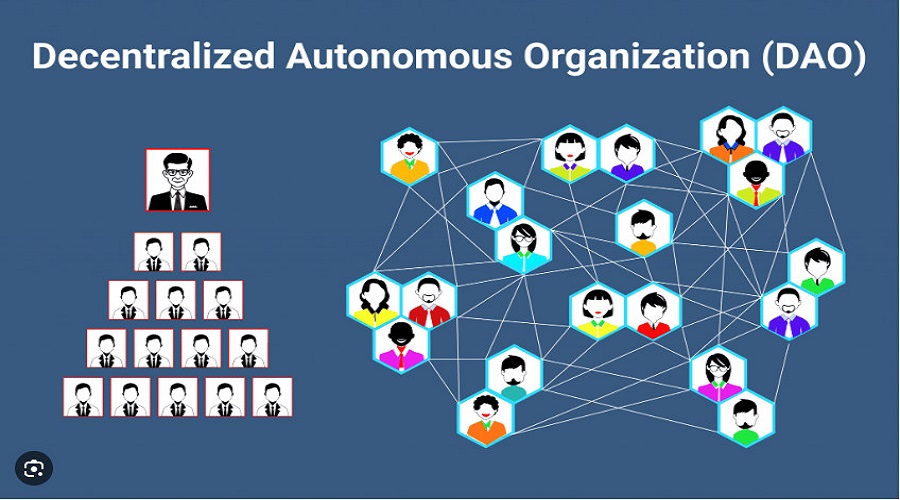 Nevertheless, it is noteworthy that all members of a Decentralized Autonomous Organization (DAO) share the characteristic of readily accessing and verifying the organization's proposals and actions, along with the ability to participate in the decision-making process of the DAO.
The context of DAO within the realm of cryptocurrency
DAOs show a tendency to advance in conjunction with blockchains possessing decentralized characteristics; nevertheless, they are increasingly coveted for various reasons, including but not limited to the following factors:
The growing weight of decentralization: The increasing weight of decentralization has led to organizations of traditional finance and government bodies implementing various measures to control users amid the prevalent abuse of power by dominant players across different sectors. Consequently, this has prompted users to overcome limitations and reassert their rights.
Crypto is attracting more and more value: The rapidly growing value of crypto is attracting attention in various fields, including DeFi, NFT, music, and entertainment. To access this lucrative market more easily, the creation of DAOs involving multiple parties can provide mutual support in various aspects such as funding, experience, and relationships.
For instance, one could mention Ventures DAOs such as The LAO, Yield Guild Games, and MetaCartel DAO. In these organizations, members gather together to establish funds and invest in crypto projects.
The advantages that DAO brings are increasingly evident: The DAO assists its participants in regaining the rights which they have been deprived of for a significant period of time.
Previously, the plans of an organization were only known and determined by its top leadership. However, presently, every member of the organization is allowed to acquire knowledge of the plans and partake in decision making through voting. The outcome of the decision making process will be implemented in accordance with the wishes of the majority.
The members of the organization do not heavily rely on familiarity and trust with each other as all actions are recorded on-chain at present, which opens up new potential for collaboration.
Game theory is applied in this scenario where participants hold a portion of DAO and are expected to choose proposals that help in the development of the organization. The proposals put forward must be carefully considered to benefit the majority.
And many more advantages are waiting to be discovered.
What are the limitations of DAO?
General limitations of current DAO:
Security: The issue of security poses a challenge when dealing with smart contracts; once a DAO is deployed, changing it becomes difficult, as operations must align with the smart contract's specifications. In addition, security is also a critical concern for smart contracts, evident from incidents like The DAO hack.
Legal: The legal framework for DAOs remains ambiguous, and a lack of legal clarity could create significant obstacles for the implementation of DAOs since participants would be held liable for legal compliance if DAOs fail to establish a convincing legal basis.
Bad decision: DAO offers its members the democratic right to vote. However, some decisions may be complex and scholarly in nature, and many voters may not comprehend what they are voting for. This can lead to poor decisions as the majority of voters may not possess knowledge on matters related to the decision at hand.
Often delayed: Moreover, in urgent situations, the requirement to wait for voting to take place can potentially result in adverse consequences for DAO. For instance, in the case of Maker when the market crashed in March 2020, delaying the implementation of measures until the voting process was completed would have resulted in substantial financial loss.
Privacy: While having transparency through on-chain operations is beneficial, it is important to note that the requirement for proposals to be put on-chain for voting prior to implementation means that development plans are fully publicly available. Competitors are able to gain insight into the future direction of the project as a result.
Centralized entity: An entity or organization that possesses greater voting power than other members can instill a sense of centralization in the voting process of a protocol.
One example that illustrates the potential centralized management of Uni is the case of the Uniswap project. The project proposed selling a quantity of UNI tokens worth 20 million USD to establish a "DeFi Education Fund" for the purpose of lobbying lawmakers. However, it is noteworthy that the Uniswap community was largely unaware of this proposal until the very end, and even then, despite some opposition, the number of "Yes" votes was overwhelmingly large, indicating a high level of centralized control in the governance of Uni.
Types of DAOs in Crypto
It is plausible to develop Tuy DAO in various fields, however, categorization can be achieved by broadly classifying them into two predominant types.
Token-Based DAO
The Token-Based DAO, as its name suggests, relies heavily on tokens for its operations, and this type of DAO is the most prevalent as tokens are the lifeblood of the cryptocurrency industry, and are ubiquitous.
From blockchains like Bitcoin, Ethereum: Miners ensure the security of the network in return for token rewards.
Until protocols like Maker DAO, Uniswap, Sushiswap…: Token holders have the right to vote on decisions in the protocol.
One advantage of this model is its excellent scalability, as anyone can own a token. However, it faces challenges in efficiently utilizing resources and reaching consensus.
Organization (Shared-based DAO)
The Shared-based DAO organization represents a group or association of individuals who share a common goal in a particular field. Ventures DAO is a prime example of such organizations, which focuses on investments. The members of the organization exercise their right to vote and make decisions through the usage of shares or stocks.
For instance, The LAO is a Venture Capital DAO where investors receive shares proportional to their capital contribution and have the right to vote or propose projects for consideration by other members of The LAO to determine whether investment should be made or not.
In contrast to Token-based DAO, where anyone can access tokens and participate in the DAO, Shared-based DAOs are often permissioned and require participants to meet certain conditions. This model has the advantage of being easy to manage and resource-efficient, but it is difficult to scale up.
It is important to note that DAOs operating in the same field may utilize different models. For instance, in the Ventures DAO sector, The LAO utilizes a shared-based model, whereas Yield Guild Games applies a token-based model utilizing the YGG token.
Featured DAO projects
Beneath, a list of prominent DAOs shall be enumerated to provide a comprehensive understanding of their practical functionalities.
Token-based DAO
Ethereum
Ethereum operates as a DAO with a Proof of Work mechanism employed, which provides incentives such as fees and block rewards to miners. In exchange, miners must undertake various operations including mining new blocks, verifying transactions and ensuring network security.
Despite upgrading to the Proof of Stake model with Ethereum 2.0, the fundamental principle remains unchanged whereby stakers act as transaction validators and ensure network security in exchange for incentives.
In addition, miners possess the authority to participate in voting on Ethereum Improvement Proposals (EIPs), thereby influencing the future growth trajectory of Ethereum based on the decisions made by the constituents within the DAO.
Compound
The Compound protocol has been remarkably successful in its ability to administer on-chain operations. This is due in part to its mechanism that enables token holders to vote on proposed changes within the protocol. In addition, the release of the COMP token on June 15th, 2020 provided a clear growth strategy for Compound, which has maintained its position as one of the leading lending platforms.
SushiSwap
The community's influence on a project's development is exemplified in the case of Sushi. In July 2021, a proposal was put forth to sell over 50 million SUSHI tokens to venture capitalists at a discounted price. However, the community ultimately rejected this proposal, and Sushi continued to thrive without the VC's funding.
I would like to emphasize the crucial significance of DAO, expressing the strength of the community. I am refraining from discussing the advantages or disadvantages that this decision may bring.
Shared-based DAO
The Lao
The LAO is a prominent project among decentralized investment funds, established since April 2020, which has successfully completed 35 investments, mostly on Ethereum-based projects such as Gitcoin, Zapper, and Lido Finance. It is considered the most active investment fund among decentralized funds.
Potential of DAO
Over time, the DAO ecosystem has witnessed impressive growth with the emergence of numerous new projects in various fields, which highlights the vast potential of applying the DAO model. These projects have focused on diverse areas, showcasing the scalability and versatility of the DAO concept.
Governance is a standard use case for tokens in DeFi, with its value increasing as the project expands. Among the top DeFi projects with the highest Total Value Locked (TVL), virtually all are community-managed, with decisions proposed and voted upon by token holders. The DAO model has become a compulsory requirement for the development of DeFi protocols.
The accumulated value held by various DAOs is showing a steady increase, with Ventures DAO's treasury assets alone surpassing the billion dollar mark.
Due to the implementation of DAO in various fields such as social and services, the potential for growth in the value held by these DAOs is significant.
Projection for DAO
Currently, there are numerous DAOs utilizing tokens to establish a leveraged model for Shared-based DAO, such as Yield Guild Game, Jenny DAO, Whale, BitDAO, and many more. The purpose of implementing this approach is to elevate the scale of DAO to a new level, wherein anyone can participate in it.
However, what is the reason for the current inability to scale this model?
One could cite cases such as Yield Guild Game encountering resource distribution and revenue sharing issues, while BitDAO has yet to determine what to do with the substantial amount of capital it has raised.
The primary reason stems from the lack of a suitable framework currently available for DAO expansion.
Currently, the DAO (referred to as DAO 1.0) is in a state of disarray with no clear division, which has led to chaotic work and benefit sectors, ultimately failing to create a positive feedback loop.
At DAO 2.0, all aspects are organized and leveraged for mutual benefit. This creates a smooth operational environment similar to that of a traditional company model, but with a remarkable potential for scalability as every participant has a right to contribute to the DAO.
In the future, DAOs will have a framework that enables them to allocate resources and share profits in a rational manner, without giving rise to any organizational conflicts. Additionally, the limitations associated with DAOs as discussed above will gradually be resolved.
Investment opportunity with DAO in Crypto
The current state of DAO is still relatively new but rapidly growing. Given its prominent position among investors, the present phase offers an excellent opportunity to explore potential investment avenues and establish one's position in the market.
Potential investment branches:
Projects that have developed DAOs
The most direct form of investment entails assessing the success of a DAO based on certain criteria, which may include the following:
Is there a discernible inclination among the leading figures of DAO towards the progression of commendable projects?
Although Tuy DAO is designed for everyone, it does not mean that there are no influential figures within the DAO. Their proposals have significant impact and are direct contributors to the development of Tuy DAO.
An example is Compound, where the individuals having the most influence on the DAO's decision-making process are prominent venture capitalists within the crypto industry. Their exceptional vision and expertise have greatly aided Compound in developing excellent growth plans during recent times.
Does the DAO community possess significant strength or not?
The network effect plays a significant role in the development of any project. It is not without reason that DOGE currently sits atop the highest market capitalization projects, as a strong and supportive community can take a project to great heights.
Currently, some examples of strong community DAO projects include SushiSwap (SUSHI), Olympus DAO (OHM), and Gitcoin (GTC). A quick evaluation of the strength of these communities can be made by perusing their respective Discord and Telegram groups. It can be observed that each respective community is robust and actively engaged in the proposals put forth by their respective projects.
Earn money thanks to DAO
Similar to projects like Yield Guild Game and Ancient8, participants can either play games or rent out NFTs and accounts to earn profits. DAOs are creating real employment opportunities for those involved.
Playing Axie Infinity has become a lucrative profession for the people of the Philippines. It is advisable for individuals to allocate time to explore such income opportunities to supplement their existing income streams.
Participating in DAOs can provide individuals with additional experience, resources, and community support, ultimately accelerating profit growth.
Opportunity to invest in DAO
The part that I find most appealing when seeking investment opportunities is identifying essential service providers for trendy projects rather than filtering through them. This approach allows for a narrower search scope and a higher potential for returns.
Necessary services for DAO:
Infrastructure: Aragon, Colony, Snapshot, Gnosis Safe.
Frontend & Analytics: Tally, boardroom, DAOHAUS.
Payment: Sablier, Superfluid.
Discussion: Discord, Telegram.
Identity: IDX, ENS.
and many other services.
Summary
Despite its rapid development, DAO still has many tasks to complete before reaching perfection. This has resulted in increased attention towards DAO, indicating its growing popularity. This article aims to provide readers with a direction for further exploration and understanding of DAO, ultimately leading to fruitful opportunities for personal growth.
The above information was researched by the team at 247btc.net. We hope that this information will be helpful to our readers. However, please note that this is not investment advice, but rather an informational channel. Therefore, investment decisions should be carefully considered.