Is Meme coin considered to be a low-quality cryptocurrency? Is it advisable to invest in Meme coin? Which Meme coin is currently the most promising in terms of potential? To what extent do you comprehend Meme coin?
What is Meme Coin?
Meme Coin is a cryptocurrency that was created not to contribute to the development of the cryptocurrency industry. But rather for reasons that are somewhat less serious. For instance, at the end of 2020, there was a trend called Foodcoin that resulted in a slew of tokens such as SushiSwap, Kimchi.Finance, and so on. Similarly, when Safemoon became popular, Safemars and SafeGalaxy were also introduced. The most notable example, perhaps, is the numerous "dog" coins that emerged in 2021 with the rise of Doge, including ShibaSwap, CorgiCoin, and so on.
In actuality, the distinction between "serious" and "not serious" mentioned above is somewhat ambiguous. For instance, ShibaSwap was previously categorized as a Meme Coin, but upon gaining support from its community, the project has functioned as a legitimate endeavor.
Furthermore, the assessment of a project as a Meme Coin or a regular project is not related to whether or not it is a scam. Some projects may appear to be of good quality, but their objectives are short-term or they lose interest and abandon the project halfway through. Meanwhile, others such as SushiSwap have developed and grown since their inception. However, meme coin projects have a tendency to be more scam-prone than other projects.
How is meme coin different from other cryptocurrencies?
What is a meme coin? It is a form of cryptocurrency that differs significantly from other types of currency such as Bitcoin and Ethereum.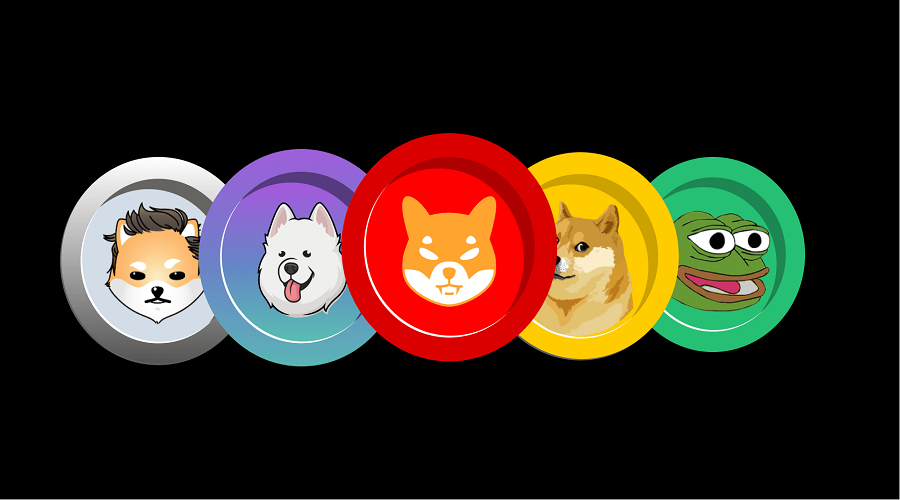 Various cryptocurrencies such as Bitcoin and several Altcoins have been developed to tackle real-world problems. The ultimate aim is to gain widespread acceptance among merchants, thereby creating a new decentralized form of currency and revolutionizing multiple industries. Additionally, these cryptocurrencies possess several technologies and features that can be practically applied in real-life.
In contrast, the majority of meme coins lack a clear utility purpose, and are primarily created for the purpose of rapid financial gain.
Volatility and Meme Coin Value
Meme coins are a form of cryptocurrency that are community-driven and considered highly speculative and volatile in value. The recent promotions of Dogecoin by high-profile figures like Elon Musk and Mark Cuban resulted in a significant increase in its value. However, as the hype subsided, the value of Dogecoin rapidly declined.
The extreme fluctuations in value experienced by meme coins have been attributed to their unique design. Unlike fiat currency and most other forms of cryptocurrency, meme coins often have unlimited supply, making them vulnerable to inflation. Shiba Inu (SHIB) is an exception, with a total supply of 1 quadrillion tokens.
Although the financial risk associated with investing in meme coins is high, they continue to be an integral part of the cryptocurrency market. In fact, the market capitalization of the top two meme coins, Dogecoin and Shiba Inu, both fall into the billions of dollars. Staying current with cryptocurrency trends requires an understanding of how memecoins operate and how they are evolving.
How does Meme Coin work?
Memecoins function similarly to other types of cryptocurrencies, utilizing the full potential of blockchain technology and its related applications. Typically, memecoins are developed using smart contract-enabled blockchains, such as Ethereum and Solana. Presently, there are over 300 types of memecoins in existence.
Benefits of MemeCoin
In its early stages, Dogecoin was mainly used for tipping, which refers to rewarding users on the internet for performing well. Some memecoins offer utility features or have become a part of a broader decentralized financial ecosystem (DeFi). For instance, Bone ShibaSwap (BONE) serves as the governance token for ShibaSwap, which is a decentralized exchange (DEX).
Best

meme coin

to invest in 2023
The recent phenomenon of excitement surrounding memecoins is a relatively new one. It became a part of the zeitgeist in early 2021 when notable figures such as Elon Musk, Mark Cuban, and Snoop Dogg endorsed Dogecoin, causing its value to increase by over 800% within 24 hours.
Since then, Dogecoin has experienced unexpected price surges attributable to tweets posted by Elon Musk. Countless other types of memecoins have also emerged, some of which were founded based on the doge meme.
Aside from Dogecoin and Shiba Inu, there are five other memecoins among the top ten in terms of market capitalization.
Floki Inu (FLOKI)
FLOKI's ecosystem offers a world of 3D NFT, DeFi utilities, a cryptocurrency education platform, NFT, a merchandise store, and much more. As part of their charitable initiatives, the community has committed to building schools.
Bone ShibaSwap (BONE)
BONE is a governing token within the ShibaSwap ecosystem, which enables the #ShibArmy community to vote on upcoming proposals. The degree of voting power increases according to the amount of BONE that users hold.
Baby Doge Coin (BabyDoge)
The BabyDoge token is a deflationary cryptocurrency designed to gradually become scarcer over time. As an incentive for holding the token. All BabyDoge owners will receive additional tokens directly deposited into their digital wallets.
Dogelon Mars (ELON)
ELON is a cryptocurrency that follows the trend of popular pet-themed coins such as Dogecoin, Shiba Inu, and Floki Inu. Its name is a blend of Dogecoin and the billionaire entrepreneur Elon Musk.
Doge Killer (LEASH)
The token known as LEASH is a prominent component of the Shiba Inu ecosystem, which has gained recognition as a potential challenger to Dogecoin (DOGE) due to its widespread adoption.
PEPE Coin (PEPE)
PEPE Coin is a type of Memecoin that was launched on Ethereum, and it derives its inspiration from the famous green frog meme known as PEPE. Within a short period of less than one month. PEPE Coin has already reached a market capitalization of USD 1 billion. And it has been listed on several major exchange platforms.
Is Meme Coin safe?
Due to its high supply and volatility, Memecoin is perceived to be more trend-based than other cryptocurrencies. While a tweet from Elon Musk (or another celebrity) about Doge can rapidly boost its value, this same cryptocurrency can also easily fall into obscurity.
It is important to keep in mind that memecoins are based on internet memes. Consequently, they share many characteristics with them, such as the ability to be inspirational and easily become outdated.
Things to note when buying MemeCoin:
To prevent investment fraud, it is essential to ensure that liquidity pools are held by verified burn addresses and that the purchase of any cryptocurrency is free from the risk of fraudulent activity.
It is imperative to ensure that a reputable third-party company has conducted an assessment of the digital currency project.
It is advisable to exercise caution towards any currency wherein the developers hold the majority of tokens. Ideally, no individual or organization should have control over more than 5% of the total token supply.
Retain these insights in your mind and conduct thorough research on any currency, without relying on anyone, to minimize unnecessary risks.
The Future of Trend Meme Coin
At present, meme coins are yet to achieve equivalent popularity to that of leading cryptocurrencies. However, this does not imply that they are on a path towards extinction. The primary impediment for meme coins is analogous to other types of digital currency: many individuals are still not familiar with them.
Many businesses are accepting Meme Coin as currency
Numerous large businesses have displayed an openness towards meme coins. It comes as no surprise that Tesla's store has started accepting Dogecoin as payment for certain items, given Elon Musk's fondness for meme coins.
However, Musk is not the only business person who has embraced meme coins. AMC, GameStop, Newegg, and Twitch have started accepting meme coins such as Dogecoin and Shiba Inu.
A new wave: Utility Coin Meme
Currently, we are observing a trend among memecoins to shift their focus towards utility. One notable example of this shift is evident in the case of Shiba Inu, which has planned to introduce Shibaverse, a Metaverse exclusively for members of the Shiba Inu community. The ecosystem already includes ShibaSwap, a decentralized exchange that allows users to exchange tokens.
The developers of Floki Inu aim to surpass Dogecoin as the most popular meme-based cryptocurrency, emphasizing the practicality of their token as a means of distinguishing it from other coins. The FLOKI ecosystem includes a plan for an NFT-based gaming Metaverse called "Valhalla", a marketplace for commodities, and a cryptocurrency education platform.
In the past, the majority of memecoins were created solely for the purpose of exchange. However, it is evident that newer projects are incorporating humor as a means to cultivate community engagement through the use of their tokens.