In the current GameFi market, it is possible to combine the seemingly unrelated tasks of earning money and improving one's health. The popular trend of Move to Earn has gained considerable attention recently, with a number of projects such as STEPN causing a surge in interest and revitalizing the cryptocurrency market as a whole.
What exactly is Move to Earn, and to what extent can its potential be fully realized, possibly even becoming the next trend in Cryptocurrency? Let us delve deeper and explore this topic together.
What is Move to Earn?
The concept of Move to Earn can be understood as a transformation of Play to Earn model, where individuals engage in various games to earn money. Unlike Play to Earn, Move to Earn provides players with opportunities to earn money through physical activities such as playing football or running.
Through the utilization of various mobile devices such as smartphones and smartwatches, data pertaining to an individual's physical activities is gathered, which is subsequently converted into tangible figures and experiences that are then employed towards generating assets within games and applications.
The concept of Move to Earn has existed for a significant period of time. Presently, numerous projects and applications have attempted to establish an ecosystem where individuals can be rewarded for their physical activity by earning incentives to be exchanged for discount vouchers for daily use. However, these projects have almost unanimously failed due to insufficient rewards, rapid loss of value, and subsequent collapse of the entire project or application.
At present, Move to Earn has found its missing puzzle piece with the emergence of GameFi to compensate for the lack of reward application in Move to Earn. With the benefits of cryptocurrency, GameFi enables users to truly own the rewards provided by the move to earn application.
Best move to earn crypto in 2023
Currently, the Move to Earn model has not been popular and widely developed. Here are the 5 most popular Move to Earn projects in 2023
STEPN
The STEPn project is a health and GameFi fusion initiative built on the Solana platform, which currently happens to be the most explosive project. To begin playing, users employ NFT sneakers to run in real life while being monitored by GPS technology, earning tokens for exchange and profit on the trading platform.
The prominent features of STEPN are as follows: The health project of STEPN is distinguished by two notable characteristics
The Stepn application can be conveniently downloaded by users from either the App Store or CH Play on their mobile devices.
The integration of Marketplace interface and storage wallet into a single App facilitates user convenience and ease of use.
SweatCoin
Sweatcoin is a free Move to Earn app that rewards users with SWEAT tokens based on the number of steps they take in a day. These tokens can be used to purchase products, participate in charitable activities, or engage in cryptocurrency transactions. Sweatcoin establishes a connection with Google Fit, Apple Fit, or the default fitness application on your mobile device to allow for the measurement of your daily step count. As a result, individuals have the ability to walk or run both indoors and outdoors and utilize Sweatcoin.
The SWEAT governance token is a recent addition to the Sweatcoin ecosystem, built on the NEAR Blockchain. This coin holds value for various activities, including the following:
Pay for goods and services from great brands on the Sweatcoin app.
Participate in charity campaigns.
Make gas fees.
Administration.
Rewards for participating in Staking.
Genopets
The project Genopets is a breeding program that focuses on nurturing genetically-designed creatures through the Move to Earn concept. Genopets operates by utilizing data from an interactive application which is converted into experience points for the pets. This, in turn, enables the pets to upgrade and participate in the upcoming phases of battle.
The constituents of Genopets' Move to Earn feature
Genopets has made significant investments in GameFi, which has led to the creation of their unique touch. As a result, Genopets has introduced a variety of valuable rewards and encouraged players to adopt physical training habits. The project is currently undergoing a Beat test phase and will be eventually released to Mainnet in the future. Therefore, Gene is expected to enter a phase of substantial growth in the near future.
Potential of Genopets
Genopets has made significant investments in GameFi, which has led to the creation of their unique touch. As a result, Genopets has introduced a variety of valuable rewards and encouraged players to adopt physical training habits. The project is currently undergoing a Beat test phase and will be eventually released to Mainnet in the future. Therefore, Gene is expected to enter a phase of substantial growth in the near future.
In addition, Genopets has 2 main NFTs:
Genopets: Currently, the price for approximately 3000 SOL (with each SOL valued at around 2000 USD) is approximately 20 SOL. The price level is considered to be rather high relative to the quantity available for purchase.
Dotmoovs
Dotmoovs is a pioneering mobile peer-to-peer platform built on blockchain technology, which utilizes state-of-the-art AI systems to analyze videos of athletes performing various sports challenges.
Through this platform, users have the opportunity to compete against other players from around the world by utilizing their skills in a specific sport, ambition, and a smartphone to perform athletic challenges with other players. Dotmoovs will then use AI-based referees to assess and determine the winner based on their performance, providing users a fair and competitive experience.
Moverse
The Fitness Social app, Moverse, utilizes advanced AI-powered solutions to incentivize individuals to engage in physical activity, interact with one another, and ultimately achieve a healthier lifestyle. This platform seamlessly integrates fitness and technology, providing users with a holistic approach to wellness that is both dynamic and engaging. Through Moverse, individuals are able to leverage cutting-edge technology to optimize their exercise routine, track their progress, and earn rewards for their efforts.
Features of Move to Earn
Game Play: The M2E projects are focused on transforming daily human activities into valuable in-game rewards.
NFT mechanism, Marketplace: All M2E projects utilize NFT mechanism and possess their own individual marketplace, allowing players to easily purchase and exchange in-game items.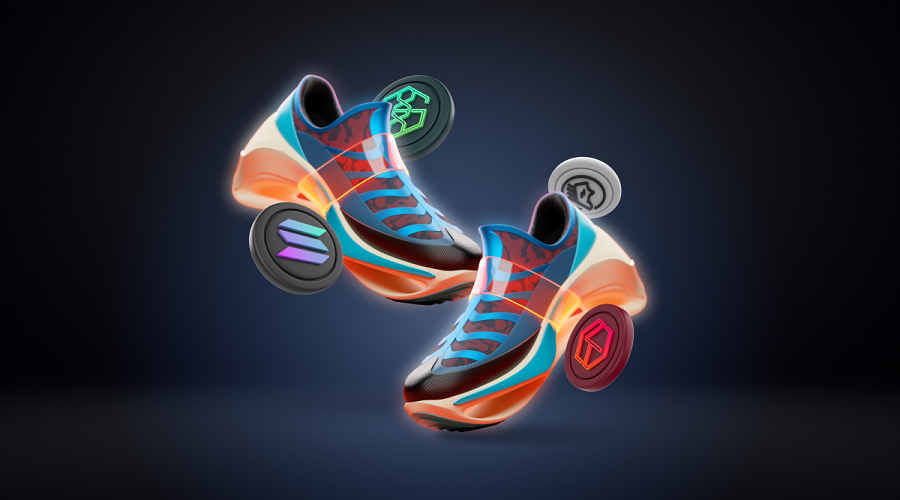 Application of sensor and GPS: Currently, in order to provide rewards for players, M2E games utilize cutting-edge technology including sensor and GPS features. This technology not only facilitates gameplay but also prevents cheating from players.
Life-friendly level: It is not widely asserted with M2E that those who play games for earning money have to spend their entire day holding a phone or sitting in front of a computer screen 24/7. Instead, players can still enjoy a healthy lifestyle while playing games, enhancing their physical well-being.
The difference of Move to Earn compared to other traditional markets
Move to Earn is not a novelty as there are numerous applications and projects available on various app stores and CH Play, which users can easily find. This platform allows users to convert their steps or energy into rewards that have practical usage in daily life.
As DeFi and NFT continue to thrive, M2E games are heading in the right direction and at the right time in the market.
Opportunity to profit and return capital
The GameFi industry is currently dominating the market towards the end of 2021. Users now have the ability to recoup their initial investments in less than a month and subsequently increase their profits. For many individuals, playing games has become a legitimate profession where daily income can reach tens, if not hundreds or even thousands, of dollars.
If M2E is able to develop and attract a significant user base while capitalizing on the potential of GameFi, then the projects will continue to flourish and yield a broader range of applications.
Consider this scenario: You walk from home to the office, earning income through the use of Move to Earn apps, while also maintaining a healthy lifestyle. Would this not be a much more advantageous situation?
More care for Move to Earn
In order to attract a larger user base, developers have placed greater emphasis on visual appeal and market share in the GameFi industry. Aspects such as gameplay design, sensor systems, and in-game imagery have all been meticulously crafted and fine-tuned from every angle.
Furthermore, developers have placed greater emphasis on aspects such as gameplay, sensors, and GPS. For instance, the STEPN project ensures that any player attempting to cheat in the game will be detected and therefore ineligible for rewards.
NFT
Non-fungible tokens (NFTs) possess distinctive characteristics and cannot be substituted by other tokens. They serve as representations of numerous valuable assets and objects, which appeal to market demand due to their distinctive and rare quality.
Therefore, NFTs are highly compatible with GameFi since each item and NFT comes with its own unique story and application value. As a result, the value of these NFTs will increase.
Ownership
Returning to the Crypto market, the defining characteristic of Non-Fungible Tokens (NFTs), combined with the integration of GameFi, has truly revitalized the Move to Earn model. As a result, players are now able to generate tangible value and cultivate a healthy body by participating in these incentivized activities, with the added benefit of owning unique NFTs that possess distinctive traits.
Eternity:NFTs are created on blockchain networks, endowed with permanent existence, and encapsulated with pertinent information within the token.
Uniqueness: Each NFT contains unique and immutable attributes. Even if two NFTs appear identical, they will still possess distinct characteristics when compared to their predecessors.
Uniqueness: The actual ownership of in-game items in the form of NFT will be held not by publishers or manufacturers, but rather by the players themselves. In assuming full ownership of their own unique items as NFTs, gamers now have complete authority to utilize them in numerous ways.
The Potential of Move to Earn and GameFi
Attract non-crypto Runner
There are several reasons why an increasing number of people are becoming interested in running.
With the advent of the Covid pandemic, an increasing number of individuals have become more attentive to their health and are participating in outdoor activities to a greater degree.
The inflationary pressures, combined with the escalating tensions between Russia and Ukraine, have resulted in a surge in oil prices to unprecedented levels.

The concepts of Carbon Neutral and Carbon Footprint are increasingly being widely discussed, as environmental pollution encourages people to use cleaner energy and conserve energy by walking to work.
According to data from Statista, more than 111 million people participated in walking for health in 2020, which accounts for over 30 percent of the population in the United States. This indicates the potential of Move-to-Earn if we can utilize the database of runners to enter the Crypto market, particularly the "Play-to-Earn" niche.
As it is widely known, the current GameFi market has a remarkably low number of active players, hovering around one million individuals, most of whom are early cryptocurrency investors. This population demographic serves as one explanation as to why the market has yet to achieve significant growth.