The cryptocurrency known as Akash Network (AKT) is the subject of this article, which aims to provide the reader with the most relevant and useful information possible.
The cloud computing industry peaked in 2020 due to the advancements in AI & ML technology (Machine Learning), which demanded high computational capabilities. Thus, it begs the question of what would be the optimal solution to complement this development?
In a series of articles focused on various projects, we will undertake research on Akash Network – the world's first decentralized P2P cloud computing platform.
What is Akash Network (AKT)?
Akash Network (Akash) represents a secure, transparent, and decentralized cloud computing marketplace that facilitates the connection between clients who require computer resources and providers who possess computational capacity for rent.
The objective behind the design of Akash Network's platform is to enable seamless provider participation for all users, while ensuring the consistent provision of reliable resources for clients. This is done by eliminating any potential barriers to entry that might impede participation.
What are the notable features of Akash?
The Akash Network is a cloud platform catering to real-world applications, with requisites pertaining to said applications being:
Numerous workloads are deployed across various data centers.
To prevent unwanted access to workloads, it is imperative to constrain connectivity.
Self-management allows operators to avoid the need for constant deployment.
In order to address the aforementioned requirements, Akash Network's technology comprises a peer-to-peer protocol that facilitates the distribution of workloads and configuration implementations to the customers' providers.
Observation of specific interactive on-chain and off-chain network diagrams between multiple participants on the Akash Network is possible for siblings.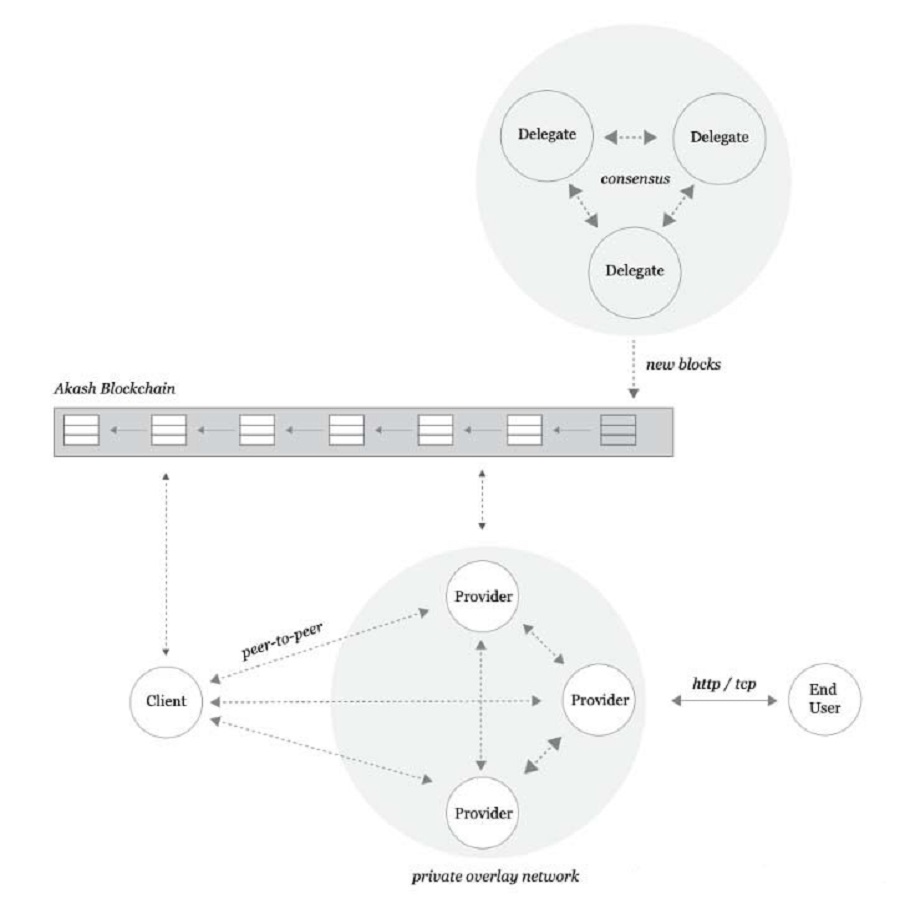 What is Akash Token? What is the purpose of using it?
The AKT utility token serves as the native asset for Akash Network, abbreviated as Akash token or AKT.
AKT is commonly used to:
Staking aims to ensure the security of the network.
System administration through voting.
Provides a default mechanism for storing and exchanging values.
The AKT token was created without the intention of being used for fee payments or as a form of currency due to its low liquidity (AKT can be earned through staking), therefore, in terms of value, AKT is not considered a high-value token.
Some basic information about AKT
Token Name: Akash Network (Akash)
Ticker: AKT
Token type: Utility
Explorer: akash.aneka.io
Max Supply: 388,539,008 AKT
Total supply: 100,000,000 AKT
Initial circulating supply: 2,800,000 AKT
AKT Token Allocation 
At Genesis, a total of 100,000,000 AKT tokens were pre-mined and allocated as follows, with a maximum supply of 388,539,008 AKT.
ATK network reward: 74.9%
Investors: 8.5%
Project development team and advisors: 6.8%
Project operating fund: 5.1%
Ecosystem development: 2%
Testnet Reward: 1.3%
Vendor and Marketing for the project: 1%
Public sale round: 0.4%
Token Release Schedule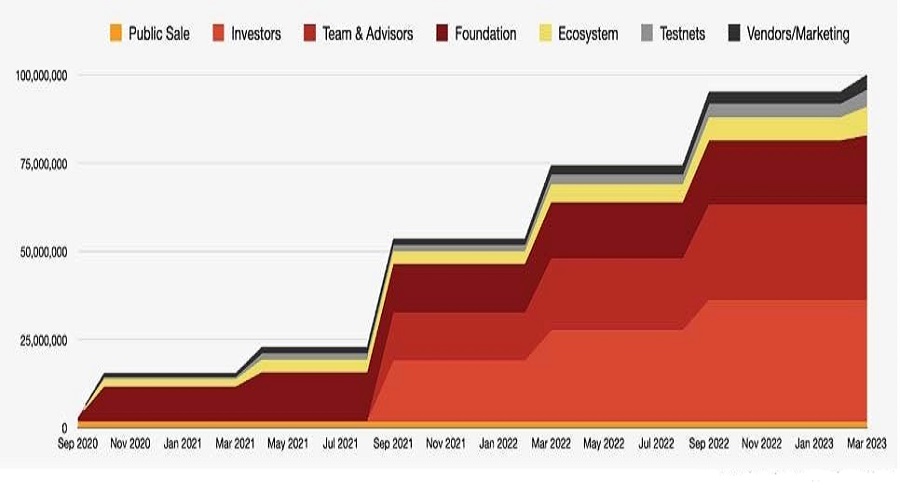 Token Sale
On October 16, 2020, a total of 1,800,000 AKT was listed on the BitMax exchange platform for trading via auction. This was carried out in accordance with the prescribed auction process.
Token Use Case
Governance: Those who hold AKT tokens have the ability to cast their vote on matters pertaining to the network upgrade and allocation of funds and resources belonging to the Decentralized Cloud Foundation.
Incentivization: The AKT token is utilized to incentivize suppliers to offer lower prices and encourage long-term investor participation through staking within the network.
Value Exchange: The AKT system offers a default mechanism for storing and exchanging value, functioning as a reserve currency within the multi-currency and multi-chain ecosystem of Cosmos.
Take Income: In the event that the network achieves a significantly higher Gross Merchandise Value (GMV), the rewards program shall entail both inflationary rewards and a portion of the network's total expenditure (Take Income) that users pay for.
Akash Network Team
Greg Osuri, who is the Co-Founder and CEO of Akash, is widely recognized for his significant contributions to the open-source community.
He has made contributions to projects such as Firebase, Terraform, Kubernetes, and Docker. Prior to Akash, Greg founded AngelHack, the largest hackathon organization in the world with over 150,000 developers in 50 cities globally. This demonstrates his vast experience and expertise in the technology industry.
Investor
Akash Network has successfully raised 1.3 million USD in seed funding in 2017. The following are some of the organizations that have invested in Akash Network:

Partner
Akash Network has two types of partners, namely Validator Partner and Strategic Partner. Here is a list of partners that has been researched.
On September 9th, 2020, Akash Network announced a collaboration with Cosmos to address challenges related to expanding and gaining deeper access to the DeFi user base.

The cooperative relationship between Akash Network and the InterChain Foundation of Cosmos Network, a non-profit organization, enables Akash Network to establish a cloud computing market on the Cosmos SDK, while also accelerating the development of the Inter-Blockchain Communication (IBC) protocol, applications, and benefits from this technology of Cosmos.
Akash Network Roadmap

The future of AKT
The increasing reliance of humans on digital devices such as laptops and smartphones has led to a significant rise in the operational costs associated with managing the servers owned by developers.
Currently, the majority of cloud computing service providers are centralized providers. These providers, including Amazon Web Services, Google Cloud, Microsoft Azure, and Alibaba Cloud, collectively hold a 71% market share.
The current market remains overly concentrated and monopolized, offering limited opportunities for innovation and versatility while commanding high valuation.
The Akash Network is recognized as the pioneer of the decentralized cloud market, offering solutions to the challenges faced by traditional cloud markets at a cost that is magnitudes lower than those provided by conventional cloud computing services.
Akash Network has introduced two building blocks in its ecosystem: Akash Supercloud, the world's first and only decentralized cloud computing marketplace that enables any data center or individual with a computer to become a cloud provider, and Akash Supermini, a portable supercomputer that allows anyone to become a cloud provider to earn additional income.
The technology developed by Akash Network is aimed at addressing various issues pertaining to computer systems and market demands. It is a decentralized platform designed to cater to the needs of both mainstream and competitive markets, while also posing a direct threat to major players in the industry such as Amazon and Google Cloud through its competitive edge.
In my opinion, prominent players in the cloud computing industry should exercise caution with regard to Akash Network as their market share may potentially be overtaken by AKT in the future.