Fetch AI is a long-term project that was born during the previous downtrend of the market. It was the second project chosen by Binance to conduct an IEO on its Launchpad platform. Since the beginning of this year, Fetch AI has made a notable comeback. This project has unique features and aspects that have contributed to its successful resurgence. In this regard, it is pertinent to explore the details of Fetch.ai and its token FET.
What is Fetch AI (FET)?
Numerous blockchain projects have been developed, but manually handling the heavy volume of transactions and data, as well as expanding functionalities or processing smart contract languages, require the capability of machine management and automation. Fetch.ai was created to address these roadblocks.
Fetch AI (FET) is a decentralized digital platform that operates using artificial intelligence (AI) to enable efficient actions within various components of the economy. The platform relies heavily on machine learning (ML) and AI to facilitate these actions.
The FET coin functions as the utility token that facilitates the operations of the system within the project.
What is the problem that Fetch.AI (FET) aims to address?
The following are the problems posed by Fetch.AI (FET) to be resolved:
Applications: Currently, there exist a plethora of applications aimed at integrating data into real-life scenarios. However, the most significant challenge associated with these datasets is their inability to self-monetize.
The existing connectivity issues among centralized systems result in the potential of markets between these components being squandered.
As an illustration, containers, warehouses, and similar structures may become unoccupied.
By what means does Fetch.AI (FET) address the aforementioned issue?
To address the aforementioned issues, Fetch.AI (FET) has implemented a technological solution known as Three Layers.
The Three Layers structure comprises of three constituents, namely:
Autonomous Economic Agents
In the decentralized digital world of Fetch.AI, the individual digital components can interact with each other independently and can be represented by themselves, individual devices, services, or individuals themselves. The intervention of human beings is also possible in this process.
This section elaborates on the concept of entities participating in the economy created by Fetch.AI and their ability to collaborate under the control of humans. These entities may include devices and services that are integrated into this economic system.
Open Economic Framework
In Fetch.AI's digital economy, the agents are referred to as the Open Economic Framework (OEF), wherein each agent possesses an optimized real-time workspace tailored solely for themselves, emphasizing essential factors.
Smart Ledger
This platform can be regarded as the foundation of the aforementioned digital world. It provides a market for individuals who need to use artificial intelligence (AI) or machine learning (ML), which used to be difficult to access due to being locked within centralized networks.
The objective of Smart Ledger is to facilitate expeditious and convenient access to resource repositories for individuals, organizations, and agents who require such services.
The development team led by Theo has created a technology called Smart Ledger, which boasts the ability to facilitate transaction speeds of up to millions per second.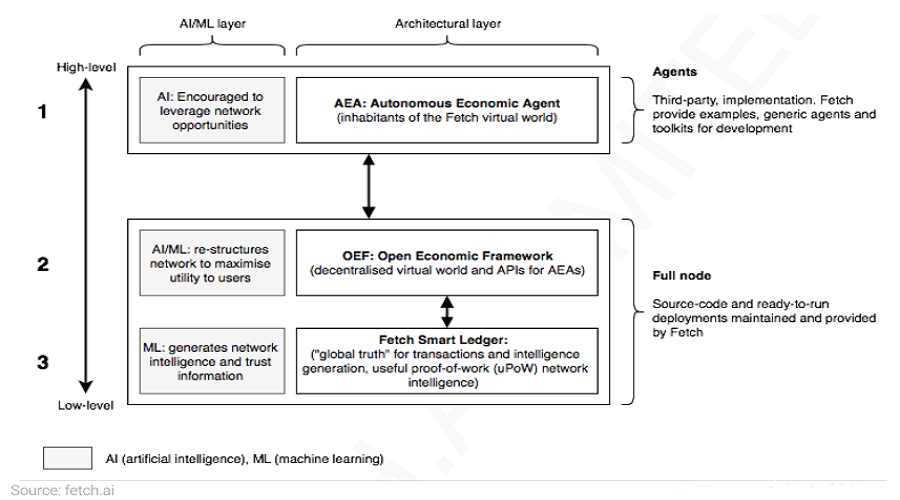 What is FET Token?
The Utility Token within the Fetch.AI ecosystem is known as FET. It serves as a source of motivation for agents to participate and contribute to the network of Fetch.AI. FET Token is mandatory to use when engaging with the Fetch.AI platform. The specific purpose and functionality of FET Token will be elaborated further in the following section.
During the initial Token Generation Event (TGE), the FET Token was issued in accordance with the Ethereum ERC-20 standard.
It is anticipated that the development team of Theo will conduct the Mainnet launch of Fetch.AI during the fourth quarter of 2019, at which point the FET Token will undergo a swap to become the Native FET Token.
A comprehensive overview of the FET Token
Token data
Ticker: FET
Blockchain: Ethereum
Smart Contract: 0x1d287cc25dad7ccaf76a26bc660c5f7c8e2a05bd
Decimal: 18
Token Standard: ERC-20
Token type: Utility Token
Total Supply: 1,152,997,575 FET
Circulating Supply: 81,542,294 FET (~7%)
Token Allocation FET
Token Sale FET
Token Release Schedule FET
Token Utility
Staking
Access to Fetch.AI's portal
Transaction fee
Access and build smart ledger-based AI/ML algorithms
What notable features does the Fetch.AI (FET) cryptocurrency possess?
The structural diagram of Fetch.AI (FET) consists of the following constituents: Autonomous Economic Agents (AEA), Open Economic Framework (OPF), and Smart Ledger.
These AEA entities may refer to several individuals or may encompass various devices and services within the Fetch.AI (FET) network. AEAs have the capability to function in distinct ways, either independently or in parallel with one another.
The Agents of Fetch.AI connected and collaborated with each other through the use of FET Tokens, while the Open Economic Framework (OEF) served as the connecting framework for these Agents. During the initial stage, the OEF consisted of two nodes: Trustless and Trusted. Trustless Nodes functioned similarly to simple ledger nodes, whereas Trusted Nodes provided access to information and data within the AEA. The operations of these nodes required a publicly identifiable operator and approval from Fetch.AI Foundation, according to the development team.
Smart Ledger: The internal network of Fetch.AI (FET) can be considered a decentralized virtual world that requires high transaction speed and compressed data processing without compromising its integrity. Moreover, the data also needs to be retained for repeated use by the relevant components. Technologically, the Smart Ledger of Fetch.AI combines useful Proof of Work (uPoW) mechanism with DAG and PoS, aiming to automate internal operations and create a Marketplace for information exchange, data, energy, supply chain management, or hardware sharing services, according to the dev team. This approach is expected to facilitate seamless transactions within the network while maintaining security and efficiency.
Fetch.AI (FET) has numerous practical applications such as data transmission, energy transfer, and supply chain management, among others.
For what purpose is the FET token utilized?
Serving as the Utility Token within the ecosystem of Fetch.AI (FET), the FET Token assumes various usage purposes, such as:
Utilize FET Tokens for staking and assume the role of processing nodes and system operators.
Agents utilize FET Tokens for accessing the Digital World ecosystem of Fetch.AI. Upon obtaining unravelled access to Fetch.AI, these Agents can scrutinize and interact with the available resources, primarily AI and ML services that are being delivered by Fetch.AI.
The FET Token serves as a Gas Fee akin to the use of ETH as gas on the Ethereum Blockchain network.
When two agents collaborate to exchange value, they must stake FET tokens, which serves as an incentive for malicious agents to work even when they are in any location.
The FET Token serves as a remuneration mechanism for compensating miners, also known as nodes, within the framework of the blockchain network.
The transaction fee for FET Tokens
Currently, FET Token is an ERC-20 token, which means that in addition to trading fees on exchanges, individuals will also incur network transaction fees on the Ethereum Blockchain. However, after the launch of Fetch.AI (FET) Mainnet, FET Token will be converted into FET Native Token and will operate on its own blockchain. At that time, gas fees within the system will be charged by Fetch.AI.
How to earn and own FET Token
The attainment and possession of FET Token may be procured by the following means.
Buy directly on exchanges: Binance, BitMax, KuCoin…
Become the Nodes contributing to the system to receive a reward of FET Token.
Roadmap of Fetch.AI project
2nd quarter of 2021
Ledger (Leader)/Mainnet:
Fetch Stargate dev-net.
Token Bridge increases capitalization to 120 million FET tokens.
Release the test-net at genesis.
Stargate test-net.
Upgrade Test-net and test the staking migration.
Test users on stake migration.
Agents (Agents):
Completing v.1.1.0 stack framework for agents; AEA, AEA package, AEALite, ACN, AEA manager, AEA subscription.
Completed v2.0.0 stake Framework for agents. Improved developer (less coding) and user experience (better configurability) and security.
3rd quarter of 2021
Ledger (Leader)/Mainnet:
Test-net upgrade and test stake migration.
Browser extension wallet for the Stargate network.
Test users move stakes.
Stargate upgraded to mainnet. Token Bridge increases capitalization to 250 million FET tokens.
"Tombstoning" of the FET staking contract.
Complete Phoenix token migration and mining.
Agents: Stargate support for agent frameworks
Collective Learning: Launching test-net collective learning.
DeFi Agents:
Uniswap DeFi on Ethereum mainnet.
PancakeSwap DeFi on Binance Smart Chain.
Ecosystem:
Token Mobix on mainnet.
Token Mobix stake – put in Fetch.AI mainnet.
Ledger (Leader)/Mainnet: Fetch.AI Interoperability with Ethereum/BSC via Gravity Bridge
Agents: Agent-world-5 test-net
Collective Learning: Art-creating joint learning project on mainnet Fetch.AI
DeFi Agents:
Support for swaps, native payments, and alerts for DeFi resellers.
DeFi agents on mainnet Fetch.AI
Quarter 4 of 2021
Ledger (Leader)/Mainnet:
Connect Fetch.AI mainnet to Cosmos-hub to IBC.
Support NFT staking on mainnet.
Agents: AW-6 agent transactions compete on test/mainnet.
Collective Learning: Coding a collective learning system on the mainnet.
DeFi Agents:
DeFi fund management.
Based on Oracle's network.
Ecosystem: Relaunching Fetch.AI's Web Site
Q3 – Q4/2022: Using the Axelar bridge to facilitate bi-directional transactions within the EVM and Fetch ecosystem is intended to enhance the quality of the operating system. This, in conjunction with the Autonomous Economic Agent framework and Agent Communication Network, aims to broaden and develop the ecosystem.
Q1 – Q2/2023: The latest release of Formax supports upgrading Cosmos SDK Lambda (v9), while the release of Gemini supports upgrading Cosmos SDK Epsilon (v10). Furthermore, the development of Fetch Wallet facilitates two-way transactions and virtual Ethereum asset management through the Axelar bridge. Additionally, Fetch.ai is launching Atomix Real-World Asset (RWA) on Mainnet, a lending protocol for real-world assets.
Fetch.AI project team
Humayun Sheikh

(CEO & Founder): Humayun, as the head of the organization, possesses extensive experience in the fields of artificial intelligence and machine learning, having previously served as the CEO of itzMe – a company that applies advanced machine learning and artificial intelligence techniques to minimize the gap between people and digital services and connected devices.
Thomas Hain

(Chief Science Officer): Thomas Hain, who obtained his master's degree from the University of Cambridge, currently holds several positions in the field of computer science and AI, such as professor and lecturer.
Toby Simpson

(Co-Founder & COO): Toby Simpson, a renowned game producer and former Head of Software Design at Deepmind, has accumulated a wealth of thirty years of experience in the software industry, and is also known for being the CTO for a decade. Presently, he has shifted his focus towards the domain of cryptocurrency, particularly the digital economy.
Investors and partners of Fetch.AI
Investors
Fetch Network (FET) has raised $26 million from investors Outlier Ventures, GDA Group and Blockwall. In which, the Seed Round Fetch has raised 15 million USD from Outlier Ventures.
Partner
Fetch.AI has established partnerships with diverse organizations across various industries, including the automotive sector, manufacturing industry, and digital field, among others.
Recently, the protocol has partnered with Bosch to implement AI technology and develop the Web3 platform. The objective is to provide access to Web3 technology to relevant businesses and offer intelligent data solutions to tackle issues of sustainability and connectivity, utilizing a three-tier governance structure inspired by the Linux Foundation's decentralized innovation model. The ultimate goal is to attract a wider range of participants, including traders, investors, and traditional investors.
The Future of FET Tokens
The collaboration with a major player like Bosch towards the development of Web3 underscores the potential of the project which has garnered attention from several renowned brands. As a result, the Fetch.ai Foundation is set to receive 100 million USD. This signal has caused FET's value to skyrocket to nearly $0.5 at the time of the announcement amid the growing momentum of the market.
Fetch.AI currently holds a market capitalization of $479,759,273 and is considered a leading project in the field of AI. The public sale price for $FET on Binance was $0.0867, yielding an ROI of over 5 times based on the latest update as of February 24, 2023, while the private sale price was $0.053, yielding over 8 times. The decrease in BTC dominance index indicates a flow of funds toward other altcoins, and given the emerging trends, investment options should be carefully considered. It is important to note, however, that entering the market with a reasonable amount of capital is still crucial.
Based on our observations, there is an organization that deserves attention, namely MOBI. The community of MOBI comprises of leading global vehicle manufacturers, as well as startup companies, non-governmental organizations, and technology firms that have potential for development in conjunction with AI technology in the future, including Fetch. In the event of any news related to this AI group, the market will experience a swift and strong FOMO response as the Greed-Fear Index is currently at a balanced threshold.