Currently, there are over 1000 different types of cryptocurrency in the market. However, it remains uncertain which type of investment would generate the highest profit, or which type of currency would be most suitable for the current market. Today, we will continue with this topic by introducing OriginTrail (TRAC), with the main purpose of providing you with a comprehensive overview of all the different types of cryptocurrencies. So what is OriginTrail (TRAC) exactly? How does it operate and what are its advantages and disadvantages? Is there potential for significant growth? All of these questions will be answered in the following article.
What is OriginTrail?
The OriginTrail platform is a decentralized system built on blockchain technology, designed to facilitate supply chain operations for businesses. Its main objective is to ensure data transparency and integrity within the various parties involved in the supply chain, in order to protect brand reputation and mitigate risk in cases of issue with goods. This is achieved by rapidly and automatically connecting and linking data across different devices used for processing supply chain data. All data is then stored in its respective block.
This will introduce a fresh approach towards fostering transparency in the supply chain, while providing the essential foundation for building trust, increasing efficiency in the supply chain, and facilitating automated adherence to quality assurance procedures.
The digital currency TRAC is the primary currency used within the OriginTrail ecosystem, which consists of a network of machines (nodes) that all OriginTrail customers are utilizing. TRAC is predominantly utilized as a payment method between data providers in the supply chain and consumers of that data.
The characteristics and features of OriginTrail
The subsequent content delineates the functionalities and attributes of OriginTrail
The data exchange standard of OriginTrail's architecture proudly adheres to globally recognized GS1 standards for supply chain management operations and proven reliable consensus mechanisms on other blockchain platforms. The theft-proof Blockchain structure provided by OriginTrail's platform offers a layer of data mutation protection.
In order to ensure data integrity, OriginTrail verifies agreement among the supply chain by independently cross-checking the data provided using zk-SNARK for sensitive information through the implementation of consensus algorithms.
The seamless data sharing of OriginTrail relies on a hierarchical graph database structure, which enables it to possess flexibility, high efficiency, scalability, and cost-effectiveness. This data layer grants the capability to quickly and easily handle complex supply chain data sequences with simplicity and speed.
Detailed information on TRAC coin
What is TRAC coin?
TRAC coin is the primary cryptocurrency issued by the OriginTrail ecosystem, serving as a means of payment for transactions between data providers and data users on the supply chain. In addition, TRAC coin also supports peer-to-peer nodes in performing system functions.
Key Metrics
Token Name: OriginTrail.

Ticker

: TRAC.
Blockchain: Ethereum.
Token Standard: 

ERC-20

Contracts: 0xaa7a9ca87d3694b5755f213b5d04094b8d0f0a6f.

Circulating Supply

: 368,349,482.
Total Supply: 500,000,000.
Market Cap: 150,914,914 US$.
Origintrail Allocation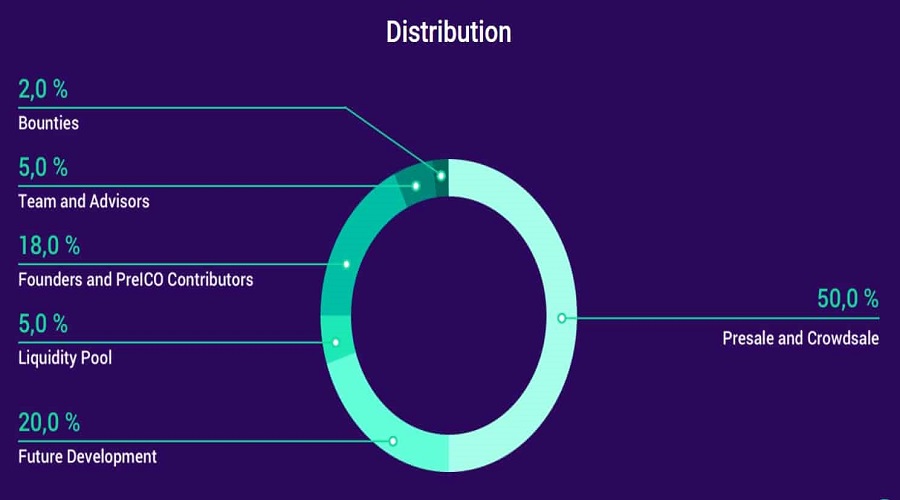 Release Schedule
Updating…
Roadmap & Updating
2017
Q1/2017: Deploying Testnet on Ethereum network.
Q2/2017: Trial launch in the retail market in China.
Q3/2017:
Integrate the current number of users with the main version in Ethereum.
Established project headquarters in Shanghai.
Q4/2017: Established Trace Alliance between the Beta user community and a number of companies and organizations in the EU, the US and China.
2018
The pilot project at Yimishiji retail supermarket was officially completed, becoming a member of the "big family" GS1.
Establishment of office in Hong Kong, publication of Trace Alliance activities report, pilot for wine products in Europe completed.
Release applications on the platform, such as: Luna v0.3a, Mechta V0.4a, Ranger v0.5a, Kosmos v0.6a, Zond v0.7a, Surveyor v0.8a, Explorer v0.9a, Lunar
Orbiter v1. 0b-RC.
Launch OriginTraile Tesnet.
Launch of OriginTrail decentralized network.
Update protocol, add standards for IoT.
Establishment of an office in the United States to increase relationships with American partners.
Organizing conferences and research sessions.
2019
Launch open-source applications.
Strengthen and expand partnership relationships.
Regular protocol updates every quarter.
2020
Cooperate with public entities on the subject to register ownership.
Set up a transparency index for the supply chain.
Consumer NGO collaboration to empower shoppers.
Regular protocol updates every quarter.
Team, investors and partners
Team
Tomaz Levak (CEO): Tomaz Levak, the founder and CEO of OriginTrail, previously served as a member of Monada doo, Kuwait Shooting Federation, and Social Incubator.
Ziga Drev (COO): Ziga Drev, the Chief Operating Officer (COO), is responsible for managing all stakeholders in the supply chain across Europe and Asia. He currently participates in international conferences as a keynote speaker.
Branimir Rakic (CTO): Branimir Rakic holds the position of Chief Technical Officer at OriginTrail, where he oversees various technical aspects of the organization. Prior to this, he served as a distinguished faculty member at SAE Institute and was a member of the esteemed P3 Communications Company.
Maja Voje (CMO): Maja Voje has retained the position of Chief Marketing Officer at OriginTrail and has previously held the role of Communication Manager at Rocket Internet AG. Additionally, she was involved in project management for Ops-SI at Google.
In addition to key members, OriginTrail is backed by other influential figures, all of whom are experts in various fields.
Where can TRAC coin be purchased?
Currently, you can buy TRAC coin at some popular exchanges, such as: Kucoin, Bittrex, Uniswap, Coinbase, Bancor, Bitmart, …
With its prominent position in the cryptocurrency market, OriginTrail (TRAC) has a strong potential for growth and has garnered the attention of many investors. Through this article on 247BTC.net, we hope to provide clarity on the question of "What is OriginTrail (TRAC)?" We wish you success on your upcoming investment journey.