If you are currently seeking a network of support pertaining to 3D designing, video, VR/AR and other technological advancements, Render Network is a prime example of a project that utilizes GPU technology with high processing speeds, decentralized architecture and other notable benefits.
What is Render Network (RNDR)?
Render Network is a network of Graphics Processing Units (GPUs) used in the creation of 3D images through GPU processing. The resulting products of this process are commonly referred to as renderings.
One can interpret it as a network connection that fulfills the GPU (graphics processing unit) needs of users, especially in 3D design work. Render provides a cloud-based GPU rendering service that users can access through login.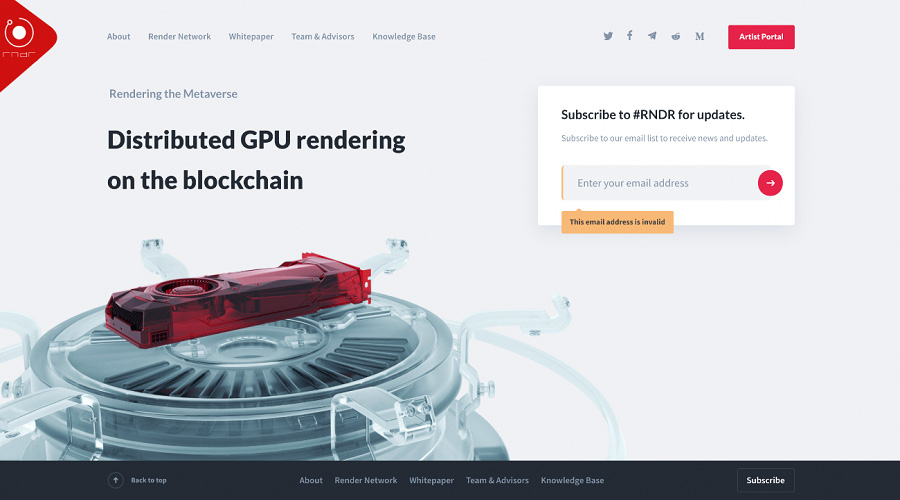 The salient aspect of the Render Network
The participants who join the Render Network will be able to leverage decentralized GPU computing, thereby enhancing their work efficiency through the use of GPU functionality.
Render Network is an appropriate network for connecting various entities such as content creators, designers, and 3D artists who frequently require 2D and 3D image proposals for their work.
An opportunity is presented to individuals to earn income through GPU extraction by programming, offering accelerated processing for various programs and purposes.
The GPU is not only utilized for image processing but also finds its application in various fields such as gaming, video, dApps, medical sciences, AR/VR (Augmented Reality/Virtual Reality).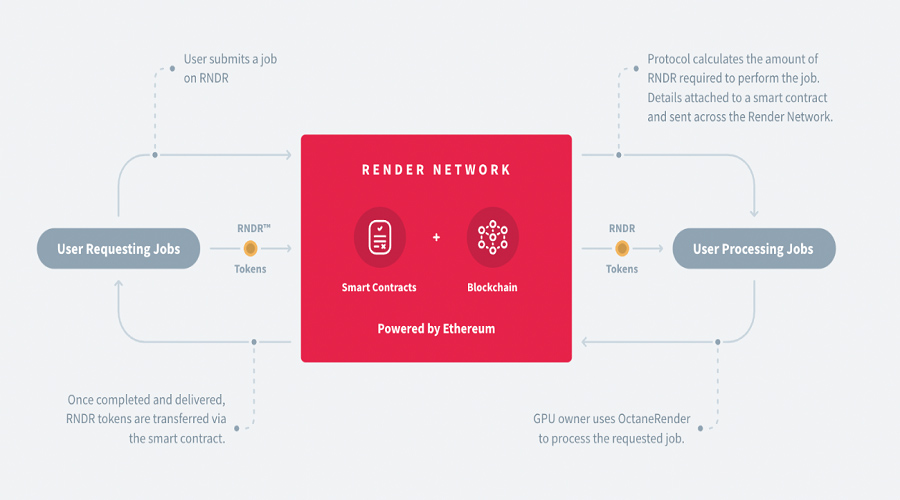 The operational mechanism of the Render Network
To delve into Render – a solution for rendering Blockchain, P2P peers may refer to the following model for guidance
Step 1: The user proposes the job and accesses the ORC portal on the web.
Step 2: Render task will be calculated and the price will be notified to the requester.
Step 3: The user uses the GPU to process the work and send the completed render tasks back through the Render Network (intermediate).
Step 4: Complete, compare and return User requested jobs (users).
Token Render Network (RNDR) Information
Key Metrics Render Network
Token Name: Render Token
Ticker: RNDR
Blockchain: Ethereum & Polygon
Token Standard: ERC-20, PRC-20
Contract:

ERC-20: 0x6de037ef9ad2725eb40118bb1702ebb27e4aeb24
PRC-20: 0x61299774020da444af134c82fa83e3810b309991

Token Type: Utility, Governance
Total Supply: 523,683,196 RNDR
Circulating Supply: 154,278,922 RNDR
RNDR Token Allocation
RNDR Phases: 40%
Network Development: 25%
Marketing Expansion: 20%
3rd Party Services: 10%
Unforseen Roadblocks: 5%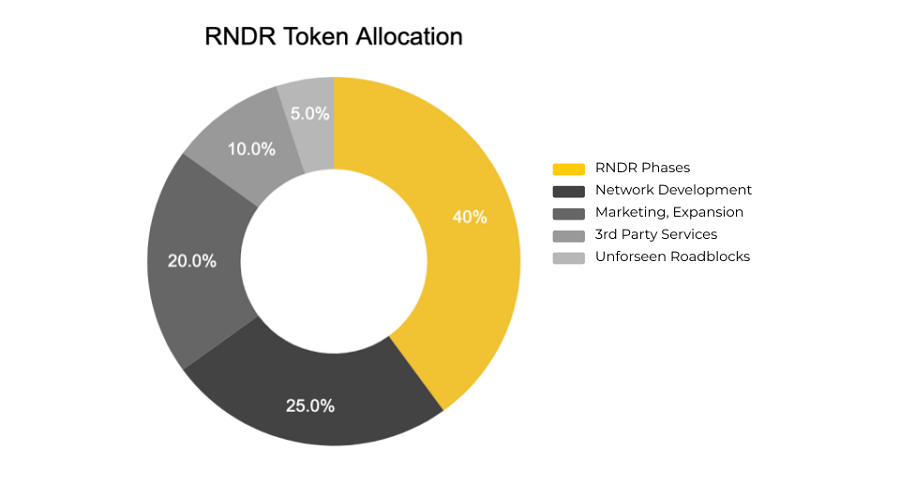 RNDR Token Sale
RNDR Token Release Schedule
RNDR Token Use Case
RNDR is the utility token of Render Network and is applied as follows:
Fees for transactions.
Propose and vote on important system changes.
Roadmaps & Updates
Phase I: Q1 2018
Post Token Sale.
Enable the Enable Cloud (cloud) services on the web Orc.oty.com.
Phase II: Q2 2018 – Peer-to-Peer Transition Development and Preparation Process.
Phase III: Q3/Q4 2018 – Launching Peer-to-Peer Network.
Phase IV: (TBD) – Focus on expanding the real value and potential of Render Token and ORC network.
Project team, investors, partners
Project team
Jules Urbach – Founder
Jules, who is the leader and strategic visionary of OTOY, is simultaneously the chief architect responsible for executing the company's technology roadmap. With over 25 years of experience in the computer graphics, online streaming and 3D rendering fields, he is recognized as a pioneer. He is highly praised for his contributions in these areas.
Ari Emanuel: Co-Founder & Co-CEO
According to Ari's statement, this project is expected to revolutionize the way in which 3D assets and their corresponding digital rights are transferred and distributed among individuals and organizations. OTOY is currently transforming their advanced expertise in Rendering to create a decentralized network that will serve a wider range of audiences.
J.J. Abrams – Chairman & CEO
In regard to him, he believes that as technology continues to democratize – which includes the significant outcomes possible with Octane – more diverse and unique narratives will be shared. The world, both familiar and extraordinary, will be created and distributed in ways that were unimaginable a decade ago.
Brendan Eich – Founder & CEO
From the beginning, he has been serving as an advisor to OTOY and has consistently supported innovative approaches to transactional architecture and security. To date, he has found the Render Token to be the most intriguing and compelling project he has encountered and is proud to be involved in its realization.
Mike Winkelmann – Artist
Mike, a graphic designer from the rural area of Charleston, SC in the United States, has an impressive portfolio of digital artworks including short films and Creative Commons VJ loops. He has had the opportunity to work with renowned brands such as Apple, Space X, Nike, Coca-Cola, and many others.
Investors
The network known as Render has successfully procured investment capital exceeding 10 million dollars from renowned investors, including:
Andreessen Horowitz
Coinbase Ventures
CoinFund
Dapper Labs
Animoca Brands
Hashed
Alameda Research
Pantera Capital
Kraken Ventures
BlockTower Capital
These investors have confidence in the potential of Render Network to revolutionize the way rendering is carried out. As such, they have invested in the project to aid in the growth of Render Network and to achieve its vision.
Partner