The rapidly growing popularity of AI technology, particularly in the form of ChatGPT, has resulted in a surge of interest in Crypto projects. SingularityNET, which experienced a remarkable growth from a low of $0.05, is now one of the top two leading AI trends, attracting the attention of numerous investors since the beginning of this year. The significant influx of investment begs the question: What is the SingularityNET project that has attracted such substantial funds? Join 247BTC as we delve into the details below.
What is SingularityNET (AGIX)?
SingularityNET is a Blockchain of AI services.
As per the definition set forth by the development team of SingularityNET (AGIX)
SingularityNET (AGIX) is a blockchain-based service that provides the opportunity for individuals to create, share, and monetize various AI services on a scalable level. The ultimate goal of this project is to leverage the power of Artificial Intelligence and Blockchain technology, with the intention of revolutionizing the future of the technological industry.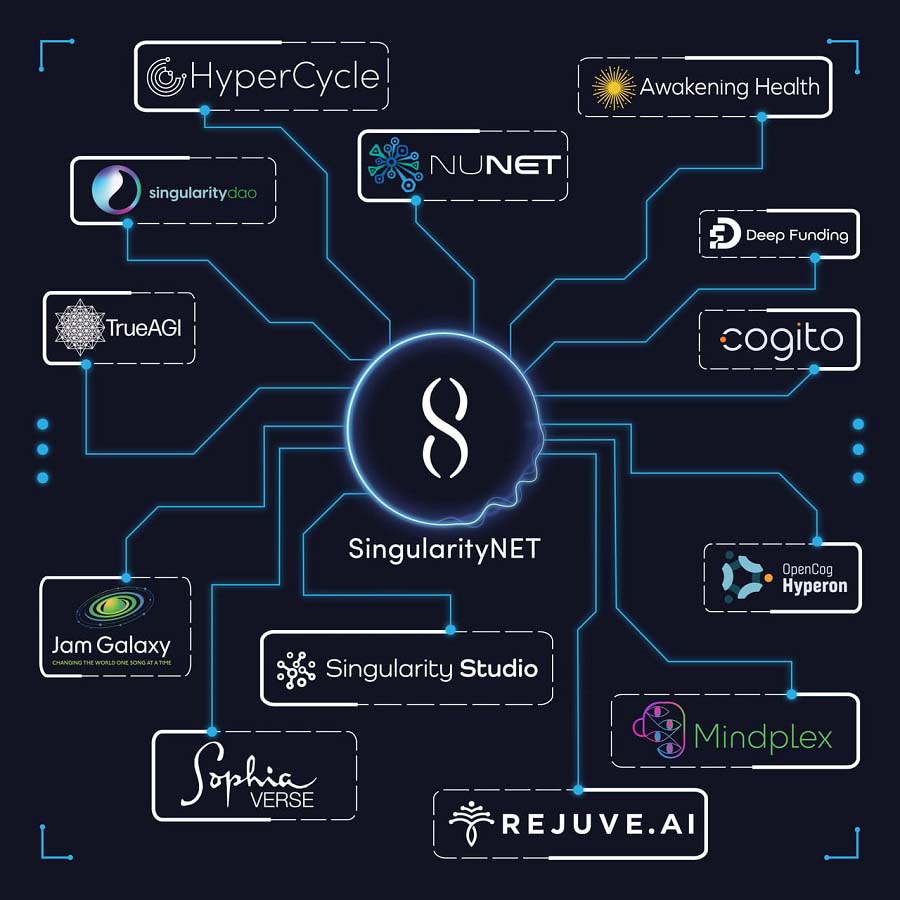 By definition of 247BTC
SingularityNET is a blockchain-based platform that facilitates the creation, sharing, and monetization of AI services by everyone. It operates as a decentralized AI marketplace where AI platform providers and users interact and collaborate. AGIX is the digital currency used for payment transactions on the protocol.
SingularityNET aims to establish itself as the key protocol for Networked AI and implement tools for Machine Learning in order to create an Artificial General Intelligence. This will contribute towards the realization of AI algorithms ranging from image recognition to natural language processing, flexible real-time interaction, continuous learning and error correction, and ultimately become a flawless blockchain AI to serve every human industry.
What is the operational methodology of SingularityNET?
The diagram presented below delineates the primary and auxiliary components of the system and illustrates their respective functionalities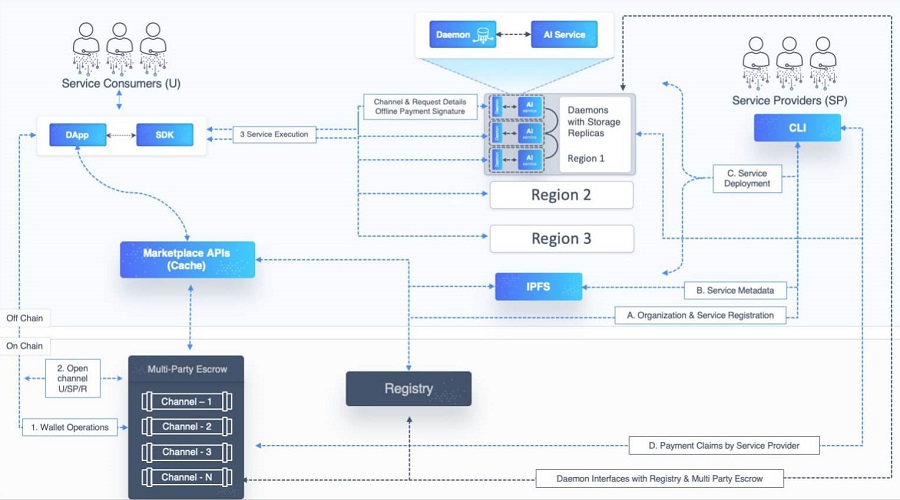 The SingularityNET Registry is an Ethereum ERC-165 smart contract designed to store organizations, services, and repositories. This feature is used by AI developers to provide comprehensive details about their services, while its users rely on it to search for services they need. SingularityNET Registry offers all the essential information required to search and interact with AI services on the platform, either by providing a full listing of information or by listing via IPFS hash functions.
In order to facilitate scalability for its protocol and AI system communication, the SingularityNET daemon platform is utilized. The daemon platform's primary responsibilities consist of payment processing and request translation. To receive processing authorization, the daemon interacts with Multi-Party Escrow and utilizes API smart contracts to retain liquidity from end-users interacting on the blockchain platform with AI service providers.
The SDK is a tool that allows customers to use AI for making calls to various services. It simplifies the integration process with SingularityNET services and provides a range of tools for automatically enhancing customer machines with the necessary authorizations through gRPC. The SDK's module is available in all major programming languages, including Java, Python, and NodeJS.
The salient features of SingularityNET
At present, SingularityNET is presently developing a multitude of AI-related applications on its platform that are mission-critical, including, but not limited to:
AI Marketplace: SingularityNET offers a marketplace where AI-related services can be deployed to meet the needs of users. Providers of services on this dApp will be rewarded with AGIX tokens for their participation in projects.
AGIX Staking: By staking the AGIX tokens on the protocol, users are able to provide liquidity for the AI Marketplace and receive rewards when unlocking the tokens, which ultimately benefits the ecosystem.
AI Publisher: AI Publisher enables developers and business professionals to effortlessly construct an AI database in a single hub, providing them with the convenience of querying, testing, and modifying their products across multiple platforms with a unified interface.
Bridge: SingularityNET provides a platform for its users to transfer their tokens to other supported chains, namely Ethereum and Cardano, thereby facilitating a seamless and efficient network between different blockchains.
OpenCog Hyperon: SingularityNET's mission is centered on a vital project to advance Artificial General Intelligence, which aims to provide scalable and comprehensive solutions through open-source development, while upgrading system infrastructures.
AI – Domain Specific Language (DSL): A network of deep-organized AI products can collaborate with one another or flexibly seek external resources for execution.
What is SingularityNET Token (AGIX)?
The AGIX token belongs to the decentralized storage network. It was launched through an initial coin offering (ICO) by the SingularityNET Foundation at the end of 2017.
At present, SingularityNET (AGIX) is operating on the Ethereum platform using the ERC-20 standard.
Fundamental details pertaining to the cryptocurrency SingularityNET's (AGIX)
Ticker: AGIX
Contract: 0x8eb24319393716668d768dcec29356ae9cffe285
Decimal: 8
Blockchain: Ethereum
Token Standard: ERC20
Token type: Utility Token
Consensus: Proof of Reputation
Total Supply: 1,000,000,000 AGIX
Circulating Supply:  539,673,260 AGIX
Token Allocation AGIX
Future Development: 8%

Core Team Member: 18%

Reward Pool: 20%

Token Sale Event: 50%

Bounty: 4%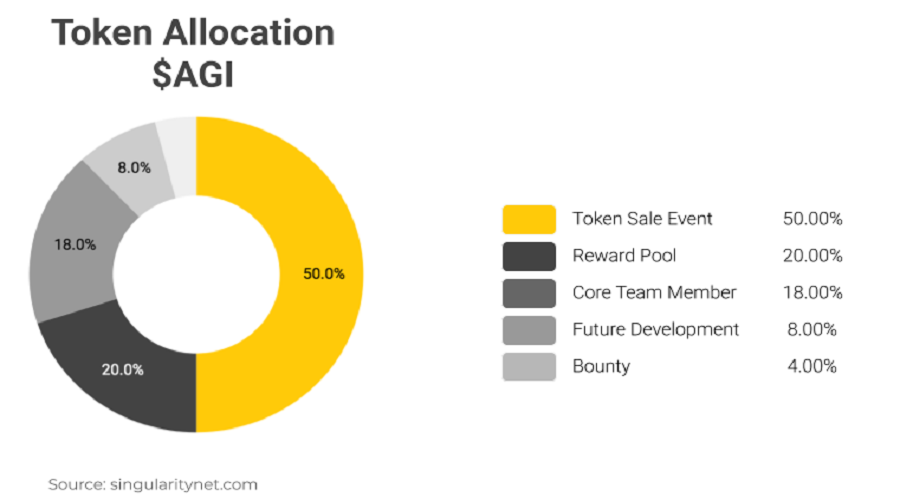 Token Sale AGIX
The initial coin offering (ICO) for SingularityNET's AGIX was publicly launched on December 21-22, 2017.
Price ICO: 1 AGIX = $0.1
What notable features distinguish SingularityNET (AGIX) from other platforms in the market?
Both artificial intelligence (AI) and blockchain technology are hailed as revolutionary technologies that will forever change industries and human lives. However, these two are rarely mentioned together. This is where Singularity stands out from other blockchain projects – it combines both AI and blockchain technology to create a unique solution.
Singularity is one of the few pioneering projects that integrates the two most advanced technologies of today, namely Blockchain and Artificial Intelligence (AI). In this article, we will delve into the ecosystem and operational mechanism of SingularityNET (AGIX).
The objective pursued by Singularity is to establish a market for AI-related services.
In particular, the development team has elected to concentrate their efforts on three distinct domains within the field of Artificial Intelligence, encompassing:
Cloud robotics.
Biomedical research.
Cybersecurity.
Within the ecosystem of SingularityNET (AGIX), the most crucial components are the SingularityNET Agents, which serve as pivotal links in the system's infrastructure.
The "Agents" serve as "Nodes" within the network, carrying out the tasks of creating Smart Contracts and optimizing transaction verifications in an efficient manner.
In order to uphold the fairness and validity of the network, "Agents" are ranked after every transaction, with confirmation ratings assigned on a scale of 0 or 1.
Upon successful completion of the transaction verification and payment processing, an Agent will be assigned a safe rating of "1". Conversely, failure to complete the transaction verification task will result in an "0" rating and a demotion in Agent status, thereby losing the corresponding privileges.
In addition to the aforementioned evaluation criteria, the rating evaluation of an "Agent" encompasses the following factors:
AGIX Token Staking: In the event that an "agent's" rank depreciates to "0", a portion of their token holdings relevant to their participation will be lost.
Benefit Ranking: This is a specific rank for tasks that benefit the ecosystem that an "Agent" must perform. These tasks improve the overall ecosystem and help the network operate more efficiently. They are mandatory tasks that must be performed by an "Agent" and are not supported by funding.
External Validation: Agents receive additional ranking bonuses by demonstrating the ownership rights of a reputable company through the KYC service.
The long-term vision of the SingularityNET project entails the construction of a complex network that facilitates interaction amongst Artificial Intelligence (AI) Agents.
For the purpose of facilitating comprehension among colleagues with regard to the technology and operational mechanisms of the project, I extend an invitation to peruse the following example
Sophia, a humanoid robot, was constructed within the confines of a household. Sophia is equipped with a range of AI agents, which include natural language processing and physical motor control, that enable her to function effectively.
Sophia's siblings advised her to summarize a clip embedded in a website. In order to accomplish this, Sophia submitted a request to "Agent I". Utilizing their artificial intelligence, "Agent I" was aware of "Agent II", who specializes in analyzing and duplicating video clips, and "Agent III", who specializes in summarizing text. To complete these tasks, "Agent I" paid "Agent II" and "Agent III", while Sophia paid "Agent I" for coordination purposes.
At all times, Agents have been updating their own AI with network information obtained from these missions and integrating it with their previous experience and knowledge.
As a result, the collective AI of the network exhibits faster development than any individual AI Agent.
After obtaining vast amounts of information and scientific knowledge, the ultimate AI Agents are capable of generating new AI Agents from the acquired information over time. As a result, the network will steadily evolve and become automated.
For what purpose is the AGIX Token utilized?
As previously presented, the utilization of AGIX Token is intended for the following purposes:
Payment for buying and selling operations or services on the platform, such as transaction fees and withdrawal charges, shall be settled.
The "Agents" serving as incentives for contributors to the SingularityNET ecosystem were implemented.
The fee for exchanging AGIX Tokens
AGIX is a token developed on the Ethereum ERC-20 platform. Consequently, users will incur specific fees when transacting or transferring AGIX, as follows:
The transaction fee for the blockchain network is levied by Ethereum.
The exchange fee comprises of withdrawal and deposit fees as well as transactional fees incurred by the respective exchange platform
Roadmap of SingularityNET (AGIX)
Q4/2022:
The development of AGI as a foundational service for businesses is underway.
Q1/2023:
Alpha version for HyperCycle sidechain
Jam Galaxy is poised to release its inaugural AI service on the SNET Marketplace.
The SingularityNET platform is constructing tools that facilitate and initiate a voting gateway on the Cardano blockchain.
Deploy predictive AI services
AI-DSL Proof of Concept
AGIX Cardano token staking development
Q3/2023:
The SingularityNET infrastructure is scheduled to undergo a migration to the mainnet platform of Cardano
The developers have enabled publication of AI services on the Cardano platform by end-users
SingularityNET Project team
Ben Goertzel (CEO): Ben Goertzel, the CEO, is a seasoned professional with extensive experience in various fields, including AGI, expanding the boundaries of life through biology, philosophy of mind, consciousness, improvisational music, experimental fiction, theoretical physics, and more. His diverse background and broad-ranging interests have enabled him to develop the ability to access and apply AI platforms effectively. With over 15 years as chairman of the OpenCog Foundation, an organization centered around artificial intelligence, Ben has proven himself as a capable and knowledgeable leader in this industry.
Investors and partners of SingularityNET
Investors
SingularityNET has successfully completed a total of six rounds of capital raising, receiving a staggering sum of 66 million USD in investments. The LDA Capital-led Funding round alone generated 25 million USD in funds. Notable investors include Kosmos Ventures, Zeroth.AI, Fundamental Labs, and Alpha Sigma Capital.
Partner
An appraisal of SingularityNET
SingularityNET has a significant potential to facilitate the development of a decentralized, inclusive, and useful general artificial intelligence (AGI). Additionally, SingularityNET allows AI service providers to self-organize and communicate with one another to accomplish various AI functions. Some analysts predict a potential price increase for SingularityNET in the near future due to positive user reception towards artificial intelligence application platforms.
SingularityNET has recently announced a focused collaboration with a goal to become the bridge between Ethereum and Cardano platforms. The collaboration will mainly concentrate on enhancing the interaction capabilities between SingularityNET's AI services by utilizing the programming language Haskell of Cardano's cryptocurrency, ADA.
Recently, the project has experienced a continuous increase in price, with cryptocurrencies witnessing an increase of over 1,000% since the beginning of the year. This surge occurred immediately after a report revealed that the Chief Executive Officer of Twitter, Space X, and Tesla, Elon Musk, is working on a new AI research laboratory.
According to market data, SingularityNET's AGIX token has experienced a significant surge in price, surpassing a 1,000% increase since the beginning of this year. This can be attributed to the tremendous success of ChatGPT, which has ignited a new wave of interest in the "AI trend." The token value has risen from a low of $0.05 earlier this year to an all-time high of $0.56.