DeFi Land is a simulated farming game developed to gamify the DeFi ecosystem on Solana, however, the current state of DeFi remains relatively austere and usability is challenging due to the rapid surge of dApps. Supposing we could simplify access to DeFi as playing a game, then let us delve into DeFi Land, a project that integrates gamification into DeFi.
What is DeFi Land (DFL)?
DeFi Land is a blockchain-based decentralized farming simulation game designed to gamify Decentralized Finance (DeFi). In other words, the project facilitates users to perform DeFi activities in a fun and interactive way, similar to playing the once-popular "Farmville" game.
In case there is still some ambiguity about the gamification process in DeFi Land, allow me to elaborate that it refers to the integration of gaming mechanisms into non-gaming entities, with the aim of enhancing user engagement and promoting adoption. The term gamification pertains to this approach and is designed to create an immersive experience for the target audience.
An example of the current zapper method, which demonstrates user login, liquidity provision, asset swapping, and experience point accumulation to ultimately exchange for bát mắt NFTs, is indicative of a small example. As a result of this campaign, zapper has successfully attracted a substantial number of users to try its product.
The salient feature pertaining to DeFi Land (DFL)
The DeFi land is anticipated to offer an assortment of values to its end-users, as listed below
Bringing together DeFi features on one platform: Similar to projects like Zapper and Debank, DeFi Land will aggregate multiple platforms (AMMs, lending, yield,…), providing users with a single user interface for their operations.
Gamify everything: The highlighted characteristic of DeFi Land resides precisely in gamifying every user experience, thereby facilitating a more accessible interaction with DeFi for all stakeholders.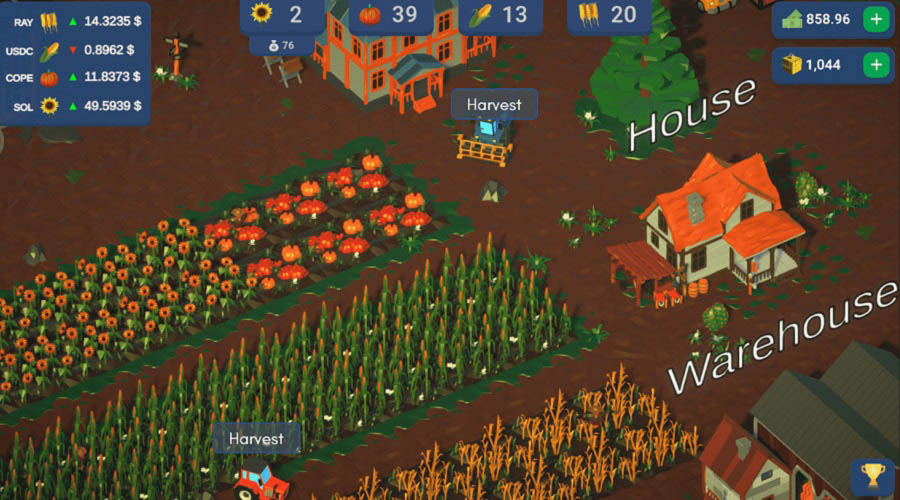 What is the reason that propelled DeFi Land to opt for Solana as its preferred development platform?
The project aims to become a multi-chain game, however, in the initial phase, in order to optimize user speed and cost, the project has chosen to develop on the Solana blockchain. Speed, cost-effectiveness, and security are critical factors, especially for gamification projects like DeFi Land, and Solana is among the most suitable blockchains for this purpose.
Detailed information about DFL Token
Key Metrics DFL
Token Name: DeFi Land.
Ticker: DFL.
Blockchain: Solana.
Token Standard: SPL.
Contract: Updating…
Token Type: Utility.
Total Supply: 10,000,000,000 DFL
Circulating Supply: 586,355,000 DFL
DFL Token Allocation
Game/Staking Rewards: 41%
Team & Advisors: 21%
Seed Sale: 20%
Ecosystem: 12.5%
Community Incentives: 2.5%
Liquidity: 2%
Public Sale: 1%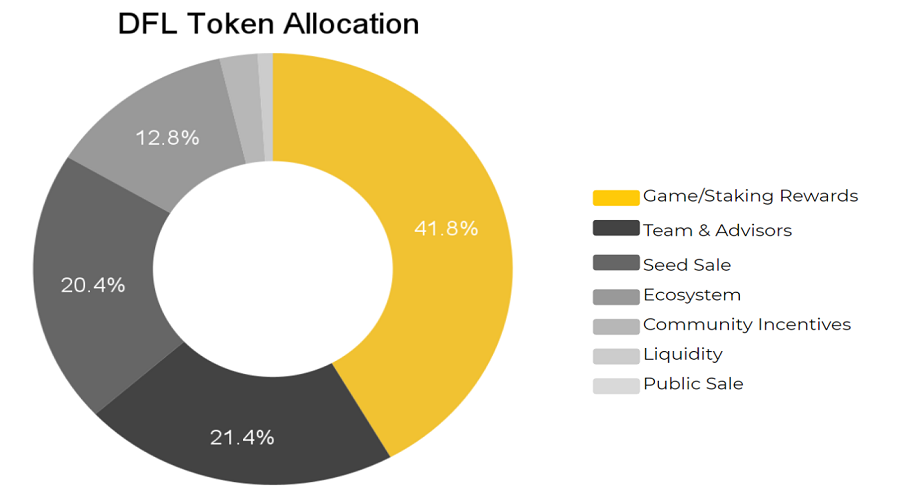 DFL Token Sale
DFL Token participates in token sale on 2 platforms:
– AcceleRaytor: Open Pool: 19:00 (Vietnam Time) November 24, 2021 – Close Pool after 12 hours.
– IDO on Raydium: 19:00 (Vietnam Time) November 25, 2021.
DFL Token Release Schedule
DFL Token Use Case
DFL token will be applied in the following cases:
Propose and vote on project changes.
As an incentive in the game, creating a "play to earn" model.
Use to purchase land, and in-game items as well as for future special features.
Roadmaps & Updates
The development team of DeFi Land will release two versions of their platform. V1 is expected to be launched during the summer of this year, while V2 is slated for release in the beginning of 2022.
DeFi Land V1
DeFi Land V1 includes:
Swap.
Provide liquidity.
Staking & yield farming.
Administration.
Create your own land.
Educational land (practice mode): Experimental game mode allows testing all features with virtual tokens.
Achievements.
DeFi Land V2
DeFi Land V2 includes:
Lending & borrowing.
Indices (indices).
NFT marketplace.
Interactive chat (interact with other players).
Betting.
Create clans and compete.
Mini games.
Tournaments.
Supports Ethereum, Terra, BSC.
Q3 2021
Connect with Serum, Raydium.
Testnet / Devnet Launch.
Mainnet Beta Launch.
Public Sale.
Q4 2021
Governance.
Special Land Sale.
V2 Closed beta testing.
Connect with other platforms on Solana.
Q1 2022
Connect to Ethereum and BSC.
Apply Bridges.
Closed mobile version testing.
Partnerships with other blockchain games.
V2 launches.
NFT Marketplace.
Q2 2022
Ecosystem grant Program.
Connect with other ecosystems.
Scholarships/ educational programs.
Team & Investor
Team
The team behind the anonymous project consists of numerous experienced members who specialize in developing DeFi platforms along with expertise in AR, VR gaming, and related fields.
Investor
On September 9th, DeFi Land made an announcement stating that they have obtained approximately $4.1 million in support from over 40 significant investors such as Animoca Brands, Alameda Research, Jump Capital, and NGC Ventures.
247btc.net has provided detailed information regarding the DeFi Land project. We encourage you to conduct further research and evaluate this investment opportunity to make informed decisions. We wish you the best of luck in your endeavors.