What is Helio Protocol? It is a liquidity protocol that enables users to borrow and collateralize assets for profit on HAY, a Stablecoin built and developed on the BNB chain. Stablecoins are no longer unfamiliar in the market, but Helio Protocol sets itself apart with its distinct features. Let us delve into this topic further in the article below.
What is Helio Protocol?
The protocol Helio offers liquidity to its users, allowing them to generate profits through lending, borrowing, yield farming, and staking activities. To be more specific, users can collateralize BNB/BUSD and borrow HAY to maximize their returns.
Within the context, the native stablecoin (also referred to as Destablecoin – Decentralized stablecoin) of the project plays a crucial role, with protocol Helo operating on BNB Chain.
The operational mechanism of the Helio Protocol
Products of Helio Protocol
Helio enables its users to access various features such as: collateralizing BNB or BUSD, borrowing HAY, farming HAY, withdrawing collateral assets, claiming rewards in Helio while borrowing HAY, and participating in governance activities of the protocol. Some prominent products/features offered by Helio include:
Earn (Reward in Helio Protocol)
Within this section, there will be an array of features designated for the community, such as:
To participate in staking on the Helio protocol and receive APR, users must hold Destablecoin. Rewards from staking activities can be claimed immediately. Currently, the platform has a total of 7,874 users and over $67 million in Total Value Locked (TVL).
Boosted vaults: Helio's bonus cash out feature enables users to leverage it for compound interest by aggregating profits.
Farming: Helio offers several DEX platforms that support asset farming for users, such as PancakeSwap, Ellipsis, Magpie, and Thena.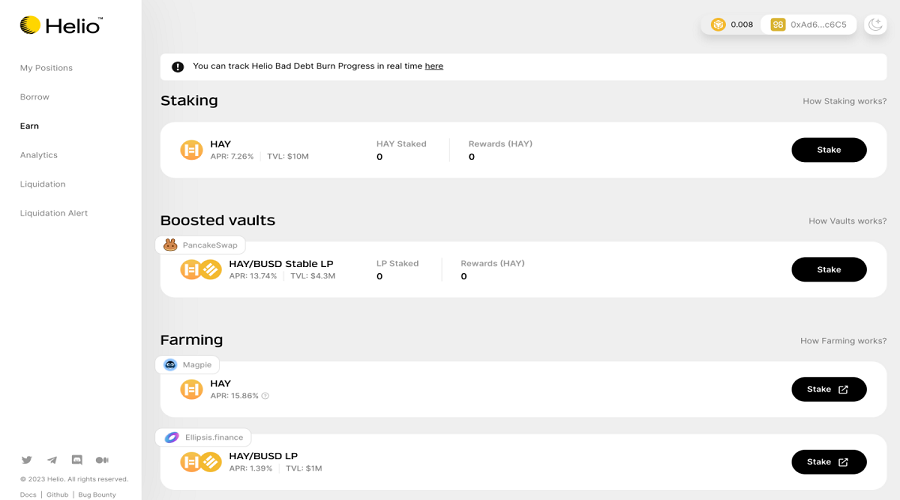 Borrow HAY
In the Helio protocol, users are presented with the option to borrow HAY using either their BNB or BUSD holdings, with a low interest rate set at 2% and 10% of the total loan value, respectively. Following this, users may then choose to utilize their HAY for staking or farming activities, thereby profiting from the platform (such as by earning HELIO token rewards). It is important to note that the Collateral Ratio for the lending protocol sits at 66% for BNB assets and at 90% for BUSD holdings.
As of present time, a total of 1,551 users have participated in the lending program, resulting in over 67 million USD being pledged against Helio and 21.5 million HAY tokens being borrowed (figures are based on a monthly calculation).
The revenue of Helio Protocol
The revenue projection for the Helio protocol is as follows:
The difference between savings interest and loan interest HAY.
Liquidation fee.
Currently, Helio Protocol has not disclosed specific revenue information. Nevertheless, according to statistical data provided by the @helio_money account on Dune Analytics, there are currently 7,874 users. Additionally, the total debt on the platform is over 40 million HAY.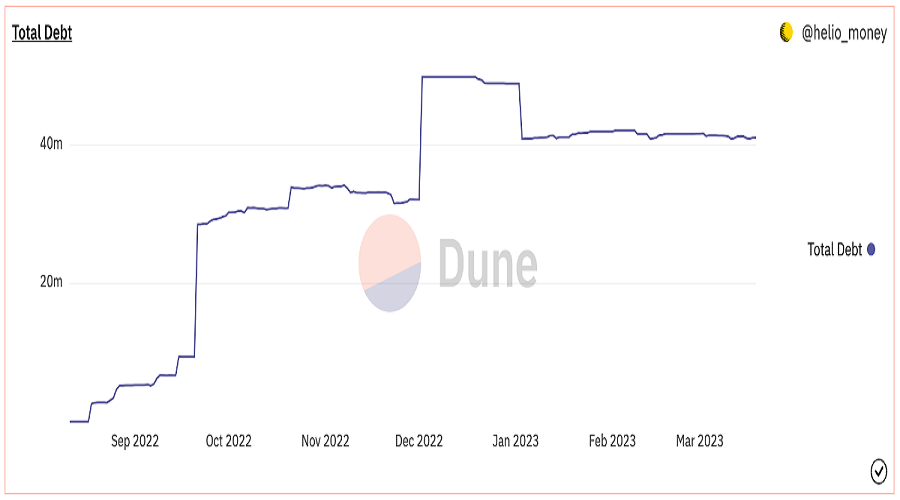 OR What is Destablecoin?
HAY is a stablecoin within the Helio ecosystem that can be converted into an equivalent value of 1 USD. Unlike other stablecoins in the market which must always be pegged to 1 USD, Helio's peg is accurate but not sustainable due to its vulnerability to market demands.
In the event of a change in the value of HAY, there exist measures to ensure Helio's preservation, such as:
Case 1: In the event that the value of HAY increases beyond one US dollar, Helio will encourage borrowers to take out additional loans in order to sell off other assets, leveraging the profits derived from the differential.
Case 2: If the price of HAY is less than 1 USD, as HAY is currently discounted, borrowers will be encouraged to purchase HAY from the market to repay their debts on the platform.
The salient feature of the Helio Protocol
In certain stablecoin models, such as the MakerDAO's DAI stablecoin, HAY operates in a similar manner. However, the primary difference with Helio is its advanced version that enhances capital efficiency through BNB Liquid Staking and enables collateral assets to generate rewards from the protocol. This operation provides sustainable profits for all parties involved.
In contrast to other protocols, Helio possesses numerous mechanisms aimed at mitigating risks for borrowers, including:
Oracles
Debt Ceiling
Loan-to-Value
Liquidation model
Liquidation Alert System
What is Helio Protocol Token?
HAY Token Key Metric 
​​Token Name: Destablecoin HAY
Ticker: HAY
Blockchain: BNB Chain
Token Contract: 0x0782b6d8c4551b9760e74c0545a9bcd90bdc41e5
Token Type: Stablecoin, Utility
Total Supply: 40,943,769 HAY
Circulating Supply: 40,811,221 HAY
HELIO Token Key Metric 
​​Token Name: Helio Protocol
Ticker: HELIO
Blockchain: BNB Chain
Token Contract: Updating…
Token Type: Governance
Total Supply: 1,000,000,000 HELIO
Circulating Supply: Updating…
HELIO, HAY Token Use Cases
In terms of liquidity protocol, Helio possesses two types of tokens, namely:
HAY: serves as a stablecoin and provides transaction methods such as lending, borrowing, and minting on the platform
HELIO: serves as an administrative and management tool for the Helio Revenue Pool. Its purpose is to incentivize users participating in the protocol and engaging in liquidity mining activities.
HELIO Token Allocation
The allocation of HELIO follows the proportion indicated below:
Community: 60%
Ecosystem: 17%
Treasury: 10%
Liquidity Provision: 5%
Strategic Sale: 6%
Team: 1%
Early Adopters: 1%
Token Release Schedule 
Helio Protocol does not mention a detailed release time.
HELIO, HAY Token Sale 
Helio Protocol does not have a token sale event.
Where to buy HELIO, OR Token
The HAY cryptocurrency will be generated through the means of minting or can be purchased on the decentralized exchange (DEX) platforms such as PancakeSwap (BNB Chain) and Thena.
Currently, HELIO lacks a marketplace for buying and selling. As indicated in the company's documentation, it is intended to be used as a mode of reward for borrowing in the future, however, as of now, there is no such system in place.
Individuals are able to store tokens in any wallet that supports the BNB Chain network, with notable reputable options including the Coin98 Super App, Metamask, and Trust Wallet.
Roadmaps & updates
The summary of the developmental trajectory of Helio Protocol is as follows:
State 1: Helio is set to introduce their new destablecoin, HAY, and expand its market share within the BNB Chain ecosystem, marking a significant advancement within the traditional stablecoin market.
State 2: Helio extends cross-chain and governance
State 3: The emergence of Helio as a stablecoin alternative is gaining momentum in the community and is poised to become a new trend.
Project team
The Helix Protocol refrains from disclosing information regarding its project team, instead indicating that the leadership members possess several years of experience in both the financial and technological sectors.