Numerous projects utilize Staking as a solution for reducing supply and voting proposal. However, as a consequence, staked assets are locked, which results in decreased capital utilization efficiency. The challenge emerges as to how individuals can stake for yield while still comfortably utilizing their staked assets. Lido offers the key resolution to these issues.
What is Lido DAO?
Lido is a liquid staking solution that enables increased profitability on locked ETH when participating in ETH 2.0 and other crypto assets. This project falls within the Liquid Staking Derivatives (LSDs) domain, alongside other projects such as Rocket Pool and Ankr Protocol. Currently, Lido has expanded onto five different networks, including Ethereum, Solana, Polygon, Polkadot, and Kusama.
The act of staking involves holding a specific amount of coins within a wallet or nodes/masternodes of a blockchain project for a certain period to receive rewards. Such rewards are hinged on the effort expended, comprising staked coin amount and duration of stake.
The Lido project is at the forefront of unlocking liquidity for ETH staked in ETH 2.0 and leads in this arena, with a current tally of 4,832,979 ETH staked on the platform.
The products and revenue of Lido
Lido products
Lido has three main products:
Staking pools.
Synthetics token – stETH
Lido DAO.
Staking Pool
The foremost and crucial product of LIDO is the Staking Pool. To leverage the Staking Pool, users can stake their ETH in Lido and receive stETH back in a 1:1 ratio. These stETH tokens can be widely utilized in various stETH-supported Dapps.
Lido will proceed to employ the ETH delegated by the users towards its partnered Validators, who shall receive rewards over time for staking Lido's ETH. The reward shall be apportioned into two portions, wherein 90% will be allocated to stETH holders and 10% will be attributed as the fee for minting stETH by Lido, which is as follows:
5% fee for Node Operators
5% fee to Lido Treasury
Synthetics token – stETH
The token known as stETH acts as a representation of ownership rights of Ethereum (ETH) that are currently being staked within the Ethereum 2.0 network. By holding stETH, users can still participate in various DeFi activities such as trading, lending, farming, and staking, to earn additional profits.
With the stETH tokens currently available, users are capable of participating in various activities such as:
Liquidity provision: Curve, 1inch, Uniswap V3, Balancer.
Loan: Anchor, Aave.
Optimize profits on Aggregator platforms: Yearn Finance, Harvest Finance.
Lido DAO
The Lido DAO is a decentralized autonomous organization that functions as the governing body within the ecosystem, granting members decision-making power over the products and operations of Lido, including fee regulations and the management of node operators and oracles, through the use of LDO tokens.
The Lido DAO will accumulate fees derived from operating the protocol to facilitate research and development initiatives, upgrade versioning, along with liquidity incentives.
Lido V2
On the 7th of February, 2023, Lido presented Lido V2, featuring two primary functionalities: Staking Router and Withdrawals. The aforementioned updates comprise the following key features:
Staking Router: The Staking Router will function as the cellular nucleus of Lido, providing a robust infrastructure where stakers, developers, and node operators can seamlessly collaborate with each other through modular facilities. Essentially, it is similar to a Node Operator Aggregator that enhances the diversity of Lido's Node Provider ecosystem, going beyond the current limits of Professional Node Providers.
Withdrawals: The Shanghai update of Ethereum permits users to initiate withdrawals by unstaking stETH and obtaining an equivalent amount of ETH at a 1:1 ratio.
Lido Finance's revenue
A portion of the revenue source for Lido will be derived from the total rewards of the assets that users stake on the platform.
The salient features of Lido
Lido stands out due to the following distinctive characteristics:
Flexible: Users can deposit any amount of ETH to stake on Lido and receive stETH at a 1:1 ratio with ETH 2.0. These stETH tokens can then be used for staking, lending, trading, or any other platform that supports stETH.
Dual Yield: Upon staking ETH on Lido, users shall be rewarded with stETH tokens and yields. Proceeding to use stETH or lending it out will result in further yield dividends, a highly effective measure to generate passive income.
Currently, Rocket Pool holds the second position in the market of Liquid Staking, with Lido Finance being the only one ahead of it.
We kindly suggest reviewing some fundamental information presented in the table below to assess Lido Finance and its second-largest competitor in the market.
What is LDO Token?
LDO Token Key Metrics
Token Name: Lido DAO
Ticker: LDO
Blockchain: Ethereum
Token Contract: 0x5a98fcbea516cf06857215779fd812ca3bef1b32
Token Type: Governance
Total Supply: 1,000,000,000 LDO
Circulating Supply: 842,729,086 LDO
LDO Token Use Cases
The LDO token is designated for Governance purposes, whereby token holders possess the right to participate in the administration and exert influence over the decision-making process concerning the protocol's development.
LDO Token Allocation
LDO is allocated proportionally as follows:
DAO Treasury: 36.32%
Investors: 22.18%
Initial Lido Developers: 20%
Founders & Future Employees: 15%
Validators & Signature Holders: 6.5%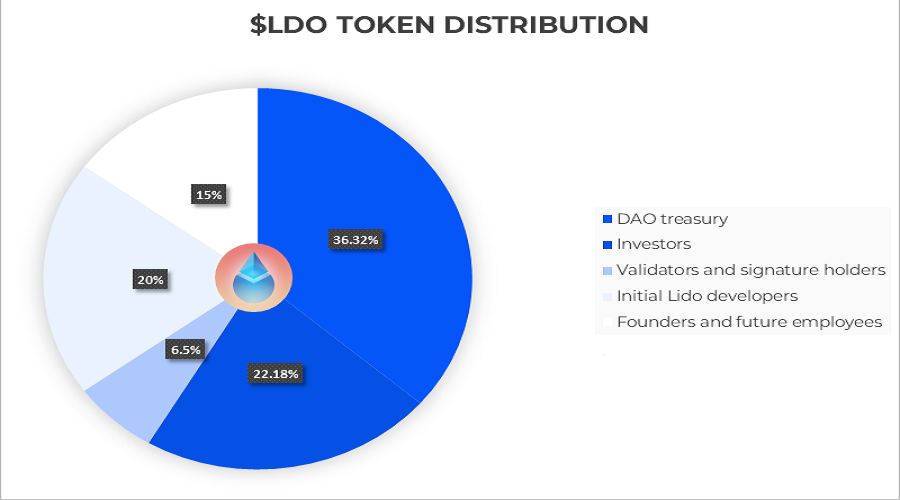 LDO Token Release Schedule
The LDO tokens allocated to the team and investors shall be subject to a one-year lock-up period (fully released on December 17th, 2021) and subsequently vest over a period of one year.
The proposed allocation plan of 36% remaining LDO tokens necessitates an approval process via governance proposal within Lido DAO. Furthermore, the DAO holds the discretion to issue further tokens for the purpose of capital calls, marketing, or to establish user incentives.
LDO Token Sale
Updating…
Roadmap & updates
December 2020: Lido officially launches on Ethereum
March 2021: Lido expands to Terra with bLUNA
September 2021: Lido expands to Solana with stSOL
March 2022: Updated introduction to Distributed Validator Technology (DVT), Node Operators Score (NOS) and balance creation mechanism in governance.
February 2023: Introducing Lido V2 with two main updates: Staking Router and Withdrawals. This is Lido's biggest upgrade ever. The promise is to move the protocol closer to decentralization.
Lido-Project team
Lido is managed through a decentralized autonomous organization (DAO) structure. The initial members of Lido DAO consist of prominent figures such as Founders and Co-founders of renowned projects in the market, including:
CryptoCobain: KOL with more than 220k followers.
Anton Bukov: Co-founder of 1Inch.
Will Harborne: Co-founder of Deversifi
Julien Bouteloup: Founder & CEO of Stake Capital
Kain Warwick: Founder of Synthetix.
Additionally, numerous professional organizations and investment funds such as Semantic VC, ParaFi Capital, Libertus Capital, Bitscale Capital, StakeFish, StakingFacilities, Chorus, P2P Capital, and KR1 are also involved in the industry.
Investors & Partners
Investors and capital raising rounds
Over a span of three years, Lido Finance had a total of four funding rounds with notable participants such as A16z, Paradigm, Dragonfly, KR1, and more than 30 other investors including Semantic Ventures, Staking Facilities, ParaFi Capital, and Stake.fish.
Partner
Lido Finance's partners include two main groups:
The product is supported by partners who offer a range of DApps that enable users to utilize the stTokens for diverse purposes across multiple platforms.
The Validator Partners are the designated group that will receive ETH from Lido to perform network protection and verification tasks, thereby accruing rewards from such authentication efforts.
Summary
247btc.net has provided answers to the question of what Lido is and furnished information on the project as well as its LDO token. We encourage everyone to conduct further research and evaluation to make informed investment decisions. Good luck to everyone! This statement adopts a formal tone and informative style to convey the message clearly and coherently.