The importance of privacy and security has increased significantly in the field of cryptocurrency as it continues to develop. Several projects have been designed to provide a safer trading experience for investors, with Railgun (RAIL) being a notable example. In this article, we will explore the specifics of Railgun (RAIL), including where to buy and sell RAIL coin and its current price. Join us as we delve deeper into this topic on 247btc.net.
What is Railgun crypto (RAIL)?
Railgun is a Smart Contract system that provides privacy and security for users of cryptocurrency and DeFi through Zero Knowledge Proof (ZK-SNARK) technology. By using Railgun, users can ensure complete anonymity of their wallet addresses, which will not be exposed or recorded on the blockchain. The ZK-SNARK technology allows Railgun users to benefit from full privacy, as their identifying information is kept private when performing transactions, trades, leveraging platforms, adding liquidity, or using any dApps in any way they see fit.
In what manner does Railgun differ from other privacy-enhancing protocols?
Alternative security solutions at layer 2 require specialized infrastructure to function properly. Additionally, layer 2 solutions cannot directly access DeFi protocols and often rely on Bridge technology, which may contain significant security vulnerabilities. Furthermore, most protocols utilize independent nodes, which may lack the full security and liquidity of the main chain, such as the original blockchain technology like Ethereum.
In addition, other Mixer solutions are easy to use but lack functionality. For instance, certain protocols restrict transactions or interactions that are protected internally with Smart Contracts. Notably, these protocols also do not enable users to maintain a private balance in their wallet.
However, Railgun provides users with absolute privacy at all times, meaning that their privacy will remain intact even in the absence of any transactions. In summary, previous generations of security protocols cannot compare to the convenience, flexibility, and guaranteed privacy offered by Railgun.
The advantages of utilizing the Railgun technology
Trade Darkpool style, ensuring your strategies cannot be copied or counter-traded.
Allows participating in new cryptocurrency investments without notifying your wallet followers.
Protected balance design to block outsiders from knowing details about your assets.
Prevent data collection related to trading habits.
Keep your DeFi habits "invisible" to advertisers or scammers looking to target individuals with specific interests.
Make confidential payments to lawyers when seeking legal advice on personal disputes.
Receive donations without outsiders being able to view the donation history.
Participate in the advancement of cryptographic security technology.
Participate in the process of bringing the highest level of privacy in the DeFi space to the level of mainstream financial institutions.
Avoid awkward situations where acquaintances, employers, or even potential matches look at your DeFi assets to make personal judgments about you.
The Bug Bounty program of the Railgun project is hereby introduced
The project Railgun's sponsors have implemented a reimbursement policy, wherein any individual who identifies an error and subsequently reports it to mail@railgun.org shall be compensated.
Rules for Bug Bounty are as follows:
Publicly disclosing a bug will make it ineligible for rewards.
Tampering with or exploiting a vulnerable protocol will make that protocol ineligible for rewards. You should use Fork mode for testing or demonstrating security vulnerabilities.
Duplicate issues are not eligible for rewards.
Rewards will vary depending on the severity of the problem. Other variables also considered for rewards include: quality of the problem description, reproducibility guidelines, and quality of the fix (if any).
The severity of issues will be based on OWASP's risk rating model (based on impact and likelihood).
The submission must be related to the scope of the bonus. If outside the bonus range, you will not be eligible to receive the reward.
Rewards will be decided on a case-by-case basis and programs vary, terms and conditions are also subject to the sponsors' discretion.
Limit:
Deployed or candidate contracts at github.com/Railgun-Privacy/contract
Deployed or candidate contracts at github.com/Railgun-Improvements
Reward:
Rewards will be based on the likelihood and severity of the bug exploitation. As follows:
Information about the RAIL token
What is RAIL token?
The RAIL token serves as a governance mechanism for the Railgun project. Its primary function is to enable stakeholder participation in voting processes related to platform upgrades or modifications. Ownership of RAIL tokens also confers membership in the decentralized autonomous organization (DAO), which is responsible for making important decisions related to the project. Any member of the DAO can propose changes to the system, thereby empowering users to shape the project's future direction. Overall, RAIL represents a powerful tool for promoting transparency and accountability within the Railgun ecosystem.
Some basic information about RAIL
Name: Railgun token
Symbol: RAIL
Blockchain: Ethereum
Contract: 0xe76c6c83af64e4c60245d8c7de953df673a7a33d
Standard: ERC-20
Type: Administration
Total supply: 57,500,000 RAIL
Maximum Supply: 100,000,000 RAIL
RAIL token allocation rate
Airdrop: 25%
Foundation: 25%
Railgun KNIFE: 50%
Railgun project development team, investors and partners
Development team
The founding members of the Railgun project include:
Alan Scott Jr. – Co Founder
Cryptocurrency and DeFi investment expert.
Extensive experience with online marketing and web management.
Bachelor of Arts from East Carolina University.
High-level experience in negotiating agreements in Tokyo and the US financial sectors.
Kieran Mesquita – Co Founder
Early Bitcoin investor since 2010.
Develop a cryptocurrency wallet compatible with low-end mobile phones.
Experience in developing Cross-chain and consensus algorithms such as unitychain.io and incognito.org.
Leading Solidity developer for crypto companies.
Dr. Hisham Galal, Ph.D – Co-Founder
PhD in applied cryptography from Concordia University with a major thesis on Blockchain Privacy Preserving Protocols.
Leading cryptographer worldwide who implements new cryptographic techniques and applications.
Participated in the development of many privacy protection protocols published in blockchain.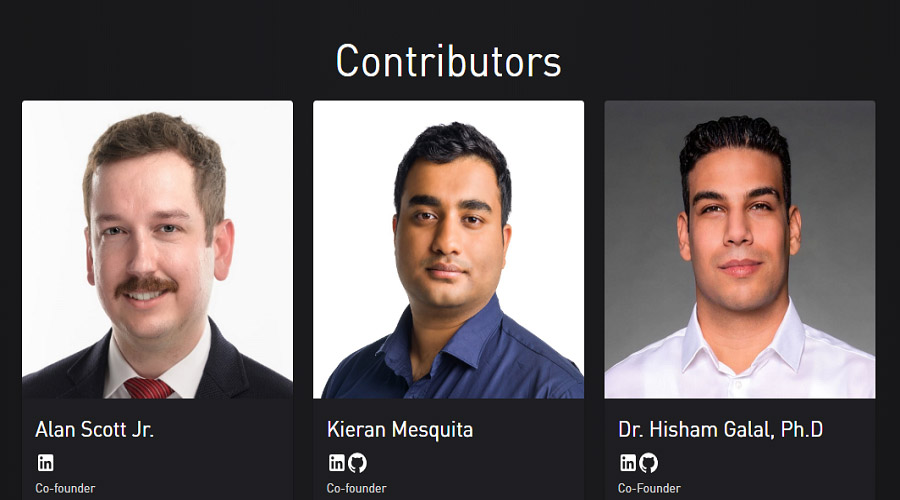 In general, Railgun is undertaking a mission to enhance the security of DeFi space, blockchain, and the cryptocurrency industry as a whole, thereby promoting investor confidence during transactions. The article from 247btc.net aims to assist readers in evaluating the potential of the Railgun project so that they can make effective investment decisions. We wish you success in your endeavors.