The robust growth of Axie Infinity and the GameFi model in general in 2021 remains a topic of utmost importance in every discourse about the cryptocurrency market. In an effort to facilitate Vietnamese gamers' access to the new Play-To-Earn trend and the GameFi era, the largest Blockchain Gaming Guild in Vietnam, Ancient8 , has been established. What is Ancient8 ? It is the foremost Blockchain Gaming Guild in Vietnam. What distinguishes this project? Discover the A8 token's tokenomics information here.
What is Ancient8 (A8)?
The project Ancient8 was established and developed in July 2021 through the collaboration of Coin98 Labs, Kyros Ventures, Coin68 Media, and 3Twelve Capital. Its investment strategy involves funding Play-To-Earn games and reinvesting profits to support the continuous growth of the player base.
Currently, Ancient8 is primarily focused on constructing a Decentralized Autonomous Organization (DAO) and an Infrastructure layer for the GameFi. Regarded as the biggest Blockchain Gaming Guild in Vietnam, Ancient8 aims to establish a software platform and community that allows all individuals to participate in Free-to-Play, Play-to-Earn activities, and actively contribute to developing the metaverse.
The salient feature of Ancient8
Compared to other Gaming Guild peers, Ancient8 possesses prominent characteristics such as:
Ancient8 Academy: The Ancient8 Academy is a feature designed to facilitate the acquisition of knowledge by members of Ancient8. It is an exclusive feature aimed at assisting Ancient8 members in preparing for competitive games at the highest level.
Scholarships: Allows players to borrow NFTs to participate in Play-to-Earn games.
Ancient8 E-Sports: In a similar fashion to renowned gaming collectives worldwide, Ancient8 also boasts a dedicated professional E-Sports team competing on the global stage. Additionally, Ancient8 conducts internal E-Sports tournaments (offline/LAN) within its premises and the surrounding region.
Bamboo Point (BBP): The currency known as Bamboo Point (BBP) functions as a means of sustaining economic activity within the Ancient8 Discord channel, with the purpose of facilitating community-related functions such as participation in white lists, scholarship programs, entry into the casino, and souvenir purchases.
Furthermore, Ancient8 offers the Ancient8 Community Alliance, which is specifically designed for new GameFi projects desiring to collaborate with Ancient8 to expand their brand and provide exclusive privileges to participants, such as unique NFTs and early access to specialized software available only on Ancient8.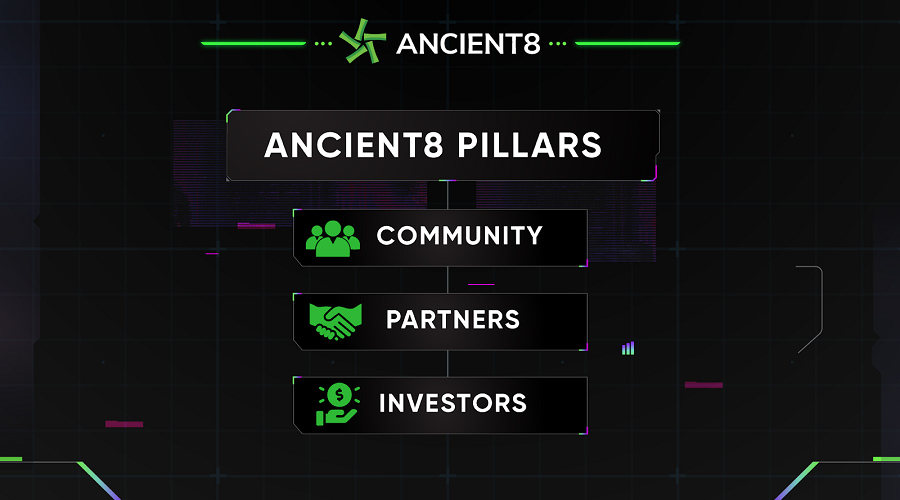 On May 2nd, Ancient8 released an announcement regarding their collaboration with Magic Eden, which is one of the leading NFT marketplaces in the Solana ecosystem. This partnership represents a significant milestone for Ancient8 and its community, as working with Magic Eden will enhance the accessibility and completeness of Ancient8's NFT collection for the ecosystem's community.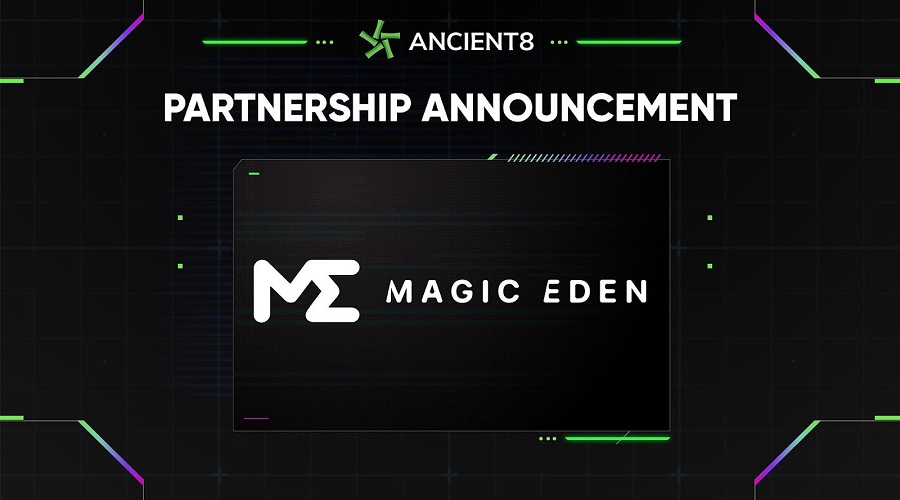 The benefits of holding the A8 Token
The A8 token serves as the native token of the project, and its issuance takes place on the Solana Network. A8 finds application in various operations of Ancient8, such as:
Used in Play-to-Earn Guild activities and scholarship businesses.
NFT launch activities on NFT Launchpad.
Token launch activity on Ancient8 Game Token Launchpad.
Use to buy tokens and NFTs in other GameFi and Metaverse projects.
Use for GameFi E-Sports.
Stake on the Ancient8 platform and NFT Launchpad.
Participate in governance, vote and participate in the development process of the project.
Detailed information about A8 Token
Key Metrics A8 Token
Token Name: Ancient8 Token
Ticker: A8
Blockchain: Solana
Token Standard: SPL
Contract: Updating…
Token Type: Utility, Governance
Total Supply: 1,000,000,000 A8
Circulating Supply: Updating…
A8 Token Allocation
Community/Ecosystem: 32% (320,000,000 A8)
Team: 20.00% (200,000,000 A8)
DAO Treasury: 15.00% (150,000,000 A8)
Liquidity: 10.00% (100,000,000 A8)
Seed Round: 10.00% (100,000,000 A8)
Private Round: 6.00% (60,000,000 A8)
Public Distribution: 5.00% (50,000,000 A8)
Advisors: 2.00% (20,000,000 A8)
A8 Token Sale
A8 Token Release Schedule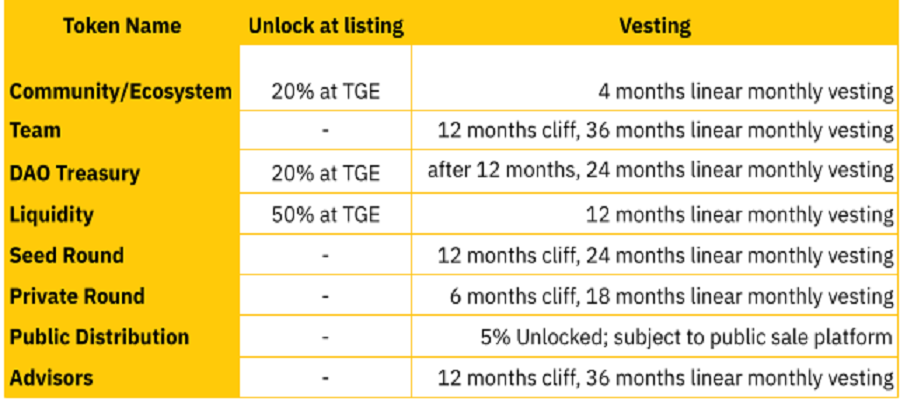 Team – Project team
Ancient8 was established with strategic support from Coin98 Labs, Kyros Ventures, Coin68 Media, and 3Twelve Capital, aiming to create new economic opportunities and empower users through blockchain games.
In addition to the financial opportunities offered by GameFi, the Ancient8 project views it as its responsibility to introduce as many people as possible to the blockchain and Web3 environments. To achieve this goal, the project continuously upgrades its offerings and builds additional tools to empower and enhance the skills of the community.
Investors & Partnership
The first funding round of Ancient8, a leading blockchain technology company, has been successful in raising 4 million USD by attracting Dragonfly Capital, Pantera Capital, and Hashed as its primary investors, all of which are renowned venture capitalists in the cryptocurrency market. In addition, several other famous and respected VCs like Coinbase Ventures, Alameda Research, Mechanism Capital, and Jump Capital have also participated in the funding round, bringing the total investment to 4 million USD.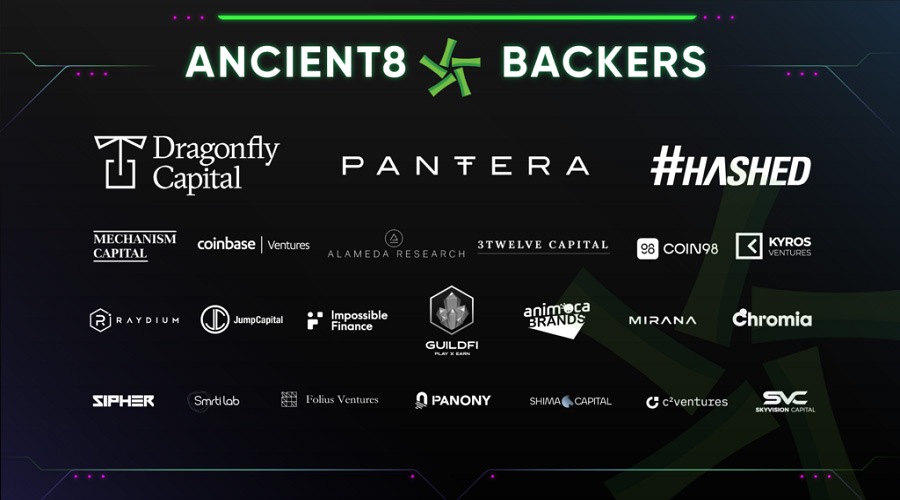 In June 2021, Ancient8 successfully raised an additional $6 million from a Private Sale round led by C² Ventures and Makers Fund. Other notable participants included Pantera Capital, Morningstar Ventures, 6th Man Ventures, and IOSG.
The sum of 10 million USD raised by Ancient8 will be utilized towards enhancing the infrastructure of GameFi by focusing on the development of supporting software and community building. The overall objective is to empower the first generation of Metaverse citizens on the blockchain with a forward-thinking approach towards education and empowerment.
Token Use Case
The A8 token serves as the original asset of the Ancient8 project and is specifically designed to capture the value of assets within GameFi and to act as an index for the Metaverse. The token's value will accumulate from the Ancient8 ecosystem, and the means of accruing this value will be determined via voting by DAO members. The possible use cases for the A8 token are as follows:
Activities from Play to Earn Guilds and Scholarship Businesses
NFT creation activities on Ancient8 Game NFT Launchpad
Token creation activities on Ancient8 Game Token Launchpad, including Staking A8 tokens.
Buy tokens and NFTs in GameFi or other Metaverse projects
Join GameFi E-Sports
Participate in voting for the project's development process.
Buy software products
The above information was researched by the team at 247btc.net. We hope that this information will be helpful to our readers. However, please note that this is not investment advice, but rather an informational channel. Therefore, investment decisions should be carefully considered.