The potential for blockchain-based gaming has been recognized, with Horizon Blockchain Games being one company that launched its first game in January 2018. In 2019, the company released Skyweaver, a collectible card game based on HTML5 with non-fungible tokens (NFTs) that are irreplaceable. This game is available on both iOS and Android platforms. Interested individuals seeking more information about Horizon Blockchain Games can refer to the article on 247btc.net.
What is Horizon Land Metaverse?
Horizon Land Metaverse is an immersive virtual world built on blockchain technology, designed to offer engaging entertainment experiences and means for players to earn income from their virtual asset ownership. The Horizon Land Metaverse ecosystem encompasses a range of fields including GameFi, SocialFi, NFT, LAND, DeFi, AR/VR, wherein all stakeholders stand to benefit by contributing their efforts towards the development of a sustainable ecosystem.
The vision of Horizon Land Metaverse is to provide players with a decentralized platform that facilitates ownership rights, interactivity and income generation. Moreover, the Horizon Land Metaverse's new virtual world will eliminate physical barriers, enhance user experience and create numerous business opportunities for everyone across the globe.
By participating in Horizon Land Metaverse, users are empowered to embody various characters, such as landowners, creators, or partners, based on their interests and needs. They are granted rights, tools, and resources to develop their own territories and create unique assets (in the form of NFTs), generate income from their creativity, and engage with attractive services through a transparent and reliable management system.
Elements of the world of Horizon Land Metaverse
LAND
Users have the option of purchasing or auctioning off virtual LAND in Horizon Land in order to become the owner of a piece of virtual property. In the metaverse of Horizon Land, LAND tokens are virtual assets (using the ERC-721 standard for NFTs), representing real ownership rights over a user's territory. As owners of virtual LAND, users will be able to build, decorate, rent out or conduct business on their property. Owning a prime location in the metaverse will increase the value of one's LAND holdings.
Each LAND comes with a predetermined set of terrain features, but it can be formatted and modified by its owner. Users have the option to choose the size of their LAND, which includes 1×1, 2×2, 3×3, 4×4, or 5×5 blocks. Additionally, owners can merge multiple blocks into larger units.
The owner of Horizon Land will have the opportunity to become a creative individual capable of producing and earning profits from new content and gameplay through NFT. The Metaverse of Horizon Land consists of three continents and an archipelago, which is a mysterious area. Moreover, Horizon Land offers large cities that provide users with resources to exploit and explore.
NFT Avatar
The NFT Avatar serves as the representation of the user in the virtual world of Horizon Land, possessing an array of unique technical specifications. It is customizable by its owner, with the option to equip additional features or release in parts.
A specific format accompanied by a default animation set is available for various types of games such as walking, running, jumping, and combat operations. During the initial stages of the Avatar feature, users have the ability to customize individual body parts such as helmets, arms, body, legs, hair color, and footwear by equipping different compatible tokens.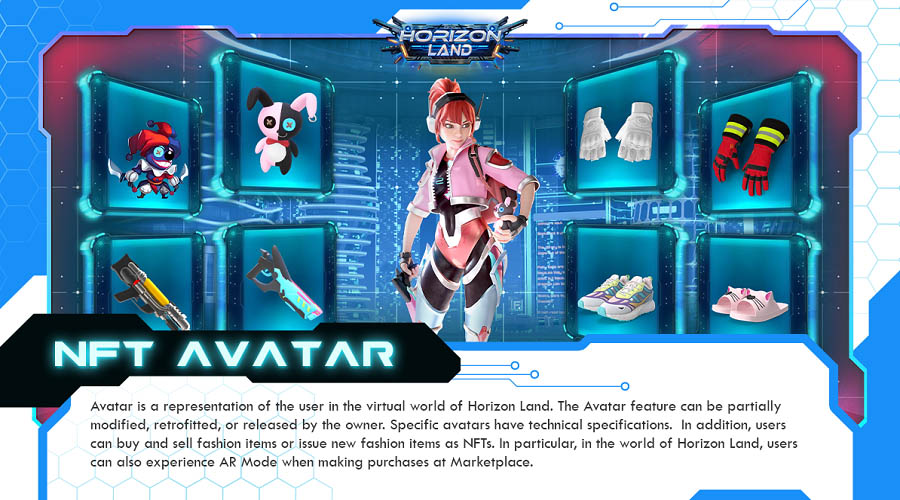 Depending on the level of involvement and requirements of the creator, players may be required to pay a nominal fee to unlock full access rights.
Horizon Center
When seeking to transport players to another world, particularly the metaverse, one of the most important factors remains providing them with a genuine experience. Horizon Land offers their players access to a parallel world that exists alongside reality, where they can fully live and conduct business operations on a global scale.
The construction of public facilities within the public areas of Horizon, which encompass museums, central parks, and town squares, will be carried out. Detailed information regarding said structures is as follows:
Public works: Museums, financial centers…
Public events: Exhibitions, entertainment…
Means of transportation: Cars, buses…
Game events: Arena, game launch…
Ticket box
Game Center
Horizon Land propels the development and sustainability of the gaming industry by providing players with tools and environments to fully immerse themselves in the games they create.
At Game Center, Horizon Land has:
Game store: Horizon Land offers a GameFi metaverse for entertainment and earning money, stimulating players with vivid 2D and 3D battles, regular gameplay updates, and various features. The games' origins differ, deriving from Horizon Land's large game studio partners or even creative players. Not only can creatives benefit from their games, but players can also be rewarded with tokens and NFTs. Horizon Land allows other games to join their metaverse. Other game developers are encouraged to integrate their games into Horizon Land's metaverse, enabling them to access the massive user database in this community.
Market: This is the platform where individuals may engage in asset transactions, including in-game merchandise accumulated from battles or proprietary creations attributable solely to themselves.
Creative warehouse: This is where you can freely turn your ideas into reality.
Shopping Center
Horizon Land Metaverse offers modern and sophisticated amenities that enhance the user experience to the fullest. With its exceptional features and services, Horizon Land Metaverse provides users with a remarkable sensation that surpasses their expectations.
At any given location, players have easy access to visit the Shopping Center to indulge in shopping and product testing through various means. Notably, reputable domestic and international brands will have a greater opportunity to reach potential customers, providing an avenue for revenue generation and novel advertising channels for most businesses. At the Shopping Center, players can engage in:
Build Horizon shopping center for Shopping Center partners.
Partners can register a booth and display products at the shopping center.
Users can visit and buy products.
Music Center
The Music Center has introduced a novel entertainment platform for its users, offering a prime opportunity for creators to unleash their imagination and invest in the Horizon Land Metaverse, whereby users can opt to purchase or exchange various products or newly-released assets. In this venue, players are able to engage in:
Build a music store that sells artist albums and songs or NFTs
Artists and creators can subscribe to new publications
Users can buy and sell publications
Finance Center
At the Finance Center, a comprehensive range of information pertinent to the cryptocurrency market and utilization of Decentralized Finance services is readily accessible.
Providing and developing financial services at Finance Center.
Update the latest market information and trends: List of tokens, prices…
Cryptocurrency trading.
Deposit tokens for farming/escrow, lending.
Sign up to open liquidity pools, staking and lending.
Marketplace
The non-centralized market of Horizon Land operates through smart contracts, enabling free asset exchange such as game items collected from battles or user-generated content.
Furthermore, the market operates on the principles of supply and demand, without central control. Innovators or players can set appropriate prices for their products and be ready to trade on a global scale market. ZON will be the primary token for all transactions conducted on Horizon Land's Marketplace.
Play to Earn
Horizon Land has constructed a specialized gaming center comprising a diverse range of game genres for players to engage in and earn enticing rewards, including Tokens and in-game NFTs. The center boasts several captivating features and a variety of events, such as:
PVP/PVE, Planetary exploration, Arena, Conquest…
Participants can engage in the game feature to receive rewards or earn ZON tokens by completing tasks in the game. The maximum number of ZON tokens that can be earned per day or per event varies.
Players collect in-game items or heroes and earn ZON tokens.
Social activities
Horizon Land enhances the user interactivity capabilities within the metaverse world through a variety of communication features. Whether an individual intends to converse with friends, a corporate representative seeks to connect with customers, or a community manager desires round-the-clock communication with a global community, Horizon Land provides unwavering support towards achieving these objectives. It is noteworthy that all users are not subject to any associated fees throughout the execution of the aforementioned activities.
Experience modes
At Horizon Land Metaverse, users are offered two distinctive modes of free experiential engagement:
The third-person perspective provides players with an interactive experience on their computer in which they control the character to explore the world of Horizon Land.
The VR mode (first-person perspective): Through the utilization of virtual reality devices, the VR mode has the capability to enhance the gaming experience of the user by immersing them into a more aesthetically pleasing and realistic virtual reality environment, resulting in the embodiment of various NFT characters.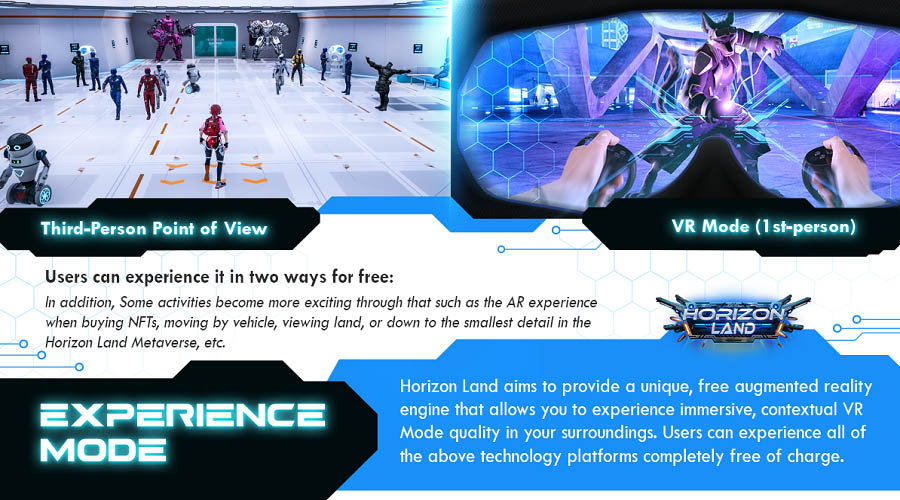 Individuals with creative skills are welcome to participate in the development and enhancement of user experience in Horizon Land's metaverse, while receiving a small fee from the capital source of Horizon Land as a reward.
Development team and investors of the Horizon Land Metaverse project
Horizon Land Metaverse Development team
The development team of Horizon Land Metaverse comprises a full-time workforce of 45 members, wherein several notable individuals deserve mention, such as:
Kenvin Dang – CEO: With 10 years of professional experience in the gaming industry within the Southeast Asian market, I have had the opportunity to develop numerous prominent game titles such as Vo Lam Chi Mong, Thien Nu, and Tam Quoc Chi.
Harry Nguyen – COO: Having 7 years of experience in startup companies, SAAS, AI, blockchain and previously being a financial consultant for corporations such as Deloitte and Unilever, Harry is a proficient and knowledgeable individual in the technical field.
Linh Nguyen – CMO: Linh possesses over six years of extensive experience in the areas of strategic planning, communications, market research and data analysis, and has participated in numerous international projects with the Ministry of Industry and Trade, embassies, consulates, multinational brands, and international media partners.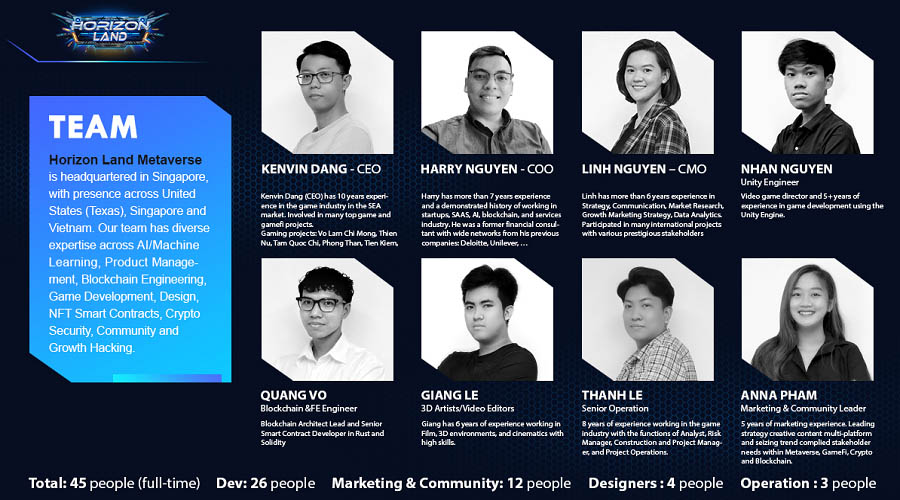 Investors
Horizon Land Metaverse has a number of investors and partners, including Minted Lab, Pluto Digital, CoinMarketCap, BitKeep, ONTO, and CertiK.
Horizon Land Metaverse development roadmap
Q4 2021 and Q1 2022
Metaverse, Gaming and NFT Market Research
Setting the style for the Horizon Land Metaverse
Design: Environment, content…
Business model
Second quarter of 2022
Build MVP Metaverse
Build the Horizon Game Center
Build NFT & LAND
Build development tools
Third quarter 2022
Cooperate with game publishers
Partnership with GameGuilds
Cooperate with Universities to build E-learning features
Beta version of metaverse platform launched
Start Horizon Center
Metaverse Platform Launch: Chat, Group Features
Launch of Game Center: Horizon Land Game
Land consolidation and auction features
4th quarter 2022
IDO
List tokens on the exchange
Launching Staking/Farming feature
Officially launched the metaverse
NFT Marketplace Launch
Launch development tools
Auction functionality on the NFT Marketplace
LAND release features: Rental
First quarter of 2023
INO LAND
KNIFE
Launching a tournament of games
Release a live streaming campaign
Integrated VR mode
Host metaverse festivals
Shop
Overview of ZON token
What is ZON token?
The ZON token serves as the primary means of exchange within the Horizon Land Metaverse, offering the following range of functionalities:
Administration: ZON is a governance token that enables the owners to participate in the management decisions of the platform. They are empowered to cast their votes on key factors and updates in Horizon Land's metaverse world. The ZON owners can either vote independently or delegate their voting rights to other players of their choice.
Staking/Farming: ZON can be Staking/Farming to generate passive income for owners.
Using Horizon Land's services: Users expend ZON in order to engage in gaming, acquire LAND, undertake asset transactions on the marketplace, and employ an array of additional services within the Horizon Land universe.
Exchange: Holders can trade ZON on exchanges.
Detailed information about ZON token
Ticker: ZON
Blockchain Network: BNB Chain
Total Supply: 200.000.000 ZON
Detailed information regarding the distribution ratio of ZON tokens and the schedule of allocation can be observed in the image provided below, which is accessible to readers.
It is possible to securely store the ZON token on wallets that support the BEP-20 token standard, including but not limited to MetaMask and Trust Wallet.
Summary
The above information pertains to the Horizon Land Metaverse project and ZON token. Horizon Land is a decentralized platform that enables players, creators, and enterprises to own a part of the metaverse, participate in management and economy, experience gaming centers, and buy/sell LAND. In the future, the Horizon Land team will build a unique way for users to freely immerse themselves in the virtual world of Horizon Land.
The above information was researched by the team at 247btc.net. We hope that this information will be helpful to our readers. However, please note that this is not investment advice, but rather an informational channel. Therefore, investment decisions should be carefully considered.