The emergence of the thriving NFT game trend has led to the creation of Wemix (WEMIX) as a means to satisfy the entertainment and investment needs of the gaming community and investors. So, what exactly is Wemix (WEMIX)? Are there any investment opportunities for the project? Where can one trade the WEMIX coin? 247BTC aims to provide comprehensive answers to these questions through the article below in a formal and informative manner.
What is Wemix (WEMIX)?
Wemix is a Blockchain gaming platform developed by Wemade Tree, a Korean company specializing in providing services related to cryptocurrency, such as token swapping, wallets, connections to gaming portals, and NFT transactions. Wemade Tree is known as one of the prominent subsidiaries of Wemade, which is the developer and owner of The Legend of Mir intellectual property.
The Wemix project has been created based on the concept of GameFi and gamification of the Blockchain financial system, combined with a gaming model for earning money. This platform enables users to buy, sell, exchange, and trade NFTs (digital collections).
What is the development mission of Wemix (WEMIX)?
Wemix has succeeded in inheriting the achievements of its predecessor, The Legend of Mir, from the renowned gaming company WEMADE, and has subsequently developed several blockchain-based games. This has enabled easy access to the gaming ecosystem for all user groups, obviating the need to create an e-wallet since the games can be played through the game application available on the Play Store.
In actuality, the video game industry is an extremely competitive field, but it is also a lucrative market for developers. To ensure the longevity of a game, developers should create numerous installments in order to retain users. As such, games based on Wemix are developed within an interconnected ecosystem. Moreover, developers, users, and platform providers interact to produce long-term games. Wemix is built on the principles of sharing, a robust circulation structure, and transparency.
In June 2021, Wemix released their first blockchain-based game, CrypTornado. Following this, the Wemix development team introduced several new games including Blade: Re.Action, Rise of Stars, GalaxyTornado, MIR4, AquaTornado, FishingTornado, and more. These games have been added to their repertoire to offer players a diverse selection of gaming experiences.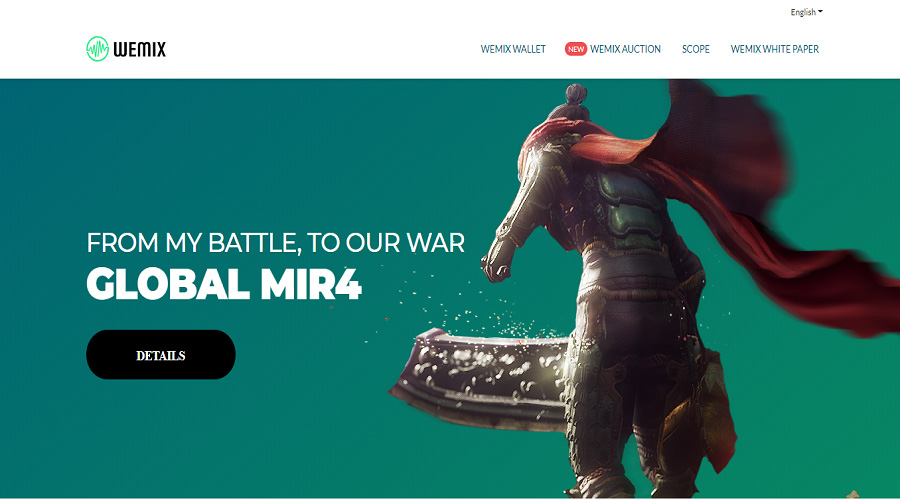 Whilst experiencing these games, it is possible to acquire unique items in the form of NFTs. Additionally, these NFTs can be converted into Wemix tokens. It is noteworthy that Wemix has accumulated over a million downloads on the Google Play store within its first three months.
Despite the government's cautious approach towards blockchain-based games, the gaming landscape in Korea is driving the pursuit of Non-Fungible Tokens (NFTs) through gameplay. Prominent in this trend is Wimex, a thriving ecosystem that has already produced over ten games.
Some key features of the Wemix platform
Wallet
This product is built into the Wemix ecosystem. Wemix's electronic wallet provides a diverse range of features, such as secure management and support for the transfer of digital assets. Additionally, users can collect various types of digital assets using multiple methods. Typically, these assets can be acquired through gaming or trading on the market for profit.
NFT Auction
The NFT Auction is a marketplace exclusively designed for artists and NFT collectors. This feature enables users to access and experience the new world of NFTs, as well as invest in other scarce digital items.
In addition, Wemix's NFT Auction supports users in auctioning items such as pieces of artwork and digital illustrations. As a result, individuals can participate in bidding wars to become owners of these goods.
Scope
Utilizing the Wemix Scope feature, you can effortlessly extract data by monitoring the status of the network and analyzing statistical figures such as tokens, NFTs, transactions, and blocks provided by Wemix platform.
3 outstanding games on the Wemix ecosystem
MIR4
This game allows players to enter a vivid imaginary world strongly influenced by Eastern culture. Here, individuals can engage in various activities such as farming, hunting, and joining powerful factions to battle. Unlike traditional RPG games, MIR4 operates on a Blockchain platform, enabling players to earn and trade cryptocurrency for real-world cash.
Galaxy Tornado
The game, Galaxy Tornado, is an impressive creation from the developer Wemix. It offers support for up to 15 different languages, and enables players to explore various planets throughout the galaxy in order to gather resources for planetary construction. Galaxy Tornado is a highly engaging game that is sure to captivate enthusiasts of world-building.
Cryp Tornado
Cryp Tornado is a 3D role-playing game designed on the blockchain and published by Wemade Tree. The game is set in a fantasy world inspired by medieval mythology from the Western countries. Players assume the role of a knight embarking on a quest to liberate a sacred land occupied by monsters.
Detailed information about the Wemix project (WEMIX)
What is WEMIX?
WEMIX is the original cryptocurrency of the Wemix platform and serves as the benchmark for the current value of the Wemix ecosystem. By owning WEMIX, individuals can maximize both their entertainment and economic value, contributing to the competitiveness and sustainability of the ecosystem.
Key Metrics
Token Name: WEMIX token
Ticker: WEMIX
Blockchain: Klaytn
Contract: 0x5096db80b21ef45230c9e423c373f1fc9c0198dd
Token Standard: N/A
Token Type: Utility
Total Supply: 964,548,497.
Circulating Supply: 251,168,096
Allocation
Private Sale: 10%.
Team & Advisor: 9%.
Ecosystem: 74%.
Marketing: 7%.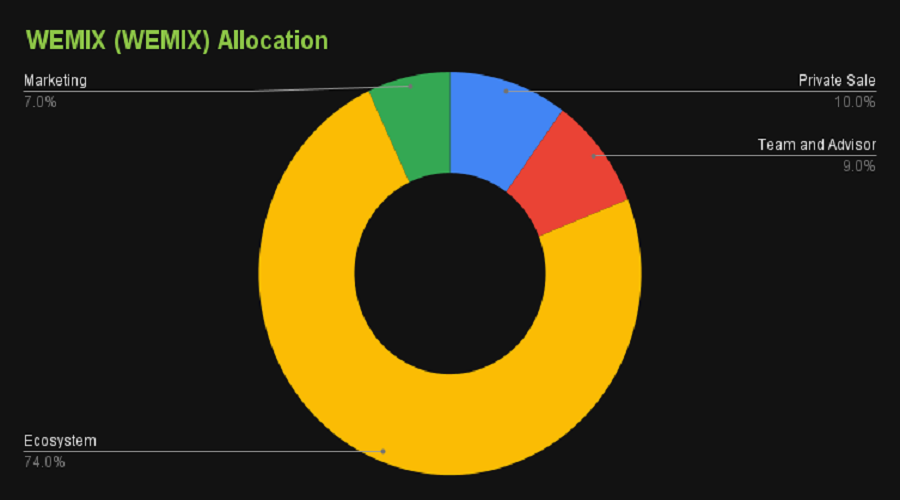 Roadmap & Update
1/7/2022
Have a plan to deploy Testnet
Started the Testnet phase and launched the WEMIX wallet + administrative DApp.
Launching the brand new Wemix Play platform.
20/10/2022
Create Genesis Block & mint WEMIX on new Mainnet.
22/10/2022
Integrate DEX, Bridge, Swap and Borrowing protocols.
Deploy 100% collateralized stablecoin.
11/11/2022
Launch the Neith protocol and facilitate the development of DAO proposals.
Where to store WEMIX coin?
It is possible to store WEMIX coins in various wallets, including Wemix Wallet, Metamask, Trust Wallet, Ledger, and Trezor.
Where to buy WEMIX coin?
At present, the WEMIX coin is being stored on various reputable exchange platforms such as: Huobi, Gate.io, BitMart, MEXC, Bybit
Team, Investor & Partners
At present, the official website of Wemix does not provide any updated information about their team of developers and partners. Tino Group has undertaken the responsibility to update the website promptly with any new information regarding the project.
WEMIX is currently considered by many experts to be one of the most promising platforms in the realm of monetizing gaming. Its potential for strong future growth is widely predicted.
It is hoped that the aforementioned article has provided readers with a clearer and more concise understanding of the Wemix (WEMIX) project. To stay informed on intriguing cryptocurrency articles, please continue to follow 247BTC.