The recent surge of the Trend Play to Earn phenomenon has provided a launching pad for numerous game development projects on blockchain platforms. In addition to game development, it has also enabled the growth of many other areas, including yield farming. One particularly noteworthy example is Yield Guild Game, a DAO focused on investing in and developing projects in the Game/NFT field. To explore the unique aspects of Yield Guild Game and its token YGG, please refer to the article below.
What is Yield Guild Games (YGG)?
Yield Guild Games is a decentralized autonomous organization (DAO) that invests in NFTs used in virtual worlds and games on various blockchains. The organization's mission is to establish the largest virtual world economy by optimizing community-owned assets to achieve maximum utility, and to share its profits with token holders of YGG.
The prominent feature of Yield Guild Game
Prior to joining the project, Yield Guild Game established a community first. The community consists of up to 90% of members who are new to Crypto and have recently engaged in the Play to Earn trend to enter this market. The majority of members are from Philippines, Indonesia, India, Venezuela, and Brazil.
It can be asserted that Yield Guild Game represents an epitome of NFT value maximization within virtual worlds and gaming, empowered by a DAO-operated Smart contract and encompassing a range of activities such as:
The objective is to establish a gaming community where users are incentivized to play for financial gain, competing for tokens, similar to the approach taken by renowned platforms such as Axie Infinity, where players must fight to earn tokens.
One can generate revenue by selling or leasing NFTs that belong to Yield Guild Games, such as renting out land in Sandbox or selling and leasing Axies in Axie Infinity.
Allows the community to participate in the DAO by voting and proposing.
Our objective is to collaborate on game research and development for gamers within DAO in order to generate profits through arbitrage by competing in Metaverse-related games.
The business model of Yield Guild Game will be as follows:
The main revenue comes from NFTs owned by Yield Guild Game.
In the event of assets such as land, revenue may derive from a third party (unaffiliated with the Guild) conducting economic activities on said land.
The ownership rights of non-fungible tokens (NFTs) derive benefits from the increasing economic value within a gaming ecosystem, which is reflected by the market value of the respective NFTs.
All activities within Yield Guild Game will be evaluated based on the fully diluted market capitalization (FDV) of the YGG token.
The selection criteria for games by Yield Guild Game
Virtual economy based on land (Land) that can be acquired.
Virtual economy with native tokens.
There is a Play-to-Earn function that allows players to be rewarded with native tokens for in-game activities.
In its initial stage, Yield Guild Game intends to opt for the following games: Axie Infinity, The Sandbox, and League of Kingdoms, respectively.
The preceding ideas illuminate that Yield Guild Game aims to establish a community for the game in which they invest. While the game may fork, the community remains intact. Consequently, the partnership between Yield Guild Game and the game is mutually beneficial. Yield Guild Game earns investment profits while the game benefits from an active community.
The YGG token of Yield Guild Game represents an index collection of NFTs within various Metaverse platforms.
Detailed information about YGG token
Key Metrics YGG
Token Name: Yield Guild Game.
Ticker: YGG.
Blockchain: Ethereum.
Token Standard: ERC-20.
Contract: 0x25f8087ead173b73d6e8b84329989a8eea16cf73
Token Type: Utility, Governance.
Total Supply: 1,000,000,000 YGG.
Circulating Supply: 87,906,250 YGG.
YGG Token Allocation
Community: 45%
Investors: 24.9%
Founder: 15%
Treasury: 13.3%
Advisors: 1.85%
YGG Token Sale
Updating…
YGG Token Release Schedule
YGG Use Case
Currently you can Stake YGG to:
Receive token rewards related to overall activities.
Get rewards related to activities.
For exclusive content.
Vote and join the DAO.
Sign up for exclusive purchases.
Furthermore, the YGG token serves as a digital means of exchange for remunerating services procured within the network infrastructure
YGG Trading
YGG is currently traded on Kucoin, Binance, or Coin98 Exchange.
Roadmap & Updates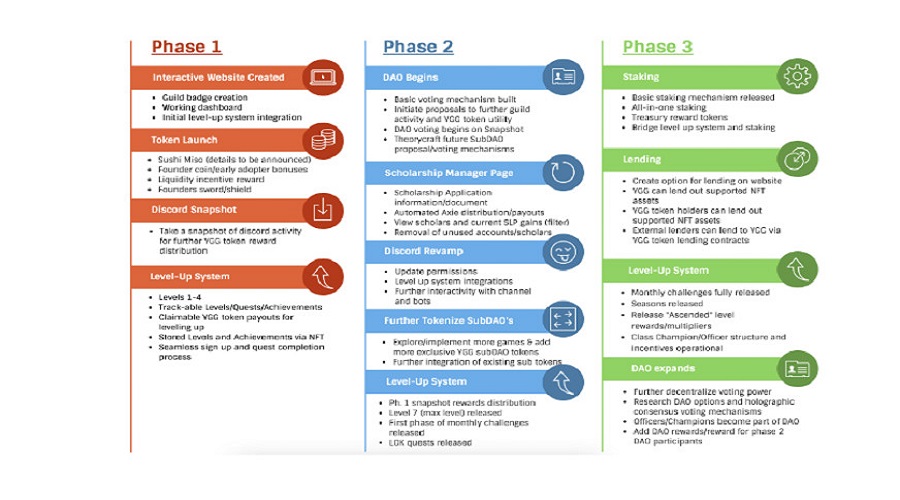 Project team, investors & partners
Yield Guild Games Project team
Founded by fintech entrepreneur Beryl Li, a former Cambridge University student and former chair of the cryptocurrency association in 2016, and blockchain developer Owl of Moistness, in collaboration with Gabby Dizon, a dynamic member of the Yearn Community, Axie Infinity, and the Blockchain Game Alliance, the Yield Guild Games project has since grown to include a team of over 20 members, with Nolan Manalo (Nate) at the helm of the game operations department.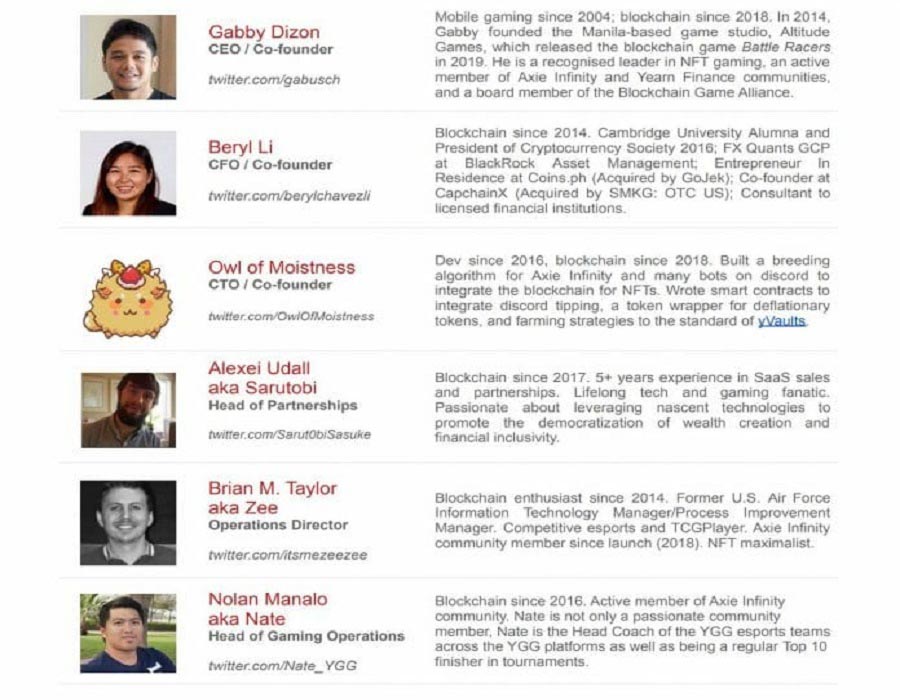 Investors & Partnership
The project has successfully raised a whopping 1,325 million dollars from investment funds such as Delphi Digital, BlockTower, Scalar Capital, Youbi Capital, Ascensive Assets, gumi Cryptos, Animoca Brands, Dialectic, SevenX Ventures, Sparq Ventures, Matic (Polygon), Sfermion, Bitscale Capital, Flamingo DAO, and Free Company.
Furthermore, in July 2021, the project garnered an additional funding of USD 4.6 million from a16z, Kingsway Capital, Infinity Ventures Crypto, Atelier Ventures, and Gabriel Leydon.
The Yield Guild Games project aims to establish the world's largest virtual economy. The project focuses on play-to-earn games such as Axie Infinity, The Sandbox, and League of Kingdoms. With this article, readers have gained preliminary knowledge about the project, enabling them to make investment decisions according to their preferences. Please note that 247btc.net cannot be held liable for any investment decisions made. Wishing you success and abundant profits in this promising market.