The present-day life of human beings heavily relies on the internet, particularly wireless networks such as WiFi. Nevertheless, the security issue regarding user data remains a significant drawback of traditional wireless networks. In utilizing the power of blockchain technology, the Helium ( HNT coin ) project has emerged with the objective of establishing the most secure internet network. In this context, it is worth exploring the specifics of what Helium ( HNT coin ) is.
What is Helium crypto ( HNT coin )?
Helium is a decentralized wireless peer-to-peer network built on blockchain technology. Its operating principle is based on Proof of Coverage and a novel consensus algorithm founded on HoneyBadger BFT. Helium is primarily utilized for routing data over long-range and low-powered IoT devices.
Helium was established based on blockchain technology and was officially launched into the community on July 29th, 2019. Helium is an open-source and secure platform that enables developers to build low-power and fast internet-connected devices.
What is the standout feature of Helium?
The technology developed by Helium enables individuals to construct cost-effective, secure wireless infrastructure. This infrastructure facilitates the transmission and receipt of data by low-power electronic devices to and from the internet.
Helium has the following features:
Helium Hotspot
An affordable hardware device that serves as both a miner and a wireless access point for the Helium blockchain is available.
Helium Console
The Helium Console tool serves as a device management platform allowing developers to register, authenticate, and manage their devices on the Helium network. Besides facilitating device management, Helium Console also offers readily available connections for routing device data via HTTP or MQTT.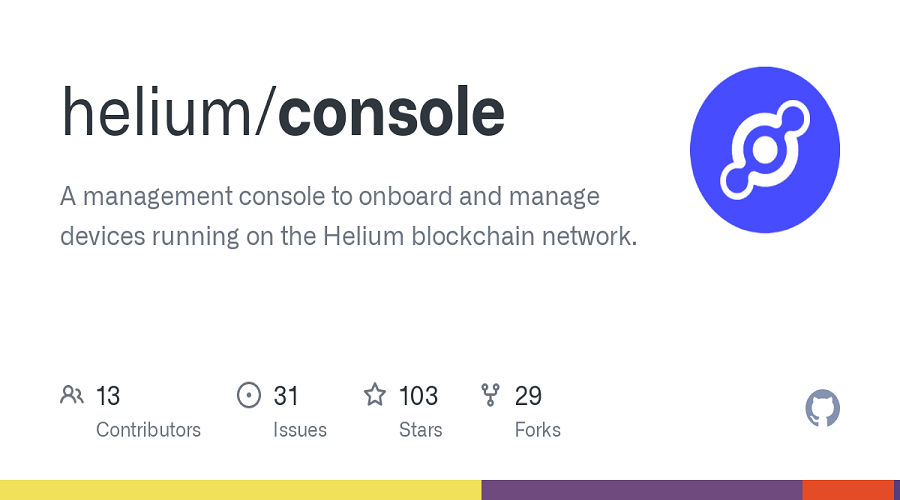 LongFi
The LongFi technology amalgamates the LoRaWAN protocol with the Helium blockchain, thereby enabling any LoRaWAN devices to transmit data into the Helium blockchain. The LongFi is endowed with the following features:
The LongFi technology enables effortless integration of multiple devices for a company without the need for supplementary configuration or third-party assistance.
The process of transferring devices involves mapping integrated devices with IDs stored on the blockchain, allowing them to send data across the network through any available hotspot.
The LongFi technology enables device owners to earn HNT tokens when their devices transmit data through the network. This allows HNT token acquisition for the ownership of devices that are equipped with LongFi.
Helium network provides support for LoRaWAN, enabling the transmission of data from any LoRaWAN device or sensor with minimal configuration requirements.
Helium Tabs
The application called Tab Helium is designed for tracking locations and is connected with the Helium network. Through this application, you can monitor possessions such as pets, luggage, keys, or other assets within the network coverage area of Helium's network.
Helium coin information
What is HNT coin?
The HNT coin serves as the native token of the Helium blockchain, finding its utilization in two fundamental purposes as delineated below.
Mining rewards: Earning HNT through Hotspot involves the construction and secure maintenance of network infrastructure as well as the transmission of data.
Payment for network services: The HNT token is utilized for the purpose of generating Data Credits, which entail sending data through the Helium network and converting Helium tokens, and are responsible for paying service fees.
Key Metrics HNT coin
Token Name: HNT Token
Ticker: HNT
Blockchain: Helium Blockchain
Token Standard: update
Contract: Updating
Token Type: Native
Total Supply: Not fixed
Circulating Supply: 45,159,766 HNT
Token Allocation
Token Sale HNT coin
Although HNT is not offering a Pre Sale, it should be noted that Helium's Security Tokens (HST) were sold to investors between 2014 and 2020, totaling $55M raised by the Helium team.
HST holders will be entitled to receive 34% of the mining rewards, while investors will receive 21.50%, and the remaining portions will be distributed among the project team in accordance with an equitable sharing mechanism.
Token Release Schedule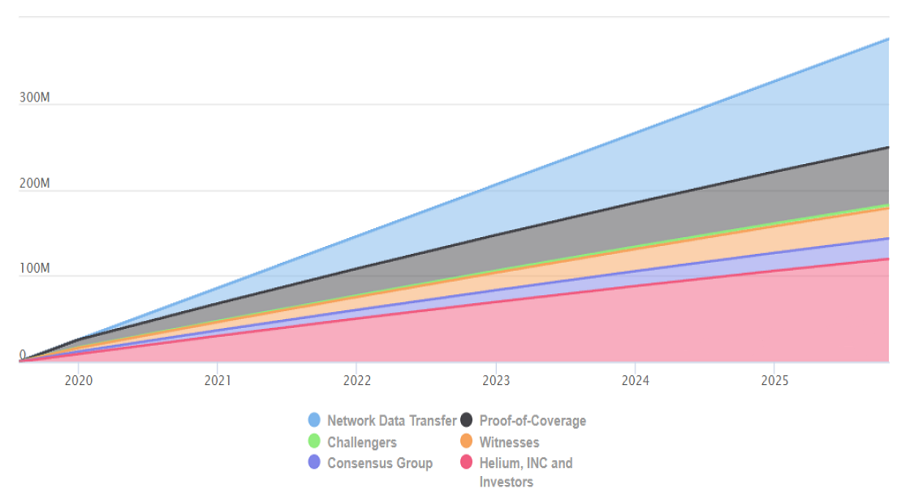 Token Use Case
The native token of the Helium blockchain, abbreviated as HNT, serves dual fundamental purposes, which are as follows:
Mining rewards: One can earn HNT through a Hotspot by constructing and ensuring the security of the network infrastructure, as well as transmitting data. This process requires a diligent approach to safeguarding sensitive information and maximizing the functionality of the network.
Payment for network services: The HNT token is utilized for the purpose of generating Data Credits, which necessitates the transmission of data through the Helium network and its subsequent conversion into Helium token, to be held accountable for the payment of service fees.
Note: Prior to the official launch of Data Credits in August 2020, Helium Hotspots did not assess fees for network services.
Earn and own HNT coin
Through the act of operating Hotspots, individuals are able to potentially obtain HNT. In order to receive HNT, Hotspots must submit proof of wireless coverage at a specific location and time which is verified through cryptographic means.
The amount of HNT incentive is contingent upon the quality of the coverage area provided by Hotspots and the transfer of LongFi sensor data to the devices on the network.
Additionally, it is possible for individuals to purchase HNT through supported exchange platforms.
Roadmap & Updates HNT coin
Q3 2020:
Release Miner Pro, allows any LoRaWAN gateway to join the Helium network.
Q4 2020:
Release of Google Cloud Platform and Microsoft Azure integration.
Released libp2p implementation improvements including migration to Kademlia Distributed Hash table
Release updates to the PoC algorithm, including staking.
Integrating wireless technologies including Wifi 6 and 5G/LTE.
Team, Investors & Partnership
Team
Advisors & Investor
Partnership HNT coin
Nestle ReadyRefresh: A customer in Connecticut was among the first to test the Helium network for water monitoring.
Agulus: Agulus utilizes the Helium network to automate water distributing based on wireless sensors connected to Helium Hotspots.
Lime: Lime is a global service provider of bike and scooter sharing, and utilizes the Helium network to locate misplaced bikes and scooters.
Conserv: Conserv is establishing a connection to the Helium network in order to disseminate comprehensive information pertaining to works of art
Careband: Careband offers wireless wrist devices to consumers for tracking the location and temperature of individuals working in hospital or office environments, assisting in monitoring COVID-19 related contacts. Currently, Careband employs the Helium network to track the location of these wrist devices.
BCycle: BCycle provides bicycle sharing services in the United States and is currently utilizing the Helium network to track bicycles.
Conclude
The design of Helium aims to establish a network for LoRaWAN-enabled IoT devices in a decentralized manner. The majority of HTN tokens are distributed among miners who contribute to the network, resulting in the rapid growth of Helium's network.
At present, a considerable number of practical application devices have been developed and are being used on the Helium Blockchain. This indicates the significant potential of Helium and highlights its worthiness for investment consideration.