The Internet of Services Foundation (IOSF) has developed IOST as a public blockchain platform with the objective of establishing a secure, decentralized network for decentralized applications (dApps). This article aims to explore the nature of IOST and its associated currency, IOST Coin, as well as provide guidance on where to purchase and create an IOST wallet. Finally, we will consider the question of whether investing in IOST Coin is recommended.
What is IOSToken ( IOST coin )?
IOSToken is a highly secure and scalable blockchain platform that serves as a facilitator for Internet Of Services (IoS) transactions. Initially built using the Ethereum blockchain standard ERC-20, IOSToken has now transitioned to the IOSChain platform after completing Mainnet on February 25, 2019. The platform is designed to meet the needs of various internet-based services that require secure and efficient transactions.
Thanks to the Proof of Believability (PoB) consensus mechanism and the Efficient Distributed Sharding (EDS) system, IOST blockchain can manage up to 100,000 transactions per second while optimizing both block creation speed and transaction confirmation.
One notable aspect of iOSToken
By integrating Internet of Service with Blockchain technology, IOSToken leverages five distinct technologies:
Proof-of-Believability (PoB)
The IOST platform incorporates the Proof of Believability (PoB) consensus mechanism to ensure the scalability of transactions within its network by classifying nodes into two categories: Believable Nodes and Normal Nodes.
When conducting transactions on the network, Believable Nodes are the first to confirm in order to ensure transaction speed. Afterwards, Normal Nodes sample and verify these transactions to ensure the integrity of the Believable Nodes.
In the event that a Normal Node successfully detects the operation of a deceitful Believable Node, said Believable Node will forfeit all of its IOST tokens and its credibility rating will revert back to 0.
Micro State Block (MSB)
IOST has implemented the Mirco State Block (MSB) solution to reduce storage volume and bootstrapping for Validators on their blockchain network. This addresses a crucial issue faced by current blockchain systems, where every block is recorded regardless of whether it contains any transactions, resulting in increasing storage requirements over time. The long-term implications of this phenomenon can lead to a blockchain that is overly burdensome.
For instance, in order to become a node of the current Bitcoin network, it is necessary to download over 200GB of data from within the Bitcoin network.
Efficient Distributed Sharding (EDS)
IOST incorporates the EDS system, which enables the division of workloads among nodes and facilitates tracking of task volume across nodes and the overall network status.
In the event that a processing node becomes overloaded with tasks, the EDS system will designate another node to allocate and distribute a portion of the workload. This feature facilitates the linear scalability of the network when new nodes are integrated into the ecosystem.
TransEpoch
The TransEpoch algorithm ensures consensus of Byzantine Fault Tolerance (BFT) for every segment on the IOST network.
Utilizing this protocol, IOST is capable of preventing the infiltration of malicious nodes that may have the ability to take over segments during a transition between epochs, while at the same time maintaining the ability to authenticate legitimate transactions.
Atomix
When a blockchain implements sharding, there is a potential risk of the network being vulnerable to Double Spend Attacks across the shards. To tackle this, IOST employs Atomix, a Byzantine Shard Atomic Commit protocol, to ensure secure and seamless transactions across the different shards.
This measure serves to prevent Double Spend Attacks and ensures the consistency of transactions.
Detailed information about IOST coin
Key Metrics IOST
Ticker: IOST.
Blockchain: Internet of Services (IOS).
Consensus: Proof of Believability (PoB).
Token type: Utility Token.
Token Standards: IRC-20, IRC-21 & IRC-721.
Avg. Transaction Time: 7,000-8,000 TPS.
Total Supply: 21,000,000,000 IOST.
Circulating Supply: 12,013,965,609 IOST.
IOST Token Allocation
With the creation of 21 billion IOST from the Genesis Block, the total supply of IOST coin is allocated according to the following ratio:
40% sold through Private Sale.
10% is held by IOSToken development team with unlock time in January 2019.
2.5% is held by Advisors & Equity Investors.
5% is sold to strategic partners (Strategic Sale).
35% is the IOST (Token Treasury) budget.
5% used for community development activities (Community).
2.5% is the budget used for business development and marketing (BD & marketing).
IOST Token Sale
The IOST coin is exclusively available for purchase via the Private Sale and undergoes three phases as detailed in the image below.
IOST Token Released Schedule
The data reflecting the quantity of IOST coins in circulation on the market shall be portrayed through the graphical representation presented below.
It can be observed that IOST releases its funds gradually, in contrast to other projects which do so in one large transaction. Consequently, the longevity of IOSToken can be sustained, and there will be minimal impact on the value of IOST upon disbursement.
IOST Token Use Case
The IOST coin plays a crucial role in the network of IOSToken and serves various purposes, including but not limited to:
Payments: Pay for services and products provided by IOS Platform.
Commission: The payment of "commission" fees to validators is essential for ensuring stable operations such as transaction verification and Smart Contract deployment across the network.
Believability: Calculate the trust score of users in the IOS network.
It can be observed that the value of IOST coin is likely to appreciate as the number of decentralized applications and users utilizing it increases. Furthermore, an increase in the number of nodes on the network is also expected.
IOST transaction fees
When transferring IOST coins within the IOSChain network, a transaction fee will be incurred by users. The amount of this fee will depend on the stability of the network at the time the transfer is initiated.
In addition, it is necessary to pay deposit and withdrawal fees at various trading platforms, with the fee level varying depending on each platform. Prior to executing any deposits or withdrawals, it is recommended that you consult the relevant fees for each platform.
Development roadmap of IOST Coin
Q1 2018: IOST was established and deployed the first test network (testnet).
Q2 2018: IOST launches the official version of the network and begins rolling out the first decentralized applications on its platform.
Q4 2018: IOST launches a wallet browser that allows users to store and manage IOST tokens.
Q1 2019: IOST collaborates with industry partners to deploy blockchain services for practical applications.
Q2 2019: IOST launches the next version of the network with transaction processing speed doubled compared to the previous version.
Q3 2019: IOST implements sharding on the network to increase transaction processing speed.
Q1 2020: IOST introduces a cross-chain protocol to connect the IOST network with other blockchain networks.
Q2 2020: IOST implements blockchain data verification to increase the security and reliability of the network.
Q4 2020: IOST launches the next version of the network with enhanced performance and new multi-chain capabilities.
Q3 2021: IOST launches the next version of the network, accelerating transaction speed, reducing transaction costs, and expanding the network's scalability.
Going forward, IOST will continue to develop and improve the features of the network to meet the needs of users and make blockchain more popular in daily life.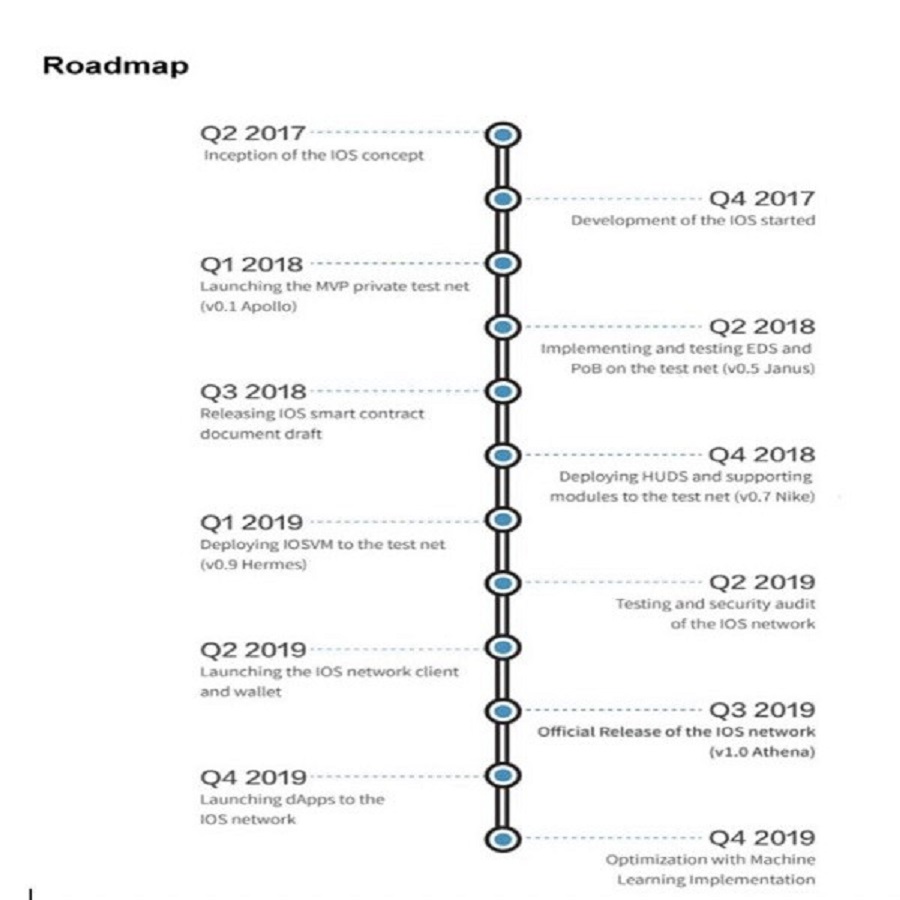 IOST Founding Team, Investors & Partners
Who is the founder of IOST Coin?
The establishment of IOST was helmed by a group of blockchain experts, software engineers, and financial market specialists. The founders of IOST comprise of the following:
Jimmy Zhong – CEO and co-founder
Jimmy Zhong is the CEO and co-founder of IOST, a leading blockchain platform. Prior to establishing IOST, he gained valuable experience working for various top-notch technology and financial companies, including Credit Suisse, Morgan Stanley, and McKinsey & Company. Mr. Zhong graduated from Harvard Business School with an MBA and earned his Bachelor's degree from Georgia Tech. Throughout his career, Mr. Zhong has received numerous accolades for his outstanding achievements and is recognized as one of the pioneering young leaders in the blockchain industry.
Terrence Wang – CTO and co-founder
Terrence Wang, who holds the position of CTO and co-founder of IOST, possesses an expertise of over ten years in the field of information technology and software development prior to his involvement with the company. He has worked in esteemed technology companies such as Uber, Microsoft, and Salesforce, and has additionally co-founded numerous blockchain projects before joining IOST. Terrence Wang's contribution to various open-source blockchain projects has earned him recognition as one of the top experts in blockchain technology and software development, given his extensive experience and professional background.
Justin Li – COO and co-founder
Justin Li is the COO and co-founder of IOST, boasting over 7 years of experience in the financial and investment field prior to joining the company. With his previous roles at reputable organizations such as PwC, Credit Suisse, and CLSA, specializing in corporate finance and asset investment, Justin Li holds a Bachelor's Degree in Economics from the University of Warwick and a Master's Degree in Finance from the University of London. Leveraging his wealth of expertise and skills, Justin Li plays a pivotal role in establishing partnerships with financial institutions and organizations, effectively positioning IOST as one of the most prominent blockchain technologies in today's market.
Ray Xiao
Ray Xiao, the CEO and co-founder of IOST, boasts over 10 years of experience in the technology industry prior to entering the blockchain field. Having previously worked for prominent technology companies such as Oracle and Uber, Ray Xiao has cemented his position as a significant contributor to the development of blockchain in China. As one of the co-founders of the Blockchain Application Research Institute and a leading blockchain expert in China, Ray Xiao was nominated for the Forbes 30 Under 30 list and is recognized as one of the most outstanding young entrepreneurs in China. With his vision and expertise, Ray Xiao has helped IOST become one of the fastest-growing and most highly-regarded blockchains on the market.
Kevin Tan – co-founder and investment expert
Kevin Tan is a co-founder of IOST and is a renowned blockchain investment expert with over ten years of experience in financial investment and business. Prior to joining IOST, he worked as an investor at Sequoia Capital China, one of the leading investment firms in China. With his expertise in investment and blockchain development, Kevin Tan is regarded as one of the top experts in these fields in China. His experience and vision have been instrumental in the development of IOST and contributed significantly to its high evaluation in the market as one of the most highly regarded blockchains.
Who are the investors of IOST Coin?
Many leading investors in the blockchain industry have provided support for IOST. Some of IOST's investors include Sequoia China, Matrix Partners China, ZhenFund, INBlockchain, as well as companies such as Binance Labs, Huobi Capital, OK Blockchain Capital and numerous individuals.
During a fundraising round in the year 2018, IOST was successful in securing more than 35 million USD from prominent investors. Sequoia China and Matrix Partners China acted as the main investors during this funding round, contributing approximately 10 million USD towards the project.
IOST's development and network expansion have been greatly aided by the support of prominent investors, enabling the project to swiftly ascend to one of the highly-regarded blockchains in the market.
Who are the partners of IOST Coin?
IOST has formed partnerships with several major players in the blockchain industry as well as other fields. Listed below are some notable partners of IOST:
OnBlock: This is a payment and cryptocurrency platform developed by Deloitte's Blockchain Ventures team, utilizing IOST technology to build a global payment network.
Polkadot: IOST has collaborated with Polkadot to develop a scalable cross-chain blockchain system that enables IOST applications to be deployed on the Polkadot network.
JustCo: This is a leading workspace-sharing company in Asia that utilizes IOST's blockchain technology to establish a trading platform for its customers.
Cocos-BCX: IOST has collaborated with Cocos-BCX, a leading blockchain gaming platform, to enhance the development of blockchain gaming applications and provide support for game developers to create unique blockchain products.
Donnie Finance: IOST has collaborated with Donnie Finance to offer blockchain-based services for lending and leasing of both tangible and intangible assets.
Chainlink: In order to increase the reliability of IOST applications, a collaboration has been established between IOST and Chainlink, a blockchain network system that facilitates the integration of external data with blockchain.
In addition, IOST has established numerous partnerships with various entities operating in diverse fields, such as MakerDAO, Infura, Kyber Network, Band Protocol and numerous other notable corporations.
Investors
The roster of investment funds that have made contributions towards IOST includes notable entities such as Huobi Capital, Matrix Partners, INBlockchain, Zhenfund, among others.
Summary
The IOSToken exhibits immense potential to emerge as a significant blockchain platform comparable to Ethereum or EOS, as evidenced by the increasing number of dapps developed on IOST. However, despite this encouraging trend, IOST still faces several challenges, including intensifying competition from rivals operating in the blockchain platform segment.