The blockchain platform IoTeX has been developed in conjunction with the Internet of Things (IoT). To learn more about this project, please read on. The IOTX token is regarded as a virtual cryptographic "fuel" utilized on the IoTeX platform for executing transactions and running on decentralized applications. Since its launch, IOTX has garnered significant attention from the crypto community. What is IOTX, and what sets this project apart?
What is IoTeX ( IOTX coin )?
IoTeX is a decentralized network designed for the Internet of Things (IoT) industry, supported by a centralized private blockchain. The main objective of IoTeX is to address all the challenges faced by the IoT industry such as low adoption rates and limited scalability by leveraging blockchain technology.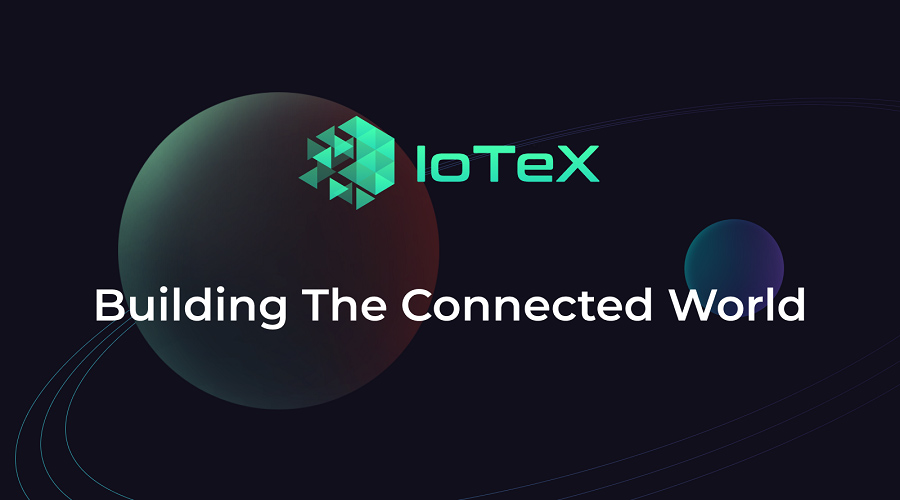 IoTeX believes that the IoT industry holds immense potential, but there is still a long way to go before it can be widely adopted by people. One of the key challenges in the IoT industry today is the lack of high-quality applications that can attract users to incorporate IoT technology in their daily lives. IoTeX sees itself as a platform that can be used to develop such quality applications.
The IOTX Token serves as the primary cryptocurrency within the IoTeX ecosystem and functions as a form of virtual cryptographic fuel for executing specific network operations, such as conducting transactions, executing decentralized applications, and rewarding individuals who contribute quality contributions to the system.
The noteworthy features of IoTeX ( IOTX coin )
The primary features encompassed in the IoTeX platform are as follows:
Quick consensus: The IoTeX platform has achieved rapid consensus through the utilization of RDPoS technology, which supports the resolution of tasks on millions of nodes with high accuracy and low latency in an environmentally-friendly manner. This specialized system is designed specifically for IoT.
Built-in security: IoTeX has incorporated various privacy protection techniques to ensure the utmost privacy for its users. This is achieved through features such as anonymous addresses and constant-sized ring signatures, which enable a high level of anonymity.
Automatic device coordination: IoTeX has established a decentralized autonomous organization (DAO) specifically dedicated to the development of customized rules for the "robot world", an essential component of the IoT industry. Through the use of this DAO, the community is empowered to create standardized regulations applicable across various networks of IoT devices.
Blockchain in Blockchains: Similar to Plasma, IoTeX will separate subsets of chains from the main chain for independent processing, with the aim of enhancing privacy, scalability, and interoperability. IoTeX refers to this as the "blockchain within blockchains" or "cross-chain value transfer of data."
Comprehensive details pertaining to the IOTX coin
Key Metrics IOTX 
Ticker: IOTX.
Blockchain: IoTeX.
Consensus: Roll-Delegated Proof of Stake (Roll-DPoS).
Token type: Coin.
Avg. Block Time: 10 seconds.
Avg. Transaction Time: 2000+ TPS (Alpha Mainnet).
Total Supply: 10,000,000,000 IOTX.
Circulating Supply: 2,525,040,005 IOTX.
IOTX Token Allocation
Private Sale: 24%.
IoTeX Team: 15%.
IoTeX Foundation: 25%.
Roll-DPoS Mining:12%.
Ecosystem Development: 18%.
Community Development: 6%.
IOTX Token Sale
In January 2018, IoTeX conducted a Private Sale which successfully raised a total of 25,000 ETH, approximately worth $25 million at that time. The fundraising was executed at a rate of 1 IOTX to 0.0000125 ETH.
The IOTX in the Private Sale round was paid in full in 2018-2020.
IOTX Token Release Schedule
The chart below depicts a detailed overview of the quantity of IOTX tokens that will be circulating within the market on a monthly basis.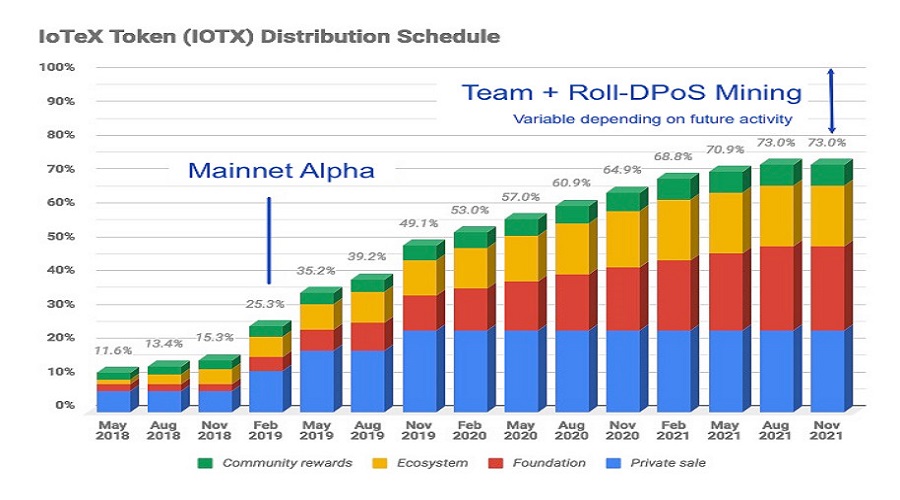 IOTX Token Use Case
The IOTX token plays a pivotal role within the IoTeX network, as it is specifically engineered to serve several essential purposes, including:
Users pay for DApps, services, Stake/vote for Delegates.
Encourage Dev to develop DApps and devices.
Delegators Stake IOTX for block production.
Services developed on IoTeX can be charged in IOTX
Roadmap & Updates
IoTeX has established its reputation as a trustworthy and unique blockchain technology that powers a diverse ecosystem of devices, such as Ucam and Pebble, decentralized applications like mimo and Cyclone, as well as services like ioPay and ioTube.
However, that alone is not sufficient – IoTeX has an ambitious roadmap for 2021 to bring humanity closer than ever to the Internet of Trusted Things.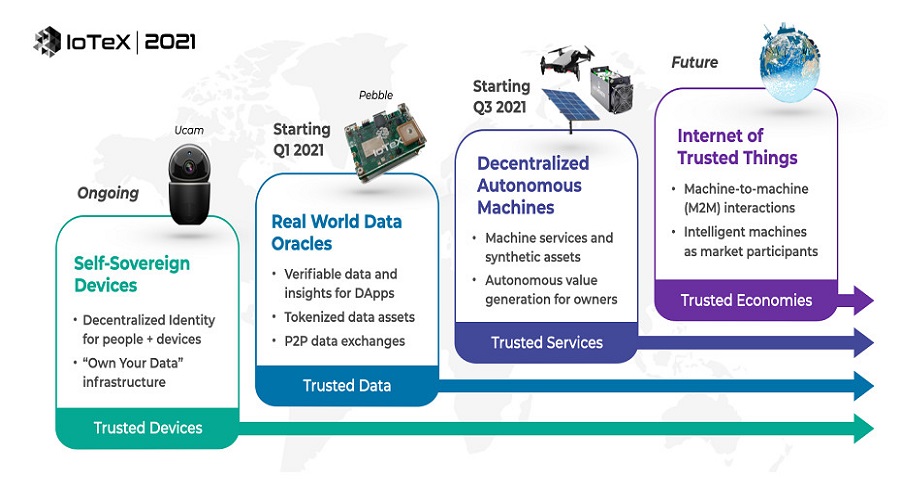 Self-Sovereign Devices: The new "IoTeX-supported devices" rely on IoTeX's Decentralized Identity (DID) system, which has been standardized through collaborations with businesses and regulatory bodies such as IIC and IEEE. These partnerships have helped standardize the DID protocols, ensuring consistency and interoperability across all IoTeX-supported devices.
Real World Data Oracle: Bring real-world data into IoTeX.
Decentralized Autonomous Machines: This framework facilitates the automation of generating value for human beings through on-chain data/assets, encompassing sensors, devices, and machines.
In 2021, IoTeX intends to prioritize the growth of its network by forming strategic partnerships and enhancing the user experience through the integration of seamless tools with IoTeX.
IoTeX ecosystem
IoTeX is a decentralized network consisting of developers, users, and businesses working together to manage the IoTeX platform. It is a Layer 1 blockchain compatible with EVM and currently supports the development of the ecosystem for smart devices, Dapps, and digital assets. IoTeX's mainnet was successfully launched in April 2019 and is maintained in a decentralized manner by over 60 delegates, including Blockfolio, CoinGecko, and Draper Dragon. Today, the project boasts more than 100,000 participants from over 100 countries connected by a shared vision of the Internet of Trusted Things.
Project products
The IoTeX platform presently accommodates an accelerating number of Dapp and community-developed products. Prominent endeavors encompass:
ioPay: Official wallet of the IoTeX network and gateway to Dapps.
Cyclone Protocol: The Cyclone Protocol is a protocol that utilizes zk-SNARKs to facilitate privacy in transactions by breaking the online link between the sender's and receiver's addresses.
MintToken: MintToken is a tool for minting tokens that enables individuals to create their own XRC20 and XRC721 tokens.
Hyperaware: The purpose of the Dapp is to manage connected devices and data based on their actual location.
Beancount: Accounting tools.
Travel Cat: The travel cat game is an online platform that offers players the opportunity to explore the digital world and acquire additional non-fungible tokens.
Vitality (VITA): The Vitality (VITA) token is a decentralized token aimed at incentivizing the community and promoting staking rewards.
Project team, investors & partners
Project team
Established in 2017, IoTeX is headquartered in Menlo Park, California and boasts a team of distinguished blockchain and IoT experts. The project is comprised of various prominent members, including:
Raullen Chai (Co-Founder): Mr. Chai is a distinguished scholar in the field of cryptography, currently serving as a researcher at the University of Waterloo. He has previously held leadership positions as the head of cryptography R&D at Uber and as a security engineer at Google. His extensive experience in blockchain and cryptography spans over 8 years.
Qevan Guo (Co-Founder): Dr. Guo holds a Ph.D. in machine learning and computer vision from the National University. Previously, he had been entrusted with roles as the Technical Director and Research Scientist at Facebook.
Jing Sun  (Co-Founder): Sun is one of the co-founders of Sparkland Capital. She has provided direction for over 40 investments in blockchain, security, and IoT. Sun has also served as a board director for several companies, and possesses extensive entrepreneurial experience.
Xinxin Fan (Head of Encoder): Dr. Xinxin Fan holds a doctorate in Cryptography from the University of Waterloo and is currently employed as a research engineer at Bosch Research. With over 14 years of research and experience in the field of information security and cryptography, Dr. Fan has authored and co-authored more than 40 publications and patents.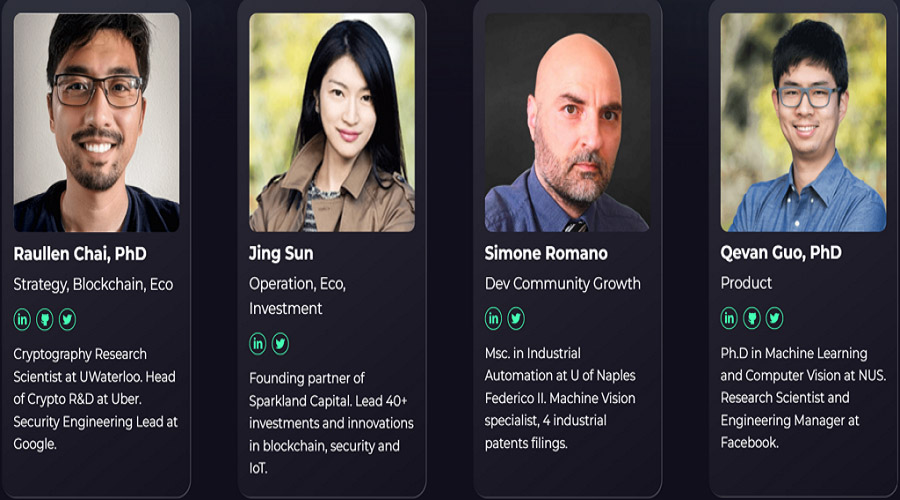 Investors
The investment for the project has been provided by prominent funds including Kenetic Capital, Hashed, LinkVC, Neo Global Capital, and BlockVC amongst others.
Summary
The article has successfully provided extensive knowledge on IoTeX and its significance, including essential information about the IOTX token. Hopefully, the acquired understanding of IOTX token will assist you in deciding whether or not to invest in IoTeX, visionary blockchain platforms that aim to revolutionize the IoT industry. We wish you all the best in your investment endeavors.
The above information was researched by the team at 247btc.net. We hope that this information will be helpful to our readers. However, please note that this is not investment advice, but rather an informational channel. Therefore, investment decisions should be carefully considered.