The advent of the Internet has drastically transformed our lives in all aspects. Internet, as usual, was initially developed as a static network and was maintained by programmers. However, the control still rests with major corporations. The question here is how to manage this data file in a centralized manner with minimum cost. The emergence of decentralized blockchain technology is seen as the golden key to provide optimal solutions. Thus, JasmyCoin is introduced as a project that supports data transactions, which has gained significant popularity among the community. Let's delve deeper into the project and token JASMY with 247BTC.
What is JasmyCoin (JASMY)?
JasmyCoin is an IoT platform with the mission of providing infrastructure that allows everyone to safely and securely use data through a unique combination of blockchain and IoT. In doing so, it offers optimal solutions and platforms for customers and businesses across various global industries and services.
The concept of the blockchain network named Jasmy originated from Tokyo in 2016 and, on October 26th, 2021, it was listed for trading on BITPoint Japan. In today's era of the Internet of Things (IoT) and the metaverse, Jasmy's fundamental goal is to empower data sharing services and ensure data security. Jasmy's technology enables metaverse applications built on its network to have the ability to exchange data directly within its network. The direct outcome is that individuals can now earn money and have control over their own data.
Additionally, this application provides a decentralized storage solution specifically tailored to the metaverse ecosystem. Given the emergence of web3 and the increasing transparency of data, Jasmy has the potential to establish an initial network within the metaverse.
This platform provides the means to create and manage the necessary bridges for users to store and transmit data and provide them with full control over their data. Furthermore, this platform allows users complete authority over their data.
Thanks to the support of its latest blockchain IoT network model, this accomplishment was made possible. The Jasmy Base module facilitates secure and efficient communication with Internet of Things devices. Furthermore, it provides a range of applications that empower customers with the freedom to manage and utilize their data in any way they see fit.
What is Jasmy IoT Platform?
The central focus of Jasmy's Internet of Things (IoT) company, headquartered in Tokyo, Japan, is the buying and selling of data. Specifically, Jasmy connects data users with service providers. Service providers aggregate data owned by users from various sources, package and sell the data to users. For example, a financial services company (service provider) may sell customer information to a separate insurance company (data user). This is an illustration of Jasmy's data buying and selling model.
The salient feature of JasmyCoin
Development plan
In contrast to existing centralized platforms, JasmyCoin endeavors to construct a decentralized IoT platform. The Jasmy Platform aims to expedite data utilization and promote the principles of data autonomy.
The convenience of using data: It is imperative that a society possesses autonomous data, where individuals and companies alike can provide information without hesitation or tension, not only for personal benefit but also for the common good of the entire community. Pursuant to this notion, JasmyCoin shall strive to achieve two objectives.
The security of all personal data, including IDs, application logs, and data from IoT devices used, stored, and maintained, is of utmost importance.
If duly authorized by the respective individuals, the convenience for companies in utilizing data on a wide scale can be achieved.
Building a Platform that creates value: JasmyCoin asserts that data which can be beneficial to individuals, companies, and even the entire society requires a recognized location where its value can be acknowledged.
Contribute to innovation: Jasmy provides a neutral environment where all types of businesses, organizations, and individuals can utilize the data being generated and developed to promote innovation and create new value for the future.
Decentralized authentication and data management
Jasmy comes with SKC as one of its key features, which enables the democratization of data through controlling, managing, and tracking personal data. The following are its main characteristics.
The process of verifying the identity and completing the registration functions enables users to initiate the utilization of Jasmy Platform and its associated services.
This feature enables users to accumulate and manage their personal data as per their discretion through JasmyNet.
The feature enables the user to delegate data transactions and access provided data through an authorization process.
The functionality enables companies and organizations to access and utilize personal data appropriately and only when necessary, instead of storing records in-house.
Manage data connecting people and IoT devices
Smart Guardian (SG): Enabling secure and straightforward registration of IoT devices and simultaneously establishing an environment exclusively accessible to device owners.
SG has the following main functions:
The functionality of connecting registered devices on a network with their respective owners can be accomplished without the need for additional personal identification or authentication through the use of SKC function.
One functionality enables the device to interact with the owner, such as remote data transmission and reception.
One feature enables the secure storage, management and deployment of data on blockchains.
Furthermore, the platform JasmyCoin offers other remarkable features, namely JasmyNet, Developer Program, and Jasmy Initiative, in addition to its existing functionalities.
How Platform JasmyCoin IOT works
By enabling decentralized data exchange, JasmyCoin will establish a more secure infrastructure for users.
Jasmy offers support in IoT strategy and management that involves constant communication with its clientele, from planning product development to aiding in IoT implementation and various means of achieving positive outcomes through IoT transformation.
Our company offers IoT devices with functions such as transmitting and receiving measurement and sensor information through sensors, as well as sending and receiving remote control commands.
The Jasmy IoT platform offers a secure and efficient mechanism for managing information transmitted from IoT devices.
Jasmycoin applications and products
Transcosmos Blockchain PC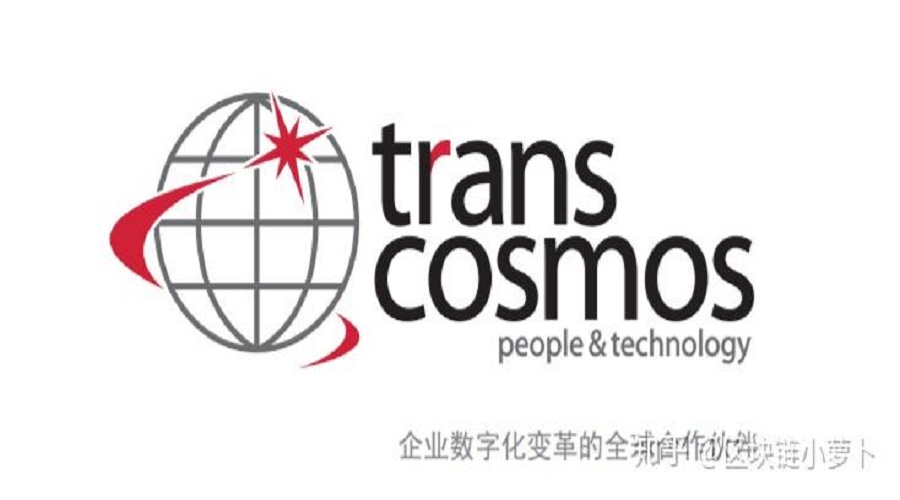 Transcomos, the largest customer service center in Japan, has utilized blockchain technology and blockchain-based service call applications in a highly secure computer system developed by Jasmy.
VAIO Secure PC
The financial regulatory agency in Japan has imposed strict security measures on hardware devices, including computers, utilized by financial service organizations. In compliance with this requirement, high-security computers developed by Jasmy and Sony VAIO will be widely used in banks and other financial institutions.
Witz Mobility Service Data Platform
A tourism data platform for the Hokkaido Autonomous Region has been constructed by Jasmy in collaboration with Toyota and Japan's leading tourism service provider, Witz. This platform is now being trialed as Japan's first commercial initiative in support vehicles and autonomous transportation across a large area. The platform has the potential to aid the government's gathering and storage of related data on users of autonomous modes of transportation, thereby addressing concerns related to privacy and compliance issues in Japan.
JasmyNet
JasmyNet is a network environment that is exclusively open to member companies authorized by the conglomerate, primarily targeting large-scale enterprises. By leveraging the participation of all members in the consensus algorithm, the network environment can be securely maintained and utilized by everyone. Data, keys, hashes, and other records can be recorded onto blocks.
JasmyCoin Tokenomics
The fundamental information pertaining to Jasmy's token
Token Name: JasmyCoin.
Ticker: Jasmy.
Blockchain: Ethereum.
Token Standard: ERC-20.
Contact: 0x7420B4b9a0110cdC71fB720908340C03F9Bc03EC.
Token Type: Utility.
Total Supply: 50,000,000,000 Jasmy.
Circulating Supply: 4,754,930,780
JASMYCOIN Token Allocation
Business companies: 15,000M Jasmy (30%).
Developer: 9,100M Jasmy (18%).
Listing expenditures: 7,000M Jasmy (14%)
Business Financing: 10,123M Jasmy (20%)
Airdrop: 6,377M Jasmy (13%)
Incentive: 2,400M Jasmy (5%)
JASMY Token Use
The JASMY token is an Ulitity token that has been created using the Ethereum platform and adheres to the ERC-20 standard. Consequently, the token benefits from Ethereum's high-security features, fast processing capabilities and excellent resilience against counterfeiting. In addition, JASMY can also be applied for personal fund transfers via various devices including smartphones and laptops.
JASMY Token Sale
On December 22, 2021, JASMY will be listed on BitMart.
Roadmap of JasmyCoin
Phase 1: Popularizing the JasmyCoin platform
JasmyCoin attracts users by implementing cutting-edge solutions for IoT devices.
Using SKC and SH technology.
Provide services on Blockchain through the development of applications on the platform and reduce operating costs.
Phase 2: Raise the value of JasmyCoin platform
Focus on promoting and diversifying the types of personal data and the volume that can be exchanged in a stable manner.
Attract users and increase the number of companies participating in the JasmyCoin platform.
Phase 3: Expanding the platform
Implement rewards to incentivize users to participate in the ecosystem.
Build an ecosystem for safe storage and protection of personal data.
Phase 4: Jasmy Data Marketplace
In the JasmyCoin ecosystem, personal data is stored securely, corresponding to the assets of each given user. Therefore, JasmyCoin aims to build a secure marketplace where individual users can easily license data and enjoy many other benefits.
Project team, investors & partners
Development team
Kunitake Ando – Representative Director
Former President & COO of Sony Corporation.
In April 2016, Ando assumed the position of CEO of JasmyCoin.
Currently, Ando is the director of the Japan Innovation Network and president of Nagano University.
Kazumasa Sato – President & CEO
Former CEO of Sony Style.com Japan Inc.
In April 2016, Sato officially joined the board of directors of the Jasmy project.
In November 2016, he became COO of Jasmy Incorporated.
Hiroshi Harada – CFO
After completing the JICPA exam in 2008, Harada joined KPMG AZSA LLP, participating in statutory audits for companies in the industry including broadcasting, construction and manufacturing, IPO support services.
Has 11 years of experience at a leading auditing company.
In January 2020, Harada joined Jasmy as chief financial officer. Besides managing accounting, finance and taxes, he is also responsible for investor relations.
Masanobu Yoshida – Vice President & CTO
President of Sony Corporation Handheld, Sony Mobile Communications Inc
Head of department and CEO of Softbank Mobile.
Currently, Yoshida is the CEO of Dreamforest Corporation.
In April 2016, Yoshida assumed the role of vice president of JasmyCoin.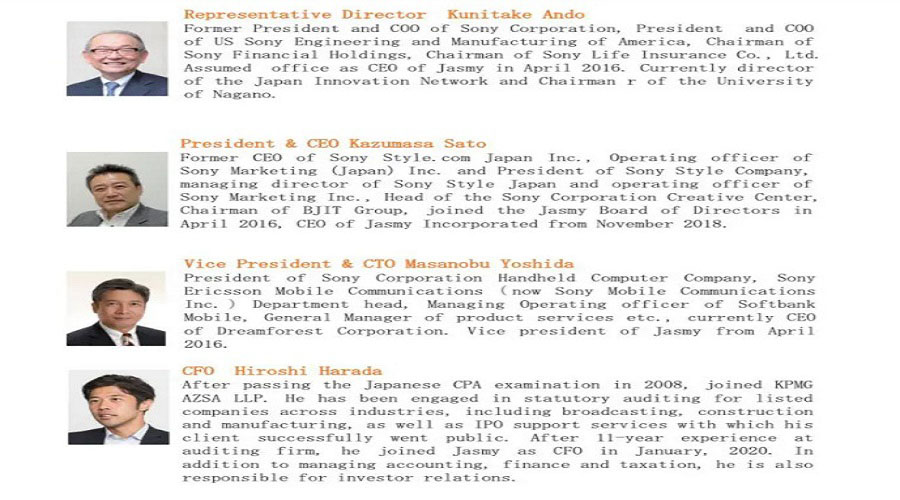 Adviser
JasmyCoin has secured the endorsement of professional advisers such as Tax Advisor Ryuji Yabe and Legal Advisor Hidenao Toyoshima.
Summary
The above information is essential to know before investing in the JASMY project and token, as well as answering the question of what JasmyCoin is. We hope that this article by 247BTC has facilitated your access to this market. We wish you success in your investment endeavors.