The coin NKN, which is associated with the project known as "The new internet", is currently under scrutiny for its potential. As for the project New Kind of Network ( NKN coin ), there are several important issues to consider such as the nature of the coin NKN itself, as well as the unique features and benefits of the NKN ecosystem. To gain further insights on this topic, we invite you to read our article on the NKN project today at 247btc.net.
What is New Kind of Network?
The establishment of New Kind of Network by NKN, a non-profit organization headquartered in Singapore in early 2017, marks the development of a decentralized Internet network built on the principles of Blockchain technology. This project aims to revolutionize the way the internet is accessed and used by providing a more secure, transparent, and democratic network structure.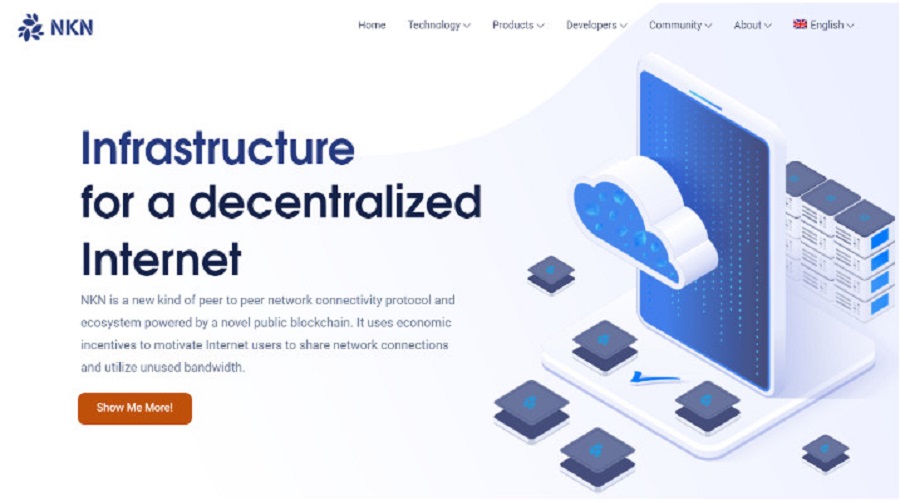 What is New Kind of Network Coin ( NKN coin )?
The New Kind of Network (NKN) is a token utilized in the NKN decentralized internet network, which was initially launched through an initial coin offering (ICO). At its inception, NKN ran on the NEO blockchain platform under the NEP-5 standard. However, on January 3, 2019, NKN officially announced that it would migrate to the Ethereum platform utilizing the ERC-20 standard.
Upon completing the Mainnet, NKN shall proceed to operate on their proprietary Blockchain platform.
The problem is solved by the NKN coin project
The New Kind Network has not only been a mere blockchain project, but it has also effectively tackled some of the challenges faced by the network and resource of the internet. Examples of such challenges include:
Network neutrality is overturned
Bandwidth is no longer being used efficiently
Information on the network is fragmented
Privacy is restricted…
Naturally, upon encountering issues, NKN's pre-existing projects and networks have presented various solutions; however, not all of these solutions have been viable. It is pertinent to acknowledge the limitations of the previous P2P network first and foremost.
The peer-to-peer network itself must also confront several significant challenges, but these challenges simultaneously present opportunities for the NKN ecosystem project. The challenges include the inherently vulnerable and static network structure, the lack of a self-sustaining economic linking program for network connectivity, the compromise of data transmission, and the sacrifice of network expansion capabilities to maintain control.
There is still an issue of inefficiency persisting in the global network when it comes to providing connections and transmitting information. However, a decentralized, peer-to-peer system has the potential for significant improvement in effectiveness, sustainability, and security, while also maintaining anonymity.
What is the goal of the NKN coin project?
Upon the inception of the development phase, NKN project set out to revolutionize the entire landscape of business and technology networks through decentralization, taking multi-million-dollar entities such as Uber and Airbnb as a model. Accompanied by this visionary mission, New Kind Network's objectives were delineated into subcategories.
Any node is allowed to connect to the fully open network from anywhere in the world.
Promotes incentives for network sharing as well as nodes participating in encrypting the connection along with data transmission.
By implementing enhancements to the layer network, neutrality can be assured.
Always maintain an open and scalable network.
Design, build the next generation of blockchain.
The next generations of blockchain technology are expected to leverage the NKN Network, which will facilitate the development of new dApps with unprecedented connectivity and data transmission capabilities. The NKN project aims not only to enhance blockchain technology by incorporating core technologies but also to revolutionize non-centralized network layers to new heights.
How does The New Kind of Network work?
The consensus mechanism of the NKN token project is built on Cellular Automata, which can be understood as automated mobile data. In this mechanism, CA sets up a group of nodes, where each node is based on a local rule. CA is used to achieve consensus among nodes in the most effective way in terms of both time and data transmission. The New Kind Network system structure consists of six layers, which can be better understood by referring to the image below.
Layer Network
The lowermost layer of the New Kind Network structure comprises L1-L3 of the Internet infrastructure, such as physical connections via mobile Wi-Fi, fiber optic cable, as well as the TCP/IP software stack – the foundation of the Internet. The Layer Network project acts as a software overlay.
NKN Net (nnet)
One of the key improvements of the NKN coin project is the implementation of a peer-to-peer layer network based on the advanced Chord DHT protocol. As the number of nodes in the NKN network grows, its effectiveness increases compared to protocols with similar functions such as gossip or libp2p.
NKN Blockchain
The NKN Blockchain is considered to be one of the shining jewels in the crown of the NKN ecosystem's innovations and improvements. Its Cellular Automata consensus mechanism is capable of wide scalability, while the Proof of Relay forwarding evidence based on signature chains, as well as the NKN token, incentivizes coin holders and miners to contribute to the network by running nodes, storing and verifying transactions, and providing all kinds of functional services such as nCDN and game streaming.
Services and SDKs
The next layer in the coin NKN network structure offers useful tools for developers of applications and services running on the NKN network. One of the flagship products is PubSub, marked in red on the diagram. Other utilities include traffic forwarding, geolocation DNS for traffic distribution, and TUNA to enable customers of shared applications to access a range of nodes. All channels are encrypted for payment security.
Interface
The NKN coin project has implemented an industry-standard interface for application developers, such as http/JSON for web services or WebSocket and Raw TCP/IP.
Application
The functionality of nCDN, an acronym for New Kind of Content Delivery Network, refers to a data transfer network within this application layer. Certain applications stand to benefit greatly from the data transfer services offered by the NKN and PubSub ecosystem. These applications are primarily focused on alternative networks, including web acceleration (using discovery routing/peer-to-peer), P2P file sharing, and WiFi sharing.
Basic information about New Kind of Network (NKN) coin
NKN coin Metric
Ticker: NKN
Contract: 0x5cf04716ba20127f1e2297addcf4b5035000c9eb
Decimal: 18
Blockchain: Ethereum
Token Standard: ERC-20
Token Type: Utility Token
Total supply: 700,000,000 NKN
Circulating supply: 350,000,000 NKN
Max Supply: 1,000,000,000 NKN
NKN coin Allocation
NKN Foundation has allocated NKN in the following proportion, given that the maximum total supply of NKN is one billion tokens:
30% for Mining activities within 25 years after Mainnet is completed.
35% is held by investors via Token Sale.
18% is held by Developer Team with a 3-year lock-in period, each year paying 1/3.
17% is held by NKN Foundation with a 3-year lock-in period, with 1/3 paid each year.
NKN Token Sale
The Token Sale event for NKN is structured over 3 distinct rounds, comprising of Private Sale, Pre-Sale, and Public Sale. Each round is conducted sequentially.
Details are as follows:
Private Sale
NKN has sold 250 million tokens, generating approximately 46,296 ETH. At a rate of 5400 NKN per ETH, NKN comprises 25% of the total supply.
Pre-Sale
During the Pre-Sale stage, NKN successfully sold 50 million NKN tokens, which generated approximately 11,111 ETH in revenue. This translates to a price of 4500 NKN per ETH and accounted for 5% of the total token supply.
Public Sale
During the Public Sale phase, NKN released 50 million NKN tokens, earning 12,048 ETH at a rate of 4150 NKN per ETH, which represented 5% of the total supply.
What is New Kind of Network (NKN) used for?
At present, NKN has not yet completed its Mainnet, and thus the network has not yet been able to apply NKN's incentives.
However, when Mainnet is completed, NKN will undertake the following tasks:
Gas Fee
The NKN cryptocurrency is utilized as a means of payment for transaction fees within the NKN blockchain network.
Rewards
NKN is utilized as a reward for miners to ensure network security.
Governance
NKN finds application in voting node operations, as well as in the formation and implementation of smart contracts within the NKN Blockchain
The New Kind of Network (NKN) storage wallet is secure
Presently, NKN is still operating on the ERC-20 protocol, thus enabling the storage of NKN on Ethereum wallets such as:
Hardware Wallet: Ledger Nano S, Trezor, imToken.
Web Wallet: Myetherwallet, Mycrypto.
Extension: Metamask.
Exchanges that can trade New Kind of Network (NKN)
After a year of formation and development, NKN currently holds a position outside of the top 200 on Coinmarketcap, though it is being traded on a number of reputable exchanges. The fact that NKN's daily trading volume exceeds $2 million demonstrates the coin's strong liquidity.
As of now, the MXC exchange is experiencing an active trading of NKN, which accounts for a significant portion of 63.86% of the total trading volume.
New Kind Network roadmap
The development roadmap being followed has become obsolete and it is likely that a new roadmap will be updated for the NKN project following the Mainnet launch.
Development team, investors and partners
Development team
Mr. Yanbo Li – Founder
Co-founder of the On-chain project and also the main developer at the "DNA" block system.
Build the Linux Kernel network subsystem.
Mr.Justin Wang – Core Researcher
Talented inventor with 45 international patents.
Has many years of experience working at Ericsson, Nokia, Amazon and Microsoft.
Yilong Zhang – Co Founder
PhD in physics from Peking University and an expert in mobile data software, distributed information processing systems, and Ising models.
Full Stack engineer with many years of experience.
Development partner
New Kind of Network has collaborated with numerous projects, including well-known names in the cryptocurrency market such as Genesis, Harmony, IoTeX, and XRP Capital.
Summary
The above presented the complete information about New Kind of Network, a project that facilitates the interconnection of peer-to-peer networks. Through this article, the readers have gained basic knowledge about the New Kind of Network project, allowing them to make informed investment decisions. We wish you good luck in your endeavors.
The above information was researched by the team at 247btc.net. We hope that this information will be helpful to our readers. However, please note that this is not investment advice, but rather an informational channel. Therefore, investment decisions should be carefully considered.