Many individuals who engage in the cryptocurrency market may wonder what VET coin is and whether VeChain has potential as an investment in 2023. Our perspective is that Vechain ( VET coin ) possesses numerous factors that make it a sound investment choice at present. It exhibits enough volatility to present profit opportunities for traders while also showing potential to become a valuable asset for long-term investors. To understand why this is so, please join us in delving deeper into the subject matter through the article's following content.
What is Vechain ( VET coin )?
VeChain or VeChainThor (represented as VET) represents the digital currency, also known as the Native Currency, of the VeChainThor blockchain platform. Initially, VET was developed on the Ethereum ERC-20 standard. However, as of July 30, 2018, VET underwent a successful swap and now operates on the VeChainThor blockchain platform.
VeChain (VET) is a blockchain platform that originated as a fork of Ethereum and focuses on providing supply chain management solutions to businesses while integrating with Internet of Things (IoT) devices to facilitate business operations. The Vechain coin was established in 2015 by a group of Chinese IT experts and is developed by the Vechain platform and company. Vechain company was founded in Singapore in 2015. Initially, the VeChain blockchain platform was built on top of the Ethereum Blockchain with several improvements in the DBGP, DMBSP, and DGIP protocols.
Vechain's initial vision is geared towards utilizing NFC technology found in smartphones to trace the origin of any product within a store or showroom. This includes information on the product's manufacturer, production date, location, and transportation to the store or showroom. This application is certain to provide customers with a useful tool to verify the authenticity of a product and distinguish genuine items from counterfeit or substandard ones. In addition to combating fake goods, Vechain also focuses on other areas that are relevant to business operations today, such as supply chain management, asset management, and enhancing customer experience with a product.
The Vechain token, also known as VET, is set to become the primary currency used on the Vechain Thor Blockchain platform. All partners and participants within the system will be required to use VET coin for transactions related to products and services provided on the platform. As of the beginning of 2018, Vechain is in the process of rebranding itself, changing its original name from Vechain Blockchain to Vechain Thor Blockchain. Additionally, the Vechain token has been rebranded and is now known as VET.
The primary objective of VeChain's inception
The main issue that businesses are currently facing with information technology is the crucial need for trust. It is understandable that transferring sensitive information related to product development is difficult for all parties involved to trust each other. Additionally, storing centralized information such as product data and other related information is susceptible to hacking. This centralized storage poses a constant threat, where the data can be unexpectedly attacked by hackers.
To address these issues, the development team of Vechain has created a platform where information can be stored in decentralized, high-speed, and fully-transparent platforms. The team will also implement changes, upgrades, and adjustments to enable the platform to meet current demands and overcome possible future challenges. Through this approach, Vechain can confidently maintain integrity and ensure secure storage of information.
Vechain has established strategic partnerships with a diverse range of major global corporations, including well-known brands such as Coca-Cola, IBM, HSBC, Alibaba, Oracle, Tencent, and Cisco, indicating its extensive industry connections and outreach.
Numerous rumors suggest that Vechain has collaborated with BMW – a renowned German car manufacturer. However, no official statement has been released by either company to confirm these speculations.
It would come as no surprise if this were proven true, as BMW is not the first automobile manufacturer to collaborate with a crypto and blockchain company. Previously, Volkswagen worked with IOTA, a blockchain company based in Berlin, to leverage its vast database. The increasing demand for Internet-of-Things implementation is compelling companies to access massive data repositories, and blockchain companies are exploring this area by efficiently using Distributed Ledger Technology (DLT).
What is VET coin?
VET coin represents one of the two primary digital currencies within the Vechain ecosystem. Vechain is responsible for managing both tokens, including VeChain (VET) and VeThor (VTHO).
VeChain's VET coin serves as a cryptocurrency used for speculative purposes on trading platforms, similar to other cryptocurrencies. Additionally, VET can be used for betting purposes in exchange for VeThor (VTHO), which is used to pay for transaction fees or to manage the VeChain network.
VeThor (VTHO) serves as the medium of exchange for transactions and smart contracts within the VeChain blockchain. The default transaction fee is set at 21 VTHO, equivalent to 0.006719 USD.
The two aforementioned tokens exhibit significant differences in their functionality, total circulation, and inflation.
In the Vechain Blockchain design, 4.32 VTHO will be generated after every 8,640 blocks (24 hours) for every 10,000 units of Token VET held. This equates to 0.00000005 VTHO being generated for every VET unit per block.
In each block, 70% of the transaction fees paid in VeChainThor (VTHO) are burned, while the remaining 30% is distributed as a reward to the Authority Masternodes responsible for producing the block.
A fundamental overview pertaining to the cryptocurrency Vechain ( VET coin )
Ticker: VET.
Blockchain: VechainThor.
Token Standard: VIP180, VIP181.
Token type: Coin.
Avg. Transaction time: 10,000 TPS.
Avg. Block time: 10 seconds.
Total Supply: 86,712,634,466 VET.
Circulating Supply: 55,454,734,800 VET.
Token Allocation
The overall supply of Vechain (VET) will be allocated proportionally in the following manner:
41% were released to the market through a token sale.
9% will be held by Private Investors.
23% is held by Enterprise Investors.
5% belongs to Co-founders and Vechain development team.
12% is the operating budget and technology development.
10% is used for Vechain's business development.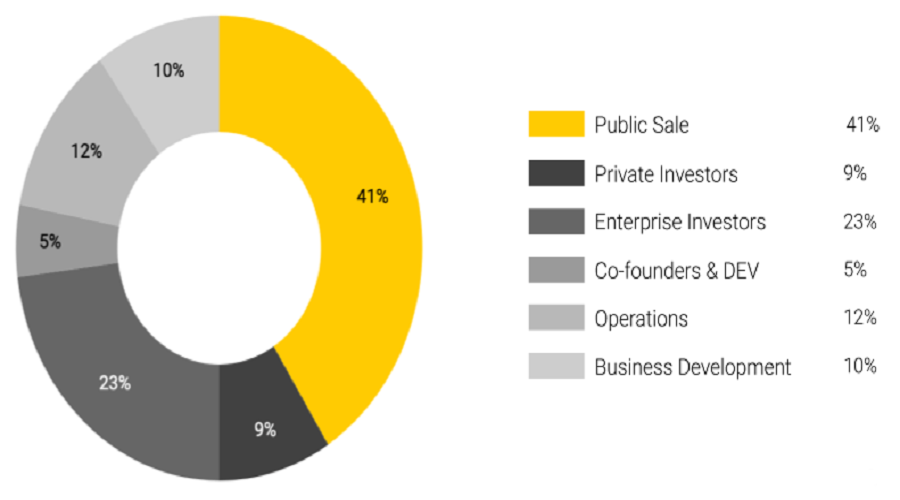 Token Sale
Vechain (VET) raises capital via ICO through 3 rounds including: Public Sale, Private Investors and Enterprise Investors.
The percentage of tokens sold in each round is shown specifically in the table below:
VET coin ecosystem
Although businesses play a crucial role in the development and widespread adoption of technology, the Vechain ecosystem also provides accessibility to a diverse range of individuals with different needs. The VET coin ecosystem connects resources, provides support, and creates opportunities for users to participate in accordance with the comprehensive goals outlined from the outset.
Basically, the VET coin ecosystem includes the following components:
VeChain: VeChain directs its efforts towards developing and enhancing the technology platform, infrastructure utilities, and services within its ecosystem.
Enterprise: Enterprise pertains to both large and small businesses that integrate blockchain technology or undergo business model transformation in order to develop sustainable applications that address issues prevalent in the industry within the real economy.
Startup: The startup aims to experiment with feasible solutions that large enterprises can apply on a broader scale. Its objective is to foster collaborative relationships and enhance innovation in the blockchain industry.
Community: The essential element that contributes to the vitality of the VET coin ecosystem is the active participation of community developers and experts who bring their own unique projects, thereby enhancing the diversity of the ecosystem.
Research partners: Vechain has established the VeReasearch program to collaborate with academic research partners in the pursuit of enhancing fundamental technologies that support the ecosystem.
Management partner: Organizations and venture capital funds provide funding and resources for builders and developers in the ecosystem.
VeChain's development roadmap
June 2015: The first VeChain project was launched, starting the development phase of Blockchain and IoT based solution
November 2015: Completed the first VeChain Blockchain proof (Proof of Concept).
June 2016: Official launch of VeChain v1.0 in Shanghai
May 2017: Successfully implemented Blockchain use cases for traceability
October 2017: Successfully deployed the first Blockchain solution for digital vehicle documents
February 2018: VeChain rebranding event in Singapore, announcing the strategy of enterprise Blockchain adoption through VeChainThor Blockchain.
April 2018: PwC Hong Kong and Singapore announce joint business relationship and small ownership in VeChain.
May 2018: DNV GL bought shares of VeChain and announced a global strategic partnership.
May 2018: VeChain attended VivaTech in Paris and finished as runner-up for the LVMH Innovation Award.
June 2018: VeChainThor blockchain was made open source and mainnet launched.
September 2018: VeChain BaaS 2.0 launched on VeChainThor Blockchain.
September 2018: VeChain and DNV GL announce a digital carbon ecosystem on VeChainThor Blockchain.
November 2018: DNV GL launches MyStory – a digital assurance solution based on VeChainThor Blockchain.
April 2019: VeChain Summit event held in San Francisco.
March 2020: Release of PoA 2.0 SURFACE consensus algorithm.
May 2021: First brought the eNFT concept to market.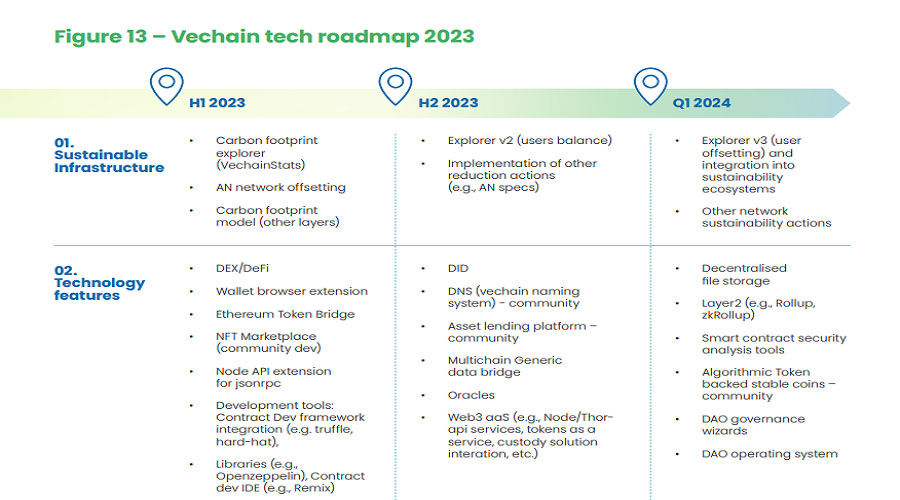 Vechain development team
The development of Vechain is led by a team of professionals hailing from various industries, including blockchain technology, business, and finance. The core members of the team comprise:
Sunny Lu: The CEO, formerly a co-founder of BitSE (a Chinese software company that has created other well-known projects such as QTUM), previously served as both CTO and CIO (Chief Technology Officer and Chief Information Officer) at a renowned fashion company, Louis Vuitton in their China branch.
Richard Fu: Chief Marketing Officer (CMO)
Chin Qian: Chief Sales Officer (CSO)
Jay Zhang: Chief Financial Officer (CFO)
Scott Brisbin: General Counsel
Jerome Grilleres: Business Development
Jianliang Gu, an individual with nearly two decades of experience in hardware and software development as well as information technology management, is the individual primarily responsible for all technology-related matters pertaining to Vechain or Vechaincoin. Prior to joining Vechain in 2017, Jianliang served as Technical Director for the TCL Corporation. Additionally, Dr. Peter Zhou, who has over ten years of experience in computer science research and development, serves as the Research and Development Director for the VET ecosystem.
Vechain customers and partners
Should one invest in VET coin considering the future of VeChain?
VeChain is one of the successful Ethereum forks that focuses on direct application technology solutions for businesses, while many projects are still struggling to concentrate on developing DeFi features to build an ecosystem of application platforms. VeChain has undergone long-term development as a blockchain platform that initially focused on the Internet of Things (IoT) technology and supply chain management, but it has now transitioned to have multiple purposes, providing customizable support for various business uses. VeChain asserts its solution's scalability, with fast transactions and extremely low transaction fees.
In addition, VeChain's success can be attributed to its existing network of clients. Currently, the project's technology is being utilized by global corporations and further benefiting from the Chinese market. VeChain already has a market to launch its products. From the perspective of the project's success, we have the opportunity to reference similar platforms.