Acala Network has recently gained significant attention from the community. The project's success in winning the first Parachain on Polkadot has raised curiosity regarding its special features. Acala obtained the initial Polkadot Parachain slot by crowdloan funding, amassing over 32 million DOT tokens, equivalent to approximately 1.27 billion USD, with participation from 81,218 individuals, an impressive and laudable figure. Hence, it is evident that Acala Network has aroused considerable interest within the community, prompting inquiries into its characteristics and value proposition.
What is Acala Network (ACA)?
Acala is a decentralized financial center and the main liquidity pool within the Polkadot ecosystem. Its vision is to become a shared foundation for the DeFi industry, achieving financial stability, liquidity, and enabling the development of cryptocurrency assets.
In simple terms, Acala is a Layer-1 Smart Contract platform built on Polkadot, which endows it with robust security and high scalability capabilities.
Furthermore, Acala possesses the ability to be compatible with Ethereum and various cross-chain protocols, allowing programmers access to the ecosystem while concurrently drawing in capital. With bold ambitions, Acala provides a multitude of noteworthy features such as an Automated Market Maker Decentralized Exchange (AMM DEX), a decentralized stablecoin (aUSD), and a DOT Liquid Staking Program (L-DOT).
The operational mechanism of Acala Network
Acala includes two platform-significant protocols for the entire Polkadot ecosystem, in addition to its core essence as a Layer-1 Smart Contract Platform.
Honzon Stablecoin Protocol
The Honzon protocol employs aUSD, a stablecoin developed on the Acala Network, utilizing a 1:1 peg with the USD exchange rate. Via the Honzon protocol, users can initiate a Collateralized Debt Position (CDP) by collateralizing various digital assets such as Polkadot (DOT), Bitcoin (BTC), or Ether (ETH). The mechanism operates through the following steps:
Collateral deposit: When a user deposits assets into Honzon, those assets will be locked as collateral.
Open a CDP position and borrow aUSD: The borrower obtains an amount of aUSD equivalent to the initial collateral value.
aUSD refund: The user will close their CDP position and repay the borrowed aUSD amount along with an ACA or aUSD fee.
Withdrawal of mortgaged assets:
In order to monitor the value of various blockchains in real time, Acala has collaborated with Chainlink to develop a system of oracles.
Upon the loss of value in collateral assets within the CDP, Acala's system automatically calculates and balances. To achieve the required collateral ratio, a portion of these assets will be auctioned off, with the proceeds converted into aUSD. Conversely, excess profits are then converted into ACA and subsequently burned to ensure the stabilization of the system's value.
Homa Protocol
As you are likely aware, Polkadot's Nominated Proof-of-Stake model mandates that projects seeking to secure a slot on the parachain must lock and stake a quantity of DOT for a period of 96 weeks. Similar to Yield Farming, this results in the locking of capital for a certain timeframe in order to receive rewards. Fortunately, Homa presents a viable solution to this issue.
The purpose of Acala's Homa design is to create liquidity for locked DOT. This staking protocol functions as a decentralized liquidity pool. Instead of the contributed DOT, it will mint and distribute L-DOT to users. L-DOT can be utilized as an asset in various DeFi applications on any blockchain, or as collateral to borrow aUSD.
The salient features of Acala Network (ACA coin)
EVM: With a Total Value Lock of $155.8 billion as of December 22, 2021, Ethereum has become a highly liquid ecosystem desired by all DeFi protocols. Moreover, Acala EVM enables developers to create dApps using the familiar Solidity programming language and generate assets that can function similarly to ERC-20 tokens. This presents an opportunity for developers to build innovative solutions on Ethereum's vast infrastructure, further expanding its role as a leading blockchain platform in the industry.
Stablecoin aUSD: Create stability and easier cash flow within the Polkadot ecosystem.
Homa Protocol: Solution to the liquidity problem for locked assets.
Optimized for DeFi applications: Acala boasts an impressive range of products and aspires to be the DeFi hub for Polkadot. Additionally, this network is cross-chain compatible and possesses the capacity for updates without requiring a fork, making it a highly attractive prospect for DeFi applications.
Acala token information (ACA)
Key Metrics ACA
Token Name: Acala Network
Ticker: ACA
Blockchain: Polkadot
Token Standard: Updating..
Contract: Updating..
Token type: Utility, Governance
Total Supply: 1,000,000,000
Circulating Supply: Updating..
ACA Token Allocation
Early backers: 18.33%
Backers: 11.56%
Founding Team: 20.25%
Community: 49.76%
ACA Token Sale
The Acala Token will be awarded to individuals who participated in the Parachain auction by providing support for DOT via Crowdloan. Upon maturity, a portion of the ACA amount will be unlocked and transferred to the user's wallet, while the remaining quantity will be gradually disbursed based on the duration of the Parachain slot lease. The specifics of this arrangement are as follows:
Vesting: 80% of the ACA quantity from the Parachain auction will be vested linearly throughout the slot lease term.
Total Rewards: 17% of the token resource will be used to reward those who supported the project in the auction.
ACA Rewards: Average conversion rate is DOT 1:3 ACA. This number may change depending on the level of contribution.
Liquidity: 20% of the ACA amount from the Parachain launch will be unlocked and immediately usable in Acala's DeFi ecosystem.
ACA Token Release Schedule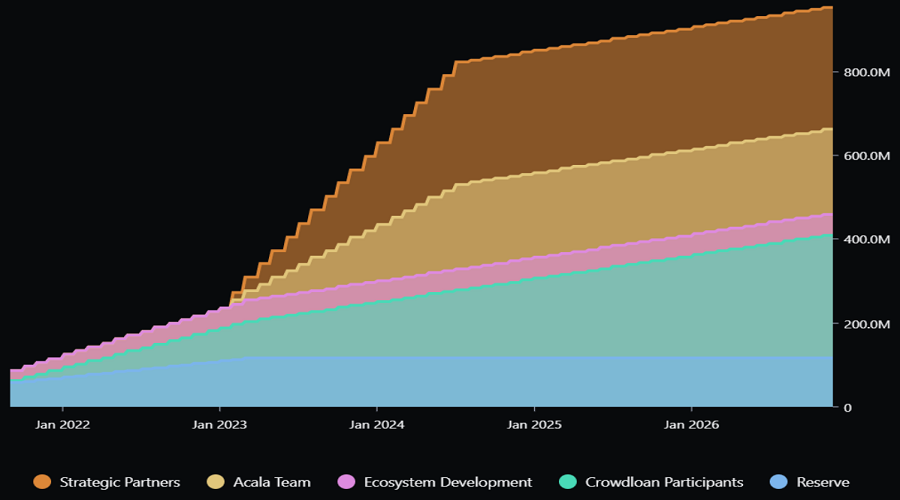 ACA Token Use Case
The individuals who possess ACA have the privilege of utilizing tokens in the following functionalities:
Governance: Users can propose and vote on issues such as: network fees, council member elections, updates, etc.
Utility: Users can pay transaction fees with ACA, receive rewards for staking, etc.
Roadmaps & Updates
Q3/2020
Launch the complete code
Launched testnet on Polkadot Rococo
Acala Security Audit / Economic Audit
Q4/2020
EVM Deployment & Smart Contract Launch
Launch Acala on Kusama
Launch Acala on Polkadot
Q1/2021
Administrative Council
Enable Stablecoins, derivative staking, DEX + exchange corresponding to liquidity mining.
Enable cross-chain with Bitcoin assets
Q2/2021
Cross-chain capabilities with multiple networks
Full EVM & smart contract support.
Launch of Parachain Bonding Derivative
Q3/2021
Activate Liquid Democracy
Launch of Parachain Bonding Derivative
Enable dSWF & DAO 3.0
As Acala advances towards becoming an ACAchain, it shall be attributed with core networks through distinct markings.
Mandala Testnet: This is a risk-free and valueless environment in which end-users and developers may experiment with Acala's features and code. In the event of errors, disorder, or disruption, a reboot will take place without prior notification. In essence, this is a test network and possesses no actual value.
Karura Network: The aforementioned is a preliminary release that has not yet undergone Acala's validation process. Karura will participate in an Initial Public Offering on the Kusama network as ACAchain, representing an economic value denoted by native tokens KAR and KSM, which can serve as collateral for kaUSD.
Acala Mainnet: The project's main network will be connected to the Polkadot network upon launch.
Project team, Partners & Investors
Founding board member of Acala network
The Acala project's team comprises highly experienced and accomplished individuals in the domains of finance and technology, operating as a conglomerate network developed in collaboration with multiple stakeholders. The team includes individuals from Web3 Foundation, and other members who have previously contributed to the successful development of two reputable projects, Laminar – a DeFi platform, and Polkawallet, an electronic wallet for the Polkadot ecosystem.
Ruitao Su
Ruitao Su is a co-founder of Acala and also serves as the co-founder and CEO of Laminar, a leading synthetic asset and liquidity trading platform. He has led the design and development of modern token economic models, including the decentralized Sovereign Wealth Fund (dSWF), successfully led numerous token creation events, and founded several technology startups.
Bette Chen
Bette Chen is a co-founder of Acala and Laminar, where she has spearheaded product design and the development of top-tier token economics, protocols, and dApps. She holds a Bachelor's degree in Software Engineering and an MBA from Otago and Duke, and boasts decades of experience in product management and programming.
Fujao Jiang
Fuyao Jiang is acknowledged as one of the co-founders of Acala, and also the founder of Polkawallet – a reality-based mobile wallet within the Polkadot ecosystem. He is distinguished as a community builder, thought leader, and expert evangelist in Polkadot. Fuyao has accomplished successful community campaigns and outreach efforts to engage audiences throughout China.
Bryan Chen
Bryan Chen, who is a co-founder of Acala, also serves as a co-founder and CTO of Laminar. He is an integral contributor to the Substrate codebase, a positive Ambassador for Polkadot, and an instructor for the first online Substrate/Polkadot course confirmed by Dr. Gavin Wood.
Partners and Investors
March 27, 2020: In Seed Round, Acala Network successfully raised 1.4 million USD invested by Polychain Capital
August 27, 2020: In Series A round, Acala Network successfully raised 7.3 million USD invested by Pantera Capital
September 8, 2021: Intial Coin Offering, Acala Network raised an amount of up to 61 million USD.
Overall assessment
Based on the detailed information presented, it is evident why Acala Network has garnered significant attention from the community.
Acala's ambitious vision to become a DeFi hub for the entire Polkadot ecosystem has resulted in numerous investment opportunities and collaborations with large organizations and funds. It is notable that the project was granted significant funding from the Web3 Foundation, the organization responsible for Polkadot. This investment goes beyond pure financial backing and demonstrates confidence in Acala's vision and potential for growth.
In my personal opinion, Acala Network displays robust potential for significant development and is poised to be one of the leading projects on the Polkadot platform in the future. It is highly recommended to closely observe the project and identify potential investment opportunities for one's portfolio.
The above information was researched by the team at 247btc.net. We hope that this information will be helpful to our readers. However, please note that this is not investment advice, but rather an informational channel. Therefore, investment decisions should be carefully considered.