Can you explain what Aptos crypto is? Aptos crypto is a layer 1 blockchain that boasts scalability up to 160,000 transactions per second, offering a comprehensive solution to the lingering issues of slow transaction speeds and high transaction fees on Ethereum. Aptos was built by the same core team who developed both Diem Stablecoin and the Blockchain platform at Facebook. Let's delve deeper into the details and learn more about Aptos.
What is Aptos Crypto?
Aptos is a novel, autonomous project with a specific focus on developing a blockchain technology that offers maximum security and is capable of accommodating a significant number of users worldwide. Aptos is committed to becoming a leading blockchain layer-1 technology that surpasses both Ethereum and Solana.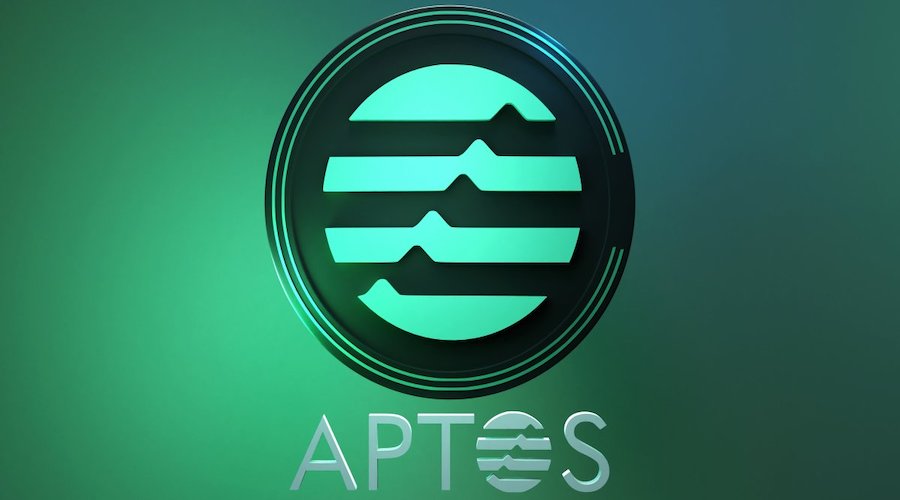 The salient feature of Aptos Crypto
Aptos has unveiled their devnet and testnet versions and is now releasing their Mainnet version in October 2022, thanks to their excellent team quality, as well as the immense support from large investors.
The Aptos project places significant emphasis on the Move programming language, which is designed to safely manage resources and provide blockchain verification. Move's static typing approach is considered a notable improvement and is regarded as more precise than Ethereum's smart contract language.
Many modern programming languages such as Rust, Golang, Typescript, Haskell, Scala, and OCaml all opt for static-typing due to its advantageous ability to detect multiple program errors.
Move stands out from other programming languages due to its ability to manage and verify resources on the Blockchain, ensuring security. Upon execution of transactions, they are assigned two statuses: hidden and measured.
The forecasting of transaction outcomes will be achieved through the determination and concealment of pertinent information and the current status of the accounting ledger.
The transactions are safeguarded against cyber attacks through the implementation of measures for protection. In fact, both Aptos Token Blockchain and Move were developed simultaneously three years ago. Consequently, the offerings on Aptos Token Blockchain, such as transaction fees, accounts, standard libraries, validator management, and configurations are all deployed in conjunction with Move.
Aptos employs the Byzantine Fault Tolerant (BFT) mechanism with low latency. The Aptos team has diligently worked to enhance their BFT mechanism, ensuring network safety against node manipulation and malicious attacks. Additionally, users have the ability to modify their private keys to enhance their security level.
Taking all of the aforementioned factors into consideration, including laboratory conditions and potential difficulties in storage, consensus mechanisms, and network connectivity, Aptos' introduction has demonstrated the potential to achieve an impressive 120,000 transactions per second (TPS).
The advantages of holding the APT Token
The APT token serves as the native token for Aptos, possessing similar functionalities to other types of native tokens.
Making transaction fees on Aptos.
Stake to ensure network security and earn more APT
Used to buy and sell assets on the Aptos blockchain.
Comprehensive details pertaining to the Aptos Token
Key Metrics APT
Token Name: Aptos Token
Ticker: APT
Blockchain: Aptos
Contract: No
Token Type: Native Token
Total Supply: 1,000,000,000 APT
Circulating Supply: Updating…
APT Token Allocation
Community (51.02%): 510,217,359.767
Core Contributors (19%): 190,000,000
Foundation (16.50%): 165,000,000
Investors (13.48%): 134,782,640.233
APT Token Release Schedule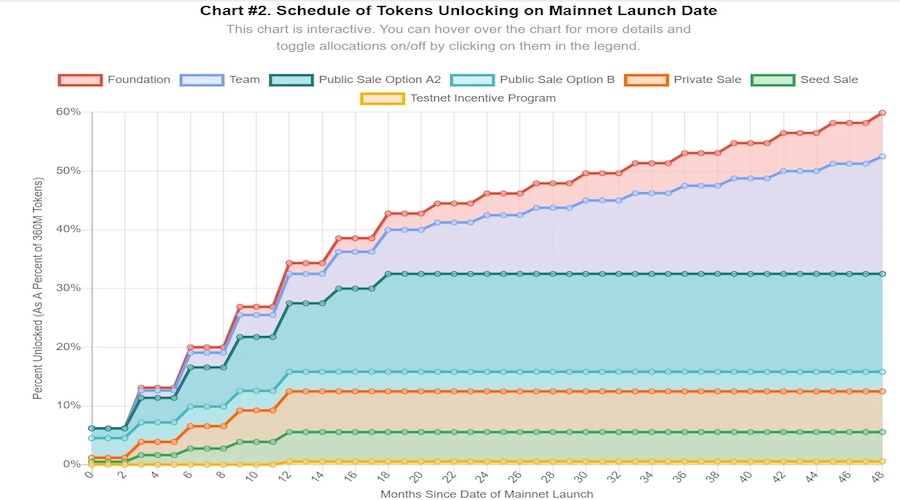 Aptos Token Release boasts several prominent features that are notable
The schedule for distributing access keys to the Community and Foundation:
These two categories are dedicated to the development of the ecosystem such as sponsoring, encouraging, and developmental initiatives. Additionally, they are allotted to projects upon completion of significant milestones in their development.
Paid in installments over 10 years.
Initially, there were 125 million APT available to support the development of the ecosystem, award grants to projects, and communities.
There are 5,000,000 APT tokens available initially to reward the support provided by organizations.
For Investors and Core Contributors:
Payment shall be made in installments over a period of four years commencing from the time of unlocking.
The APT repayment to Investors and Core Contributors is anticipated to occur on or around October 18, 2023, after a period of one year of lock-up.
Between the months of 13 and 18, 75% of the total coin reserves, belonging to Investors and Core Contributors, will be made accessible for use.
A quarter of the remaining total coins will be gradually dispensed during the remaining time interval.
Roadmap & Updates APTOS coin
Q1 2022: Launch of developer testnet
Q2 2022 – Launched Incentivized testnet program
3rd Quarter 2022 – Mainnet Launch
Q4/2022 – Q1/2023 – Roll out the next major release to mainnet with the next set of important features.
Currently, the first 2 phases have been deployed, the 3rd mainnet phase, the team has postponed the mainnet launch time.
Aptos Ecosystem Overview
Infrastructure
OtterSec: is a blockchain security platform that has been constructed with the objective of elevating the security standards of the blockchain.
SynthMeta: is a DeFi infrastructure that utilizes synthesized asset algorithms, featuring four core modules: Synth Minter, Synth Exchange, Synth NFT, and Initial Synthetic Birth (ISO). The primary objective of SynthMeta is to develop a financial gateway that bridges the gap between the traditional financial sector and the world of cryptocurrency through the integration of exchanges, NFT, and other related mediums.
Saber Labs: 1 top AMM stableswap on Solana.
Additionally, Aptos boasts several projects focused on Infrastructure including Rings Network, Aptos Eden, MoveBit, Move MarketCap, Aptosphere, xMS Notifi, BlockPI, Dialect, FYEO, and Paymagic.
DeFi
Pontem Network: as a product development studio, specializes in constructing dApp platforms and infrastructure for Aptos using the Move programming language. The company has already secured 4.5 million dollars in funding and has gained support from leading backers such as Alameda Research and Animoca Brands. Pontem Network offers various main products including Liquidswap DEX, Pontem Wallet, Move Playground, and Ethereum Virtual Machine (EVM) Layer for Aptos.
Vial: Algorithmic liquidity protocol on Aptos, currently the project has launched devnet.
Mojito Markets: A decentralized prediction market on Aptos
KX.finance: is a DeFi/DEX aggregator built on Aptos and Sui to support launching projects as well as managing profits for platform users.
Oracle
Oracle projects built on Aptos include: Switchboard, MetaOracle, DotOracle.
Name Services
Currently, all three projects related to Aptos, namely apt ID, Move Name Service, and Aptos Passport, are undergoing testnet phases, and their respective websites have been established to provide users with domain names.
GameFi
GameFi projects on Aptos at the moment include: Aptos Game, AptoSport, imcoding.online, Aptos CODM, APTOS SHIBA, KeplerHomes.
Currently, the GameFi projects within the Aptos ecosystem are still in the development phase and are expected to be launched in the near future.
Wallet
Wallets currently supporting the Aptos blockchain include: Martian, Fletch Aptos Wallet, Pontem Wallet, Fewcha Wallet, BloctoApp, ONTO Wallet, Petra, EVO Wallet, Rise Wallet, Spika, hive, Volt.id, Coin98.
NFT
Current NFT projects on Aptos include: Aptos Punk, Rekt Dogs, Aptos Monkeys, Aptos BULLS, Aptos Ape Society, The Uglies NFT, Aptos Crown Masks, Aptos Koalas Army, Nevermores, The Aptos Chads, Aptos Alpha, Aptfefeomingos, Unicornses on APTOS, RetroBoysNFT, BRUH BEARS, The Bussin Boomers, Degen War Seagull, NFMS, Aptos Toad Overload, Aptos Drippy Dragons, InSilva, Aptorses, Aptos Alpha Alpacas.
NFT Marketplace
NFT Marketplaces on Aptos include: BlueMove, Souffl3, Topaz, Top NFT, Space Powder, SeaShrine, Pond, Nightly Market, Acova
SocialFi
SocialFi projects being built on Aptos include: Knoknok Metaverse, ComingChat, Aptos Yoka, Date3
Bridge
Mover: is the first bridge between EVM and Aptos.
Launchpad
APTOSPAD, AptosBase, AptosLaunch, DaoStarter, Meeiro, Proton Sale, Aptopad, Orion: are the current lauchpad platforms launching on Aptos
Project team, investors & partners
Project team
The project Aptos is led by a team of former members from Meta (Facebook), who were involved in the development of Diem. Aptos can be regarded as their brainchild. At the helm of Aptos Labs is Mo Shaikh, a former core member of Meta, who is leading the team towards achieving the project's objectives.
The other members of Aptos Labs are also highly experienced professionals who previously worked for major companies in the blockchain and traditional financial industries, including Meta, Blackrock, Robinhood, Huobi, and JP Morgan.
Furthermore, Aptos has managed to attract several members from Solana Labs, including the notable Austin Virts, former Head of Marketing at Solana.
Investors & Partners
In March 2022, Aptos successfully raised $200 million from a group of renowned cryptocurrency investors. The funding round was led by Andreessen Horowitz, a venture capital company that has backed numerous crypto startups. Other notable investors included Tiger Global, Three Arrows Capital, Multicoin Capital, and Coinbase.
In a steady stream of positive news, Binance Labs announced in late March 2022 their intention to become a strategic investor, with Aptos joining the esteemed BNB Chain family. The merger of these two L1 blockchains will drive technological innovation and business development, as well as the creation of new large-scale Web2 use cases.
On July 25, 2022, the project announced the continuation of its Series A funding round, securing an investment of $150 million from prominent investors such as FTX Ventures, Jump Crypto, a16z, and Multicoin Capital. This brings the total funding raised by Aptos to $350 million and the company's valuation to $2 billion.
On September 15th, Binance Labs participated in another undisclosed fundraising round for Aptos Labs. The total amount of funding received by Aptos Labs through various rounds is estimated to be around 400 million USD, and the company's current valuation is valued at 4 billion USD.