Avalanche is one of the noteworthy Layer 1 projects in the cryptocurrency market. During the previous Bull Market season, the project's AVAX token recorded several thousand percent growth. 247btc aims to explore the changes that have taken place in this project since then, and this article provides comprehensive information on the same, looking ahead towards 2023.
What is Avalanche Crypto (Avax)?
Avalanche (AVAX) is a Layer 1 solution developed by Ava Labs, which enables the deployment of decentralized finance (DeFi) applications, financial assets, transactions, and various other services.
The objective of this project is to establish a global asset trading platform that enables individuals to initiate or trade any form of asset through a decentralized approach using smart contracts. This platform aims to provide access to a diverse range of assets to anyone who wishes to participate in the trading process.
What is the problem that the Avalanche (AVAX) project aims to address?
Currently, the finance market remains fragmented due to laws and geographical barriers, resulting in significant challenges in conducting transactions and limiting access to a large volume of valuable assets to global users. This presents a considerable hurdle in meeting the needs of consumers worldwide.
What is the methodology employed by Avalanche (AVAX) to address the issue at hand?
Avalanche provides a shared platform for various financial networks to easily launch and trade digital assets. This is made possible by Avalanche's platform-of-platforms architecture, which houses thousands of sub-networks catering to different user needs. These sub-networks can be interconnected to form a global network market.
Avalanche has made a significant improvement in addressing its existing problems by integrating three blockchain networks that can interact with each other, as opposed to implementing a single conventional blockchain. Due to the vast ecosystem of Avalanche, each blockchain will perform distinct tasks, alleviating the burden of a single blockchain having to fulfill multiple tasks. This development is expected to enhance the overall efficiency of Avalanche and further establish its position in the market.
The distribution and sharing of tasks effectively enhances the speed and scalability of Avalanche blockchain, enabling it to efficiently address issues pertaining to interaction and expansion.
The integration of three distinct blockchain technologies, namely Exchange Chain (X-Chain), Platform Chain (P-Chain), and Contract Chain (C-Chain), further bolster the blockchain's capabilities.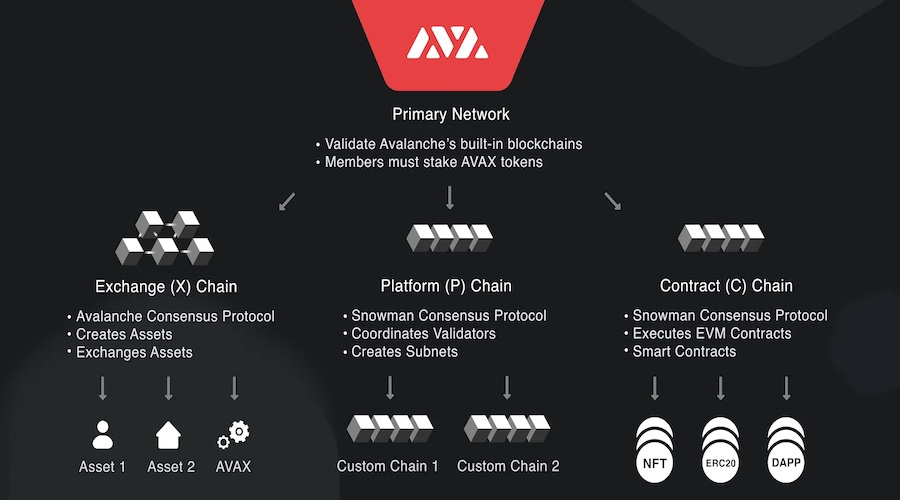 Exchange Chain (X-Chain)
The X-chain blockchain network is responsible for creating and facilitating the transactions of Avalanche assets. On this platform, the AVAX native token is currently the most widely used cryptocurrency, alongside the non-custodial exchange tokens of JOE and PNG.
Transactions made on X-Chain result in payment fees in AVAX, which is similar to how gas fees in Ethereum are paid with ETH. Therefore, even when trading JOE token, the fees will always be paid in AVAX.
Platform Chain (P-Chain)
The main feature of Avalanche is its smart contract functionality, which enables developers to construct decentralized applications (dApps) on the platform while also taking advantage of its security and scalability benefits.
The C-Chain operates smart contracts on the Avalanche platform while remaining compatible with EVM. This means that anyone can deploy Ethereum smart contracts on the Avalanche network.
The deployment of Ethereum smart contracts on Avalanche facilitates developers' access to its features via established Ethereum development tools. This enables seamless utilization of Avalanche's functionalities similar to customary conventions.
Contract Chain (C-Chain)
The P-Chain technology developed by Avalanche allows anyone to create their own L1 or L2 blockchain, with the possibility to even create a group of them. These blockchains are referred to as subnets within the Avalanche network, with the P-Chain serving as the default subnet for all.
The P-Chain operates as an all-encompassing management system for the Avalanche subnets by closely monitoring validators. Nevertheless, each subnet is also responsible for authenticating the P-Chain.
What are the salient features of Avalanche?
The prominent technologies of Avalanche are:
Speed: Avalanche's transaction processing speed is in seconds.
Ability of extension: Avalanche provides an exceptional ability to expand and manage thousands of transactions per second, without compromising performance. Moreover, it is compatible with thousands of validators, ensuring that the system maintains a high level of efficiency and functionality.
Security: Avalanche ensures confidentiality and security.
Avalanche extends support to smart contracts created and utilized through Solidity, accompanied by a wide range of Ethereum tools such as Remix, Metamask, and Truffle.
Users can create their own public or private blockchains.
Avalanche has been developed to cater to the financial market's needs and provides support for the facile creation and trading of digital assets with complex terms. These assets can be in the form of capital, stocks, debts, real estate, and numerous other commodities.
Avalanche Crypto – AVAX Tokenomics
Key Metrics
Ticker: AVAX.
Blockchain: Avalanche
Contract: FvwEAhmxKfeiG8SnEvq42hc6whRyY3EFYAvebMqDNDGCgxN5Z.
Token Standard: ARC20.
Token type: Governance, Unility.
Total Supply: 395,328,681 AVAX.
Circulating supply: 243,189,806.81 AVAX.
Source: Coinmarketcap.
Token Allocation
Staking Rewards: 50%.
Public Sale: 10%.
Team: 10%.
Foundation: 9.26%.
Community and Dev Endowment: 7%.
Strategic Partners: 5%.
Private Sale: 3.46%.
Seed Sale: 2.5%..
Airdrop: 2.5%.
Testnet Incentive Program: 0.28%.
Token Release Schedule
Token Use Case
Fees for transactions made on the Avalanche . network
Create public & private blockchain
Minting & trading assets
Interacting with smart contracts
Implement cross-chain swap
Authorize or run validator to secure Avalanche
Like a base currency for various Avalanche chains
Token Sale
Seed sale: 0.33$/AVAX.
Private Sale: 0.5$/AVAX.
Public Sale: 0.5-0.85$/AVAX.
Avalanche Team
The team at Ava Labs comprises elite professionals in the fields of computer science, economics, finance, and law, with offices located in New York City and Miami. With a collective experience gained from leading financial and technology companies listed on the Fortune 500, and high-growth blockchain companies, Ava Labs' team is committed to delivering top-notch blockchain solutions. The Fortune 500 is an annual list compiled by Fortune magazine, ranking the 500 largest US corporations based on their total revenues.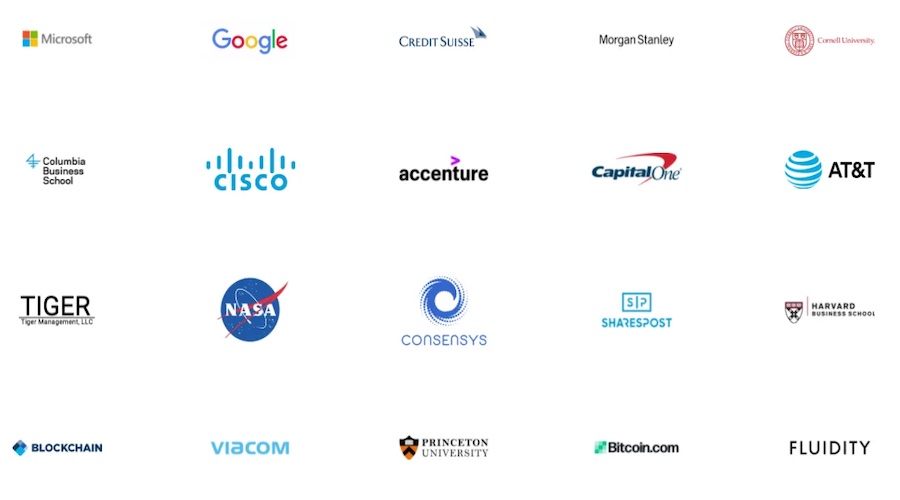 Investors
The top players in the round sale have gained significant attention, exemplified by their receipt of a staggering $230 million investment from esteemed firms such as Polychain, Three Arrows Capital, R/Crypto Fund, Dragonfly, CMS Holdings, Collab+Currency, and Lvna Capital. There are numerous other notable venture capitalists also participating in this round.
Partners
The ecosystem has experienced robust growth in various areas, including DeFi, Digital Securities, Ecosystem, Exchange, Explorer, Gaming, Identity, Infrastructure, NFT, Nodes, Oracle, Payments, Play to Earn, Security, Stablecoin, Tooling, Trading, Bot, Wallet, and Wealth Management.
Avalanche's Ecosystem
The growth trend in Avalanche blockchain technology is attributed to the high transaction fees on Ethereum, prompting users to seek ecosystems with faster transaction speeds and lower fees. With its notable advantages and rapid development, the ecosystem has accommodated close to 500 dApps, integrated and built on the network. Currently, Avalanche is one of the fastest scaling blockchains available in the market.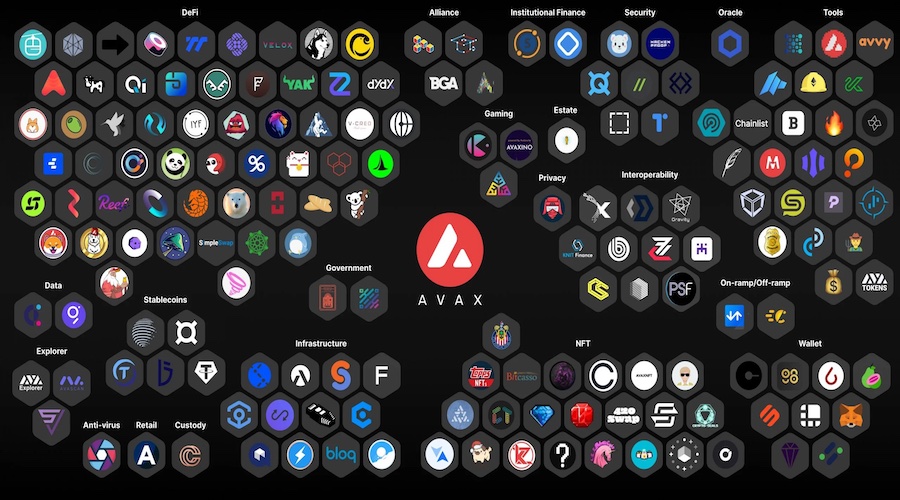 My attention will be directed towards prominent projects built within the Avalanche ecosystem, wherein I will contribute significantly at present.
AMM DEX
The DEXs operating on the Avalanche ecosystem have several prominent entities that command a substantial amount of Total Value Locked or TVL. As the centers of DeFi, the DEX platforms continue to foster a thriving ecosystem.
Trader Joe's: is a decentralized exchange (DEX) platform built on Avalanche, which is a fork of Uniswap. It serves as a marketplace where cryptocurrency traders can buy and sell tokens without the need for intermediaries. As of the time of writing, the platform boasts a total value locked (TVL) of 1.5 billion, making it the largest DEX on Avalanche and second on Defilama's TVL ranking for the Avalanche ecosystem.
The Pangolin Exchange: stands as the first decentralized exchange within the Avalanche ecosystem, which is operated by the community. This platform offers fast transaction speeds, low trading fees, and fair distribution. With Pangolin, users can experience the best trading opportunities and maximize their profits.
Platypus: is a DEX platform that enables trading of stablecoins built on the Avalanche ecosystem. The protocol is implemented as a set of smart contracts designed to prioritize censorship resistance, security, self-custody, and efficient use of maximum capital. At present, Platypus has achieved a TVL of 1.2 billion dollars and stands at fifth place on the Defilama ranking after being launched for three months.
Dexalot: is a decentralized exchange (DEX) built on the blockchain platform Avalanche, featuring an Order Book design. Its primary goal is to provide users with an easy-to-use, familiar interface that does not compromise transparency and hierarchical organization.
At present, Trader Joe is leading in terms of trading volume and total value lock (TVL) in the DEX market. Other DEX platforms are yet to see significant transaction volumes and experience the same level of activity.
Lending & Borrowing
The Lending platform is currently operating with great vitality within the ecosystem. Prominent cross-chain projects like AAVE and Curve have garnered the highest Total Value Locked (TVL) in the ecosystem. Several noteworthy projects have been built on Avalanche.
BenQi is the first lending project on the Avalanche ecosystem that has garnered the trust of the Avalanche community. Within a week of its launch, BenQi achieved a TVL (Total Value Locked) of 1 billion USD. Despite the passage of time, the TVL has managed to maintain its position above 1 billion USD. Future enhancements to the liquidity features of BenQi are planned to attract more users.
Trader Joe's: In addition to asset trading, Trader Joe's project also incorporates lending and borrowing functions to assist users in maximizing profits, contributing to the company's current standing in the market.
Yeti Finance is the application named Yeti Finance enables lending and borrowing services, allowing users to mortgage their crypto assets such as LPs token and staked token to borrow YUSD with a leverage up to 11x.
NFT
The ecosystem of NFT is expanding and currently boasts over 40 projects comprising collections as well as platforms for NFT issuance, trading, and farming. Noteworthy projects include:
Kalao is an NFT ecosystem that leverages VR technology to advance the development of virtual worlds and facilitate digital transformation in the business sector. Kalao's NFT marketplace is integrated with low cost and user-friendly features, built on the Avalanche ecosystem.
NFTrade is a multifaceted platform that enables the creation and trading of NFTs across multiple blockchains. With seamless launching, minting, and swapping capabilities, users can easily curate their digital collections with the help of NFTrade.
Bridge
Bridges serve as critical infrastructure for guiding cash flow. Two bridges, in particular, played a crucial role in supporting Avalanche's explosive growth in 2021. These bridges are:
The Avalanche Ethereum Bridge (AEB) enables a direct link to your Metamask wallet, allowing for effortless transfer of assets between Avalanche and Ethereum.
The Avalanche Bridge (AB) was recently constructed utilizing the groundbreaking Intel SGX technology to enhance cross-chain interaction capabilities within the Avalanche ecosystem. This new bridge is considerably more cost-effective, priced at less than one-fifth of the previously launched Avalanche Ethereum Bridge from early 2021. The introduction of AB has prompted a significant influx of funds from Ethereum into the ecosystem.
Wallet
At present, Avalanche is backed by approximately 20 different wallets, including Coin98, Metamask, Coinbase, AVME, among others. Additionally, Avalanche has created its own wallet to fully support its blockchain.
The Avalanche Wallet, also known as AVAX Wallet, is a blockchain wallet designed to facilitate storage of assets within the Avalanche ecosystem. Currently, the wallet is only available in the form of a web app and lacks a mobile or desktop version. Notably, Avalanche Wallet supports the seamless conversion of assets across three different Avalanche chains.
Security
AVME: the first desktop wallet of Avalanche, has integrated a sophisticated anti-malware protection system built on Avalanche. In order to detect malware and protect endpoint security, AVME has launched two new technologies provided in its blockchain infrastructure, including Node Sandbox and AI virus detection.
Tools & Explore
Avascan: is a user-friendly independent blockchain explorer tool for the Avalanche network. It is designed with simplicity in mind, providing its users with easy access to a comprehensive view of all on-chain activity for the blockchain.
The Avalanche Explorer: is the official exploration tool provided by AVA Labs. It is an analytical tool that enables users to search through the Avalanche blockchain to identify relevant data.
Markr.io: is a tool designed to manage and monitor investment portfolios for dApp users on the Avalanche network. The platform's main objective is to connect various decentralized exchanges (DEX) into a single, comprehensive platform while still maintaining their complete functionalities. The ultimate goal is to become a multifunctional DEX aggregator on the Avalanche network.
Insurance
Degis is a revolutionary next-generation decentralized insurance protocol that has been specifically crafted to safeguard your assets against both on-chain and off-chain risks. Acting as an effective bridge between the physical world and the digital realm, this protocol is designed to ensure utmost safety and security for your valuable assets.
IDO Platform
A successful ecosystem hinges upon the presence of foundational frameworks which serve as launching pads for new projects. The success of individual projects directly contributes to the overall success of the ecosystem.
Avalaunch is the first launchpad within the ecosystem that is directly supported by Ava Labs. It has successfully facilitated 15 projects within the Avalanche ecosystem and conducted highly prosperous IDOs, raising maximum funds. The launchpad projects on Avalaunch offer a remarkably attractive ATH ROI, ranging from 10x to 160x.
Penguin Finance: The main product offered by Penguin Finance is the development of the Yield Farming sector based on liquidity derived from Pangolin. Additionally, the platform provides support for launchpad projects, with successful launches of four projects achieving ATH ROI ranging from 5x to 30x.
Game
At present, there are around 40 gaming projects on Avalanche platform, however, only a few of them have achieved success so far.
Roco is a GameFi platform that specializes in blockchain services, catering to game developers, content creators, and gaming communities through its blockchain network which includes an NFT marketplace, launchpad, and other related services.
Currently, the most successful gaming project on Avalanche is Crabada, a new gaming metaverse project developed on the Avalanche platform using the Play-to-earn mechanism. Crabada is set in the underwater world and provides players with the opportunity to explore the kingdom of the Hermit-Crabs.
YAY Games: is a decentralized game marketplace specifically tailored to cater to the gaming community, traders, and farmers. Participants of the protocol have the opportunity to earn cryptocurrency by engaging in mining, farming, and trading activities within the games.
TaleCraft is a GameFi PvP project that utilizes a card-based gameplay system and is built on the Avalanche platform. This crafting game offers players the ability to earn NFTs by creating a wide range of unique handmade items.
ROKOSOFT's MMORPG game, Rise Online, which is built on Avalanche, is undergoing a revolutionary transformation. It will carry out this transformation on Avax network as well.
Recently, Avalanche made an investment into the Imperium Empires project, which is expected to become the first AAA GameFi 2.0 metaverse in the world. It remains to be seen whether this project will become a major success within this ecosystem. Let us wait and observe the progress of this venture.
Yield Farming
Yield Yak serves as the foundation for the complete ecosystem of Avalanche by enabling Yield Aggregator to gather all available information. The platform helps investors to optimize their profits, diversify their pool pairs, and provides the most convenient conditions for market access. Yield Yak is currently the most popular Yield Aggregator on Avalanche.
Penguin Finance is a decentralized finance platform that has integrated the automated market maker (AMM) feature of Pangolin. This integration provides users with optimal profit maximization options when providing liquidity to various platforms on the Avalanche Network. Penguin Finance boasts high annual percentage rate (APR) pools that generate the highest returns on investments among all platforms available on Avalanche.
Dao
Colony is a developing ecosystem that is transitioning into a Decentralized Autonomous Organization (DAO), built for the Avalanche ecosystem. This project is designed to provide integrity in the structure of traditional finance for Decentralized Finance (DeFi). It is founded upon a community-driven approach.
Stablecoin
Avalanche has integrated the two largest stable platforms, USDT and USDC, into its ecosystem. This is a significant advantage, as Avalanche users will no longer be dependent on bridges to transfer USDC and USDT from Ethereum. The expected support is anticipated to enhance Avalanche's ability to expand its DeFi capabilities, as stablecoins play a vital role as the lifeblood in facilitating cash flow among various projects.
Currently, the ecosystem supports 13 distinct types of stablecoin, including both centralized and decentralized variations. This diverse range of stablecoins serves to enhance flexibility and stability within the ecosystem, providing users with a variety of options for their financial needs.
Conclude
Avalanche is widely known as the Internet of Blockchain, providing a highly interactive and scalable enterprise blockchain deployment platform. Additionally, Avalanche is compatible with EVM, enabling easy migration of Ethereum-based dApps onto the Avalanche blockchain. This compatibility further enables developers to build dApps on the Avalanche platform without investing excessive efforts.