The Cosmos crypto ATOM token has garnered significant attention from the crypto community and has been listed on many major exchanges following its mainnet launch in 2019. In this regard, 247BTC invites you to explore and learn about Cosmos and its ATOM coin, comprehensively detailing its significance and information.
What is Cosmos Network Crypto?
The Cosmos Network, commonly known as ATOM, is a Blockchain Platform that defines itself as a decentralized network comprised of parallel Blockchains. Within this network, Cosmos endeavors to address issues faced by Blockchain technology, particularly scalability and effectiveness, as well as facilitate increased functionality.
In addition to the development of a platform known as Cosmos SDK, which facilitates the creation of customized Blockchain projects, Cosmos has also established its own unique Blockchain called Cosmos Hub.
The role of the Cosmos Hub is of utmost importance, as it serves as the central hub of the Cosmos network, facilitating the interconnectivity between various blockchain protocols within the ecosystem via the Inter-Blockchain Communication (IBC) protocol.
During the four-year development of IBC, there were few notable entities on Cosmos Hub apart from the ATOM token. However, with the completion of the IBC bridge in March of this year, ATOM and Cosmos Hub are set to transition into a new phase. As the central link between various blockchains, Cosmos Hub will likely experience a significant influx of funds.
What problem does Cosmos solve?
Links and interactions
COSMOS has the capability of interacting with various applications and cryptocurrencies, a feat that many other blockchains are unable to accomplish. Through the creation of a new network, it is possible to integrate any blockchain system into the COSMOS center and transfer tokens between regions without the need for intermediaries.
Ability of extension
One common issue facing current blockchains is the need to expand their scale. For example, both Ethereum and Bitcoin only support a small fraction of daily transactions on payment networks such as Visa or Mastercard. In contrast, COSMOS allows for unlimited scalability in designated areas.
Imagine a scenario in which the transaction speed in one area slows down due to excessive usage, in this circumstance, adding another area to the center and transferring half of the users to that area would effectively double your transaction speed.
Upgrade problem
Another issue encountered by blockchains is related to handling upgrades when new versions are released. Requiring all validators (such as "miners" in the case of Bitcoin) to upgrade to the latest version of the blockchain can be difficult and may result in hard forks, leading to further complications.
The aforementioned scenario occurred when Ethereum underwent a split into ETH and ETC due to political and administrative complications surrounding the DAO hack. However, with COSMOS, upgrading is made seamless by simply adding a new zone into the center of the universe and inviting users to transfer their funds to that zone with ease. This is how COSMOS delivers an optimal solution for interlinking disparate systems together.
Products of Cosmos Network
Cosmos Hub Module
The Cosmos Hub is the initial blockchain introduced on the Cosmos Network, which functions as a gateway through which all other diverse blockchains created within the network can operate. All transaction and swap information will be executed on the chain in the Peg-Zone.
Within the Cosmos ecosystem, each Zone is capable of executing functions independently, including transaction verification, account management, and token creation and distribution. The Cosmos Hub enables all blockchains to operate in tandem by monitoring their respective states. This fosters seamless interoperability among diverse blockchain ecosystems.
The objective of Cosmos is to establish an amalgamated ecosystem comprised of multiple distinct blockchains capable of sharing data and tokens in a non-centralized and independent manner, while remaining impervious to external third parties. Newly created blockchains can interact with existing ones when they are both connected to a central Hub. The interconnectivity between different blockchains is facilitated through the IBC (Inter-Blockchain Communication) protocol.
COSMOS Ecosystem
Upon the introduction of the Inter-Blockchain Communication protocol, the ecosystem on the Cosmos Hub has experienced rapid growth. Currently, there are two noteworthy projects underway.
Osmosis: The first automated market maker (AMM) protocol on Cosmos, Osmosis, has gained significant investment through its Liquidity Mining program due to being the pioneer in the market.
Emeris: The development of UI/UX (User Interface and User Experience) for Gravity DEX, an initiative created by Cosmos, is facilitated by its underlying platform. The project has received tremendous support from numerous major partners affiliated with Cosmos.
Furthermore, COSMOS has been successful in attracting numerous partners to participate in its ecosystem. A substantial number of projects have been developed based on COSMOS technology and have become part of its network. Notable examples include:
Band Protocol: This is a hierarchical data oracle designed for Web 3.0 applications. It serves as a protocol connecting smart contracts to reliable off-chain information through data providers that are managed by the community.
Binance Smart Chain, which is developed by Binance, serves as the foundation for a decentralized exchange (DEX). Binance Smart Chain (BSC) is a blockchain that supports smart contracts in parallel with Binance Chain, with the aim of providing a permissionless platform that enables decentralized applications (DApps).
Terra: The Terra protocol operates based on the Proof of Stake algorithm authorized by Tendermint and Cosmos SDK, with the aim of becoming a new financial infrastructure worldwide, allowing for diverse dApps to be developed. Additionally, Terra has introduced a stablecoin that serves as a payment option in their blockchain payment solution.
IRISnet : This is a blockchain based on BPoS, constructed using the SDK COSMOS, featuring the ability to enable interaction between blockchains, thereby creating a platform aimed towards the next generation of decentralized business applications.
Several European companies have issued stablecoins, which are backed by fiat currency and differ from other cryptocurrencies in that they accrue interest and are protected by a solvency fund.
Playlist The Playlist project aims to introduce the music industry into the Crypto market, among other initiatives.
Sentinel Network: The Sentinel Network has established a decentralized network with a non-centralized structure.
Lino established a decentralized self-governing economy based on content creation.
TruStory has created a social network with the objective of verifying the accuracy of information that is posted on it.
Strengths of Cosmos SDK
Modularity: Blockchains can use Cosmos SDK and self-optimize them based on their needs.
The capability for expansion is facilitated by the parallel operation of chains, thus solving the issue of expansion with ease.
The IBC solution ensures the seamless interaction between different blockchains, providing a reliable and secure means of communication.
Tính bảo mật của các ứng dụng dApps rất tốt khi sử dụng cơ chế PoS.
The security features of decentralized applications (dApps) are highly effective when utilizing the Proof-of-Stake (PoS) mechanism.
The Cosmos Hub is the first Blockchain to be developed on the Cosmos Network, which will be the foundation for numerous other Blockchains. The key token for Cosmos Hub is ATOM.
The responsibility of Tendermint Core is to provide web servers, databases, and libraries to Blockchain applications, facilitating their smooth operation in an efficient and effective manner.
The consensus mechanism based on the Tendermint algorithm is suitable for Public Blockchains that utilize the Proof of Stake (PoS) consensus mechanism. This algorithm addresses issues relating to scalability, utility, and energy consumption.
The Cosmos Network currently comprises a few renowned Layer 1 solutions, such as Terra and Binance Smart Chain. In the event that all Layer 1 implementations within Cosmos Network attain comparable levels of success to that of the aforementioned two, the blockchain ecosystem could potentially expand to become a vast and highly diversified universe.
Detailed information about ATOM
Key Metrics
Name: Cosmos Staking Token.
Token: ATOM.
Blockchain: Cosmos.
Smart Contract (BEP20): 0x0eb3a705fc54725037cc9e008bdede697f62f335
Token Type: Utility, Governance.
Total Supply: Unlimited
Circulating Supply: 286,370,297 ATOM.
Token Allocation
Public Fundraiser: 68%
Seeds: 10%
Strategic: 10%
Tendermint Team: 7%
Interchain Foundation: 5%
ATOM Token Sale
Token Use Case
ATOM tokens are used to:
Pay transaction fees
Validators stake ATOM Token to process transactions within the system
The ATOM Token undergoes staking by chosen Validators via Delegators. Within the Cosmos Hub Blockchain, there is presently a limited number of Validators available.
The provision of a reward to validators upon handling transactions is imperative.
When Validators receive fees from transactions, a portion of those fees will be rewarded to the corresponding Delegators who vote for those Validators.
Vote for Cosmos Network's future proposals.
A portion of the revenue generated from transaction fees will be transferred to the Treasury. This fund may be allocated towards potential new projects, which must hold ATOM Tokens in order to be eligible to receive funding.
How to earn and own ATOM
Several methods exist to acquire and earn ATOM tokens
Buy from exchanges: Binance, Bibox, Bittrex, Huobi, OKEx,..
Become Validators, Delegators to receive ATOM Token Rewards.
Storage wallet
In addition to the Cosmos Coin wallet from this developer itself, you can use other wallets from third parties such as Wetez, ImToken, ..
Roadmap & Update
Q1/ 2021: Launching the Gravity DEX exchange and connecting the Inter-blockchain gateway.
Q2/2021: As a bridge between AMM's Gravity and Ethereum.
Q3/2021: Provide AMM derivative liquidity, integrated on ICB.
Q4/2021: As a bridge between Cosmos Hub and Bitcoin, allowing Pooling as well as Swapping on Gravity DEX.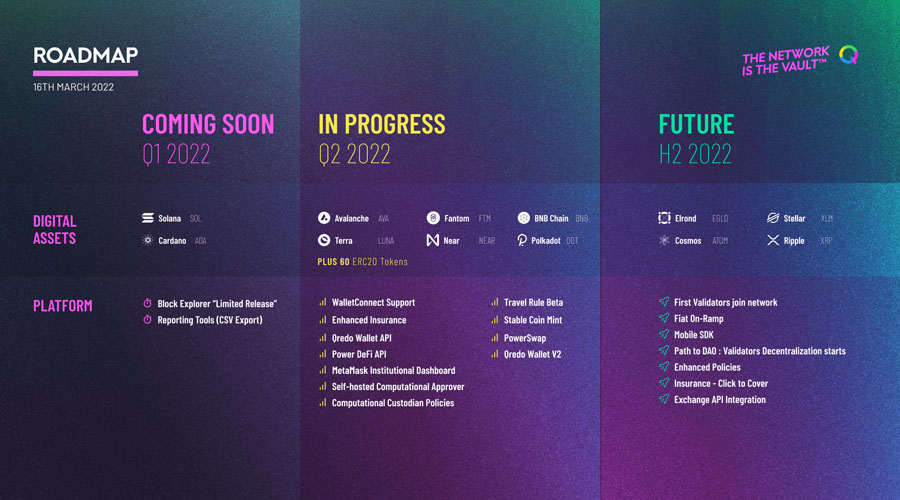 Q1 2022: Rho Upgrading Planned
v0 inter-chain security
Tendermint v0.35
Cross-chain account
NFT module
String Name Service
Q2 2022: Expected to upgrade Lambda
Cross-chain security v2
Staking derivatives
Cosmos SDK v0.45
Issuance of Tokens
Allows to generate tokens directly on Hub
Aim to provide ERC20 . standards
Gravity DEX v2
Order matching
Future upgrades
Cross Chain Bridge (non-IBC)
Atomic exchange
Decentralized Identifiers (DIDs)
Privacy
Virtual machine
Smart contract language
No knowledge and positive optimism
Project team, investors & partners
Project team
Jae Kwon: He is the CEO and the founder of Tendermint. Moreover, he co-founded "I done this" and has contributed significantly to various projects such as Scramble.io, Flywheel Network, and Yelp.
Ethan Buchman:He is the CTO and co-founder of the project
Peng Zhong: This individual is the head of the design department and possesses over seven years of experience working as a JavaScript developer for Nylira, a web development company.
Investors
Cosmos Network has gained the support of numerous renowned investors, among whom are Hashed, Pantera, Dragonfly Capital, and many others, indicating the network's considerable credibility and potential for growth in the future.