In order to assist you in keeping abreast of the developments within the Oasis Network ecosystem, I propose that we work together to systematically explore the various components of the system. This approach will enable us to gain a comprehensive overview of the ecosystem and identify potential investment opportunities. Specifically, we shall investigate the potential of decentralized finance (DeFi) on Oasis Network and ascertain the current stage of development of the ecosystem. Given that the Oasis Network is still a relatively new ecosystem, we believe that a detailed exploration of the system is necessary. Please follow the link provided to learn more about this emerging ecosystem.
What is Oasis Network?
The Oasis network is a Layer 1 proof-of-stake blockchain network that offers high security, privacy, and scalability. It enables users to own and manage their own data, while also exploring the potential benefits of their data. The security feature of Oasis can generate a type of digital asset called Tokenized Data, allowing users to control their data and earn rewards through staking.
Furthermore, Oasis employs the ParaTime Architecture which separates the Consensus Layer from the ParaTime Layer, allowing for enhanced scalability and support for diverse specialized computing requirements.
The salient feature of Oasis
The privacy and scalability of DeFi
By offering privacy and scalability to the DeFi industry, Oasis is well-equipped to introduce DeFi to a broad audience of new users in the mainstream market.
The Oasis platform enables the creation of smart contracts that are private, highly scalable, and capable of encrypting data, thereby opening up new use cases such as private lending, mortgage-backed loans, and private automated market makers.
The encryption and conversion of data
The Tokenized Data model facilitates users to earn rewards by staking their data within the application
Afterwards, the application shall proceed to analyze data or regulate highly sensitive information based on the establishment of a Responsible Data Economy, which promotes accountability and responsibility in the management of data-driven proceedings.
ParaTime Scaling Architecture
By separating execution from consensus, our system offers the benefits of quick transaction speeds, high scalability, and the ability to handle large workloads effectively.
The Consensus Layer has the potential to expand through the use of Proof of Stake (POS) and is entirely decentralized.
The ParaTime Layer functions as a storage solution for multiple parallel ParaTimes, with each time representing a computing environment that's replicated with a shared state. This system provides flexibility for the creation of ParaTimes, including Ethereum/EVM ParaTimes (such as OasisEth), secret computing ParaTimes, licensed ParaTimes, among others. Any individual is capable of generating these ParaTimes as needed.
Token Information of Oasis Labs
Key Metrics 
Token Name: Oasis ROSE
Ticker: ROSE
Blockchain: Oasis Blockchain
Explorer: https://www.oasisscan.com/
Token type: Utility
Total Supply: ~ 10,000,000,000 token
Circulating Supply: 1,500,000,000 token (lúc ra mắt)
Token Allocation
Token Sale 
In the year 2018, Oasis Labs successfully raised $45M in their Series A round of funding, with notable participants including a16z, Polychain Capital, Pantera, MetaStable and several other investment firms.
In this particular trading period, Oasis Network managed to market approximately 2.3B units of ROSE, signifying 23% of their maximum supply capacity.
Token Release Schedule
Token Use Case
The token known as ROSE, which has a capped supply and is native to its platform, finds utility in a variety of use cases
Token Utility: The Consensus Layer allows for the utilization of transaction fees, staking, and delegation.
Staking reward: To provide network security, a reward of approximately two million tokens will be distributed to stakers and delegators for their staking efforts.
The ways to earn and acquire ROSE tokens
Currently, members are able to participate in the ROSE Garden mechanism of Oasis in order to earn rewards which also enhances the security of the Oasis network. The ROSE Garden has two segments
ROSE Farm: You can obtain ROSE tokens by temporarily depositing USDC/ USDT into the ROSE Farm pool.
ROSE Cultivate: You can receive ROSE tokens by participating in staking activities using the ROSE tokens that you have farmed.
In order to participate in ROSE Cultivate, individuals must first become members of ROSE Farm. However, membership to ROSE Farm is open to anyone who wishes to join.
The ROSE Garden program is soon to be launched on Coinlist, with a staking reward of up to 31.5 million ROSE. All earned ROSE will be paid out after a 40-day lock-up period.
Roadmap & Updates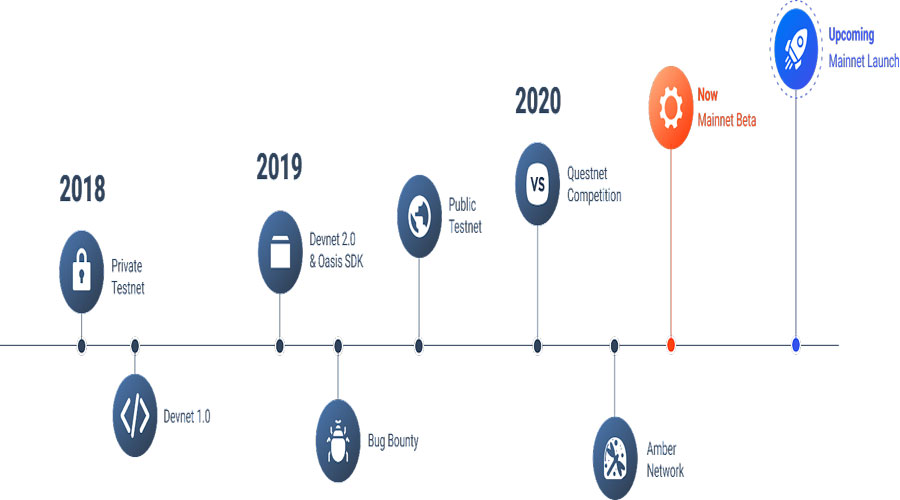 Over the past few days, Oasis has been actively preparing for the transition from Mainnet Beta to Mainnet Production.
Upcoming is the ROSE garden program on Coinlist, as previously mentioned.
Team, Investors & Partnership
Team
The Oasis team consists of distinguished researchers from around the world, experts in security and cryptography, as well as privacy advocates who share the vision and mission of Oasis, led by founder Ms. Dawn Song.
The core contributor hails from Oasis Labs, a data security technology company, and the Oasis Foundation, a centralized organization focused on developing the ecosystem surrounding Oasis. Together, the 500-member team is currently conducting trial runs and testing nodes, building tools, applications, and Paratimes.
Investors
It is worth noting that the investment funds that have poured into Oasis are all reputable and well-established players in the world of cryptocurrency, renowned for their long-term vision and expertise within the field. Examples of such prominent names include a16z, Pantera, and Polychain Capital, as any interested parties are able to discern.
It is possible to review several prominent projects that these funds have invested in, such as:
A16z: Celo, Avax, Near, Solana…
Pantera: Polkadot, Near, Starkware, Celer
Polychain Capital: Terra. Avalanche, Cosmos, Celo…
Merely mentioning the aforementioned names undoubtedly illustrates the extensive investment experience and exceptional support for Layer 1 projects that these funds possess. As a result, it is highly likely that Oasis will experience analogous success in the future, similar to Avax, Near, and Terra.
Oasis's Ecosystem
The ecosystem of Oasis is currently in its developmental phase, and the lack of users is reflected in the low daily transaction count of only 4,500 and the operation of 900 wallets within the last seven days. These figures indicate that the Oasis network is still in its infancy and is undergoing development to reach the mainnet production phase and enable the execution of decentralized applications (Dapps) on its ecosystem.
Therefore, instead of analyzing Oasis's ecosystem by its individual components, it would be more advantageous to examine the Grants and Accelerators established by the project to attract developers to the platform and integrate the infrastructure building blocks of the ecosystem.
Regarding the areas of Block Explorer and Validator Leaderboards
Oasisscan: Built by bitcat.
Oasis Monitor: Built by Everstake.
Oasis Hubble: Built by Figment Networks.
Oasis.Fish: Built by Stakefish.
Oasis Smartstake: Built by Smartstake.
With regards to the domain of Wallets, GUIs, and Staking Dashboards
In order to fully experience the Oasis ecosystem, it is suggested that one utilizes the Oasis Wallet which can be accessed at the following URL: https://wallet.oasisprotocol.org/.
Furthermore, Oasis has also incorporated many other Wallets such as Metamask, Bitpie, Ledger, RockX and Zondax, enhancing compatibility with more users. This integration provides a seamless experience for individuals using these Wallets when transacting on the Oasis platform. The inclusion of different Wallet options demonstrates the platform's commitment to meeting diverse user needs and creating a user-friendly trading environment.
Anthem: Built by Chorus One.
Bitpie.
RockX Wallet.
Regarding the domain of infrastructural support for node execution
Ankr one-touch deploy: Built by Ankr.
Bison Trails-managed Validator: Built by Bison Trails – a product of Coinbase.
Regarding the area of developer support tools (which is currently only available in the Github version)
Rosetta Gateway: Built by the Oasis Protocol Foundation.
Oasis Metadata Registry: Built by the Oasis Protocol Foundation.
Oasis API Server: Built by Simply VC.
Oasis RPC Proxy: Built by Figment.
Oasis Indexer: Built by Figment.
Oasis Explorer: Built by Everstake.
In relation to the Oracle domain, the ecosystem has collaborated with Chainlink to bring off-chain data onto the on-chain platform. This partnership represents the first and current collaboration between an oracle and Oasis.
As a whole, the various components of the foundational infrastructure have been constructed and put into operation extensively, aimed at facilitating the development of Dapps and the launch of Mainnet Production in the near future.
Grants & DevAccelerator
The Oasis ecosystem has implemented various programs aimed at stimulating the development of the ecosystem and attracting developers, including the Grant program and the Dev Accelerator program. The outcome of these programs includes notable projects, primarily practical-life applications.
Alethea.ai: The marketplace for artificial intelligence-driven network content development;
Bankex: A tool to support sending electronic assets on social networks;
Castalise: Predictive analytics protects privacy on pharmaceutical data;
Dead Man's Switch: A decentralized, anti-censorship tool for whistleblowers;
Luther.ai: Building artificial intelligence to store, consolidate, recall and enhance human memory;
Ruyi Health: An intuitive and intelligent health management solution for stroke patients, health solution providers and their insurers;
SafeRate: Automatically reduces mortgage payments when neighborhood home values ​​fall to avoid the risk of liquidation for borrowers;
In general, the main projects are focused on real-life applications such as health insurance, healthcare, pharmaceuticals, artificial intelligence, and traditional financial investments. Consequently, there are currently no opportunities to invest in tokens for profit. Additionally, some other products may be available, but they are not relevant to the aforementioned projects.
Conclude
Based on the information provided, it is evident that Oasis is prioritizing the development of fundamental building blocks and constructing bridges to connect and attract liquidity to its ecosystem. Furthermore, Oasis is actively sponsoring promising ideas and projects. Therefore, it is reasonable to expect that the ecosystem will continue to grow both in quantity and quality of projects in the near future.