Cross-chain has become a well-known term among many investors in the DeFi industry, as it serves as a solution to connect different blockchains. Nevertheless, products such as Bridge have not gained much attention due to security or infrastructure issues. ZetaChain is deemed as a solution that connects and enables interaction among many blockchains. So, what exactly is ZetaChain? Let's delve into this project through the article below, provided by 247BTC.
What is ZetaChain?
Zetachain is a Layer 1 blockchain with smart contract capabilities that bears resemblance to LayerZero, designed to connect various other blockchains. The project is developed on the Cosmos SDK, addressing issues pertaining to cross-chain and multi-chain functionality, including networks such as Ethereum, BNC Smart Chain, Solana, Avalanche and Bitcoin.
The aforementioned project serves as a multi-chain ecosystem within the crypto market, designed to support end-users and dApp developers in leveraging the benefits available on any blockchain. This initiative includes an array of activities such as payments, DeFi solutions, liquidity provision, gaming, social graph functionality, security measures, and privacy protection.
How does ZetaChain work?
When users engage with the crypto ecosystem through a dApp, which is supported by one or more specific chains, using the same dApp on a different chain can pose a significant barrier. Although certain cross-chain projects have been introduced to facilitate interoperability, they are limited to a particular blockchain, and users must comply with the project's requirements to use them.
Unlike other cross-chain platforms, Zetachain offers a web3 interface gateway for users to interact with various popular blockchain platforms (including over 100 blockchains).
The project allows developers to construct and deploy dApps on any blockchain, thereby minimizing the risk of hacks and exploits on user assets. Zetachain's strength lies in its suitability for a wide range of areas, including DeFi, DAO, gaming, identity, social, collectibles, media, payments, governance, and NFTs.
The salient feature of ZetaChain
Decentralized and open source
ZetaChain is an open-source decentralized blockchain that employs the Proof of Stake (POS) consensus mechanism, ensuring complete transparency and verification of all cross-chain transactions and platform activities.
Hyper-connected nodes
Those responsible for monitoring the linked nodes on ZetaChain possess the ability to track all transactions occurring on the chains connected to the network. These nodes facilitate a smooth cross-chain environment for developers to create advanced cross-chain applications, by enabling the secure reading and writing of the linked chains.
Omnichain Dapp
By utilizing just a few function calls, developers are able to transmit messages (including data and values) between different Layer 1 and Layer 2 blockchains. This enables developers to create powerful cross-chain DApps through the use of simple transfer notifications added to their existing smart contracts.
Omnichain Smart Contract
ZetaChain enables the deployment of smart contracts that can read and write to previously linked chains through the smart contract of Omnichain, as per its functional capabilities and technical specifications.
Multichain Asset Management
The ZetaChain blockchain, along with the distributed applications created on this network, have the capability to manage assets across interconnected chains. This is analogous to the functionality of a smart contract on a singular chain, which can oversee assets within that particular chain.
What is the ZETA token?
ZETA Token Key Metric 
​​Token Name: Zetachain
Ticker: ZETA
Blockchain: Updating…
Token Contract: Updating…
Token Type: Utility, Governance
Total Supply: Updating…
Circulating Supply: Updating…
ZETA Token Use Cases
The possible applications of the ZETA token are as follows:
This payment method is employed for settling the gas fees incurred by the ZetaChain smart contracts.
The sustainability of ZetaChain's blockchain is ensured through the utilization of bonding and staking activities.
ZETA represents the fundamental token of ZetaChain, providing cross-chain swap functionalities, message transmission, and secure storage mechanisms.
ZETA Token Allocation
Updating…
Token Release Schedule 
Updating…
ZETA Token Sale 
Updating…
Where to buy ZETA Token?
Zetachain is currently undergoing a testing phase. If you are interested, you can request the ZETA testnet through the #zeta-faucet channel on Zetachain's Discord platform. This will allow you to experience the ecosystem. Please be informed that the test ZETA is only usable within the Zetachain network and has no exchange value with any other currency. Thank you for your understanding.
ZETA Token Storage Wallet
Updating…
Roadmaps & updates
Although Zetachain does not regularly update its roadmap, the project has notable milestones in the past such as:
December 2021: Introduced Zetachain for the first time.
March 2022: Announcement of Whitepaper and Launch of Devnet.
August 2022: Announced launch of ZetaLabs.
Also in 2022: Zeta World Tour 10 countries from San Francisco, Paris to Tokyo…
Deploying products such as Zeta Scan, ZetaDocs, ZetaLearn…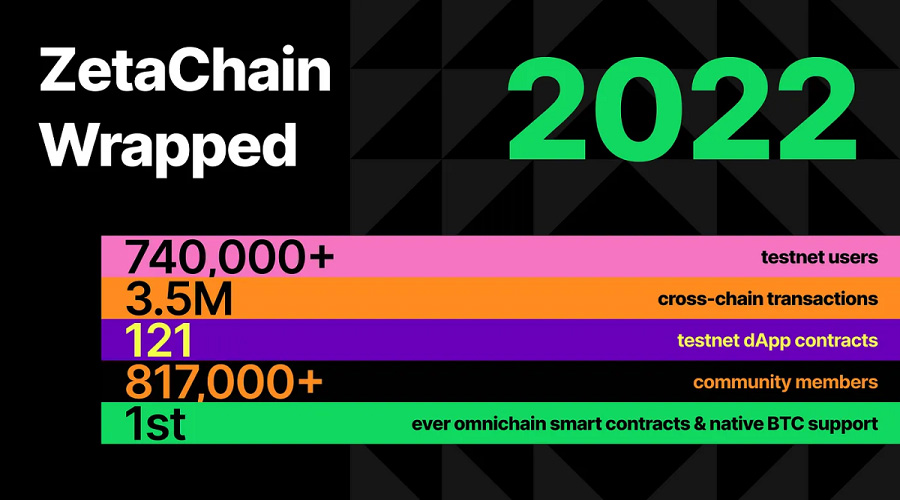 Project team Zetachain
The ZetaChain development team comprises highly experienced members with years of expertise in the cryptocurrency domain, encompassing:
Brandon Truong: The current Head of Product at ZetaChain has over 6 years of experience as a Chief Product Officer at Yada and BuzzFeed.
Jonathan Covey: Currently, he holds the position of Head of Community at ZetaChain and possesses over six years of experience as a Marketer at WorkMarket and notably at ConsenSys.
Martin Grabina: He is currently working as a software engineer at ZetaChain, with over four years of experience in programming technology products in general and blockchain technology specifically.
Summary of ZetaChain
ZetaChain (Zeta) is a promising blockchain platform that boasts diverse functionalities and cross-chain compatibility with multiple other blockchains. However, it is currently in the testnet phase, and investors must wait for the project to launch its mainnet in order to make an objective assessment of the benefits it can offer to various blockchains.