On February 23, 2023, Coinbase announced the launch of their layer-2 solution on Ethereum named Base, marking their entry into the layer-2 space. Within a mere six months, Base was fully deployed on the mainnet, accompanied by several notable features. This prompts the question: what is Base crypto exactly? In this article, Coin68 delves into the details to provide a comprehensive understanding of this solution.
What is Base Blockchain Crypto?
Coinbase has officially entered the Layer 2 arena with the launch of their new platform, Base. Specifically, Base is built on Optimism's OP Stack technology, boasting notable features such as high security, low costs, developer-friendly interface, and ease of integration with various decentralized applications (dApps). Base serves as a home for Coinbase's on-chain products, while also providing an open ecosystem for a multitude of other participants to contribute to its development.
The salient characteristics of Base
Here are some salient features of Base:
Similar to other Layer 2 solutions, Base will be secured by Ethereum along with other security measures implemented by Coinbase to protect its operations.
The greatest advantage currently held by Base is its backing by Coinbase, which enables it to reach over 110 million users and also ensures compatibility with various CeDeFi products.
Base operates similarly to other Optimistic Layer 2 solutions, offering both convenience and cost-effectiveness. It is fully compatible with EVM, enabling developers to easily create products, attract users, and leverage the robust infrastructure of Base.
Base offers a full range of features equivalent to EVM at a fraction of the cost. Moreover, it is committed to fostering a strong platform for developers. The platform makes it easy for developers to set up gasless transactions for their dApps through user-friendly APIs that abstract accounts and enable safe cross-chain app building with an easy-to-use bridge.
The open-source code of Base is aimed at promoting decentralization, eliminating the need for licenses and granting access to anyone with the vision to create an unbreakable Superchain based on the modules and standards provided by Optimism. Base also shares that they are collaborating with Optimism as a Core Developer on the OP Stack and tirelessly working towards building a strong Layer 2 community for other developers.
Roadmap and Base Updates
At present, Coinbase has not disclosed the roadmap for Base. Coin98 Insights will provide updates on the roadmap as soon as information becomes available from Coinbase. Currently, Base is in the development phase and they are hopeful of a smooth launch of Testnet. This information is being shared in a formal style to convey relevant details regarding Coinbase's plans for Base.
If your project intends to be built on the Base ecosystem, then you can get in touch with Coinbase (more information can be found here). In the event that your project meets the necessary criteria, it may be eligible to receive funding from the Base Ecosystem Fund.
Overview of the Base Ecosystem
Currently, in order to attract users of DeFi, dApps must have excellent UI/UX, user-friendly operations, low costs, and high security. Base was created with the objective of providing a favorable environment to encourage DeFi organizations to concentrate their resources on developing higher quality dApps than those currently available.
The vision of Base is to establish itself as an expansive open ecosystem, which is essentially a superchain that leverages Coinbase's projects, users, and assets as a launching pad for numerous potential products.
Coinbase, recognized as one of the strongest players in the crypto market, has established partnerships with numerous projects to expand its ecosystem. Below are some notable projects in which Coinbase has collaborated to achieve this goal.
The 0x API is a platform that facilitates developers to seamlessly integrate cryptocurrency trading functions into their applications.
Aave is a decentralized financial protocol that enables users to lend and borrow cryptocurrencies without the need for intermediaries.
The Chainlink network is a multi-chain platform that enables the seamless integration of cryptocurrency data into decentralized applications.
Dune Analytics serves as an innovative blockchain analysis tool that enables users to leverage data from blockchain technology for the purpose of analysis and visualization, thereby offering valuable insight.
Nansen is a blockchain analytics and user identification platform designed to provide users with a deeper understanding of transaction behavior in the crypto market, thereby enhancing their trading capabilities.
Etherscan is a blockchain exploration tool that enables users to view transactions, addresses, and block information on the Ethereum network.
Infura is a platform that offers services enabling developers to connect and interact with blockchain networks on Ethereum and IPFS.
The platform known as MagicEden operates as a Non-Fungible Token (NFT) marketplace, allowing users to partake in the buying, selling and management of NFT assets.
There are several other major projects such as The Graph, Sushiswap, Rainbow Wallet, Gelato, and Pyth Network that Base is associated with. In the future, it would not be surprising if Base attracts other leading DeFi projects such as Uniswap, Opensea, and Curve. This key factor is pivotal in helping Base attract a large amount of capital from the market.
Why did Coinbase build Layer 2 on the OP Stack?
What is OPStack?
OP Stack is an open-source plan designed for all blockchains, with notable features including high scalability and interactivity. The implementation of OP Stack in blockchain platforms makes the construction of blockchains much more accessible and effortless.
Optimism aims to establish a superchain with the help of Layer 2 and their interaction, which are the primary reasons for this collaboration. The route between OP Stack and Superchain Base is depicted as follows:
The Base and Optimism Mainnet will be implemented on the OP Stack, which means the decentralization of features within the ecosystem.
Building robust and secure decentralized systems requires substantial time and effort. Base therefore advises the community that ample time must be devoted to effectively deploy these systems.
The resources of Base and OP labs will be integrated for the development of this project. Moreover, Base encourages individuals who share similar goals to collaborate on this endeavor.
It is imperative to clearly distinguish the rights involved in a collaborative effort, and as such, Coinbase, Base, and OP Stack (or Optimism) will undertake measures to regulate OP Stack and Superchain.
Pros and cons of building on OP Stack
Pros: Leverage Optimism's existing technology to quickly enter the Layer 2 market without having to rebuild from scratch.
Cons: Depends on the technology part of Optimism.
Mint Base NFT on Zora
To commemorate the launch of Base Layer 2, Coinbase is offering the community the opportunity to mint NFTs called "Base, Introduced." Currently, minting is available with zero fees, but a gas fee of approximately 15 USD on Ethereum is still required.
The release of NFTs will take place on Zora, a NFT marketplace similar to OpenSea that will be exclusively reserved for certain issuers. Rainbow Wallet also provided the ability to mint NFTs on Zora in the past. If you are interested in obtaining a retroactive NFT marketplace like Blur, then the Zora project is worth considering and should not be overlooked.
The salient metrics of Base following its mainnet launch
Total Value Lock (TVL)
After launching their Public Mainnet on August 9th, 2023, Base witnessed a tremendous surge in their Total Value Locked (TVL), reaching 145 million USD within a single day. As per the data available on L2Beat, Base is presently the 5th ranked layer-2 solution in terms of TVL, with renowned layer-2 solutions like Arbitrum, Optimism, zkSync, and dYdX occupying the top spots.
Wallet address number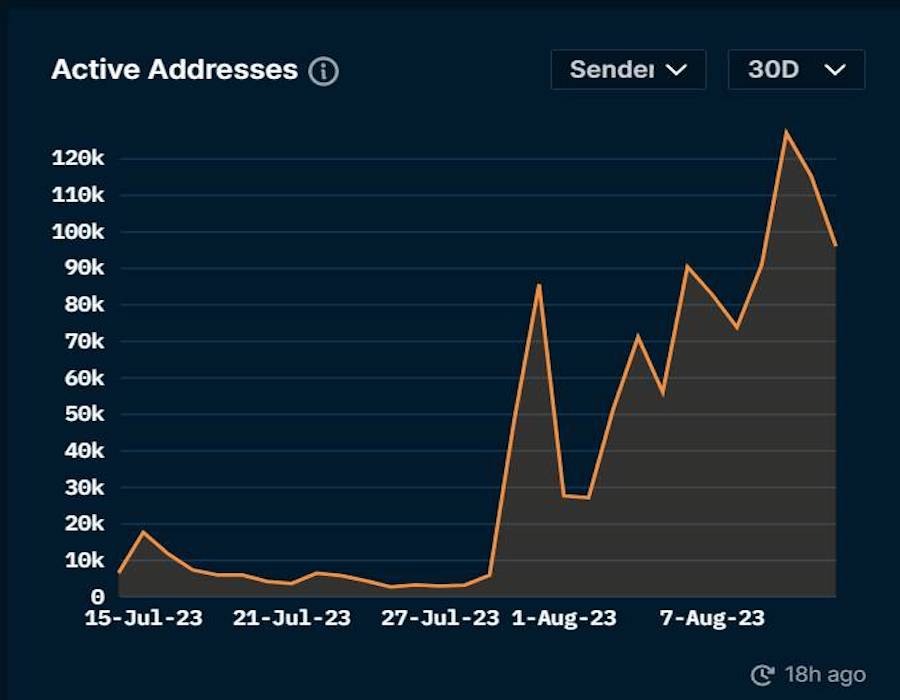 As of August 14, 2023, the number of active wallet addresses on Base has surpassed 90,000, with a peak of nearly 130,000 wallet addresses at one point. This phenomenon can be attributed to speculative activity surrounding friend.tech, a decentralized social network operating on the Base platform.
Number of projects and users
As of its Public Mainnet launch on August 9th, Base has successfully integrated over 100 large and small DApps into its ecosystem. This has resulted in a significant influx of users to the Base ecosystem. Currently, there are approximately 200,000 active users on Base conducting more than 300,000 transactions.
Summary
The above constitutes a comprehensive summary of Base, a Coinbase-developed layer-2 blockchain. This article effectively provides the fundamental information necessary for making investment decisions concerning Base. By reading this content, readers should have a solid grasp of the essential features and capabilities of Base.