What is Automata Network, what are its distinguishing features, and how does one participate in the Launchpool for the ATA token on Binance Exchange? Gain comprehensive insight into the ATA token here.
What is Automata Network (ATA)?
The Launchpool program of Binance has featured Automata Network as its 20th project. Automata is a decentralized service protocol that provides intermediary security software layer for dApps across multiple blockchains. The protocol offers various use cases such as anonymous voting and Miner Extractable Value (MEV) Minimization by utilizing cutting-edge code and privacy protection algorithms, alongside a reliable execution environment called Trusted Execution Environment (TEE).
What is Miner Extractable Value (MEV)?
When a person sends a transaction on a blockchain, there is a delay between the time the transaction is broadcast on the network and when it is actually mined into a block. During this time, transactions are held in a pool waiting to be processed, known as a "mempool," where the contents are visible to everyone. Traders and miners can monitor the mempool to identify opportunities to maximize their profits, such as through currency transactions. If they are miners, they can also rearrange or even censor transactions. The Miner Extractable Value refers to the amount of profit that can be extracted from rearranging and censoring transactions on the blockchain. This information is presented in a formal and informative tone.
The salient feature of the Automata Network (ATA)
The mempool is a waiting area for transactions before they are selected to be transferred to the next block. In Ethereum and Ethereum-based networks, including clones, the mempool is utilized to provide miners with the opportunity to choose the highest-paying transactions to process first.
For example,
Alice expresses her intention to procure Token A on AMM. A miner who stumbles upon Alice's transaction could possibly execute a "sandwiching" attack by inserting two transactions before and after Alice's, amongst their own.

The inaugural transaction by the miner in purchasing Token A will boost the price for Alice's subsequent trade, followed by a third transaction executed by the miner for selling Token A at a profit, currently at a higher price.
The solution proposed by the Automata Network involves the provision of an input-output transaction service that follows a predetermined sequence, thereby mitigating the impact of MEV.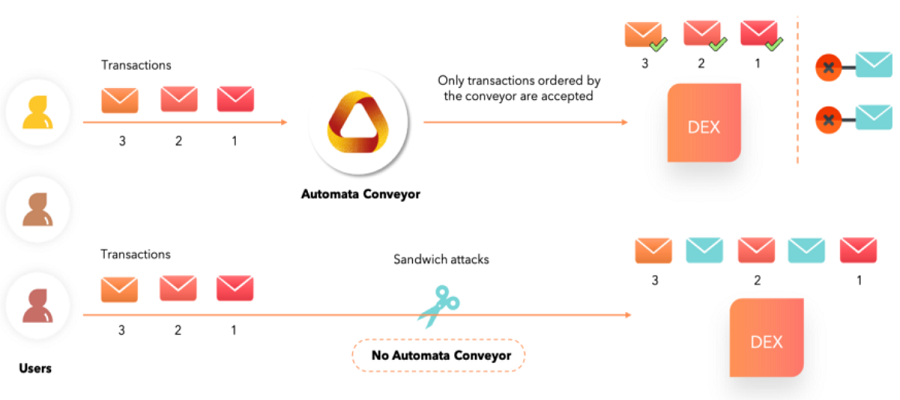 Furthermore, the project offers an off-chain voting governance solution, dubbed Witness, which is designed for voters who prefer to keep their identities hidden while participating in fee-free governance.
Automata Network's (ATA) token information
Key Metrics ATA
Token Name: ATA Token.
Ticker: ATA.
Blockchain: Ethereum
Token Standard: ERC20.
Contract: Updating…
Token type: Utility + governance
Total Supply: 1,000,000,000 ATA
Circulating Supply: 172,252,000 ATA (khi listing Binance)
ATA Token Allocation
Protocol Reserve: 35%
Ecosystem and Dev Community: 30%
Team: 15%
Strategic Sale: 6%
Seed Sale: 5%
Strategic Partners and Advisors: 5%
Binance Launchpool: 4%
ATA Token Sale
The Seed Round for Automata Network, led by notable VCs including Alameda, KR1, Divergence, and IOSG, has successfully raised 1M USD, with the ATA token sold at a price of 0.02$.
The Strategic Round of fundraising for Automata Network has successfully concluded, with the participation of KR1, Jump Trading, and IOSG Ventures resulting in a total amount of 2.4 million USD raised. The token price stands at 0.04$/ATA.
ATA Binance Launchpool
Basic information about ATA Binance Launchpool:
Launchpool token reward: 40,000,000 ATA (4% token supply).
Farming time: June 2, 2021 07:00h to July 2, 2021 07:00h.
Requirements: No upper limit and no KYC required.
Supported pools to farm ATA:
Stake BNB: 28,000,000 ATA (70%).
Stake BUSD: 4,000,000 ATA (10%).
Stake DOT: 8,000,000 ATA (20%).
Daily ATA distribution in pools:
From 7:00 a.m. June 2, 2021 to 7:00 a.m. June 7, 2021: Daily staking reward is 4,000,000 ATA.
From 7:00 a.m. June 7, 2021 to 7:00 a.m. July 2, 2021: Daily reward is 800,000 ATA.
ATA Token Release Schedule
ATA is distributed according to the chart below:
ATA Token Use Case
ATA coins can be used to:
Governance: ATA token holders can create and vote on proposals. Proposal content includes: platform features, network parameters,…
Mining rewards: Compute and storage miners earn ATA tokens by running applications and making transactions for users on the network.
Protocol fees: Users pay miners for storage and computational work.
Geode allocation: Users can link ATA tokens to participate in the Geode auction.
Roadmap of the Automata Network project
Automata Network's Roadmap consists of stages
Carboniferous Period
The starting point for the decentralization of Automata Network will be marked by the implementation of a set of permissioned nodes that will initiate the block production process. In the subsequent stages, various additional features will be unlocked through an upgrade without requiring a fork.
Permian period
Automata's native token, ATA, is designed to function on the network with full transfer capabilities. Once the network begins processing token transfers, it will establish a foundation for the token's usage in all aspects of the network, including network fees, governance voting, and staking.
Triassic period
A bridging token will be launched to facilitate the conversion between ERC-20 ATA and native ATA for users. Existing holders of ERC-20 ATA tokens can connect their tokens with Automata Network and receive native ATA tokens for various purposes, ranging from transaction fee payments to potential involvement in blockchain governance in the future.
Jurassic period
As the network grows, community-maintained nodes will be allowed to participate in the network to further decentralize it. This will help to test the connectivity and stability of the network. Additionally, integration with a browser, wallet, and exchange will begin in this stage.
Cretaceous period
The initial wave of intermediary software services developed by Automata is set to join the network. Users will be able to interact with these services through bridges utilizing the ATA token. As the network expands in subsequent stages, an increasing number of use cases will also be included.
Paleogene period
The network will commence upgrading to Nominated Proof of Stake, which has been nominated to enhance the network's development with external validators. Incentivized rewards will be allocated to both validators and token owners who nominate validators. The network capacity will increase in a controlled manner.
Neogene period
The implementation of decentralized administration will commence, replacing the previously secured Sudo privileges protected by the Automata group. The network will progress towards a higher level of hierarchical authorization structure for management. Token owners have the ability to submit proposals to enhance the network. The above statement is conveyed in an informative style and formal tone.
Quaternary period
Upon the successful completion of earlier phases, the Control plane will attain stable status. The next phases will be focused on expanding the Compute plane, where Geode nodes will participate in the network to store intermediate software services. Multiple roles will be accepted into the network, including geocode providers, geocode certifiers, and service providers. The language used within the network will be formal and informative in order to ensure professionalism and accuracy.
Automata Network's development team, investors and partners
Development team
A group of blockchain developers and researchers, including former Ziliqa founding members, established Automata in 2019. Co-founder Zheng Leong Chua holds a Ph.D. in Computer Science from the National University of Singapore, while fellow co-founder Deli Gong previously served as the Infrastructure Lead at Ziliqa. The team, comprised of eleven individuals, received a Web3 Grant in 2020 and participated in various programs including the 2020 Web 3.0 Bootcamp, the 2021 Berkeley Blockchain Xcelerator, and the 2021 Polkadot Decoded Mainstage as a speaker.
Investors
The recently launched project has received strategic investment from Binance Labs, while other notable investors for the Automata Network comprise KR1, Alameda Research (established by FTX CEO Sam Bankman-Fried), IOSG Ventures, Divergence Capital, Genesis Block Ventures, and Jump Trading.
Partner
Automata Network's present partners feature prominent blockchain networks, namely MathChain, Celer Network, Crust Network, Moonbeam, Litentry, Clover Finance, Litmus, and Astar.
Should one invest in ATA coin considering the future of Automata Network?
Automata Network (ATA) serves as an intermediary platform that safeguards DeFi applications, facilitating smoother and more secure protocols with guaranteed privacy. Backed by significant investments amounting to $2.4 million from major industry players, Automata Network represents a promising DeFi segment that remains largely unexplored by existing projects. In light of DeFi's rapid growth, intermediary protocols and software are critical components garnering increasing attention for their potential to shape the future landscape. It should be noted that all information contained herein is compiled and researched by 247btc.net and should not be construed as investment advice. 247btc.net assumes no responsibility for any direct or indirect risks incurred. We wish you all the best in your endeavors!