The NEAR Protocol currently hosts an immensely significant project for its ecosystem, which regrettably has yet to garner the attention of its community. This project is the Octopus Network, which is an app-chains implementation project on the NEAR Protocol. What warrants the claim that this project holds critical importance for the NEAR Protocol ecosystem? How does the Octopus Network contribute to the NEAR platform? Let us delve deeper into these matters and provide an analytical assessment.
What is Octopus Network (OCT) ?
Octopus Network is an innovative decentralized network designed to facilitate the development and operation of Web3.0 applications across various secondary blockchains, commonly referred to as app-chains, on the NEAR Protocol primary blockchain.
Octopus is a Layer 2 solution that provides a basis for infrastructure integration and grants dApp management control directly to developers. This is achieved by enabling dApp developers to independently launch app-chains and control the backend aspects themselves.
The noteworthy feature of the Octopus Network (OTC)
What is the significance of app-chains for users, developers and validators on NEAR Protocol?
From a user perspective, the execution of multiple app-chains enables more efficient transaction processing, subsequently reducing transaction fees and resulting in an enhanced user experience.
App-chains empower developers with the ability to create, manage, customize, and interact with a chain in a way that best suits the dApps they are developing, all while maintaining the advantageous properties of the NEAR blockchain platform such as security.
The benefits of app-chains extend to validators, as more complex protocols correspond to higher transaction fees collected through staking.
Through Octopus Network, developers on the NEAR Protocol can construct their own sub-chains similar to the Substrate structure on Polkadot, but without any limitations on the number of sub-chains, unlike Polkadot's 100 sub-chain cap, and without any constraints on time. Should validators on a separate app-chain cease operation, only that specific app-chain's functionality would be frozen, leaving the rest of the system and other app-chains unaffected.
The Octopus project is currently in its testnet phase, with its mainnet release scheduled for the third quarter of 2021.
What is Octopus Network Token (OCT)?
The OCT token is a utility token that can replace other tokens without causing inflation. It utilizes stake across various app chains to ensure economic security. Additionally, the OCT token is a NEP141 token (which is an enhanced proposal for the NEAR-141 standard, similar to ERC-20) that operates within the NEAR protocol.
OCT Tokenomic 
Key metrics Octopus Network (OTC)
Token Name: Octopus Network Token.
Ticker: OCT.
Blockchain: NEAR.
Token Type: Utility.
Token Standard: NEP21
Circulating Supply: 73.608.576.
Total Supply: 100.000.000 OCT.
Contract: 0xf5cfbc74057c610c8ef151a439252680ac68c6dc
Token Allocation Octopus Network (OTC)
Initial distribution of 100 million tokens with the following composition:
Initial Security: 5%
IDO: 2.5%
Series A (Round A): 12.5%
Seed: 15%
Appchain Rewards (rewards for Appchain): 15%
Angels: 6%
Team (team): 24%
Airdrop: 5%
Foundation: 10%
Strategic Investor: 5%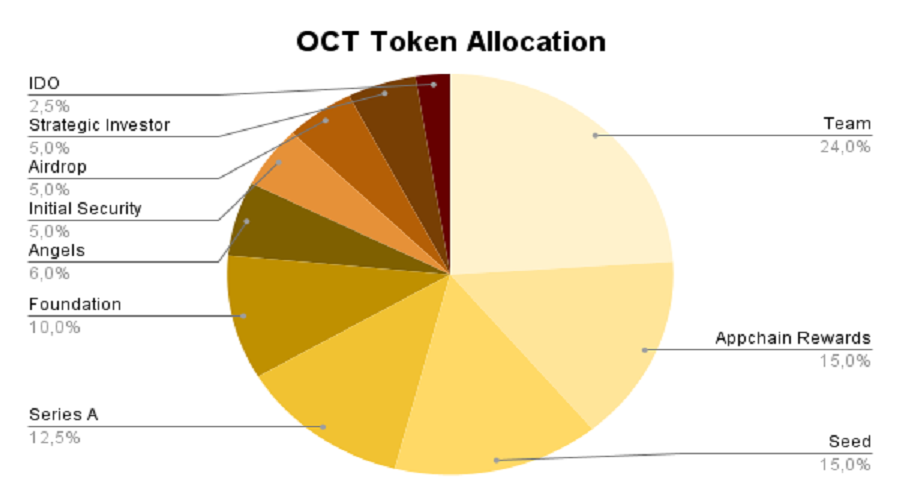 OCT coin Release Schedule
30% OCT tokens, of which: 15% Seed + 12.5 Series A + 2.5% IDO will not be locked.
5% of OCT tokens belonging to the Octopus Foundation are used to provide initial security for appchains. Although there is no key for this piece, it will not be in circulation because it is designated for appchain staking.
The remaining 65%, of which: 6% Angel investors + 5% Strategic investor + 24% Core team + 10% Octopus Foundation will be paid in installments within 3 years.
Token Use Cases
OCT Token is used to:
As collateral to ensure appchain security.
Governance.
Confirmation of appchain candidates.
Roadmap & Updates Octopus Network (OTC)
January 2021: Completed capital raising through strategic investor and partnership;
February 2021: Completed seed round;
March 2021: Complete phase 1 testnet;
May 2021: Complete phase 2 testnet with cross-chain assets;
July 2021: Completed Series A funding round: Phase 3 testnet;
August 2021: Successful audit, launching OCT token;
September 2021: Mainnet and app-chains registration;
October 2021: The first App-chains go into use.

Second quarter of 2022

Launch app chain every 2 weeks.
Buy back the original coin of the app chain.
Deploy the LPoS – PoS toolkit.
Octopus KNIFE V2.
Deploying Accelerator for the 3rd time.
Octopus Council Execution.
NEAR IBC.
IBC Bridge for Octopus App chain – Polkadot.

Third quarter 2022

Launch an app chain every 2 weeks.
Octopus KNIFE V3.
Accelerator program: 4th round.
Upgrade DAO contract.
Management of investment funds.
NEAR IBC.
IBC Bridge for Octopus app chain 0 Polkadot.
Project Team, Investors & Partners Octopus Network (OTC)
Core Team Octopus (OTC)
Louis Liu – CEO/Founder: In 1999, the individual graduated from Thanh Hoa University with a degree in Technical Physics. They have since become a distinguished researcher in the fields of blockchain, Web 3.0, and token economics.
Octopus Network's team has achieved successful construction of IBC for Substrate and organized online Substrate training sessions in China. They have also made significant contributions in China's Rust community with a certain level of influence that has greatly advanced the development of app chains on NEAR.
Partner
The project's partners hail from diverse ecosystems such as Solana, Near, Cosmos, and Flow, in addition to the inclusion of the oracle ChainLink and numerous other projects.
Investors
The project has gained considerable attention from numerous investment funds, with some of the most notable ones including NEAR, NGC Ventures, StaFi, and ChainX.
Conclude
The Octopus Network project introduces an innovative Layer 2 solution for NEAR Protocol, providing secure storage and protection for thousands of app chains without incurring significant costs. Moreover, Octopus Network can be easily integrated with NEAR Protocol without requiring significant changes to the existing structure. Currently, the NEAR ecosystem is rapidly expanding and Octopus Network is an essential element in enhancing the overall network.
We hope that the aforementioned insights have provided you with a comprehensive overview of Octopus Network project and the value of OCT coin. This information will equip traders with additional resources to make informed investment decisions. We kindly request that you share your thoughts on Octopus Network project by commenting below. Thank you for choosing 247btc.net as your trusted source of investment information.